So, Ginger Island is your next destination? Welcome aboard! Read this guide first to familiarize everything about the new area. We'll include helpful tips for you to have a better gameplay edge!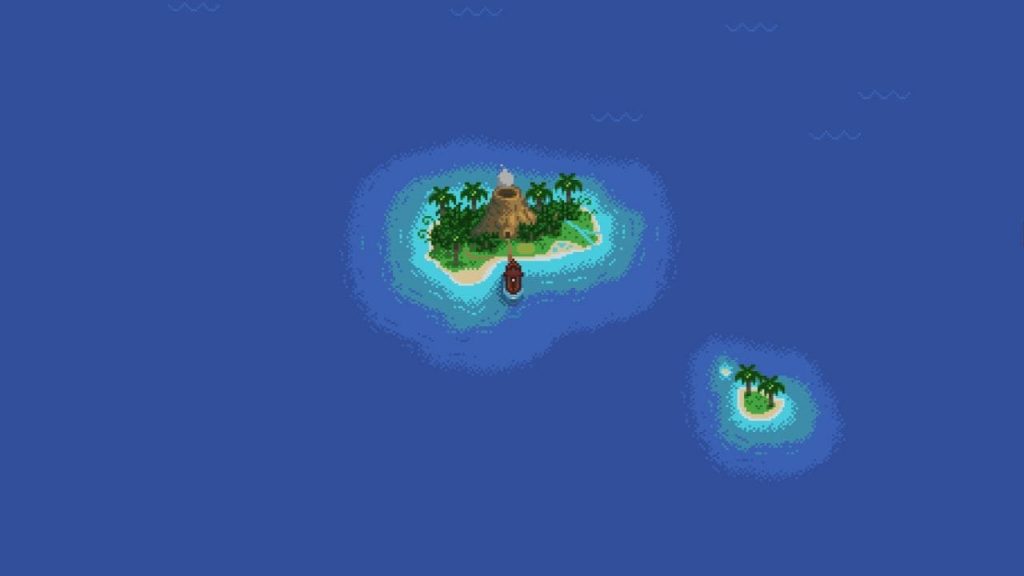 Stardew Valley started as a simple farming game in Pelican Town. For years, ConcernedApe (the game dev) offered great updates that players can download for free!
On its 1.5 release, Stardew Valley introduces Ginger Island. The new area features more storylines, NPCs, and several surprises! It's also one of the biggest and most significant updates, affecting the Collections and Achievements mechanics.
Take a step below as we guide you to Ginger Island. If you're a mobile user, we recommend waiting for the release before reading further. Otherwise, continue below to see what Ginger Island has to offer!
How to Reach the Ginger Island
Ginger Island is initially unavailable to many players, especially beginners in Stardew Valley. However, the place is later unlockable.
If you're a newbie, we recommend prioritizing the Community Center or Joja Warehouse first. Complete every bundle or pay hefty sums for Community Repairs – it's up to you! While it may take time to reach the endgame, it'll need tons of work.
Upon completing either route, Willy will mail you a letter at the Mailbox. Feel free to go anytime, but bring the necessary materials first, as you'll need to repair his Old Boat.
Note: It's in the back room of the Fish Shop
Take this checklist. These are the items you'll need to gather:
Battery Packs (5) – Obtainable by placing a Lightning Rod and waiting for storms to come. You'll get one Battery Pack per rod. Also available from Solar Panels, but it'll take seven days.
Hardwood (200) – Since Ginger Island is known to grow Mahogany Trees that produce Hardwood, your current best choice is the Secret Woods. Make sure to cut every Stump daily to avoid missing out.
Iridium Bars (5) – This rare item is available by placing Iridium Ore (5) and Coal (1) in the Furnace. Good luck gathering the ore at the Skull Cavern!
You can now travel to Ginger Island after donating the materials and fixing the Boat. The ticket costs 1000g, and a bit unfair since you restored Willy's Boat, but at least traveling becomes possible.
New Currency: Golden Walnuts
After a breathtaking cutscene as you travel to the tropical island, you'll set foot at the Docks. Initially, you'll see lots of sand, some sleeping turtles, and other debris. However, you'll soon run across Golden Walnuts. It's a new Stardew Valley currency used by the Parrots for constructing or building things on the Island.
The thing about Golden Walnuts is that they're everywhere. Finding all 130 is also a challenging task. But in a nutshell, they're obtainable through farming, fishing, mining, doing quests, and exploring.
Speaking of a Golden Walnut's function, refer to the following table:
| | |
| --- | --- |
| Reward | Golden Walnut Cost |
| Build a Farm Obelisk | 20 |
| Build a Mailbox for the Farmhouse | 5 |
| Fix the Volcano Bridge, so you don't have to water every time | 5 |
| Island Resort Unlocked for NPCs. Also unlocks the Pirate Cove and Island Southeast | 20 |
| Parrot Express (Fast Travel) | 10 |
| Unlock Ginger Island Farmhouse | 20 |
| Unlock Ginger Island North | 1 |
| Unlock Ginger Island West | 10 |
| Unlock the Island Dig Site | 10 |
| Unlock the Island Trader | 10 |
| Volcano Exit Shortcut for quick Island North access | 5 |
| Qi Gem (2) for exchanging the remaining Golden Walnuts | 1 |
Unlocked Areas
The following is everything you can find on Ginger Island:
Island South
Island South is the first place you'll set foot upon arriving from Stardew Valley. It has a small pier, a beach that initially has ruins, and four paths to other parts of the area. This place is also the warping zone upon using a Warp Totem: Island or Island Obelisk.
At first, you can only access the right side of the Island South since two turtles are blocking off paths. However, interacting with Leo will help remove the turtle blocking the North passageway. Returning to the Beach, you'll encounter a Magma Sprite (a later enemy), leading you toward the Volcano Dungeon.
You can also enter the Island Farm (blocked by another turtle) by paying Golden Walnuts (10) to a Parrot.
Beach Resort
Paying Golden Walnuts (20) to a nearby Parrot upon unlocking the Island Farmhouse will restore the Beach Resort. This place is a hub for some villagers who want a one-day vacation from Pelican Town. Note that you can open and close the resort by will, between the two doors of the changing room.
The requirement for the villagers from Stardew Valley to arrive at 11am must be:
Non-rainy day
Non-festival day
Everyone will leave the place at 6pm through Willy's Boat (although Willy technically never leaves).
Gus also opens a mini-bar in the tropical paradise. He'll sell the following items:
| | |
| --- | --- |
| Name | Price |
| Pina Colada | 600g |
| Beer | 500g |
| Pale Ale | 1,000g |
| Mead | 800g |
| Cranberry Candy | 400g |
| Mango Wine | 5,000g |
| Tropical Curry Recipe | 2,000g |
Island Southeast
This area is a part of Ginger Island South, but it'll unlock upon the construction of the Beach Resort. There are tide pools here (and some secrets) alongside the beach. However, Pirate Cove is the main attraction in this area.
Pirate Cove
Going further east will bring you to this secret place, the Pirate Cove. This location is where you can exclusively catch Stingrays and (luckily) get the Gourmand Statue.
The best time to visit the Pirate Cove is after 8pm, on non-rainy and even-numbered days. That's when Pirates will appear, although the Pirate theme will play outside (muffled), hinting at their arrival.
Once inside, you can play Darts for Golden Walnuts. Interaction is also possible, bringing new stories to discover (some are catchy ones). If you wear a Pirate Hat, Deluxe Pirate Hat, or Eye Patch, you'll get Mead (1).
Island North
This part of Ginger Island is home to different spots for progression. It also has ample space like the one on the West side.
Island Trader
After paying Golden Walnuts (10) to a nearby Parrot, you'll unlock the Bluebird Merchant. However, you must build the Island Farmhouse in Stardew Valley before this option becomes available.
The Island Trader has a trading stand that contains several island-themed items. It's noteworthy that you can only exchange foraged items found on Ginger Island. But perhaps the rarest item you'll get is the Galaxy Soul.
See the table below for a complete list of the bluebird merchant's wares:
| | | |
| --- | --- | --- |
| Item | Availability | Price |
| 'Volcano' Photo | Thursdays | Mango (5) |
| Bluebird Mask | Wednesdays | Taro Root (30) |
| Deluxe Cowboy Hat | Fridays | Taro Root (30) |
| Galaxy Soul | Final Day of the Season (upon killing 50 dangerous monsters) | Radioactive Bar (10) |
| Oceanic Rug | Saturdays | Blue Discus (3) |
| Palm Wall Ornament | Tuesdays | Pineapple (1) |
| Small Cap | Mondays | Taro Root (30) |
| Tropical Chair | Even days | Lionfish (1) |
| Tropical Double Bed | Sundays | Banana (5) |
| | |
| --- | --- |
| Item | Price |
| Banana Pudding Recipe | Bone Fragment (30) |
| Banana Sapling | Dragon Tooth (5) |
| Deluxe Retaining Soil Recipe | Cinder Shard (50) |
| Golden Coconut | Coconut (10) |
| Jungle Torch | Cinder Shard (5) |
| Luau Skirt | Taro Root (50) |
| Mahogany Seed | Stingray (1) |
| Mango Sapling | Mussel (75) |
| Pineapple Seeds | Magma Cap (1) |
| Taro Tuber | Bone Fragment (2) |
| Tropical Bed | Ginger (20) |
| Tropical TV | Taro Root (30) |
| Warp Totem: Farm | Taro Root (5) |
| Wild Double Bed | Cinder Shard (100) |
Island Field Office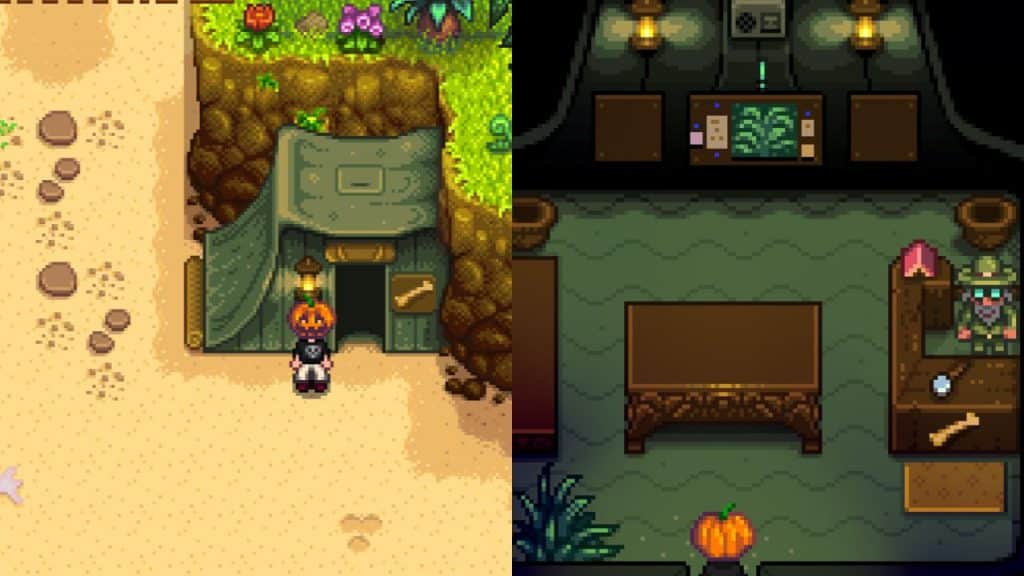 The next location you'll encounter after the Island Trader is the Field Office. It's run by Professor Snail, who's initially stuck at the Mushroom Cave.
The Island Field Office acts like the Museum run by Gunther on Stardew Valley, except you're hunting fossils here. You'll also have to solve Island Field Reports, which requires additional exploration time before answering. Nonetheless, you'll get great rewards here upon completion.
Note: Entering the Field Office without Professor Snail won't play the soundtrack. Moreover, the area will be wiped clean.
Dig Site
On the left side of the Island Field Office is a broken bridge. Paying Golden Walnuts (10) to the Parrot will enable access to the Dig Site.
The Dig Site is similar to the Quarry in the Mountains, but you'll get Bone Nodes, Clay, and Hardwood instead. Also, Artifact Spots often spawn here, which mainly drops Omni Geodes and Artifact Troves.
Nearby is also a Mushroom Cave where you can free Professor Snail, that's initially trapped. Placing any bomb or explosive will destroy the boulder blocking the entrance/exit. After releasing the NPC, you'll unlock the Island Field Office. You can also Forage mushrooms regularly in this zone, which benefits Gatherer or Botanist professions.
Volcano Dungeon
Going further Northward is where you'll encounter the Volcano Dungeon. It functions similarly to the Mines and Skull Cavern in Stardew Valley, as stones and ores are present. However, what makes it unique is the inclusion of Cinder Shards for upgrading your Tools and Weapons at the Forge.
Speaking of levels, the Volcano Dungeon has ten. Eight of them are randomly generated, while floors five and ten contain the Dwarf's Shop and Forge, respectively.
Pouring water (using the Watering Can) at the Lava will make a stone walkway, allowing you to travel. Upon reaching the Volcano Caldera, a Parrot will appear nearby and will offer a permanent bridge. The construction costs Golden Walnuts (2), and you can save time essentially.
Going back to the lowest floor of the Volcano Dungeon is possible by entering an initially locked room. Stepping on the button will unlock the passage permanently. There's also a secret exit left from the lowest level, which leads to the Dig Site. Two Golden Walnuts are also obtainable.
Island West
The Western part of Ginger Island is the most useful as it features several places (Walnut Room and Island Farm).
The entrance is initially inaccessible because of the sleeping turtle blocking the path. But giving Golden Walnuts (10) to the Parrot will unlock the said area. Note that it'll only be available after the first Parrot from Leo's house receives the same currency.
Tropical Farm
On Ginger Island, like Stardew Valley, farming is the greatest highlight for several reasons. One of them is the ability to plant crops while disregarding the season they typically grow back in Stardew Valley. It's also a "Tropical Greenhouse" (a little bit), with extra spaces.
Speaking of spaces, there are 757 tillable tiles for planting purposes. However, you can also grow in the following areas with the corresponding number of available spaces:
(4) North of the Farm near the Parrot Express.
(31) Some patches of land around the pond.
(55) West of the river, where a big chunk of land lies.
Like your first arrival in Stardew Valley, you'll need to clean the overgrown mess in the Island Farm. However, there's no need to place Scarecrows as Crows won't terrorize crops in this region.
Placing Sprinklers is also possible, but kindly mind the layout to maximize profitability.
To access the Island Farmhouse, you'll need to give Golden Walnuts (20) to the Parrot. Inside contain rooms of four, with an exclusive Tropical Bed. You may also ship items in this area if you wish to profit.
Besides the Island Farmhouse, you can also build the Mailbox and Farm Obelisk, costing 5 and 20 Golden Walnuts, respectively.
Beach Area
West Island Beach offers several hubs for exploration.
South of the Farmhouse is a Shipwreck once owned by Birdie's husband (captain). Going inside (following the secret path) will lead you to a Golden Walnut.
Going Westward is where Birdie resides.
A bit left from the Shipwreck is a Green Whack-a-Mole mini-game, where you'll get another Golden Walnut upon completion. Water Can is the best choice, although blocking the holes and hitting with an Axe or Pickaxe works too.
Going a bit further up from the Farm is the Tiger Slime Grove. This place spawns Tiger Slimes (a Slime variant that produces expensive Tiger Slime Eggs). It's also where you can farm Mahogany Trees that don't grow in Stardew Valley.
Finally, the Beach itself usually generates Sea Urchins and Corals you can collect. Mussel nodes also appear, which you can gather either for profiting, trading, or pure collecting purposes. You might also get 5 Golden Walnuts, so dig on!
Qi's Walnut Room
There's a hidden room near Tiger Slime Grove available to visit. Make sure to collect Golden Walnuts (100) first to gain initial entry.
Qi's Walnut Room is where you can achieve 100% Perfection in Stardew Valley. Moreover, there's the Special Orders Board here, which offers challenging tasks. On the upside, you'll earn Qi Gems which you can exchange for items from a nearby vending machine.
Island East
This part of Ginger Island is the first area you'll need to visit to unlock the remaining locations. It's also the home of Leo with a talking Parrot.
Foraging Fiddlehead Ferns are best done here, aside from the Secret Woods.
Leo's Hut
A Hut covered in jungle leaves is where Leo lives. It's the first Ginger Island cutscene as soon as you unlock the area. There's also a Parrot you can befriend, which tells how many Golden Walnuts are left.
New NPCs
While interacting with different villagers in Ginger Island is possible, only one can be given gifts to raise a friendship. Nonetheless, you'll get something in return from them by completing tasks.
Leo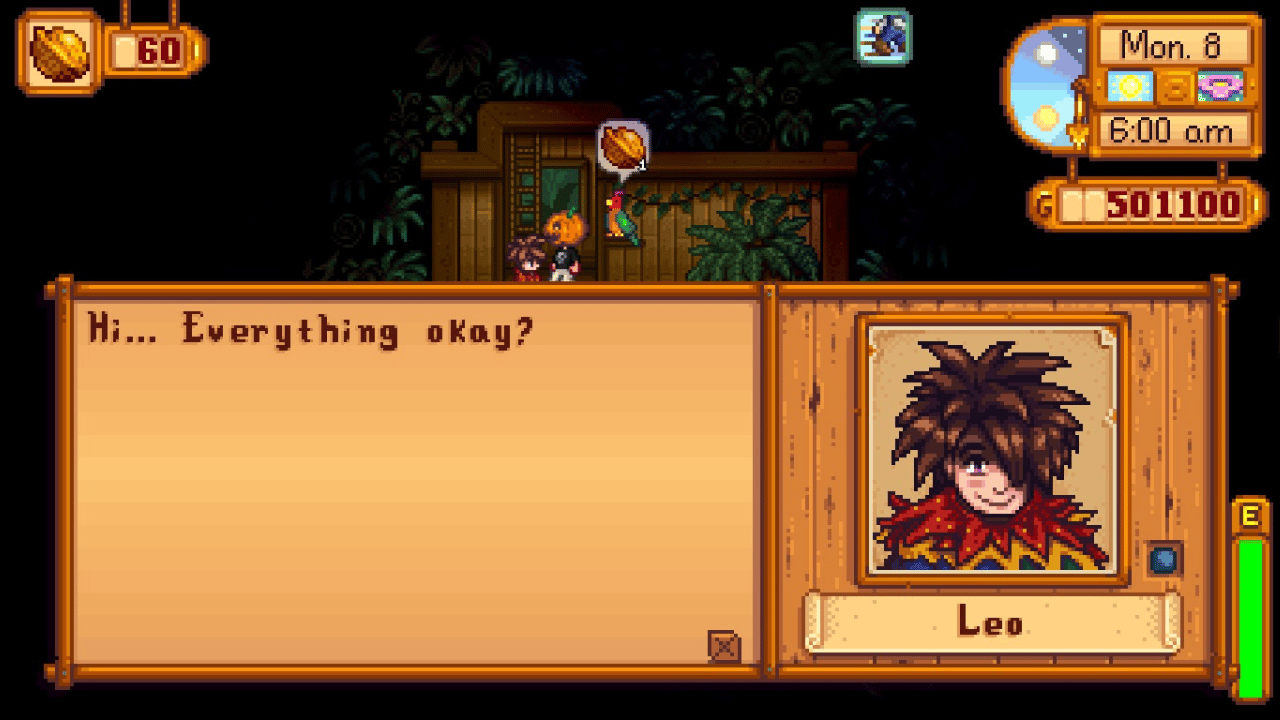 Leo is the third young NPC in Stardew Valley after Jas and Vincent. He's an island boy and lives outside of civilization. Leo also owns the Hut he presumably built in the Jungle with the Parrots.
Although Leo resides on Ginger Island, he'll eventually join Linus while still visiting his "friends" occasionally. Befriending him is also possible by giving gifts, inviting him to the Movie Theater, and offering snacks.
Birdie
Near the Island Farmhouse is a Shack where Birdie lives. She's an old fisher (like Willy), although it's impossible to befriend her. However, you can still talk to her, specifically about the Pirate's Wife quest.
Finishing the quest will stop the storyline, although Birdie will still talk upon interaction.
Gourmand Frog
After unlocking the Island West and repairing the dilapidated Farmhouse, a cave opening will appear nearby. Inside is the Gourmand Frog, where you can interact to get Golden Walnuts. This NPC will require you to plant specific crops, and you'll be rewarded thrice handsomely.
Professor Snail
Professor Snail runs the Island Field Office, which specializes in rare fossil collection and data around Ginger Island. Interaction is possible, although giving gifts and raising friendships isn't viable. However, he will offer rewards (like Gunther and the Museum from Stardew Valley) for completing different collections.
Known Puzzles
While venturing on Ginger Island, you may encounter puzzles. Completion always guarantees to drop Golden Walnuts, although solving them is challenging.
Mermaid Flute Puzzle
On rainy days, a Mermaid will appear nearby if you unlock the Island Southeast. There'll also be stone carvings of the Flute Block with different tunes. Following the instruction will play the Mermaid's theme, and the initial completion guarantees Golden Walnuts.
Gem Birds
From the Jungle, going East will lead you to a shrine with several pedestals. This is where you'll need to place each gemstone depending on the pedestal (corresponding to the island section). Initially, there'll be no clue whatsoever. But upon decoding the message in the shrine, you'll come up with the following:
South – northwest of the docks
West – east of the pond
East – middle of the place (nearby the path)
North – exactly Northeast of the Island Trader's position
Those places are where you'll need to go to find each Gem Bird. Approaching them will make them fly away and leave a gem behind that you can pick up. Depending on the location, you'll get Aquamarine, Amethyst, Emerald, Ruby, or Topaz. Moreover, you'll need to match the gem depending on where it's found.
An interesting fact to remember is how each gem is assigned per pedestal at the start of a save file. Even on Day 1 of Spring 1, there's already a designated combination!
Weather is also different from Ginger Island to Stardew Valley. If the boat to the island is available, the weather report will feature the place's weather. This fact is vital since gem birds only appear on rainy days. But the good news is it's possible to force rain the next day with a Rain Totem.
Completing the Shrine puzzle will get you Golden Walnuts (5). You'll also get unlimited gems during rainy days if you know where to look!
Simon Says Puzzle
At the Northeast of the Tiger Slime Grove is a small cave. Different colored crystals are placed around with a Lion statue in the middle. Interacting with the figure will begin the Simon Says game.
For the mechanic, you'll need to repeat the sound until the 5th round. However, failing one note will reset your entire process. But every failed attempt significantly decreases the mini-game's difficulty.
Upon completion, you'll earn Golden Walnuts (3).
Fishing
Because Ginger Island is an entirely new location, discover fresh fish in the waters. The tropical place offers exclusive ones you can catch for profit or fish pond farming. Check the table below to know the new additions and where you can catch them:
How to Get to Each Site Fast?
Ginger Island is a vast area, and running around with a Triple Shot Espresso or Coffee is time-consuming. It's best to reach one destination from another within a short time. Thankfully, a Parrot Express does the job, taking you around the island.
You'll need to venture toward the West first to unlock the Parrot Express. It's exactly North of the Farmhouse, and you can fix it for Golden Walnuts (10).
The area for traveling covers the following:
Farm
Docks
Jungle
Volcano
Dig Site
Note:
Although the Dig Site is automatically included in the list of fast-travel destinations, it's unavailable until the bridge is fixed.