Have you been looking to get to know Pelican Town's most charming eccentric, Emily? If you want to develop a friendship with her, keep reading to know her schedule, gift preference, and more!
The beauty of Stardew Valley is that it's not just about farming crops for days on end. It's not just putting effort into creating an efficient and cost-effective farm and becoming a small town's prominent business mogul. No.
It can be about taking time to smell the roses (literally). Walking around Pelican Town, meeting and befriending the villagers, and celebrating life and all its stunning complexities with them. Like in reality, you can't just make friends, but you can also fall in love, be in a relationship, and marry someone in Stardew Valley!
But before we get into that,
WHO IS EMILY?
Emily is one of the more unique characters in Stardew Valley. She's definitely not your typical girl next door and is a particular fan favorite for that very reason. Before we get too deep, let's discuss who exactly this girl is.
Where does Emily live in Stardew Valley?
She is a villager living at 2 Willow Lane in Pelican Town. Emily is most recognizable for her electric shock blue hair and warm reddish brown eyes. She is frequently seen around the valley wearing a bright red long polo dress.
Her birthday is on Spring 27. She would be happy if you gave her a gift she loves or likes on that day. The girl is really friendly and would welcome anyone with good intentions.
She loves making clothes and collecting rare gems. She even has a room dedicated to her sewing, which she lets you use after you get to know her a little bit better. In there, you can create new clothing items and dye existing ones.
Family and Relationships
Emily lives with her sister, Haley. The two have a truly complex relationship because they are polar opposites. They have very different ideologies, interests, and attitudes in life. It causes them to fight and hinders their relationship from growing. Despite this, they still take care of their home together while their parents are traveling.
Emily's closest friend is Sandy from the Calico Desert. They often mention each other when talking to you and can be seen hanging out in the desert. On Sandy's birthday (Fall 15), she leaves her store, the Oasis, and walks around the desert with her friend.
One of the villagers and town blacksmith, Clint, has a crush on Emily. She is oblivious to his feelings and sees him as a friend. She isn't romantically linked to anyone in the vallley, but she does partner up with Shane during the Flower Dance in Spring.
What is Emily's Schedule?
Luckily for us, she has a pretty regular and uncomplicated schedule. Here's her detailed schedule for normal days, rainy days, and other special occasions:
Regular schedule
| Time | Location |
| --- | --- |
| 9:00 AM | Inside her room at 2 Willow Lane. |
| 12:00 PM | Goes out of her room and stands in the sitting room. |
| 3:30 PM | Goes to work at The Stardrop Saloon. |
| 12:30 AM | Finishes work and heads home. |
Raining
| Time | Location |
| --- | --- |
| 9:00 AM | In her bedroom. |
| 12:00 PM | Exits her room and hangs out in the living room. |
| 3:30 PM | Goes to work. |
| 1:00 AM | Ends her work and goes to the house. |
Tuesday
| Time | Location |
| --- | --- |
| 9:00 AM | In her room at home. |
| 10:00 AM | Sets off for aerobics class at Pierre's General Store. |
| 1:00 PM | The workout regimen starts. |
| 4:00 PM | Exits the store and goes to work. |
| 12:30 AM | Ends work and heads home. |
Friday, Community Center completed
| Time | Location |
| --- | --- |
| 9:00 AM | In her room at her house. |
| 10:00 AM | Sets off for the Community Center and stays in the Crafts Room. |
| 3:30 PM | Exits the center and goes to her job at the saloon. |
| 12:30 AM | Leaves the bar and goes home. |
Fall 15
| Time | Location |
| --- | --- |
| 9:00 AM | Inside her room. |
| 10:30 PM | Departs from home to Calico Desert to celebrate her birthday with Sandy. |
| 12:00 AM | Heads home for the day. |
Winter 11
| Time | Location |
| --- | --- |
| 9:00 AM | Within her bedroom. |
| 10:30 AM | Goes to Harvey's Clinic and stays in the waiting room for a bit. |
| 1:30 PM | Proceeds to the examination room. |
| 4:00 PM | Exits the clinic to go to work at the saloon. |
| 12:30 AM | Ends work and heads home for the day. |
Winter 15
| Time | Location |
| --- | --- |
| 9:00 AM | Inside her room at home. |
| 12:00 PM | Hangs out in the living room for a while. |
| 2:30 PM | Sets off for the Night Market. |
| 12:30 AM | Walks home after the event. |
Marriage
After marrying Emily, she doesn't leave the farmhouse except for Mondays and Fridays. She usually visits her old home with Haley or the docks at the beach. She still goes to work sometimes at the Stardrop Saloon.
Monday
Time
Location
8:30 AM
Leaves the farmhouse and visits to her old home at 2 Willow Lane
and stands in the kitchen
11:00 AM
Goes to stand east of the Community Center to look out into the river.
3:00 PM
Proceeds to her job at the saloon.
10:00 PM
Heads home to the farm.
Friday
| Time | Location |
| --- | --- |
| 8:30 AM | Leaves the farmhouse and walks to the docks left of Willy's Fish Shop. |
| 1:00 PM | Walks from the beach to go to the General Store. |
| 3:00 PM | Exits Pierre's and proceeds to her job at the saloon. |
| 10:00 PM | Heads home to the farm. |
What are the best gifts to give emily?
People in Stardew Valley love receiving presents, and Emily is not an exception to this. If you want to get to know her, develop a friendship with her or romance her, giving gifts is a great way to achieve that. The best thing to do is familiarize yourself with her schedule so you can find and interact with her conveniently.
With all the people you meet in Stardew Valley, they have an empty ten-heart bar you can fill up once you've gotten to know them better and even start to like each other. There are two main ways you can do it: (1) talk to them every day and (2) give them a maximum of two gifts every week.
Each gift varies on the number of friendship points depending on whether they like, love, are neutral about, dislike, or hate the item you've given. Birthday gifts will have an (x8) multiplier, and Feast of the Winter Star gifts will have a (x5) multiplier on friendship points.
Likes
GIFT
HOW TO GET
Daffodil
Foraging in Spring
Quartz
Foraging in the Mines
All Universal Likes
(except Fish Taco, Fried Eel, Ice Cream,
Maki Roll, Rice Pudding, Salmon Dinner,
Spicy Eel, & Sashimi)
Foraging
Cooking
Farming
Mining
Loves
GIFT
HOW TO GET
Amethyst
Mining
Aquamarine
Mining
Cloth
Ranching Animals
(Putting Wool into a Loom)
Emerald
Mining
Jade
Mining
Ruby
Mining
Topaz
Mining
Wool
Ranching Animals
(Rabbits and Sheep)
Survival Burger
Cooking:
Bread (1)
Cave Carrot (1)
Eggplant (1)
Prismatic Shard
Mining
Fishing Treasure Chests
Monster Drops
Omni Geodes
Golden Pumpkin
Completing the Maze during Spirit's Eve
Artifact Trove
Magic Rock Candy
Museum Reward for 90 items donated
Desert Trader
Haunted Skull drop
Pearl
Mermaid Boat during Night Market
Artifact Trove
Blobfish Pond
Rabbit's Foot
Rabbit
Traveling Cart
Serpent drop
Neutrals
GIFT
HOW TO GET
Dandelion
Foraging in Spring
Leek
Foraging in Spring
Wild Horseradish
Foraging in Spring
Morel
Foraging in Spring
Chanterelle
Foraging in Fall
Common Mushroom
Foraging in Fall
Hazelnut
Foraging in Fall
Snow Yam
Foraging in Winter
Winter Root
Foraging in Winter
Purple Mushroom
Foraging in the Mines
Ginger
Foraging in Ginger Island
Magma Cap
Foraging in Volcano Dungeon
All Eggs
(except Void Eggs)
Ranching Chickens in a Coop
All Fruit
(except Fruit Tree Fruits and Salmonberry)
Farming
Fruit Bat Cave
All Milk
Ranching Cows and Goats
in a Barn
All Universal Neutrals
(except Wool)
Foraging
Cooking
Farming
Mining
Dislikes
GIFT
HOW TO GET
Fried Eel
Cooking:
Eel (1)
Oil (1)
Ice Cream
Cooking:
Milk (1)
Sugar (1)
Rice Pudding
Cooking:
Milk (1)
Sugar (1)
Rice (1)
Salmonberry
Foraging in Spring
Spicy Eel
Cooking:
Eel (1)
Hot Pepper (1)
All Universal Dislikes
Foraging
Cooking
Farming
Mining
Hates
GIFT
HOW TO GET
Fish Taco
Cooking:
Tuna (1)
Tortilla (1)
Red Cabbage (1)
Mayonnaise (1)
Holly
Foraging in Winter
Maki Roll
Cooking:
Fish (1)
Seaweed (1)
Rice (1)
Salmon Dinner
Cooking:
Salmon (1)
Amaranth (1)
Kale (1)
Sashimi
Cooking:
Fish (1)
All Universal Hates
Foraging
Cooking
Farming
Mining
Movie Theater: Favorite Movies and Concessions
The Movie Theater is a brand new addition to the Stardew Valley Community. You can now watch movies once a week alone or with a guest. The building is unlocked by either completing the Community Center or Joja's Community Upgrades. It's a really fun addition to the town!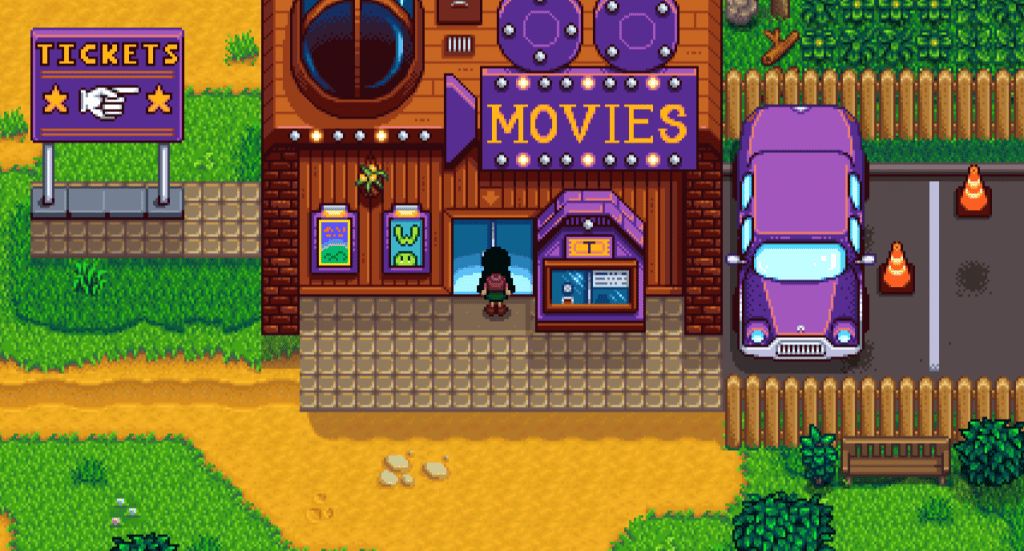 Emily may have her sewing projects and job at the Saloon, but she still enjoys a bit of fun at the movies. Here's a list of movies and snacks she likes and dislikes:
Movies:
Loves:
The Miracle at Coldstar Ranch
Likes:
Journey Of The Prairie King: The Motion Picture
Natural Wonders: Exploring Our Vibrant World
The Brave Little Sapling
The Zuzu City Express
Wumbus
Dislikes:
It Howls In The Rain
Mysterium
Concessions:
Loves:
Kale Smoothie
Stardrop Sorbet
Likes:
Apple Slices
Cappucino Mousse Cake
Chocolate Popcorn
Cotton Candy
Hummus Snack Pack
Jasmine Tea
Jawbreaker
Panzanella Salad
Rock Candy
Sour Slimes
Star Cookie
Truffle Popcorn
Dislikes:
Black Licorice
Fries
Joja Cola
JojaCorn
Nachos
Personal Pizza
Popcorn
Salted Peanuts
Inviting a villager to a movie they love will gain you 200 friendship points, 100 friendship points with one they like, and no points for one they dislike. Be sure to check out what's showing every so often! Movies change based on the seasons and when you unlock the theater, so try to take them when their favorite is showing.
Like the movies, the snacks at the concession counter randomly rotate. Giving a villager a snack they love will earn you 50 friendship points, 25 friendship points for one they like, and no points for one they dislike. As long as you steer clear of something they don't like, you're good!
Heart Events
Befriending a villager by talking to them, spending time with them, and giving them presents they like will result in an increase in hearts in your friendship bar or heart meter with them. You get to trigger a special heart event or cutscene with the blue-haired girl. It happens every time you reach two more hearts with her.
No. Of Hearts
Heart Event
0-14
You may get a gift in the mail from Emily at any point in your friendship. The chance of getting the mail gift increases as the number of hearts you get with her.

You may receive either Cloth, Sea Urchin, or Wool, along with a letter from her.
2
Go inside Emily's house at 2 Willow Lane.

You'll find Emily sleeping in her room and you'll be pulled into her dream. It's a kaleidoscope of colors, shapes, and sceneries. You'll find her floating and chanting in the middle of a purple stone platform. You appear out of nowhere, surprising her. She questions why you are in her dream and then a rainbow streaks across like a sign from above.

You leave her dream after. She wakes up and tells herself that you're special and that both of your destinies are tied to each other in some way.
3
She will send you the recipe for Salad in the mail.
4
Go into town on a sunny day during any season except Winter.

Emily exits her house as three parrots fly by. She greets them as friends. Another parrot flies by and injures itself hitting the window of the house. She rushes to the poor bird and promises to take care of it.

After, she has the parrot in her room. If you go up to it and interact with it, the parrot will jump around and squawk. Moreover, if you marry Emily, the parrot will also move into the farm with her.
6
Go inside Emily's house at 2 Willow Lane when she's there.

You'll find her in her bedroom where she excitedly tells you about her secret hobby that she'd been working on for a while. She'll put some music on and then begin dancing for you. After, she'll turn to you and ask what you thought of her performance.

You are given the choice to respond in three ways:
• You tell her that it was amazing!
• You say it was embarrassing.
• You say nothing and just do a slow clap.

The first and third responses will give you an added 25 friendship points, the second option will subtract 50 friendship points with her.
7
She'll send you the recipe for Red Plate in the mail.
8
You'll receive a letter in the mail from Emily, inviting you to her "Clothing Therapy" session at the Mayor's house.

Go inside Mayor Lewis' Manor.

You'll find the Mayor, Abigail, Shane, Robin, and Clint in attendance. Emily will explain that she wants to help the townspeople express themselves through clothing. She then tells them to pick out items that speak to who they are and display themselves to the world fearlessly.

You get to see the villagers picks. Shane goes completely goth while Robin welcomed her more girly side. Mayor Lewis is as always a fancy-pants-man. Abigail, ever the eclectic, chose to don a suit of armor. Clint, was apprehensive at first, but after a bit of encouragement from Emily, showed up in pink shorts and a beret!

After the show, she comes to you with romance in mind. Clint interrupts you both, feels awful, and makes some pointed statements. Emily is left bewildered about the whole thing.
10
You'll receive a letter inviting you to meet Emily at the Secret Woods after 10 PM.
Note: You'll need a Steel Axe for this event to trigger.

You go camping together in the woods. She snuggles up to you, feeling cold. You both hear an unusual sound in the forest, and then a bear suddenly appears. It makes a loud sound, and you both jump into the tent in fear. The bear leaves after a while. One sleeping bag is left outside, but the both of you are unwilling to go outside to get it. You share one sleeping bag in the tent for the night.

The next day, you'll receive a letter from Emily saying she was glad the bear showed up after all.
Group
10-Heart Event
The Group 10-Heart Event triggers after you've given all the bachelorettes a bouquet, gained 10 hearts, and experienced the 10-heart events with them.

If you gave Haley the last bouquet, you'll trigger a cutscene at 2 Willow Lane, wherein all the bachelorettes are together and very angry at you.

Make sure to have a Rabbit's Foot with you to prevent them from finding out that you're dating all of them. They'll get mad at you and ignore you for the whole week. Also, they won't accept any gifts from you anymore.

Note: this won't occur if you've already offered someone the pendant or got married before.
14
Leave your farmhouse anytime from 6 AM and 8:20 AM.

Emily will appear outside of your home with a quest for you to bring her 200 pieces of fiber.

Three days after completing the quest, enter your home anytime from 8 PM and 12 MN. She will present you with a whole new outfit she made herself. You'll receive Emily's Magic Hat, Emily's Magic Boots, Emily's Magic Shirt, and blue Genie Pants.
Marriage
After offering the Mermaid's Pendant and having your wedding, Emily moves into the farmhouse. She'll have her spouse room beside the bedroom, and she'll have a crystal garden behind the shipping bin. She sometimes goes there to meditate and relax.
Once married, your spouse may give you gifts. Her small presents differ depending on the day, but here's a table of what she may give you:
| At Home All Day | Rainy Mornings | Rainy Nights |
| --- | --- | --- |
| Cloth | Cloth | Rice Pudding |
| Wool | Wool | Blueberry Tart |
| Duck Feather | Duck Feather | Cookie |
| Refined Quartz | Refined Quartz | Chocolate Cake |
| Bean Hotpot | Bean Hotpot | |
| Coffee | | |
| Omni Geode | | |
Quests
Emily shows up with quests sometimes and she may on occasion appear on the "Help Wanted" board. Fulfilling the request gives you 150 Friendship Points and some gold worth 3x the item's base price.
Her most well-known quests are "Fresh Fruit" and "Rock Rejuvenation."
Fresh Fruit: appears around Year 2 where she asks for an Apricot in exchange for 600g and one friendship heart.
Rock Rejuvenation: appears on the "Special Orders" board in front of the Mayor's Manor. She asks for one Ruby, Emerald, Topaz, Amethyst, and Jade. Her reward for completing this is 1000g, 250 friendship points, and a Sewing Machine.
Emily's truly a wonderful girl to get to know. Ultimately, this is a full and comprehensive guide to her schedule, gift preferences, favorite movies, snacks, heart events, and marriage.