Have you met the monster who lives by the Sewers? He's quite the contrary of most mobs in Stardew Valley since you can befriend him! Here's a guide to learning more about the best gifts for him, his schedule, and his shop.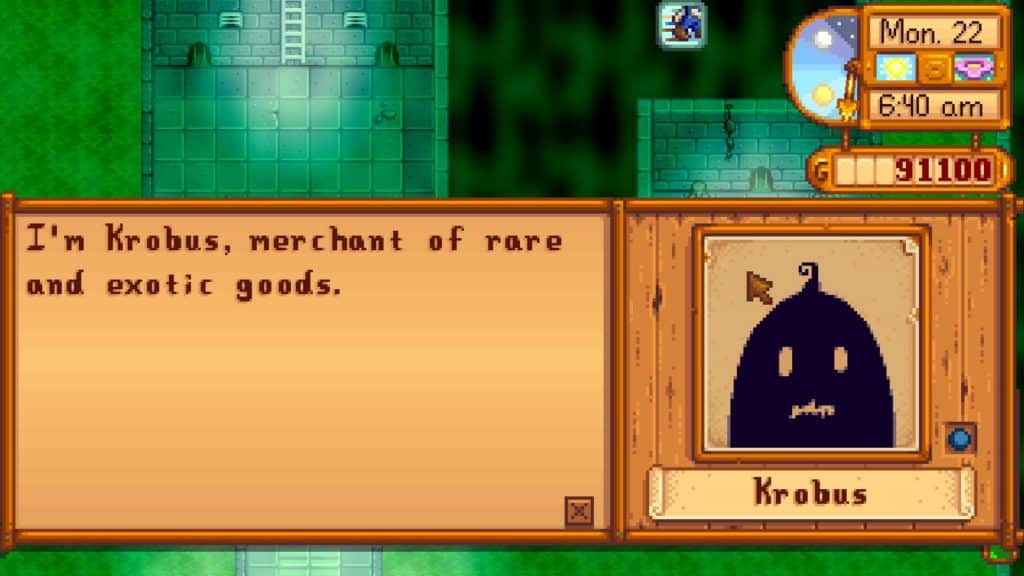 The moment you obtain the Rusty Key from Gunther, you'll get to access the Sewers. Acquiring the key only requires you to donate 60 items to the Museum. After completing the donation, you'll immediately get it as a reward!
However, what– perhaps who will you find in this newly unlocked area in Stardew Valley? He's Krobus, a new character that you can befriend and even ask to be your roommate. In this guide, we'll discuss his absolute likes, schedule, and more!
Who is Krobus in Stardew Valley?
He's a kind monster who's good friends with other hostile monsters. On the game's wiki, you'll find him apologizing for his friends' malice towards you. He hints that this was because of their issues with mortals from the past. Nonetheless, he's different from most of them since he does no harm.
Moreover, Krobus is a businessman– perhaps, a business monster, who runs a shop in the Sewers. It's always open and you'll find different items in its stock. A fun fact about him is his name means "bridge-crosser" in his language.
Relationships
He doesn't have any friends, but it was well-noted that he and the dwarves have immense hatred for each other after their 1,000-year war. Krobus and the Wizard also know each other but they're not exactly friends, the sorcerer intervenes with anything that may cause trouble for anyone.
Where is Krobus in Stardew Valley?
As mentioned, you'll always find him in the Sewers once you unlocked the place. He doesn't have a lot of things going on in his life. Even when he becomes your roommate, his schedule won't change.
What Can You Find in Krobus' Shop?
This store offers both unique and common loots. You might want to visit it and purchase something that'll make your gameplay better in Stardew Valley. Although you should beware that they're quite overpriced and may leave you broke if you attempt to make a bulk purchase.
Fixed Stock
| | | |
| --- | --- | --- |
| Items | Quantity | Unit Price |
| Void Egg | Unlimited | 5,000g |
| Void Essence | 10 | 100g |
| Solar Essence | 10 | 80g |
| Sign Of The Vessel | Unlimited | 350g |
| Monster Fireplace | Unlimited | 20,000g |
| Stardrop | 1 (Obtainable until purchased) | 20,000g |
| Crystal Floor Recipe | 1 (Available until purchased) | 500g |
| Wicked Statue Recipe | 1 (Available until paid for) | 1,000g |
| Return Scepter | 1 (Available until purchased) | 2,000,000g |
Rotating Stock
| | | | |
| --- | --- | --- | --- |
| Item | Day | Quantity | Unit Price |
| Slime | Monday | 50 | 10g |
| Omni Geode | Tuesday | 1 | 300g |
| Fish or Magnet | Wednesday | 5 | 200g |
| Mixed Seed | Thursday | 10 | 30g |
| Iridium Sprinkler | Friday | 1 | 10,000g |
| Cooked Dishes | Saturday | 5 | 50g to 500g |
| Bat Wing | Sunday | 10 | 30g |
What Does Krobus Like in Stardew Valley?
If you're not a people person, then Krobus might be the perfect friend for you. You can offer him gifts in his best interests and strengthen your relationship with him. Below are the things that he appreciates and hates.
Loves
Likes
Neutrals
Dislikes
Hates
All Universal Loves




All Universal Likes aside from: 
• Life Elixir
• All Cooking except Seafoam Pudding

All Universal Neutrals:
• All Eggs (aside from Void Egg)
• All Fruit (aside from Fruit Tree Fruit & Salmonberry)
• All Milk
All Universal Dislikes aside from:
• Gold Bar
• Iridium Bar
• Void Egg
• All Cooking (aside from Bread, Fried Egg, Seafoam Pudding, and Strange Bun)
All Universal Hates aside from:
• Void Mayonnaise
Diamond
Gold Bar
Chanterelle
Iridium Bar
Quartz
Common Mushroom
Pumpkin
Daffodil
Void Egg
Dandelion
Void Mayonnaise
Ginger
Wild Horseradish
Hazelnut
Holly
Leek
Life Elixir
Magma Cap
Morel
Purple Mushroom
Salmonberry
Snow Yam
Winter Root
What Movies and Concessions Does Krobus Like?
Despite not being a fan of outdoor activities, it's still possible for him to join you for a movie. However, he won't go with you if it's Friday as he claims that it's the day when he dedicates his time to Yoba. We've listed the films that he prefers and dislikes in Stardew Valley.
Loves
Likes
Dislikes
It Howls In the Rain
Journey Of The Prairie King: The Motion Picture
Natural Wonders: Exploring Our Vibrant World
The Brave Little Sapling
The Miracle at Coldstar Ranch
The Zuzu City Express
Wumbus
Meanwhile, who wouldn't love to have snacks while watching their favorite movie? Our friendly monster is like a regular human who also appreciates good meals! Here are the concessions you can give him when visiting the theater.
Loves
Dislikes
Apple Slices
Capuccino Mousse Cake
Chocolate Popcorn
Cotton Candy
Ice Cream Sandwich
Jawbreaker
Joja Cola
JojaCorn
Rock Candy
Star Cookie
Stardrop Sorbet
Likes
Heart Events
He doesn't have a lot of heart events, but strengthening your friendship with him can be worth your while since he has interesting dialogues. Anyway, below are his special events in Stardew Valley:
No. Of Hearts
Event
3
You'll receive a crafting recipe from him known as the Dark Sign. He notes that he asked for the Wizard's aid in writing this mail.
14
If you enter the beach around 8 PM to 1 AM, you'll find him sitting by the docks as he watches the moonlight jellies.
A sea monster then appears and takes him for a ride– an event that Krobus seemed to enjoy.
Can you be roommates with Krobus?
Suppose that you don't want to marry any villager but would like a companion in your home– Krobus is just one Void Ghost Pendant away. Offering this ornament allows you to have him as a roommate in your farmhouse. Once he moves in, a chest will replace him in the Sewers, which contains his products.
Here are the things you should expect once he becomes your housemate:
You can't kiss him, but you may hug him.
There won't be any ceremony, but it'll take three days still for him to move in.
You can adopt or have a child with him, but he would help take care of your children from your former spouse.
He won't get jealous of other NPCs.
He won't help you out on your farm and other chores.
He won't use the stone path behind your farmhouse.
Moreover, you can evict him from your house for free. But do expect that he'd treat you coldly if you do this. You may erase his memory as well by using the Dark Shrine of Memories from the Witch's Hut.
Additionally, he may occasionally offer you these meals depending on the weather:
| | |
| --- | --- |
| On Rainy Mornings | Non-Rainy Mornings |
| Sea Urchin | Fried Eel |
| Strange Bun | Lucky Lunch |
| Void Egg | Poppyseed Muffin |
| Void Mayonnaise | Strange Bun |
| Void Salmon | |