Multiple crops to pick and a small plot of land in the Greenhouse presents a challenge. It's a must to maximize income, so read this FULL guide to start planting the best crops on your artificial farmland!
The Greenhouse provides an excellent opportunity for you when running out of farming space in Stardew Valley. Of course, it's far-fetched to ever run out of soil to lay seeds and fertilizers. But what if the impossible happens?
Several factors play a significant role in contributing to the need in using Greenhouse:
The need for extra profits.
Choosing a non-standard farming map but ends up farming in the end.
Too demanding quests.
And so much more.
However, this guide reveals 16 of the best crops to grow in the Greenhouse. We'll include everything from the buying and selling prices of seeds and fully-grown crops to opportunities for producing a specific plant.
As always, we recommend buying from Pierre's General Store or Magic Shop Boat at the Night Market. No Joja, please!
Note: The current list is subject to change as Stardew Valley may still receive updates from ConcernedApe - the game developer. We'll keep an eye on those changes to improve our suggestions for gameplay equal to its quality.
Best Crops to Grow in the Greenhouse
It's a must to unlock the Greenhouse first before planting any further. All you need is complete the Community Center Pantry, consisting of:
Spring Crops Bundle
Summer Crops Bundle
Fall Crops Bundle
Quality Crops Bundle
Animal Bundle
Artisan Bundle
Place Quality Sprinklers or Iridium Sprinklers to save time going back and forth to the built-in water trough. The Watering Can is pretty much meant for the early-game. On top of that, you won't need Scarecrows as the area is covered.
If you're all set, congratulations! You can now start growing the following crops in Stardew Valley to your newly-unlocked Greenhouse:
Strawberries
| | | | | |
| --- | --- | --- | --- | --- |
| Quality | Selling Price | Tiller boost | Wine/Jelly | Artisan boost |
| Normal | 120g | 132g | 360g/290g | 504g/406g |
| Silver | 150g | 165g | 450g | 630g |
| Gold | 180g | 198g | 540g | 756g |
| Iridium | 240g | 264g | 720g | 1,000g |
In Spring, Strawberry Seeds will grow for eight days and keep reproducing after four days. The fruit sells from 120g to 240g each depending on the quality, but that's not the deal breaker.
This best crop has a 2% more yield chance, prompting more profit in the long run. Although a subpar suggestion, it generates 20g/d, which is fair.
Overall, you won't lose with Strawberries in the Greenhouse. You might even befriend Maru or Demetrius if you share those sweet fruits!
To get Strawberry Seeds, you'll need to buy them from Pierre at the Egg Festival for 1,000g each.
Cranberries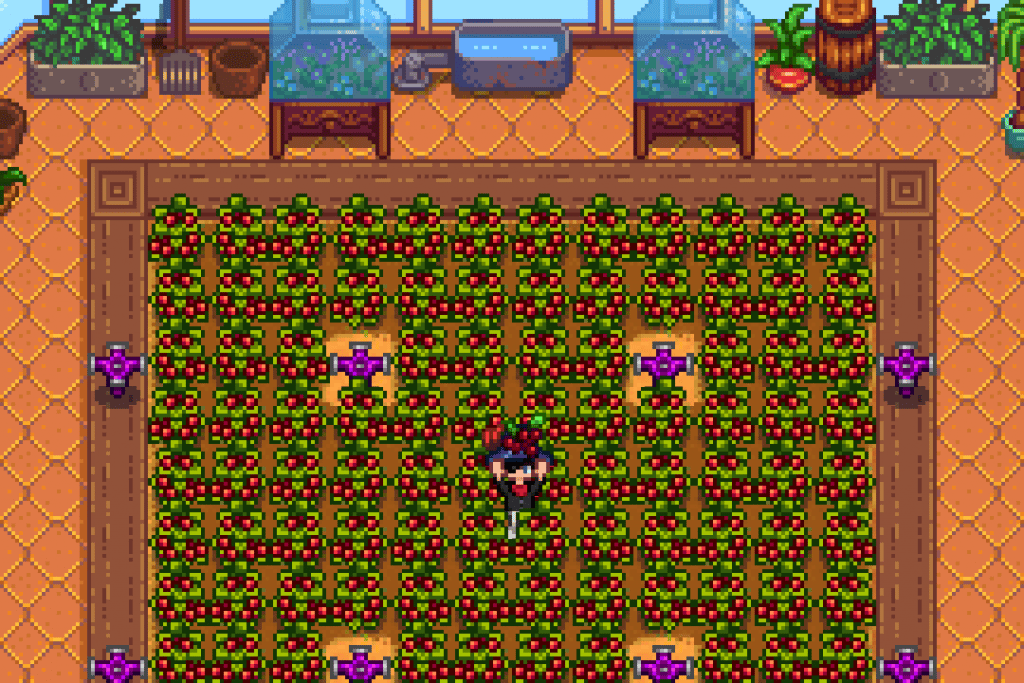 | | | | | |
| --- | --- | --- | --- | --- |
| Quality | Selling Price | Tiller boost | Wine/Jelly | Artisan boost |
| Normal | 75g | 82g | 225g/200g | 315g/280g |
| Silver | 93g | 102g | 281g | 393g |
| Gold | 112g | 123g | 337g | 471g |
| Iridium | 150g | 165g | 450g | 630g |
Cranberry Seeds grown inside the Greenhouse takes seven days before a fruit pops out. Every harvest gives you two Cranberries, with a 10% chance for more once at its regrowing stage.
Recipes with important buffs for mining, defense, and even speed and max energy earn this best crop a list spot. However, it's also noteworthy how it provides 19g/d! Sure, its earlier counterpart has better stats, but it's still a great option if you extract its sauce for one of its recipes.
You can buy Cranberry Seeds from Pierre for 240g. If you ever run out, feel free to use the Seed Maker.
Blueberries
| | | | | |
| --- | --- | --- | --- | --- |
| Quality | Selling Price | Tiller boost | Wine/Jelly | Artisan boost |
| Normal | 50g | 55g | 150g | 210g |
| Silver | 62g | 68g | 187g | 261g |
| Gold | 75g | 82g | 225g | 315g |
| Iridium | 100g | 110g | 300g | 420g |
As Summer arrives in Stardew Valley, it's unfortunate how improbable it's to lay them out on your Farm. More expensive options like Melons and Starfruits will most likely be planted, but that's not an issue.
You can still plant Blueberries to your liking and get the best results. Since it's known for its massive multi-yields upon harvesting, the crop is a viable source of continuous profits.
With its 13 days of maturity, it's important to speed up the growth with Speed-Gro fertilizers. Preferably, stick with the regular one as the rest results in the same findings: five harvests in a season.
Endless seed stocks are available to buy from the General Store for 80g. You won't lose as the crop has a four-day regrow period.
Pineapple
| | | | | |
| --- | --- | --- | --- | --- |
| Quality | Selling Price | Tiller boost | Wine/Jelly | Artisan boost |
| Normal | 300g | 330g | 900g/650g | 1,260g/910g |
| Silver | 375g | 412g | 1,125g | 1,575g |
| Gold | 450g | 495g | 1,350g | 1,890g |
| Iridium | 600g | 660g | 1,800g | 2,520g |
We've emphasized this fact for a long time, and we'll do it again: Ginger Island is the best update ever. New areas, new storylines, but who'd forget crops?
Instead, it's the delicious and refreshing Pineapple.
Getting Pineapple Seeds is the tricky part. First, you'll need to head inside the Volcano Dungeon and find a Magma Cap. These mushrooms appear red, but be careful with monsters, so bring a weapon!
Afterward, you'll need to trade the Magma Cap to the Island Trader. You can start with one crop, but you'll eventually fill the Greenhouse using Seed Makers. It's another waiting game of 14 days until the first Pineapple appears. Another seven days is necessary for a re-harvest.
Speed-Gro fertilizers help speed up the process, though there'll be some delay. Using the regular version is essential, or you'll waste money.
As a sweet bonus for the waiting time, the fruit can be made into a Tropical Curry – a dish that ups +4 Foraging. It's the highest in-game, although we recommend selling the raw produce for profiting.
Ancient Fruit
| | | | | |
| --- | --- | --- | --- | --- |
| Quality | Selling Prices | Tiller boost | Wine/Jelly | Artisan boost |
| Normal | 550g | 605g | 1,650g/1,150g | 2,310g/1,610g |
| Silver | 687g | 755g | 2,062g | 2,886g |
| Gold | 825g | 907g | 2,475g | 3,465g |
| Iridium | 1,100g | 1,210g | 3,300g | 4,620g |
For many advanced Stardew Valley players, the Ancient Fruit is the G.O.A.T. For those who don't know, it's the greatest (aside from the best) crop in-game. But what makes it truly exceptional?
Look at the stats. Those are massive selling values! The Starfruit may beat this crop, but they're a one-time plant only! Ancient Fruit does the opposite, letting you keep it planted indefinitely while getting passive profits every seven days! Lowering the raw selling price is a decent balancing method ConcernedApe has done, and it's working perfectly.
In terms of Artisan Goods, this best crop for your Greenhouse fell short. Generally, aging wines is time-consuming. Whenever possible, it's best to make a day as profitable as possible. That's why we don't recommend turning the Ancient Fruit into an Artisan Product.
From Day 1, you can get one Ancient Fruit. But with Hyper Speed-Gro fertilizers, you'll get two. It's easy to profit if you use Sprinklers without the Agriculturist profession.
To get its seeds, you can buy them for 100g to 1,000g from the Traveling Cart (1.26% appearance chance, and no other merchant choice). However, donating its artifact form to Gunther will reward you with the seed.
We want to give caution that filling the entire Greenhouse with Ancient Fruit is challenging. However, Seed Makers will eventually take your dream closer upon completion.
Sweet Gem Berry
| | |
| --- | --- |
| Quality | Selling Prices |
| Normal | 3,000g |
| Silver | 3,750g |
| Gold | 4,500g |
| Iridium | 6,000g |
Legends say the Traveling Cart that visits Stardew Valley every Thursday and Sunday brings a Rare Seed – and it's true! It's the Sweet Gem Berry: the most valuable item in farming despite being unconsidered a Fruit or Vegetable.
Sweet Gem Berry has staggering selling prices, albeit in its raw form. That's because turning the fruit into wine or jelly won't work. However, with a growth time of 24 days, it's still pretty balanced because of the profit you can earn (88g/d).
If you're generous enough to give the Sweet Gem Berry to Old Master Cannoli, he'll provide you with something unforgettable.
Getting Rare Seeds is available from the Traveling Cart for 600g to 1,000g. This best crop in your Greenhouse in Stardew Valley will be a rough start. But progressively, allocating some extra berries inside Seed Makers can yield multiple seeds.
Cauliflower, Melon, and Pumpkin
On every crop recommendation, there's always a spot for these three for good reasons.
There may be some slight selling price differences, but the commonality lies between their unique property. A 3×3 grid of the same crop type, whether it's Cauliflower, Melon, or Pumpkin, has a chance to produce Giant Crops. You'll get 15 to 21 of normal quality from nine drops depending on your Luck.
Make sure to bring your Axe to your Greenhouse for harvesting!
Qi Fruit
It may be a surprise because who plants Qi Fruit in their Greenhouse? In reality, the logic is a no-brainer: regular seasonal crops deserve the space.
It's noteworthy that Qi Fruit isn't meant for selling. You're using it in the first place to complete one of Qi's Special Orders, "Qi's Crop". The reward is a decent amount of Qi Gems you can exchange for crafting recipes and items, but it doesn't get any better.
Upon completion, there's no need to worry about Qi Plants as they'll be automatically removed. For the seeds? Do something, and there's a chance it'll spawn.
Corn
| | | | | |
| --- | --- | --- | --- | --- |
| Quality | Selling Prices | Tiller boost | Juice/Pickle/Oil | Artisan boost |
| Normal | 50g | 55g | 112g/150g/100g | 156g/210g/100g |
| Silver | 62g | 68g | | |
| Gold | 75g | 82g | | |
| Iridium | 100g | 110g | | |
Corn is the perfect example of the best crop that can grow during Summer and Fall. But to make things better, consider adding them to your Greenhouse. They're multi-purpose and earn at least 2g/d while you wait 14 days and the remaining four regrowing days for 7g/d.
Without fertilizers, you'll get four harvests in the first season. But incorporating Deluxe Speed-Gro adds one, totaling up to seven until the next month.
To get Corn Seeds, you can get the lowest price from the General Store or Magic Shop Boat for 150g. You can turn the yield into Tortilla and other profitable food or Oil to save money from buying ingredients.
Starfruit
| | | | | |
| --- | --- | --- | --- | --- |
| Quality | Selling Prices | Tiller boost | Wine/Jelly | Artisan boost |
| Normal | 750g | 825g | 2,250g/1,550g | 3,150g/2,170g |
| Silver | 937g | 1,030g | 2,812g | 3,936g |
| Gold | 1,125g | 1,237g | 3,375g | 4,725g |
| Iridium | 1,500g | 1,650g | 4,500g | 6,300g |
Planting Starfruits isn't as straightforward as you think. Sure, it's the second most profitable crop in Stardew Valley, but getting seeds is another problem.
But assuming you've everything to unlock the Bus to Calico Desert, you can get Starfruit Seeds from Sandy at the Oasis Shop. It costs 400g each, and it grows for 13 days. Note that it's a multi-harvest crop, so if you're planning to sell it raw, use Fertilizers.
Starfruit is well-known to do well with wine-making and aging. We recommend using Speed-Gro fertilizers since it enhances the growth time, letting you harvest three crops.
It might be an expensive investment at first, but 27g/d might make things a little easier for you next time.
Coffee Beans
| | | |
| --- | --- | --- |
| Quality | Selling Prices | Coffee |
| Normal | 15g | 150g |
| Silver | 18g | |
| Gold | 22g | |
| Iridium | 30g | |
Starting your day in Stardew Valley begins with a Coffee. That cup you purchase from Gus is more profitable if it's on your D.I.Y. list. That's why it's great to have them in your Greenhouse!
Coffee Beans are one of the best crops in Stardew Valley, not because of the selling price. It's the utility it offers, which gives an additional movement speed consumption. Even better, adding three to the Kitchen (after finishing the brewing process) creates a Triple Shot Espresso, which is better in every aspect.
Coffee plants grow after ten days, but since you're using the Greenhouse, consider sprinkling Hyper Speed-Gro fertilizers. The waiting time is drastically reduced to six days, and you'll get four or more beans daily.
As an initial source of Coffee Beans, try your luck with the Traveling Cart. She might sell seeds for 100g to 1,000g.
Hops
| | | | | |
| --- | --- | --- | --- | --- |
| Quality | Selling Prices | Tiller boost | Pale Ale/Pickle | Artisan boost |
| Normal | 25g | 27g | 300g/100g | 420g/140g |
| Silver | 31g | 34g | 375g | 525g |
| Gold | 37g | 40g | 450g | 630g |
| Iridium | 50g | 55g | 600g | 840g |
Hops may not occupy all spaces in your Greenhouse, but you can fill the remaining plots with any crops. It's not easy to ignore its potential, as the Pale Ale is second to the most profitable Artisan Goods in-game.
After getting Hops Starter from Pierre's General Store for 30g, it'll take 11 days to reach full maturity. However, the regrowth phase is one day, making it one of the most profitable.
We recommend using Hyper Speed-Gro fertilizers as it cuts the waiting time to two days. From that point, you have to place Hops to Kegs and convert them into Pale Ale.
Cactus Fruit
| | | | | |
| --- | --- | --- | --- | --- |
| Quality | Selling Prices | Tiller boost | Wine/Jelly | Artisan boost |
| Normal | 75g | 82g | 225g/200g | 315g/280g |
| Silver | 93g | 102g | 281g | 393g |
| Gold | 112g | 123g | 337g | 471g |
| Iridium | 150g | 165g | 450g | 630g |
Cactus plants and palm trees are worth looking forward to after Calico Desert's introduction. Unfortunately, you can only pick Coconuts, not the fruit of a prickly Cactus.
However, Stardew Valley version 1.3.27 introduced Cactus Seeds – an indoor crop that grows for 12 days. Paying Sandy at the Oasis Shop 150g will get you going, and you can even reproduce it afterward!
As the first desert-based crop you can cultivate, it's unsurprising how possible it's to put them inside the Greenhouse. The growth time might be ridiculous, but speeding them up with Speed-Gro fertilizers can get you between 10 to 8 days, depending on the type.
Tea Leaves and Fruit Trees
In general, trees take the most time to grow. For these best crops, quantity and quality matter a lot for greater profitability. See that extra space on the corners where regular plants won't thrive? Place your sapling in there and start experimenting! Just ensure you're giving them enough room to breathe.
While we recommend Tea Leaves, Mango, and Banana, it's best to place at least each type. Fill the remaining spaces with your best pick, and everything's set up! You don't have to water them, unlike the other best crops on this list.
All Fruit Trees Yield Available:
Apple
Apricot
Banana
Cherry
Mango
Orange
Peach
Pomegranate
Further Profiting: Preserves Jar or Keg?
For beginners stuck between the two Artisan equipment, both have respective pros and cons.
The Preserves Jar is best for early-game and short-term profits. However, the value won't be that big, but there's still an upgrade from a crop's base selling price.
On the other hand, Kegs take more days before producing a Wine or Juice. But the profit point is an excellent tradeoff for the time.
Before venturing towards this path, we recommend selecting the Artisan Profession. It adds better value to your priced goods, earning you more income in the end.