Have you tried offering a bouquet to all marriage candidates in Stardew Valley? If you're wondering what happens when dating multiple bachelors and bachelorettes, this guide can help you. Here we'll discuss its consequences and everything you need to know about it!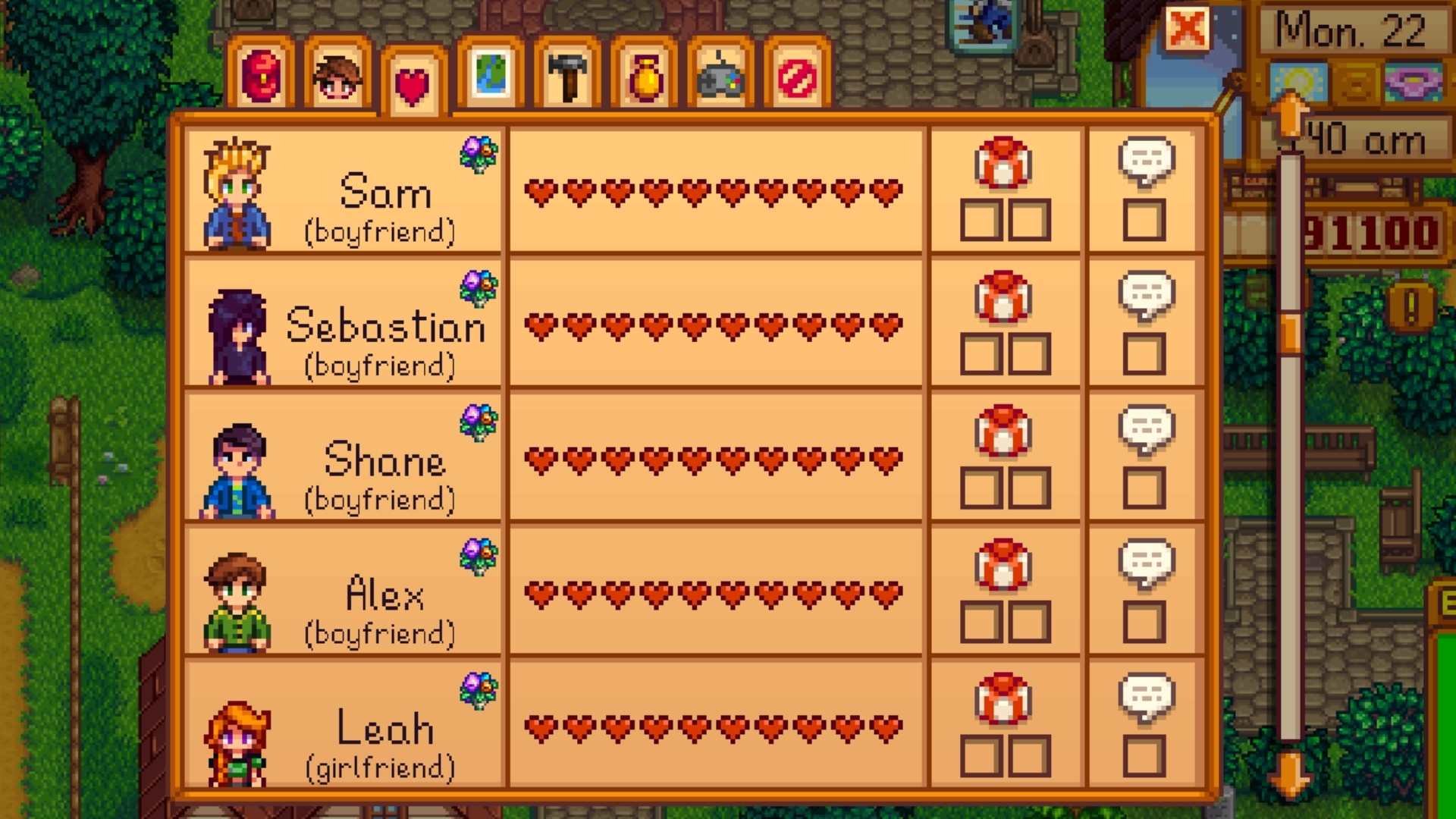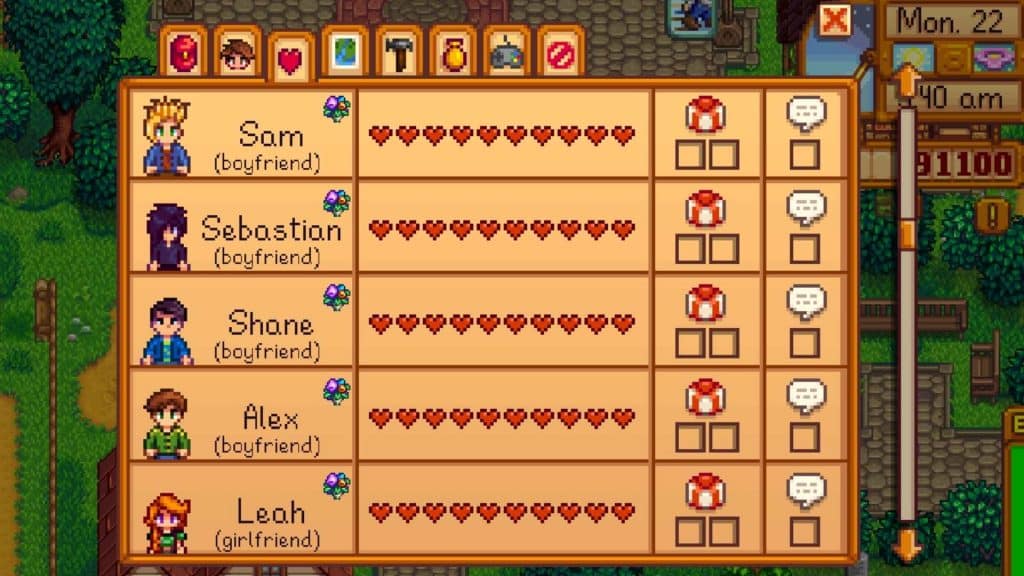 There are no rules in dating in Stardew Valley. You can go out with anyone you like as long as they're single and passes as marriage candidates. We can't blame you if you wish to court multiple villagers since it's an efficient way to learn about the most worthy spouse in-game.
However, doing this has a consequence– the Group 10-Heart Event. What is it, and how do you avoid it? In this guide, you'll learn how to trigger it and the best way to dodge the repercussions of having a romance with all candidates.
What does Stardew Valley Dating Multiple Mean?
Dating multiple means that you've offered a Bouquet to all candidates, and they're your boyfriend or girlfriend. Presenting the said item initiates a romantic relationship, allowing you to learn more about their heart events. Upon reaching a Friendship Level of ten with every candidate, you'll trigger a unique yet problematic but avoidable event.
Unfortunately, this only happens once in a saved file. You can't trigger it either if you've already offered a Wilted Bouquet, Mermaid's Pendant from the Old Mariner, or divorce any candidate. Anyhow, here's a list of all the qualified candidates in Stardew Valley:
| | |
| --- | --- |
| Bachelors | Bachelorettes |
| Alex | Abigail |
| Eliott | Emily |
| Harvey | Haley |
| Sam | Leah |
| Sebastian | Maru |
| Shane | Penny |
Group 10-Heart Event
You'll immediately trigger this event if Haley is the last maiden with whom you shared the ten hearts event in Stardew Valley. And to instantly experience this as well with bachelors, you'll need to encounter Alex's ten hearts event lastly.
Entering Emily/Haley's home triggers a cutscene wherein you'll be startled by seeing all bachelorettes in one room. You'll attempt to sneak out but get called out by them. Abigail sarcastically asks you if you've never thought about meeting all your girlfriends in one room.
Additionally, each of them states their disappointment with you. You can try to reason out with these ladies or apologize, but whatever you do, the result still ends with them giving you the cold shoulder.
While for bachelors, you'll need to visit the Stardrop Saloon to trigger this event. The same scenario occurs; Sam's the one who asks you if you've never thought of seeing your "boyfriends" in a single space. You may also reason out with them or even cry, but they'd still come up with the same punishment as the ladies gave you.
They would refuse to speak with you or angrily converse with you. These marriage candidates will also reject any gift you offer them for a week.
How to Avoid the Consequences of Dating Multiple in Stardew Valley?
To avoid this occasion, you'll need to bring a Rabbit's Foot in your inventory when visiting the said locations. This prevents their cold treatment. Instead of finding out about your infidelity, they'll act as if they know nothing.
For the bachelorettes, they'll gossip about Marnie and Mayor Lewis' relationship. While for the other group, they'll hold a friendly game of pool wherein Sebastian expectedly wins.
Anyway, here's a fun fact; in the beta testing of this event, you were supposed to lose 250 points and have your engagement canceled. All these candidates will break up with you instead of ignoring you for a week. It also reset the number of hearts you gain to eight hearts.
In short, you can't escape the consequences of cheating in the older version. Which one do you prefer, though?