When it comes to finding some of the most humble and nice NPCs, there is no way that wouldn't mention Stardew Valley Demetrius. He is known for his lovely family, his wife Robin, his daughter Maru, and his step-son Sebastian. Your character can marry Maru or Sebastian, so it's very possible that you and Demetrius will meet each other at some point!
This character is very friendly and there are a lot of great moments that the two of you can have together (through dialogue or quests), so let's go together through our guide for this NPC and learn more about Demetrius!
Here's everything you need to know about him:
Stardew Valley Demetrius: The No. 1 Stepdad
If there's one way Demetrius stands out from the rest of the crowd, it's him trying to be one of the best stepdads in Stardew Valley.
It's quite fun to see all the books he has at home. For example, you might notice such titles as "Maximizing Your Second Marriage" or "Practical Tips For First-Time Step-Dads". Isn't that just so adorable? These books are what make everyone think that he is Robin's second husband even though it's not exactly specifically mentioned throughout the game.
Of course, Stardew Valley Demetrius loves his daughter Maru, but he is also protective of his step-son Sebastian.
If you're looking for Demetrius or his family, you might need to look around the Mountain (the Mountain Road) where he is being one of the best scientists in this particular city. If you're particularly looking for Demetrius, then take a look at the laboratory or find him somewhere outside where he is falling more and more in love with his career.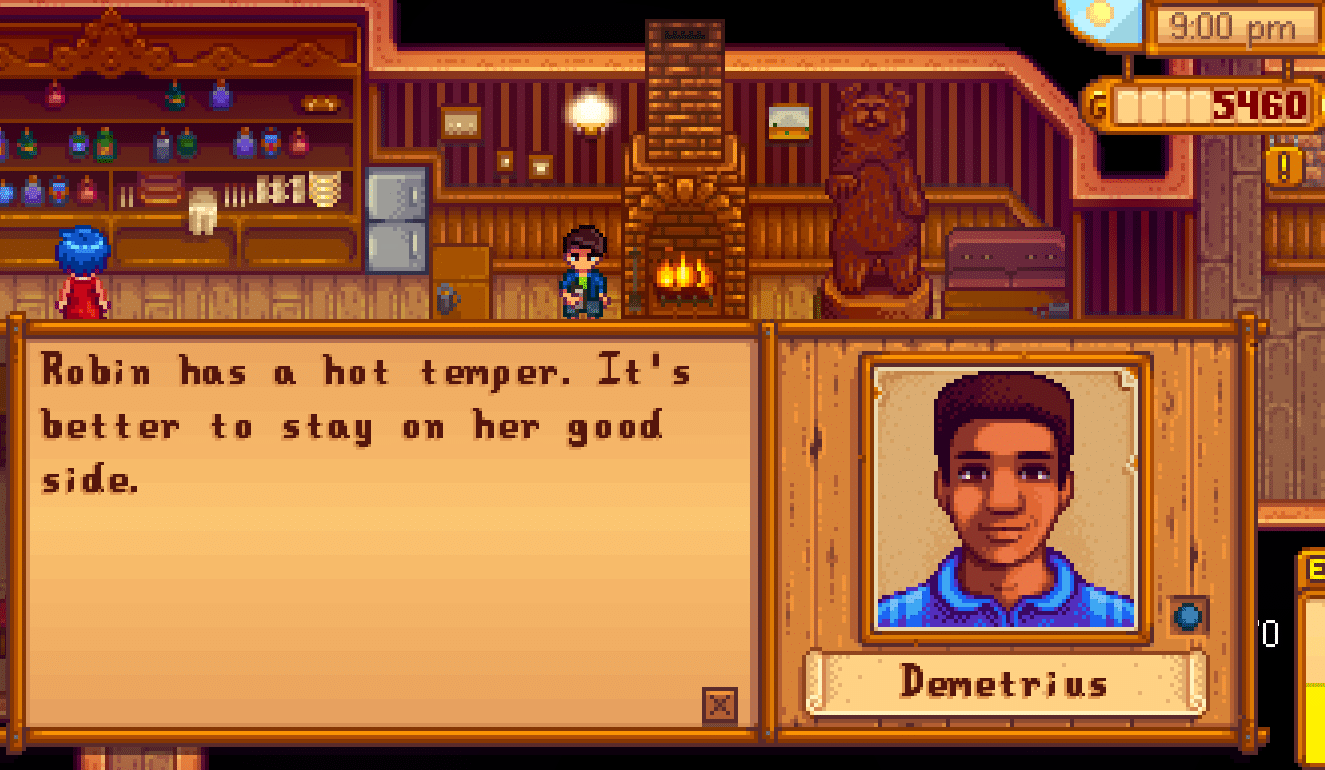 Gifts For Stardew Valley Demetrius
As with every NPC, there are some gifts that they truly love and some gifts that, well, they will not exactly thank you for.
Let's take a look at the best ways to make your friendship with this character stronger and better:
The Best Gifts for Demetrius
If you're looking for ways to become great friends with Demetrius, then here's what you should give him as gifts:
Bean hotpot
Ice cream
Rice pudding
Strawberry
He also likes:
Give him these gifts and you won't even notice how soon you will be best buddies!
Also, his birthday is on Summer 19, so don't forget to give him a nice gift on that day to improve your friendship.
The Worst Gifts for Demetrius
Let's just say that you probably shouldn't give these gifts to Stardew Valley Demetrius:
Of course, better stay away from the universal hates and the universal dislikes to be on the safe side!
Stardew Valley Quests with Demetrius
Let's take a look at some of the most common quests where you will cross paths with this particular character in Stardew Valley.
Crop Research
With him being one of the best scientists, he will definitely have some quests that are related to his career. Crop research is quite an interesting task that requires you to bring Demetrius a melon.
This quest is quite straightforward, but you will immediately get 550 gold and a friendship heart with Stardew Valley Demetrius.
Aquatic Research
This quest involves Demetrius asking you to bring him a pufferfish. This one is also a task you can do very quickly and get 1000 Gold and a friendship heart.
Improve the Cave with Demetrius
Now this is a good one.
Once you earn more than 25k Gold, this NPC will contact you to let you know that he needs help with a project. That project will be related to his research and his interest in the Cave.
Demetrius will try to make the Cave look so much cleaner and better, so that it could attract bats and make mushrooms.