Gifts are an intergral part of Stardew Valley. These items are given to the NPCs in the game to increase your friendship meter with them. As soon as you unlock the max friendship meter, you'll be able to unlock certain rewards and quests.
There are many ways to give a gift on these NPCs. The only thing you need to take note is what items they love and what items they hate. Of course, you don't want to get something you hate, right? It's necessary to understand that not a lot of NPCs in the game will love what you'll give them. Even if it's something special.
Below are the complete cheat sheet for all the gifts that you should give to each NPCs in the game.
You might as well check out our NPC guides!
Stardew Valley Gifts Chart Cheat Sheet
Here's an optimized Stardew Valley Gifts Cheat Sheet made by Redditor, u/Nnie23.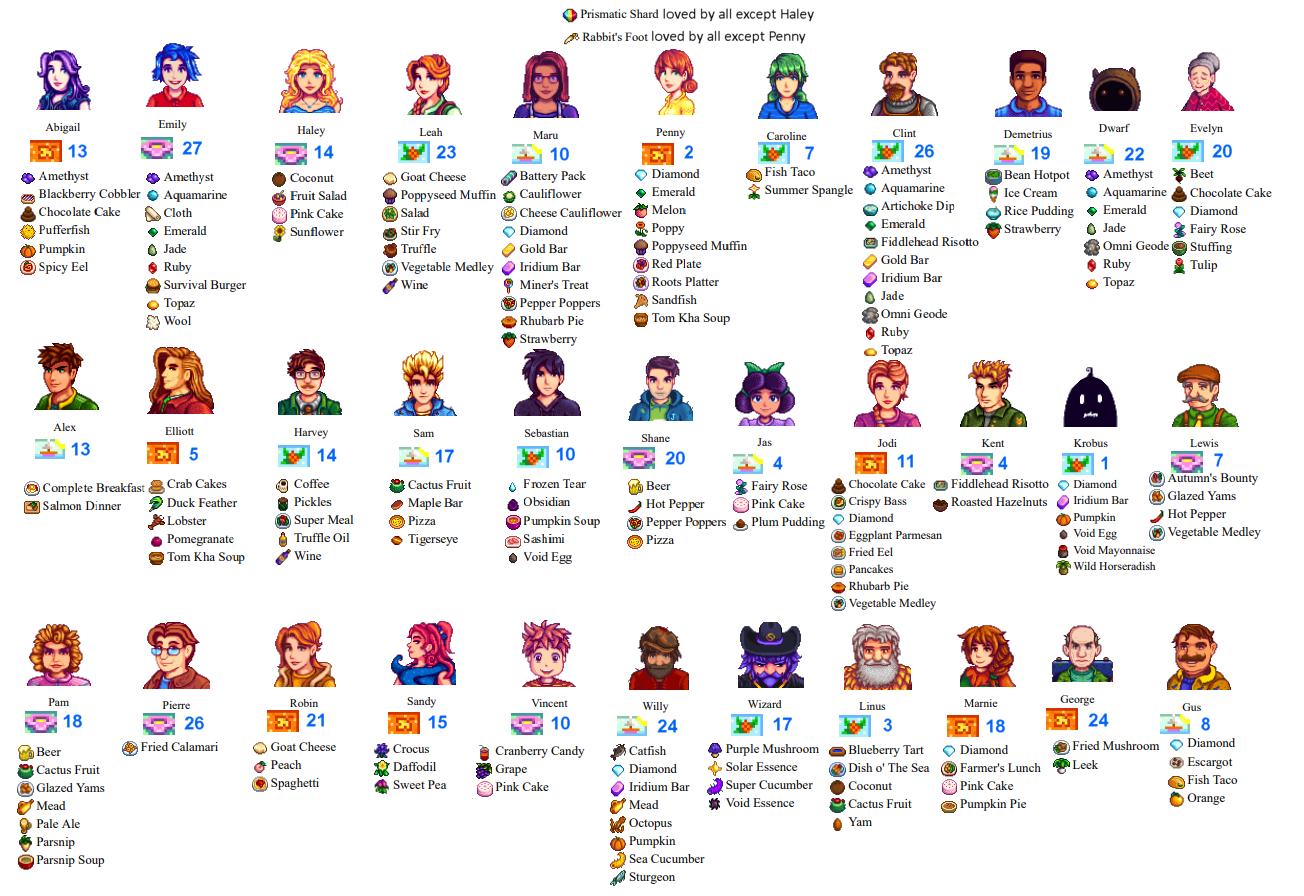 As you can see, this cheat sheet will allow you to get the best and the most optimized gifting route. There's a lot of things that you can give to an NPC. Most of them don't hate a lot of things, but some of these NPCs can be troublesome to please, really.
For the most part, you wouldn't really have a hard time trying to get behind the gifts. Just make sure that you know their schedules. We've covered some full NPC schedules in this category, go check them out.
Although, it's worth nothing that you should also look out for the universal loves in gifts. They're the easiest way to gain attention and befriend someone in Stardew Valley.
Want to level up your friendship meters with your farm animals? Check out this guide here!
Stardew Valley Gifts That Everyone Loves
The universal loves or gifts that are easily loved by all citizens in Stardew Valley are the following items:
Golden Pumpkin
Magic Candy
Pearl
Primastic Shard
Rabbit's Foot
Keep in mind that this items are the ones you'd like to invest in if you wanna quickly level your friendship with them.
Don't forget to regularly check our website for the latest Stardew Valley mods, guides, tips, and more!