Are you intrigued by Stardew Valley's interesting Bachelorettes? If you want to learn a few things about them, you're in the right guide. Here we'll give you a sneak peek of who they are and the best gifts you can offer them!
Whether you're homosexual or heterosexual, you're free to marry any single NPC in Stardew Valley. To make it easier, we listed all the bachelorettes and made a mini-guide on their preferences. You'll also get to know a bit about their personalities, so read further to learn more!
Bachelorettes in Stardew Valley
There are six bachelorettes in Stardew Valley. All of them have very different personalities that may fit your ideals. You may marry them or just plainly date all of them and trigger a special event– Group Ten Hearts Event. Anyhow, below are the female candidates that you'll meet: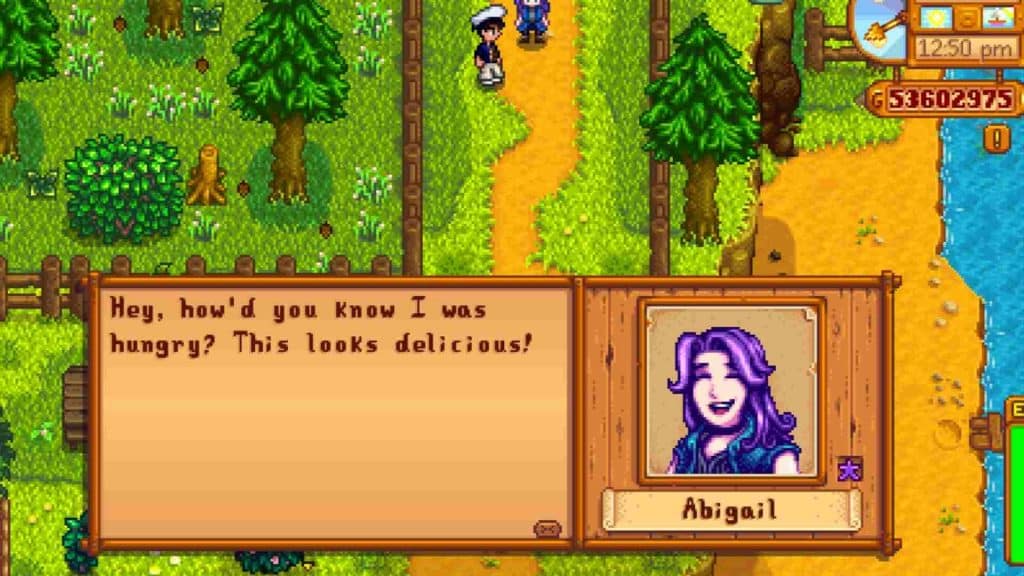 Abigail's a unique lady with somewhat odd preferences. You'll find her at Pierre's General Store living in an apartment within the store. She's Pierre and Caroline's daughter and often argues with her parents because of her interests. Additionally, she's great friends with Sebastian and Sam.
If you like her style and this spoiler of her personality, offering her the gifts below should improve your friendship with her. Also, don't forget her birthday on Fall 13 to earn more points!
Amethyst.
Banana Pudding.
Blackberry Cobbler.
Chocolate Cake.
Pufferfish.
Pumpkin.
Spicy Eel.
Emily's quite simple. She also has interesting hobbies, which include gems and meditations. But her main interest was in tailoring since she makes stunning clothes. You'll find her at 2 Willow Lane with her sister Haley. Aside from familial relationships, she's also close with Sandy!
An uncomplicated fashionista can definitely catch someone's eye. To learn more about her, you can get her any of the following items on her birthday on Spring 27.
Amethyst.
Aquamarine.
Cloth.
Emerald.
Jade.
Ruby.
Survival Burger.
Topaz.
Wool.
Unlike her sister, Emily, she has a very braggy and immature attitude which is why most players dislike her. But who knows, perhaps there's room for change? She can put up a fight over inconsequential things and be a little bratty.
Moreover, Haley's good friends with Alex, the Jock in Stardew Valley. You can give her the following gifts if you're curious about her character development over time. Take note of her birthday, too, on Spring 14!
Coconut.
Pink Cake.
Fruit Salad.
Sunflower.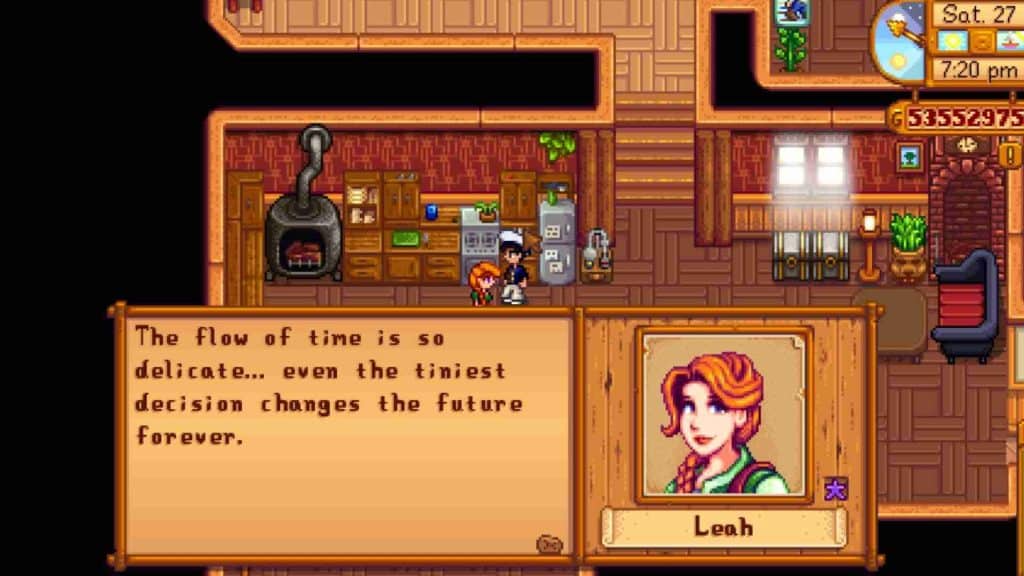 Leah's not a local in Pelican Town. Just like you, this bachelorette's also a newcomer whose only friend is Elliott, the Writer. You'll find her in a small cottage close to Marnie's place. Aside from having a great gift in arts, she also likes to forage for goods.
Doesn't she sound like a simple yet interesting partner? If you want to be great friends with her or more, offer these gifts anytime or on her special day on Winter 23.
Goat Cheese.
Poppyseed Muffin.
Salad.
Stir Fry.
Truffle.
Vegetable Medley.
Wine.
Suppose your ideals are more aligned with intellect; Maru's your girl. She lives in the Mountains with her parents, Robin and Demetrius; she's also great friends with Penny. Her hobbies include making interesting gadgets. And she's also known for being friendly, outgoing, and aspiring.
If you want to establish a better bond with her, why don't you give her the following gifts on her birthday (Summer 10) or any day?
Battery Packs.
Cauliflower.
Diamond.
Cheese Cauliflower.
Diamond.
Gold Bar.
Iridium Bar.
Miner's Treat.
Pepper Poppers.
Radioactive Bar.
Rhubarb Pie.
Strawberry.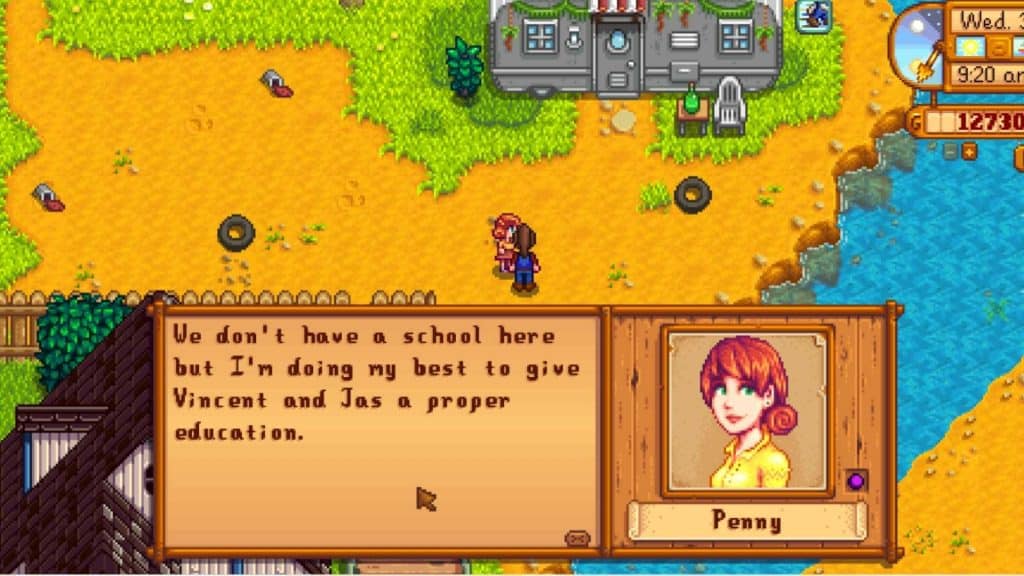 The group won't be complete without the bookish and modest villager, Penny. She lives in a trailer with her mom, Pam, and works as Jas and Vincent's tutor. Moreover, she's known to be great friends with Sam, the Musician.
Her personality is pretty simple. She doesn't dream big, but she wishes to have a family of her own. If you like a family-oriented partner, you might be interested in learning more about her. Don't forget her birthday on Fall 2, and give her any of the following loots in-game:
Diamond.
Emerald.
Melon.
Poppy.
Poppyseed Muffin.
Red Plate.
Roots Platter.
Sandfish.
Tom Kha Soup.
Conclusion
Now you know who these marriageable female candidates are. Did anyone catch your attention? Anyhow, treat them well to learn more about them and see their special events! You might even pick the perfect partner from these bachelorettes that can help you out on your farm.
FAQs
Who is the most popular girl in Stardew Valley?
The most popular girl in Stardew Valley might be Abigail. Aside from being known for eating gemstones, she's also suspected as the Wizard's daughter. Anyhow, the speculation has very weak pieces of evidence but you'll find some characters drop hints about this matter.
Which Stardew valley bachelorette should you marry?
Based on a poll we made on Facebook, most followers find Leah the best bachelorette to marry in Stardew Valley. And we see why since she's not just sensible but also helpful around the farm. She also offers you great gifts!