Would you like to learn more about Stardew Valley cheat mods that could make your game so much easier?
Well, you are in the right place because we will go over everything you need to know about one of the most famous Stardew Valley cheat mods – CJB Cheats Menu! This mod has been downloaded more than 3 million times and viewed more than 7 million times, so you know that the community loves it!
Below you will learn everything about how to use a Stardew Valley cheat mod!
What is a Stardew valley cheat mod?
In simple terms, a Stardew cheat mod is a simple way to upgrade your game and use cheats to make your Stardew life better!
Does that sound like something you need?
Well, then install the CJB Cheats Menu! This is one of the most downloaded and best Stardew Valley mods with translations to other languages (as of right now, Chinese, English, French, German, Hungarian, Italian, Japanese, Korean, Portuguese, Russian, Spanish, and Turkish!).
You definitely won't be disappointed if you add this beloved mod to your Stardew collection!
How does the Stardew cheat mod work?
So, how does the mod work? Thankfully, it's not difficult at all, so no worries about that.
Basically, all you will have to do is press P to see a full list of all the cheats. Once that is done, you will see all the cheats you can use in the game!
If you would like to change the button, then there are a few ways to do that (depending on your computer/phone):
If you are using Linux/macOS/Windows, then just open the menu and use the "Controls" tab. This will allow you to choose a different controller/keyboard/mouse button. (You can also change config.json directly if needed.)
If you are using Android to play Stardew Valley, then you can use key bindings on Android.
Some of the most used are warping wherever you want, upgrading your skills, improving relationships with other NPCs (or you can just give them gifts!), and much more!
Stardew Valley Cheat Mod in multiplayer
Can you use the Stardew Valley cheat mod in multiplayer?
Yes, you can!
Just keep in mind that most of the cheats will only affect you as a player. However, there are a few cheats that will affect other players too:
Creating instant buildings;
Having fast machine processing;
Being able to harvest with a sickle;
Getting more money (if money is shared);
Getting more durable fences;
Auto-feed;
Setting tomorrow's weather;
Time.
Other Stardew Valley Cheat Mods
While the CJB cheat mod is the most popular in our community, there are a few alternatives that could be useful for you.
5. the Junimo Kart Cheater!
The Junimo Kart game can be a little bit difficult, so it's no surprise that mod creators came up with a solution!
This mod:
Makes your kart will fly to the sky and reach the end point;
Gives you infinite lives for the game;
Makes kart speed 5 times faster.
4. (WN) Less Cheaty Desert And Island
Want to save the desert and island location for later without exploiting it too soon using the Warp Network mod? Simply install this mod!
3. Garden Village Stores – Add Mod to cjb cheat menu
If you've played enough RPG games, you know fast travel is something we always want! And with mod simply allow you to fast travel for the Garden Village stores from the same name mod.
2. Anti-Cheat Server
There is one more Stardew Valley cheat mod that is quite… anti-cheat!
Yes, we are talking about the Anti-Cheat Server mod in Stardew Valley! If you ever get tired of the cheats or think that your multiplayer friends are using them too often, then you can stop that.
Basically, this is a Stardew mod for the server host that can block anyone from connecting to the server if they have blacklisted mods. This mod can detect players with cheat mods installed and, well, kick them out!
If that happens, players receive a private message, which will tell them about the mods that need to be deleted. This can be a very great idea if you would like to limit the number of cheat codes that your friends use.
1. CJB Cheats Menu (Other Languages)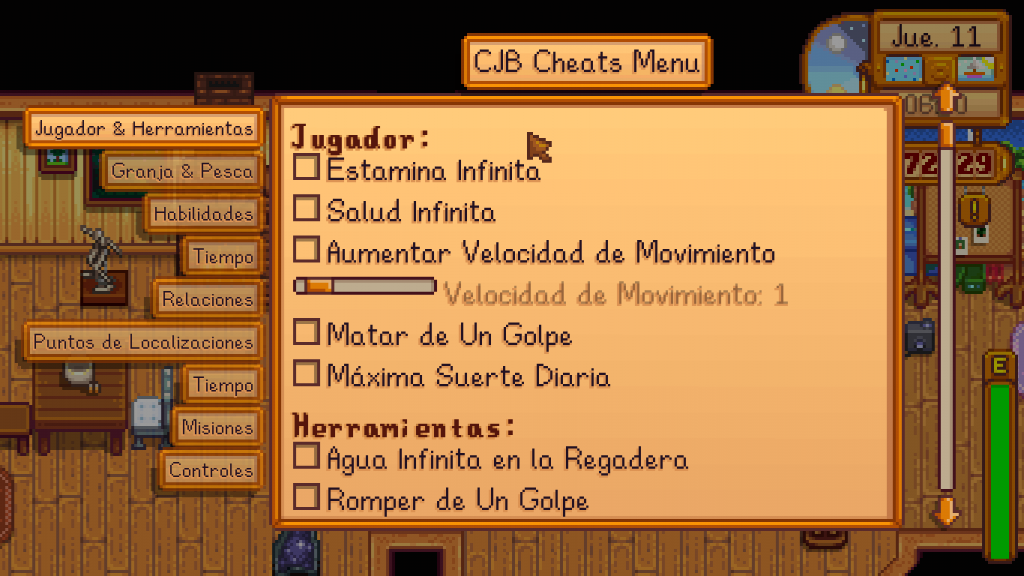 CJB mod is so popular that it got translated to a lot of other languages for people around the world to have fun while playing Stardew Valley. Those languages contain: Spanish, Chinese, Portuguese, Polish, Ukrainian, Indonesian, Vietnamese, and Czech.
Remember to install the original CJB Cheats Menu mod first, then run the game with SMAPI and follow the instructions on each mod for it to work!
Download them here:
Frequently Asked Questions
How do you cheat in Stardew Valley with mods?
By installing the CJB Cheats Menu mod, you can do pretty much anything in Stardew Valley. Let's scroll up a little bit and you can find a guide about how to install and use cheat mod in Stardew Valley. Also, CJB Item spawner is another great mod from the series!
How do you install Stardew Valley cheats?
Like most other Stardew Valley mods, you will need the latest version of SMAPI. Then download the CJB Cheats Menu mod and unzip it to Stardew Valley/Mods folder. Now run the game with SMAPI and enjoy the game!
Can you get banned for using Cheat mods in Stardew Valley?
Stardew Valley is a peaceful game where you live a happy farmer's life with a farm and a barn. So there are no rules or bans for using cheat mods yet. If you want to try those mods in the single-player mod, feel free to do so! Otherwise, asking for permission while joining an online game is necessary!
Conclusion
Are you decided to download any Stardew Valley cheat mods for your game? If yes, then make the most out of it while upgrading your game to the max!
Just don't forget that you can always be in charge of how many cheat mods your friends use in multiplayer. There is nothing wrong with wanting to keep more authenticity either, so just choose according to your wishes and needs!