It is undeniable that unlocking your Stardew Valley horse for the very first time is magical. You do not have to walk everywhere anymore, and it always returns to the stable in the morning! But after some time you might want to either change the way your horse looks, or maybe not even ride a horse at all! Perhaps a rideable tank fits your playthrough better.
This carefully compiled list of the 45 best Stardew Valley horse mods will save you time, and change your whole Stardew game for the better!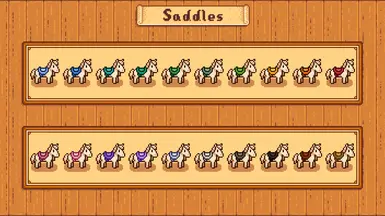 Gameplay altering Mods
The vanilla Stardew Valley Horse is great, but it could be even better with just a simple mod or two. Listed below are 7 of our favorite mods that can improve your overall gameplay experience with your favorite steed.
Do not underestimate the power of this simple mod to change your life for the better. It installs a horse whistle hotkey so you are able to teleport your horse directly to you, as long as you are outside. This feature is in a lot of other video games, but in Stardew Valley is saves you so much time and is an amazing feature for experienced players.
The default hotkey is "V", though you can change it in the config JSON file.
This mod adds a few animation and artistic changes that make your character's horseback riding more realistic. It improves the saddle and how your character sits in it. It adds a bridle and stirrups, as well as a mule version of your horse to choose between. Lastly, it also changes the gallop animation.

This mod alters the whole of Pelican Town so now your horse is able to move through most huge passageways! This includes the walk near the river to the right of the Community Center which saves so much time.
Once installed, everything around town stays mostly the same. Most people do not even notice the change, just that afterward you can now bring your horse through areas that were previously too small. It is just perfect and does indeed make the town horse-friendly.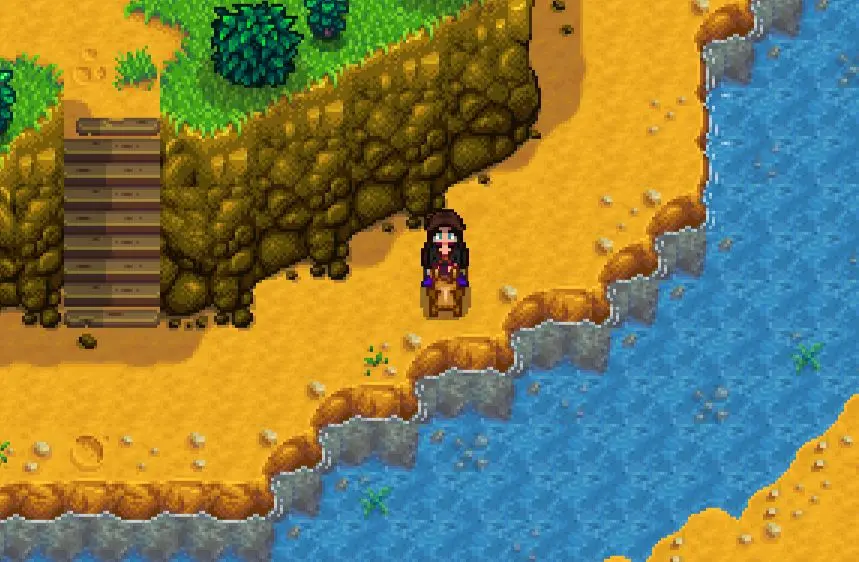 This mod work similarly to Horsefriendly Town. Though instead of changing the town to fit the horse, it changes the horse to now be able to fit inside any single tile spaces! This should help out around your farm if you have spaces the horse could not fit through.
This mod also affects tractors if you have the tractor mod installed and is compatible with most other horse mods.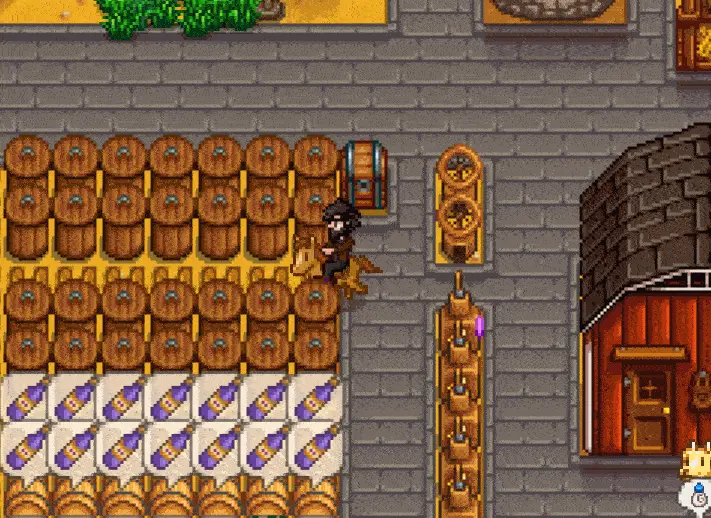 This mod greatly increases the speed of your horse, though sometimes it can be difficult to handle with the increased speed.

This mod is exactly what it says it is, a complete horse overhaul – for the better! If you are looking for a totally different experience with your horse, this is the mod for you. It combines various different mods, some of which we have included above.
What does this mod add-
Thin Horse Feature- This feature is similar to the one from Pony Weight Loss Program, but it actually makes the horse's hitbox 1×1.
Visible saddle bags- This allows your horse to carry items for you. This is amazing, it is like have a walking chest with you at all times!
Friendship Scores- This gives your horse a friendship score like the rest of your farm animals. Plus it gives you a reason to improve your friendship score, because if you have higher friendship it increases the speed of your horse (such as in Faster Horse). There are only ways to increase friendship and it does not decay.
Menu- This menu show after you interact with your horse. It allows you to check your friendship score and if the animal has been fed/watered in a day.
This mod is a must try for anyone who is looking to experiment with their Stardew Valley playthrough.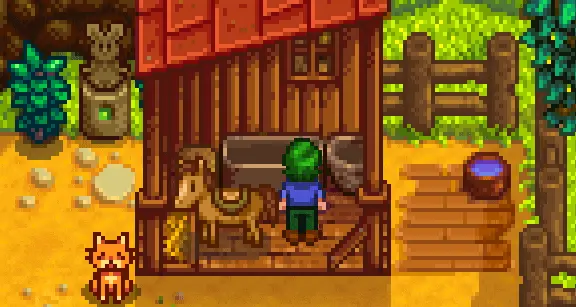 This re-skinning mod allows you to select different skins for horses while playing multiplayer Stardew Valley with friends. These skins will stay with the farmhand as long as they continue using the same assets. To choose between different skins for your horse, just right click while standing inside the stable and it will bring up your re-skin menu.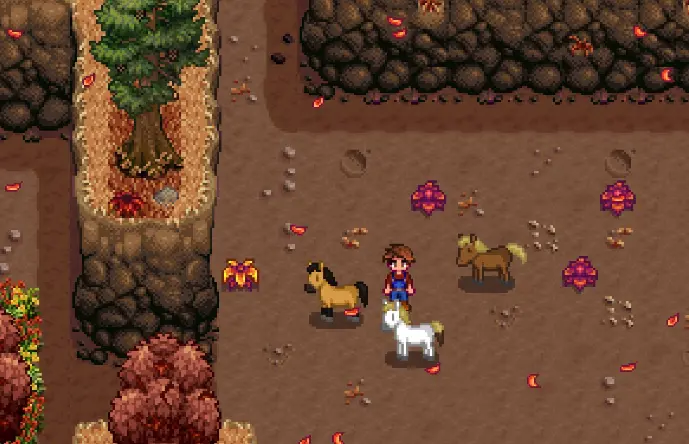 Horse Skin Mods
Now that you have made your playthrough perfect for your beloved horse, it is time to pick out the perfect skin. There are tons and tons of different skins to choose from. So much so that it can be almost overwhelming to pick out the perfect mod for your horse.
This is why we detailed out a list of our 38 favorite horse replacing and re-skinning mods to help you choose your dream ride. These include not just normal horses in different colors, but magical and mechanical rides as well.
Horse Re-Skins
This mod had to be first on the list because it offers so many options in one modpack! There are 31 different skins to choose from and an optional saddle overlay (which has 20 colors to choose from). Plus it makes sure it replace the horse head icon in the menu to whatever option you choose.
Elle's New Horses is perfect if you want a lot of customization without having to download multiple mods.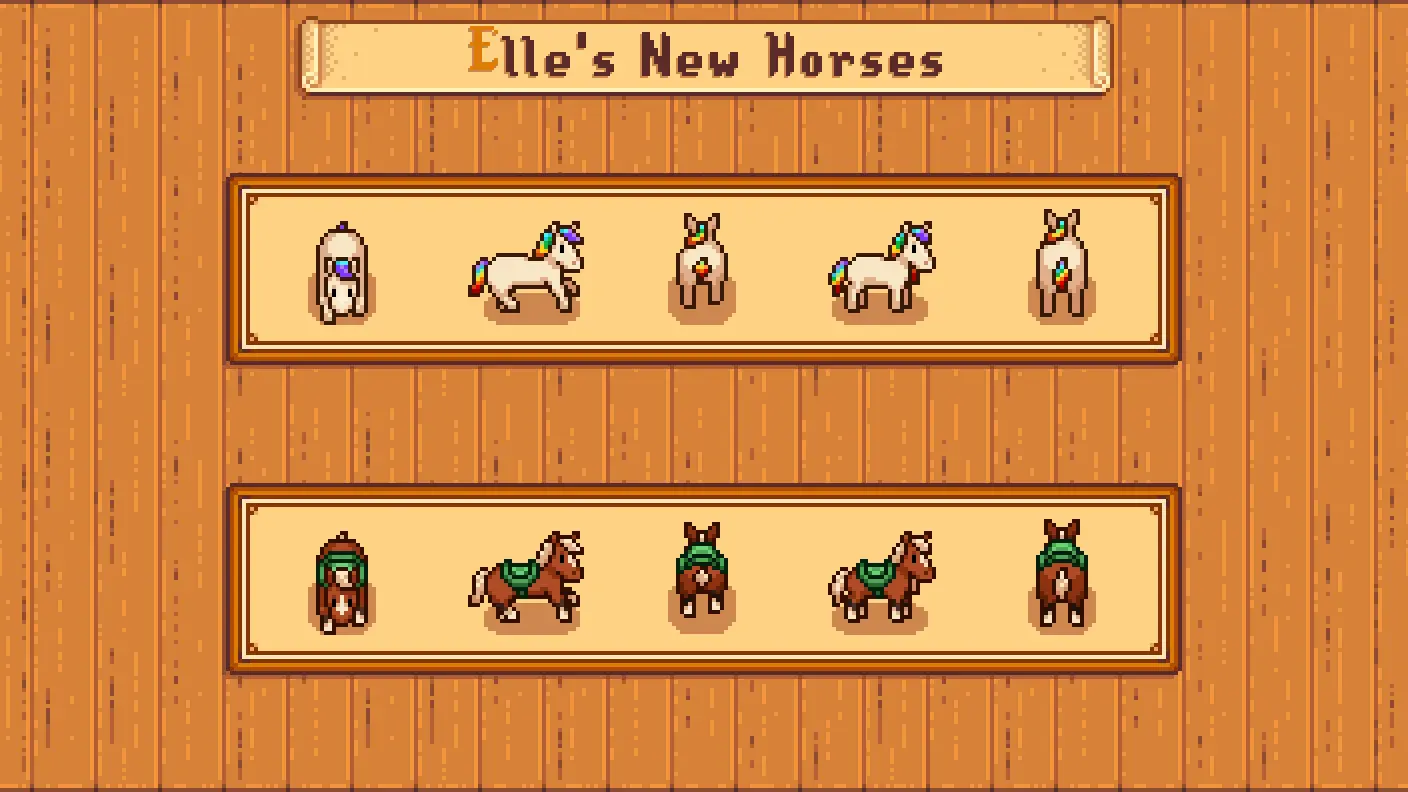 This mod pack allows you to re-skin your horse to colors inspired by real horse breeds. The breeds that are added, in the order shown below from left ot right, are American Cream Draft Horse, Andalusian Horse, Buckskin Horse, Buckskin Horse (from Spirit: Stallion of the Cimarron), Icelandic Horse, Shire horse (black), Shire horse (brown with grey muzzle), Shire Horse (brown with pink muzzle).

Better Horses – SerialDollFace
This mod is a retexture of Real Life Horses (and slight modification). It includes seven new breeds which are Palomino, American Paint, Friesian, Norwegian Fjord, Blue Roan, Black Forrest, Appaloosa. Also each of these options allows you to choose between a bareback and a saddled version.

Though this is a very slight change, it is a beautiful addition to spice up your vanilla Stardew Valley horse as well as any horse from Elle's New Horses. There are 17 different flower color options to choose from too!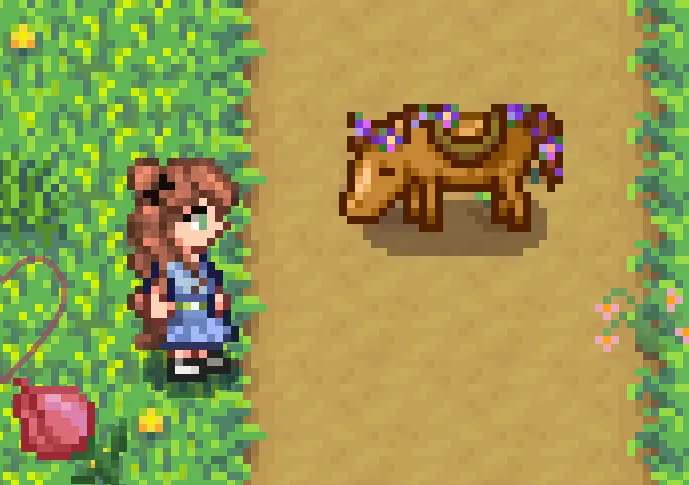 If you have been wanting to ride this famous Scottish draught breed, you are in luck because this adorable mod is made just for you. It even has feathering on the legs!

This mod pack includes only four different colors of horses, but has put in a lot of work to improve the running animation. It also has four different colors of saddles to choose from.
This pony is an adorable addition to the farm. When they are left alone you can see their ears wiggle during their munching animation. The skin is based off of Kate Beaton's Fat Pony character.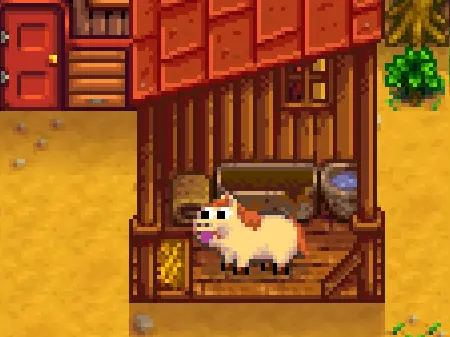 This mod is similar to the Clydesdale mod, it simply replaces the vanilla horse skin with a gray dappled one. This skin is based off of the creator's father's real horse. It is available with or without the saddle.
This mod is also based off of a real horse, by the name of Cleo. She was the creator's Aunt's horse and this mod simple replaces the vanilla horse skin with this super cute one.
This mod also adds a singular horse color (an American Paint) into the game, replacing the vanilla Stardew Valley horse.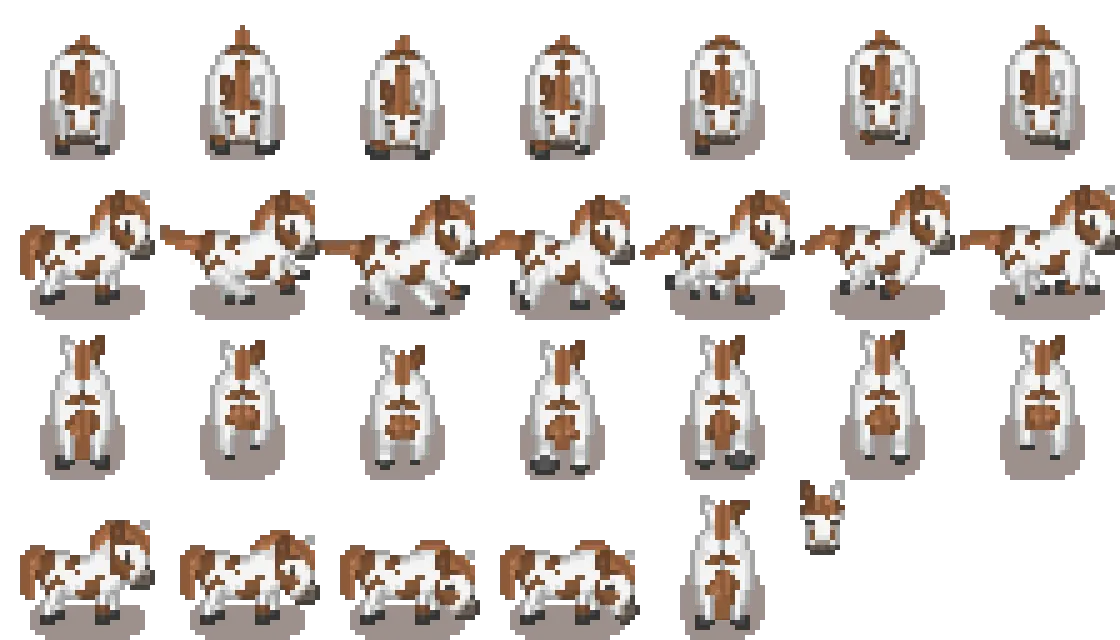 If you want to take a step away from horses, this modpack replaces your horse with a deer of your choice! You can choose between a brown deer, a pink deer, and a red elk (with or without reins) to ride into the sunset.
This mod take an even further step away from a rideable normal horse with a brown bear of your very own! It also alters the riding animation to make your character fit better onto the fluffy beast.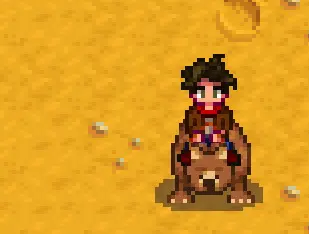 Magical Horse Replacers
Pelican Town is not a normal mundane place, there are already skeletons, a friendly monster that runs a shop, and wonderous forest sprites that fix buildings for you in exchange for fish. Why should you be limited to normal horses when there is already magic in the world? Spice up your Stardew Valley playthrough with some of these creative mods.
This mod allows you to have a flame horse with a flowing mane that leaves a trail of fire in its wake. There are five colors to choose from and the mod creator is open to suggestions on different colors for future updates.
This pink unicorn replacement skin will have your average farmer feeling like a pretty princess.
If you want a unicorn but are not feeling pretty in pink, this mod is for you. It replaces your vanilla skin with a rainbow unicorn without a saddle.

This mod rounds out the unicorn spectrum in our list, replacing your Stardew Valley horse with a fiery, deadly unicorn.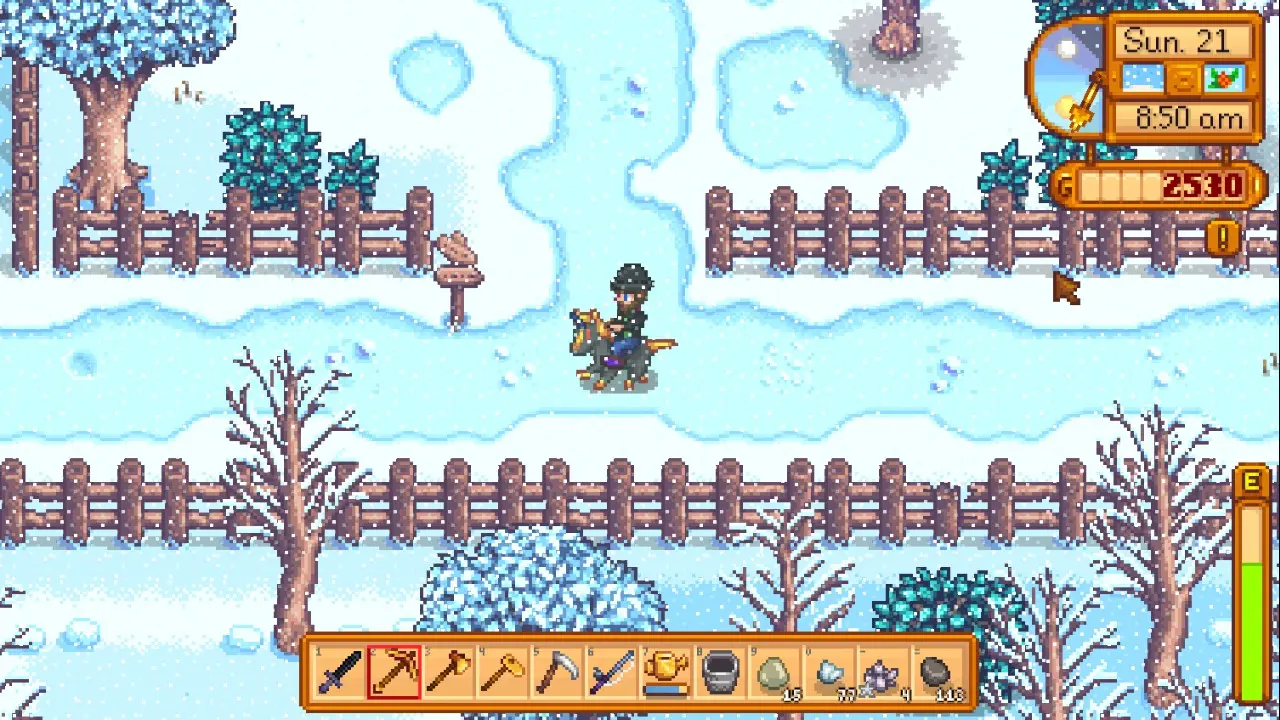 This updated mod has skeletal monstrosities that look better than ever. As you run through Pelican Town on this beast it will even breathe fire.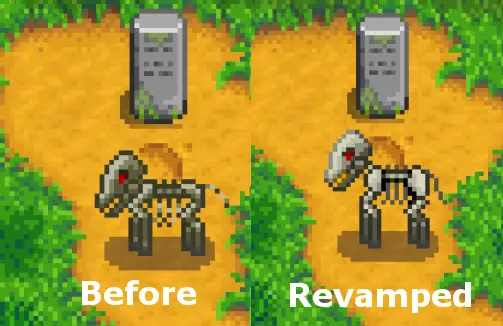 This spooky scary mod pack reskins your Stardew Valley horse into an almost see-through ghost pony with red eyes and a blue saddle.
This mod goes the extra mile. Not only does it present you with terrifyingly detailed dragons to ride, in either red or black, but they fly above the ground as they move.
Where most of the previous mods just replace your horse, this one comes with a story as well. After the Junimos and yourself fixed up the Community Center, they are so grateful that they crown you King/Queen of the Junimos. With this high honor comes the private chauffeur of two Junimos carrying you around Pelican Town like royalty.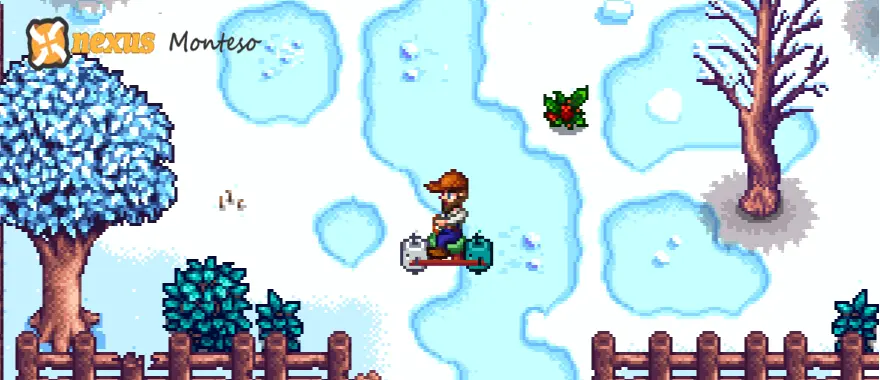 Magic might already be in the game, and so are dinosaurs, so why shouldn't you be able to ride one? This mod allows you to do just that and ride either a tan or green velociraptor around town.
This rare re-skin replaces your vanilla Stardew Valley horse with one that looks just like the very best ore in the game. You have option to choose between it having a saddle or not.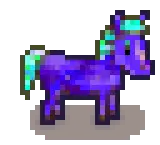 This gorgeous mod replaces your boring non-winged horse with a white Pegasus with a pink mane and tail.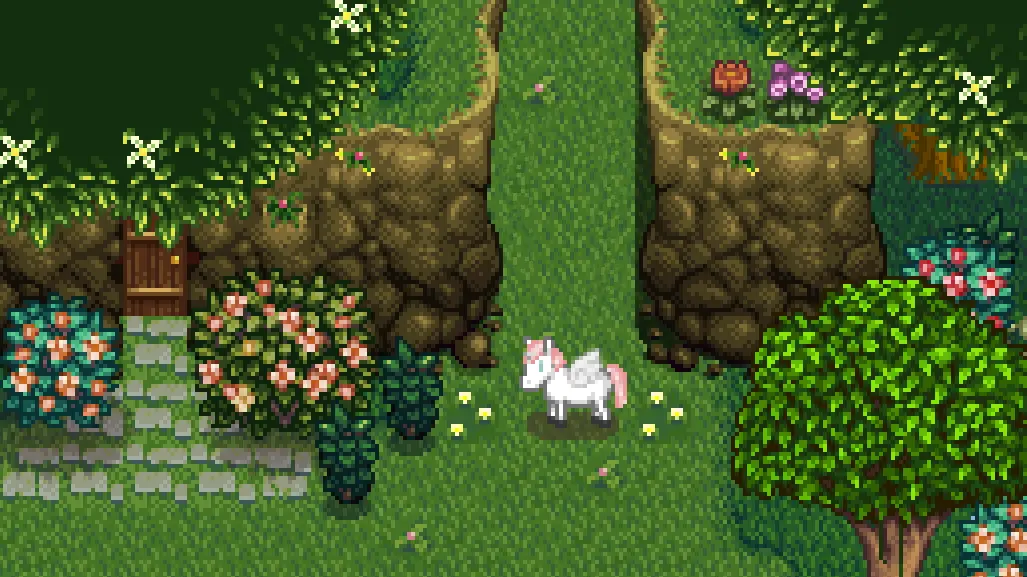 Centaurs
Many people think Abigail is a good candidate for marriage. This mod creator went one step further with this Abigail centaur mod. When idling, her character will pull out a flute and play a few notes.
This mod does not replace the character model of Abigail, it replaces your horse with the centaur skin. You will even be able to ride your Centaur, to go see normal two-legged Abigail if you wish.
Leah Centaur Horse Replacement – Zcsnightmare
This mod is the exact same as the mod for Abigail but just for Leah. Instead of her playing a flute, your Leah centaur swings a tool in the air like she is working on one of her sculptures.
If you want a centaur to ride around Pelican Town, but do not necessarily want it to have the face of your wife, this mod is for you. The blonde centaur is a high elf who eats carrots during her idle animation. The white-haired centaur is a dark elf who fixes her hair while idle.
Thanks to mods we can blend multiple games together and have horses from other games and even TV shows right on your farm in Stardew Valley. This mod replaces the vanilla horse with Agro from Shadow of the Colossus.
This re-skin allows you to channel the dragonborn and have Arvak in your Stardew Valley playthrough.
This mod replaces your vanilla horse with the lustrous Lady Rainicorn.
Embrace Equestria while playing Stardew Valley with this mod. It not only reskins your vanilla horse, but changes its idle animation. Now instead of eating grass, Applejack will munch on apples.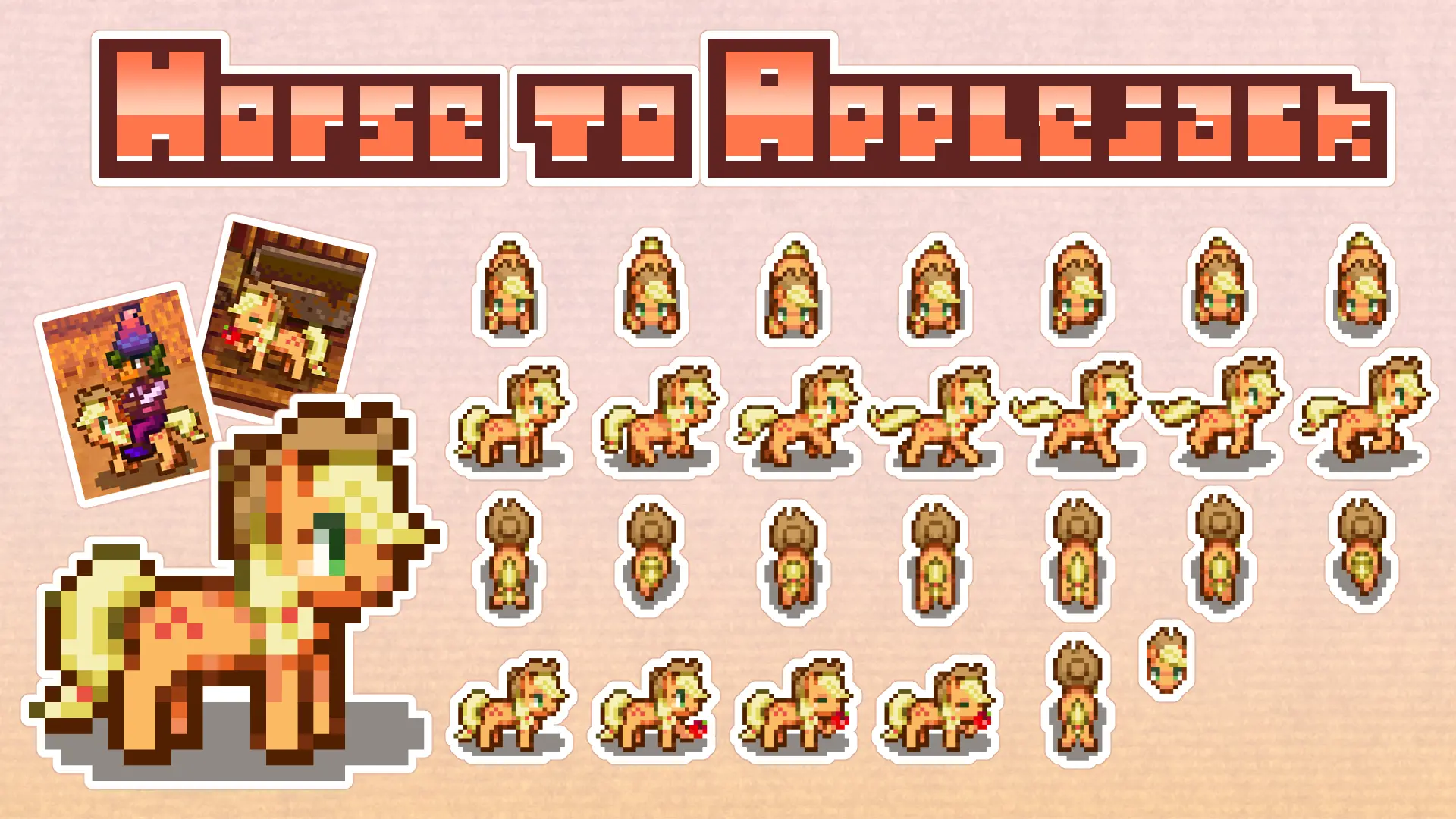 Various Pokémon
These next mods showcase various re-skins allowing you to ride Pokémon through your world. This one is a fiery unsaddled Ponyta with flames that flicker as they move.
If you are more into flying-type Pokémon, try out this mod where you can ride a floating Altaria.
Technically Arceus is an equine Pokémon, while also being a creator deity who is responsible for shaping a whole universe. With this mod though, he is truly just a horse that you can ride around your farm.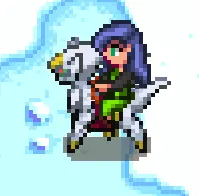 The list would simply not be complete without this classic Final Fantasy ride. This mod replaces the vanilla horse with a yellow chocobo.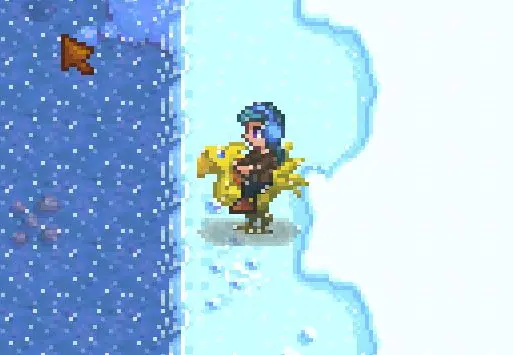 "Mechanical Horse" Replacers
These mods break free from organic creatures entirely and allow you to have an even wider array of rides.
Your dreams of being a farmer who is also WWII buff can finally come true with this mod that changes your horse into a tank. You can choose between a Soviet T-34 and a Panzer III. It also requires that you change your character sprite so it looks more natural as you ride your war machine.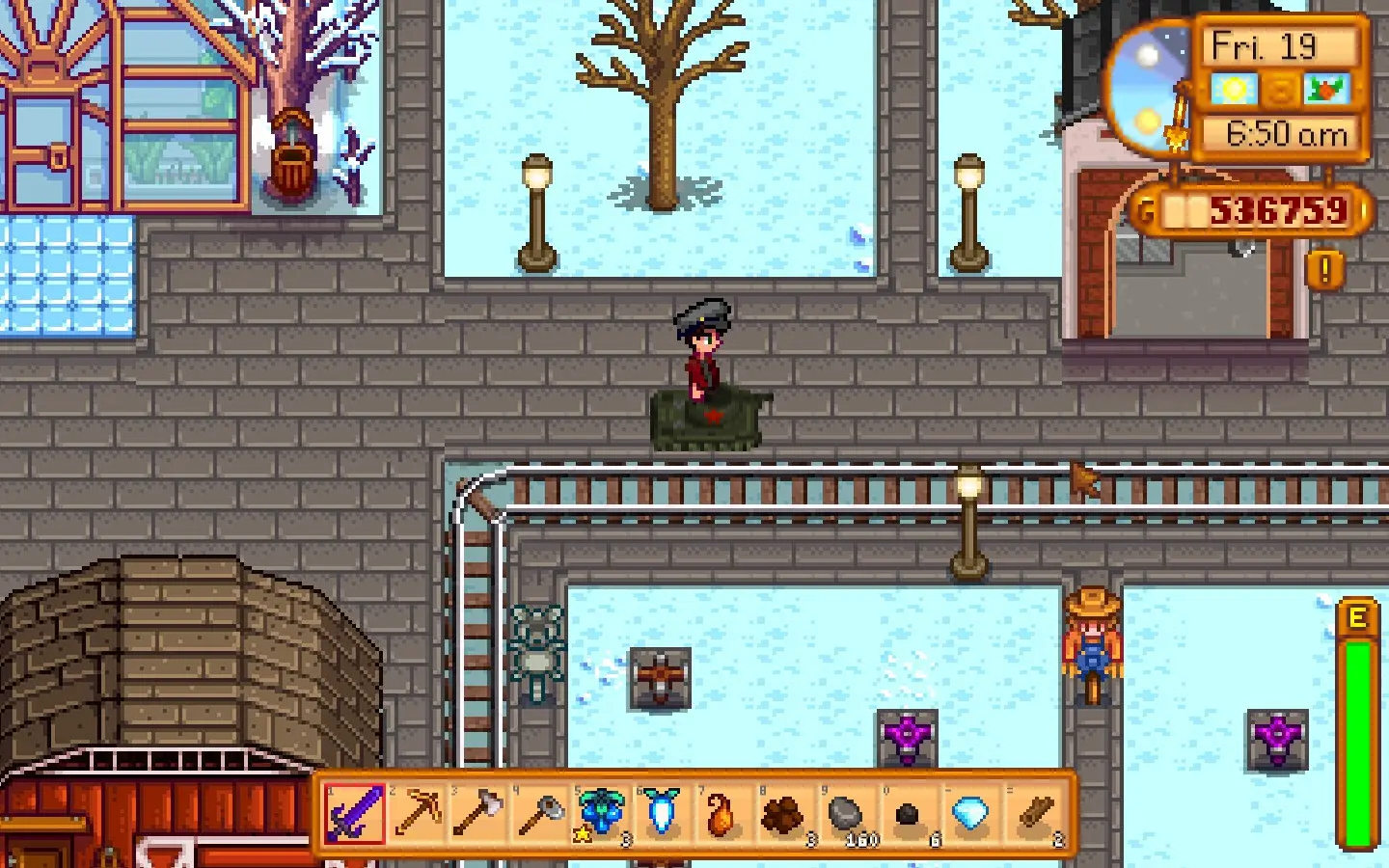 For a much less dangerous mechanical ride, try this mod that replaces your vanilla horse with a red moped.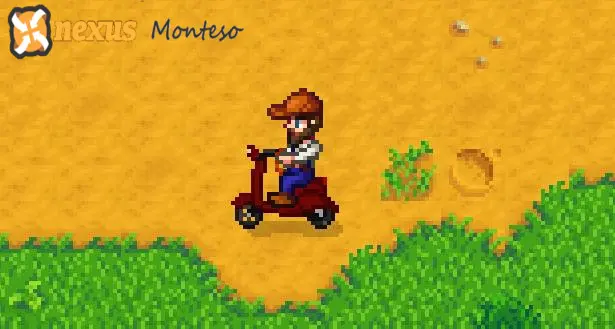 This horse replacer is a mixture between the motorcycle, horse, and headless horse from Durarara.
Last, but definitely not least, is this magical mod that allows you to ride one of the most famous broomsticks from the Harry Potter Wizarding World – a Nimbus 2000. Quidditch skills not included.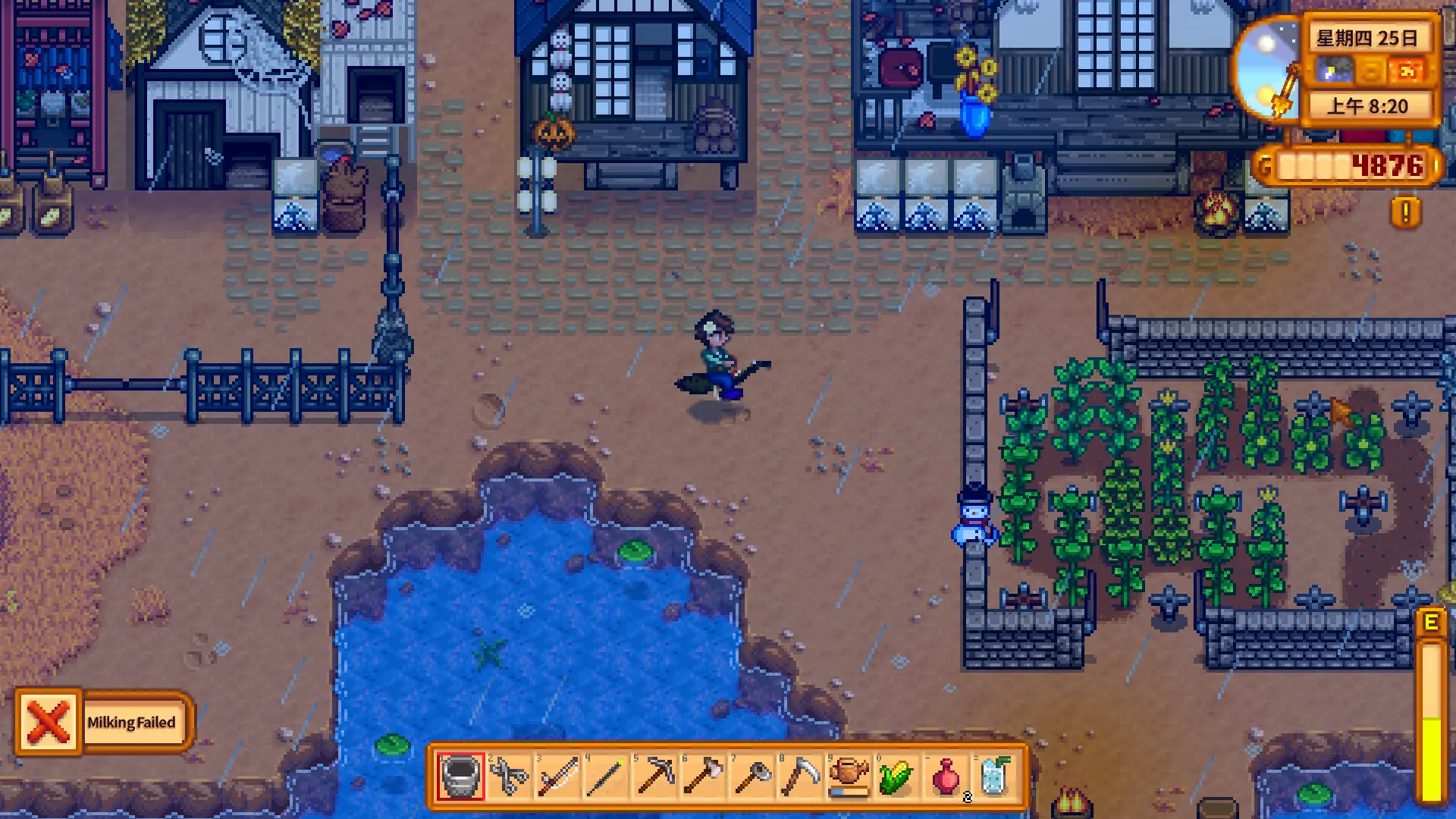 If you are wanting any more mods to spice up your Stardew Valley game, check out our guide on the 20+ best Stardew Valley animal mods.