First time playing Stardew Valley on PC, Mobile, and other platforms? Check this easy and comprehensive guide that'll teach you the basics of the game until the first year and beyond!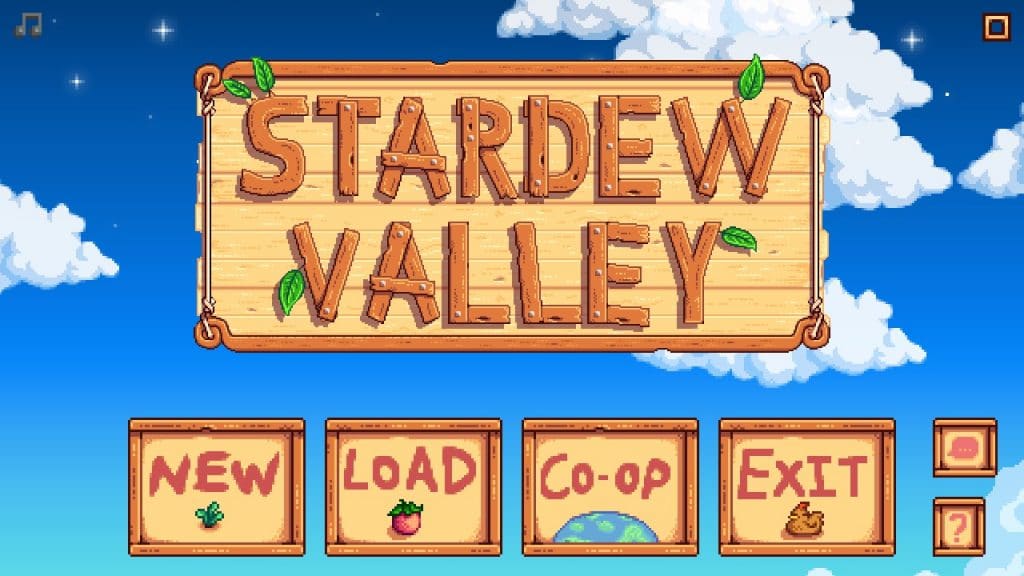 Stardew Valley is one of the most beloved RPG video games that existed. With a whopping 15 million copies as of 2021, it's impressive given ConcernedApe's dedicated years of hard work alone. His secrets? Free game updates (that should've been paid DLCs), budget computer-friendly, genre, and the masterpiece itself.
The game also separates itself from countless competitive titles as more relaxed, casual, and adventurous. And despite its initial 2016 release, tens of thousands of players are still active – now that's a lot of farms!
Now you're joining Pelican Town (since there are tons of good things about Stardew Valley), it could still be overwhelming at first. However, we'll teach you the game's nitty-gritty and how things work in this guide.
Same Title on Different Platforms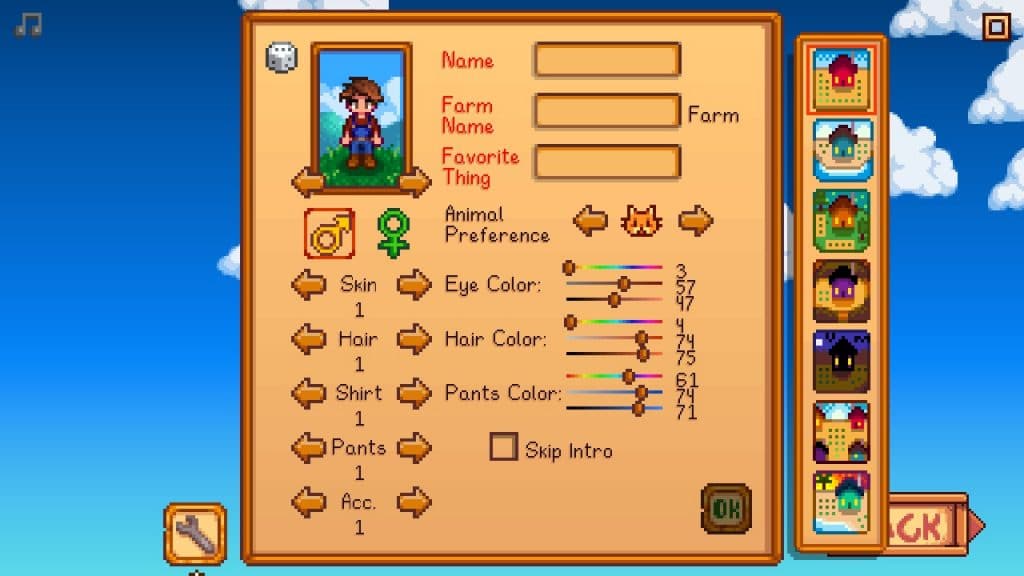 As with most video games, Stardew Valley is no exception, being available to almost every platform – PC, Android, iOS, and more! But it still comes with a cost since you're purchasing the game's port (which is considerably hard to pull off). Still, many happy fans are buying more than they need, which is wholesome!
Launching the app will take you to the main menu with different exciting stuff. Let's explore.
Main Menu
If it's your first time, make a character first. Type in your character and farm name, and decide your favorite item, sexual orientation, and colors! Moreover, you can select between three dogs and cats (go with the latter and thank me later).
Appearance-wise, you can customize your looks: 112 shirts, four pants, 20 accessories, 24 skin tones, and 73 hairstyles.
Don't forget to pick your farm layout on the right side of the screen! There are seven total areas with unique pros and cons. These are:
Standard Farm
Encourages planting crops and caring for farm animals.
Has 3427 tillable tiles.
Has 235 non-tillable but build-able tiles.
Riverland Farm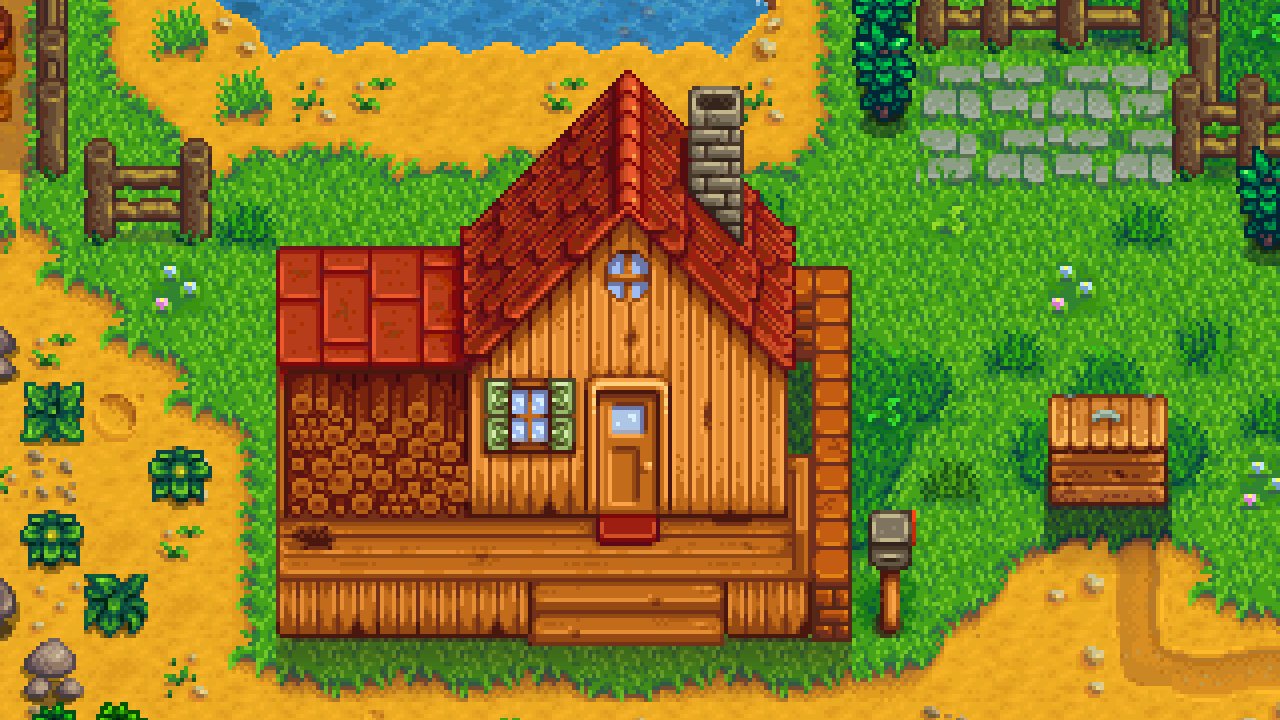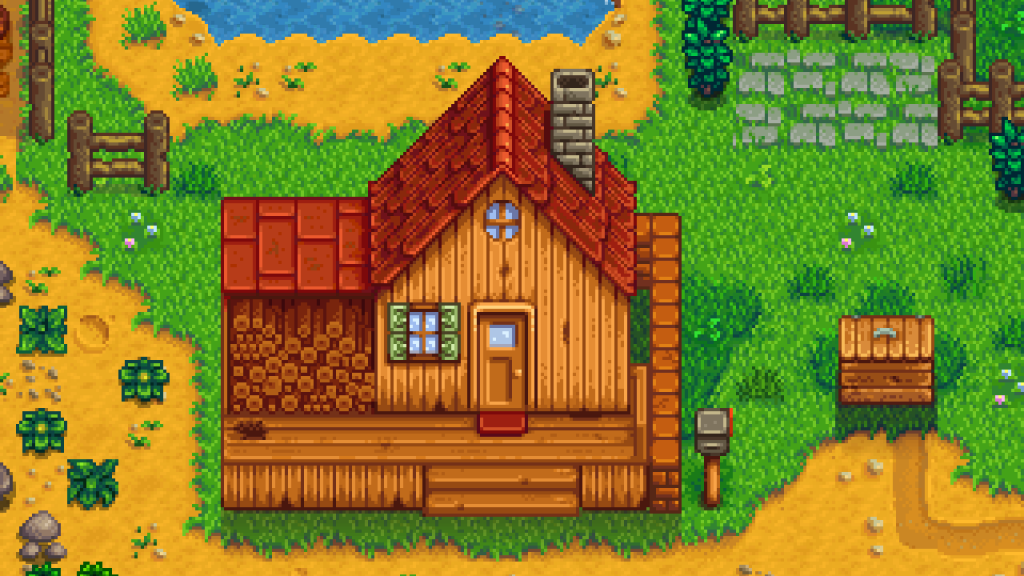 Encourages fishing and maximizing profit through buildings (space management).
River Fish loots (70%).
Pond Fish loots (30%).
Has 1578 tillable tiles.
Has 516 non-tillable but build-able tiles.
Forest Farm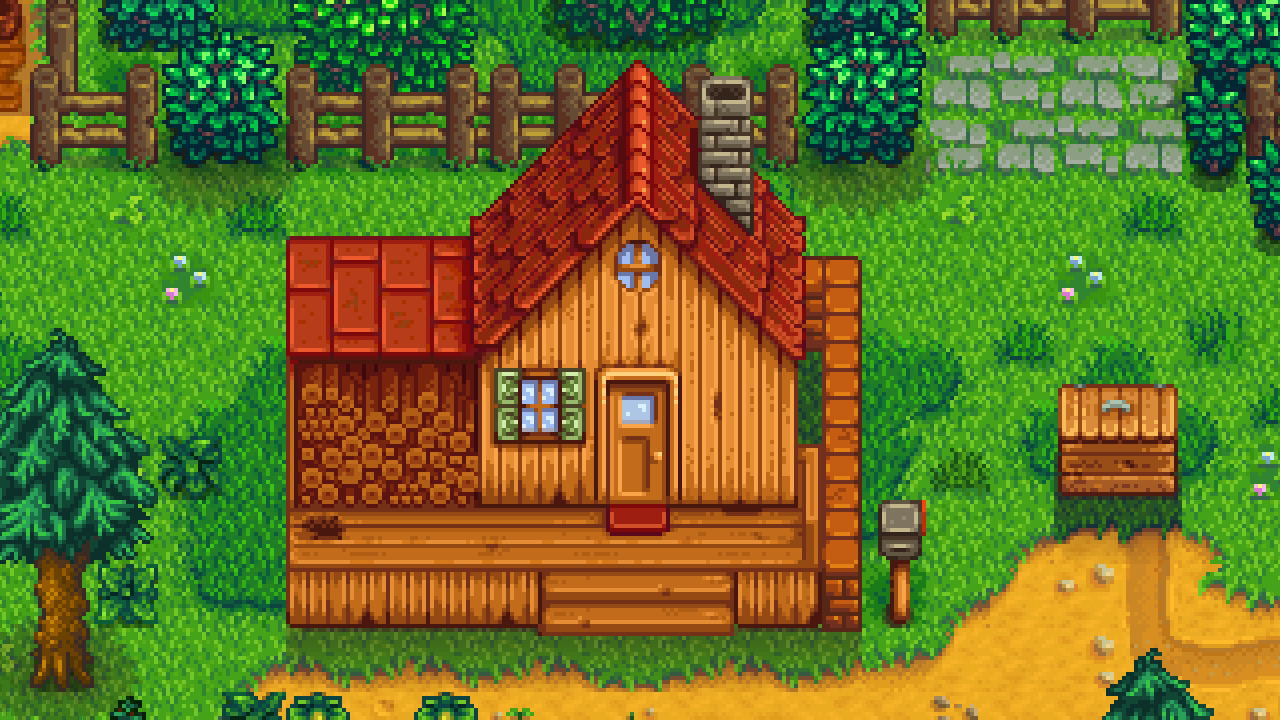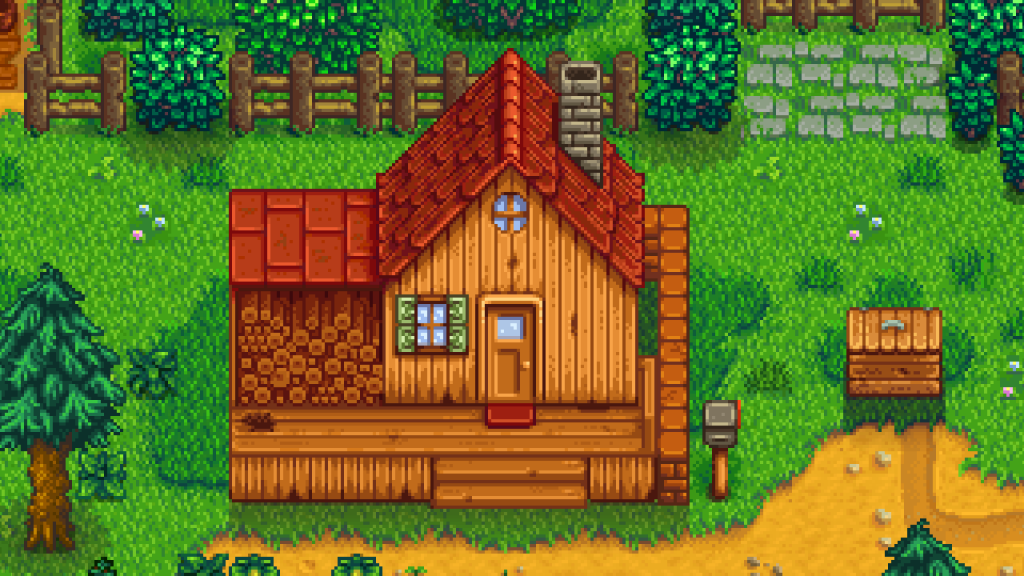 Encourages foraging and has a beautiful border of trees and foliage.
Has Berry bushes and large stumps for Hardwood (8).
Junk items (50%).
Pond Fish loots (45%).
Woodskip (5% to 17.5%).
Has 1413 tillable tiles.
Has 1490 non-tillable but build-able tiles.
Hill-top Farm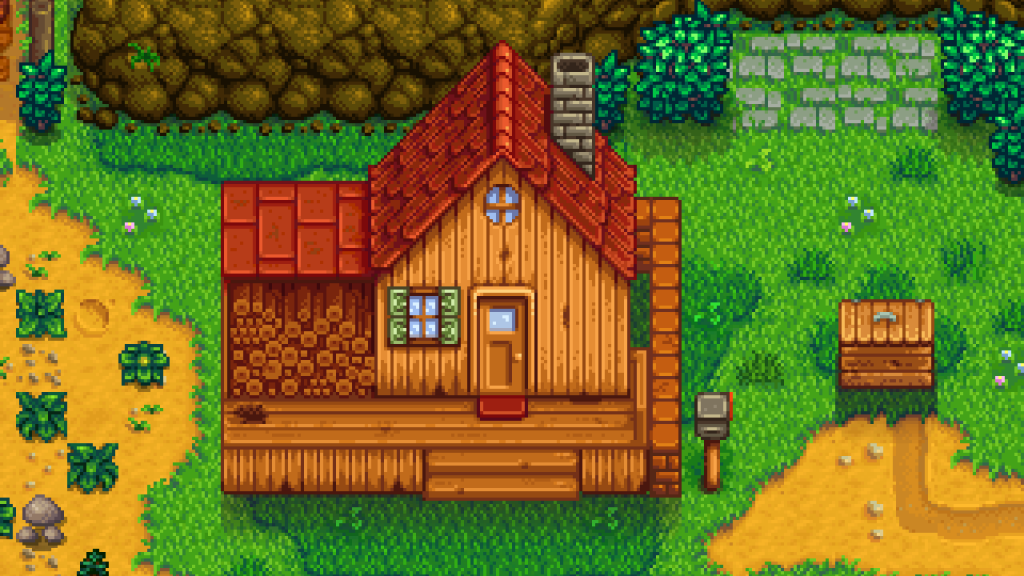 Encourages mining stones, geodes, and ores – similar to a Quarry and Dig Site.
Trash (50%).
Forest River Fish (50%).
Has 1648 tillable tiles.
Has 930 tillable but build-able tiles.
Wilderness Farm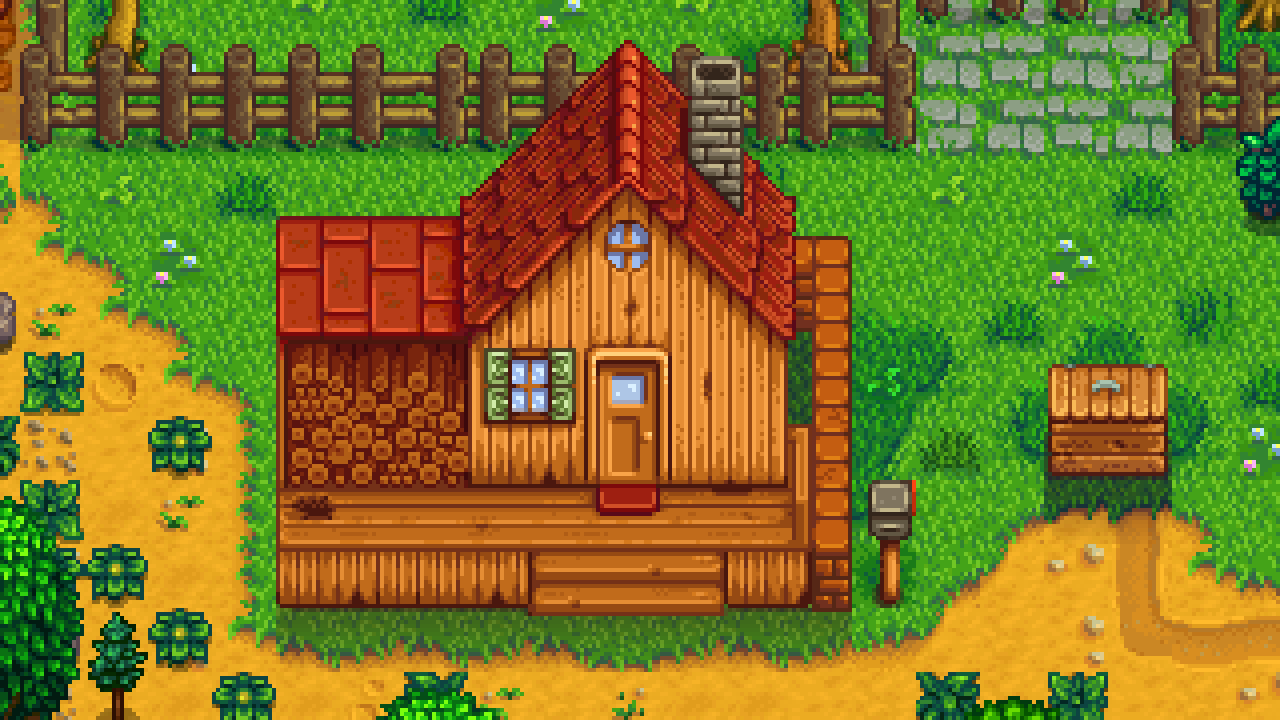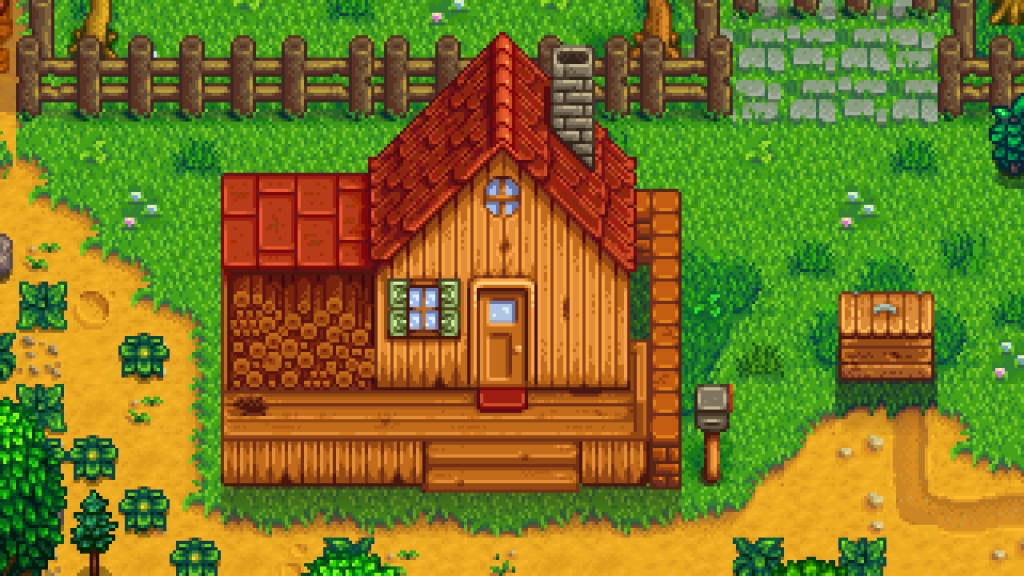 Encourages combat and getting early monster loots by slaying them.
Junk Items (65%)
Lake Fish loots (35%)
Has 2131 tillable tiles.
Has 444 non-tillable but build-able tiles.
Four Corners Farm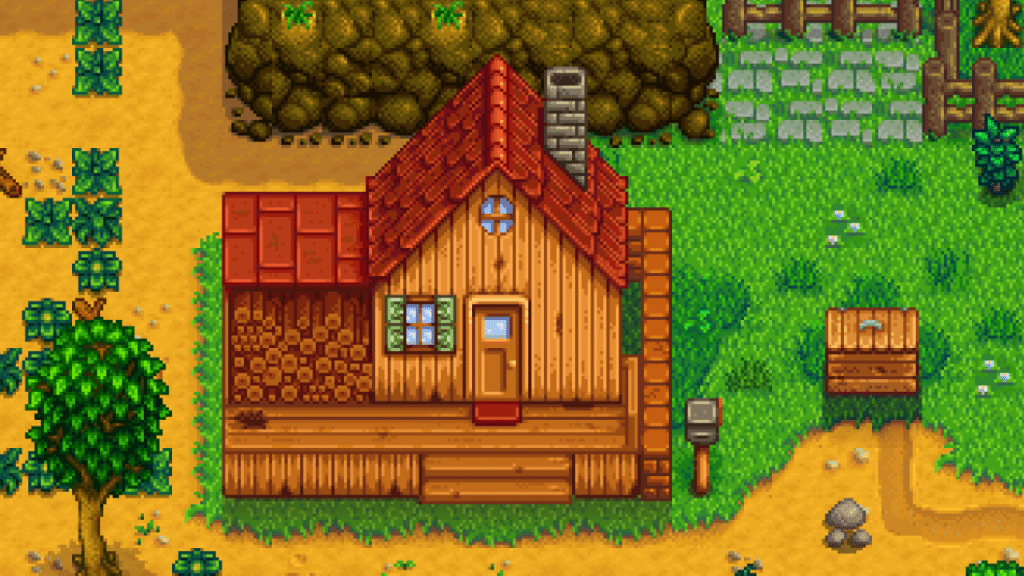 Encourages multiplayer and gives all benefits from all previous farm maps.
Has 2952 tillable tiles.
Beach Farm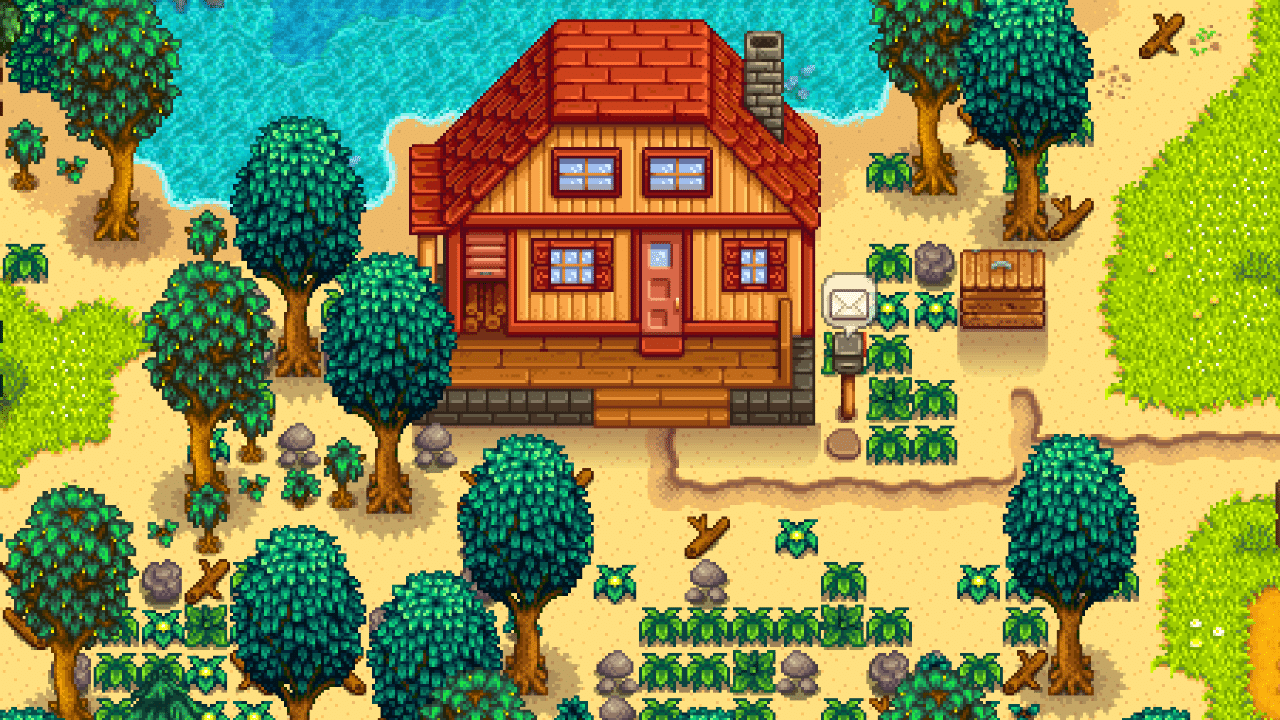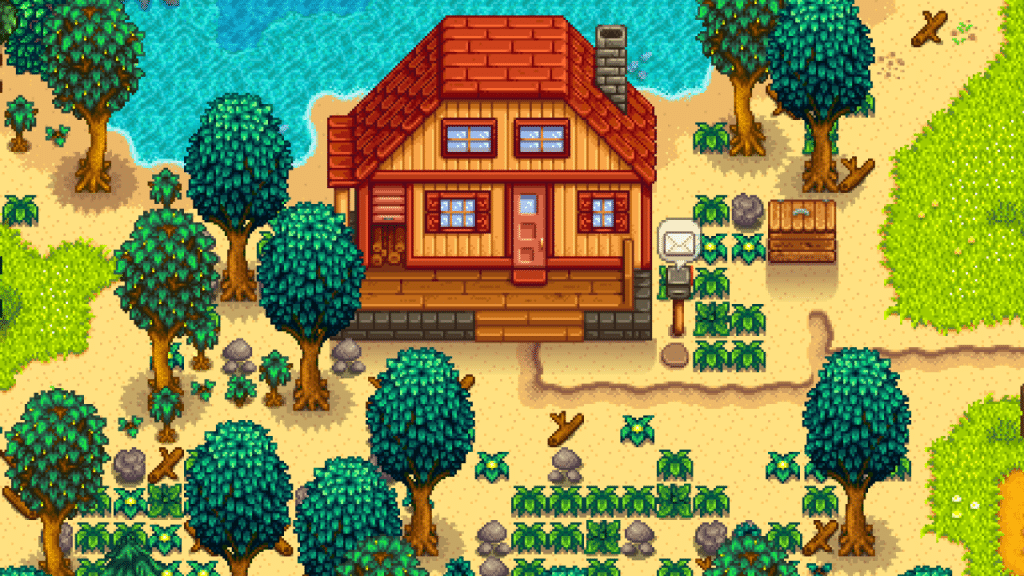 Encourages Farming early game and Fishing and Foraging for the late game.
Have extra items dropped from Supply Crates.
For seasoned Stardew Valley players.
Forest and beach forage spawn here.
Has 202 tillable tiles where sprinklers work. But for the rest (sandy soil), it won't work.
Trash (27.17%)
Ocean Fish loots (52.73%)
Seaweed (15%)
Cockle, Coral, Mussel, or Oyster (5.1%)
Choosing a farm map depends on your preference. Don't limit yourself with the Standard layout, albeit it's the easiest and most practical if you're into farming. However, if you pick the Beach map even if you're a beginner, that's a brave move!
The Player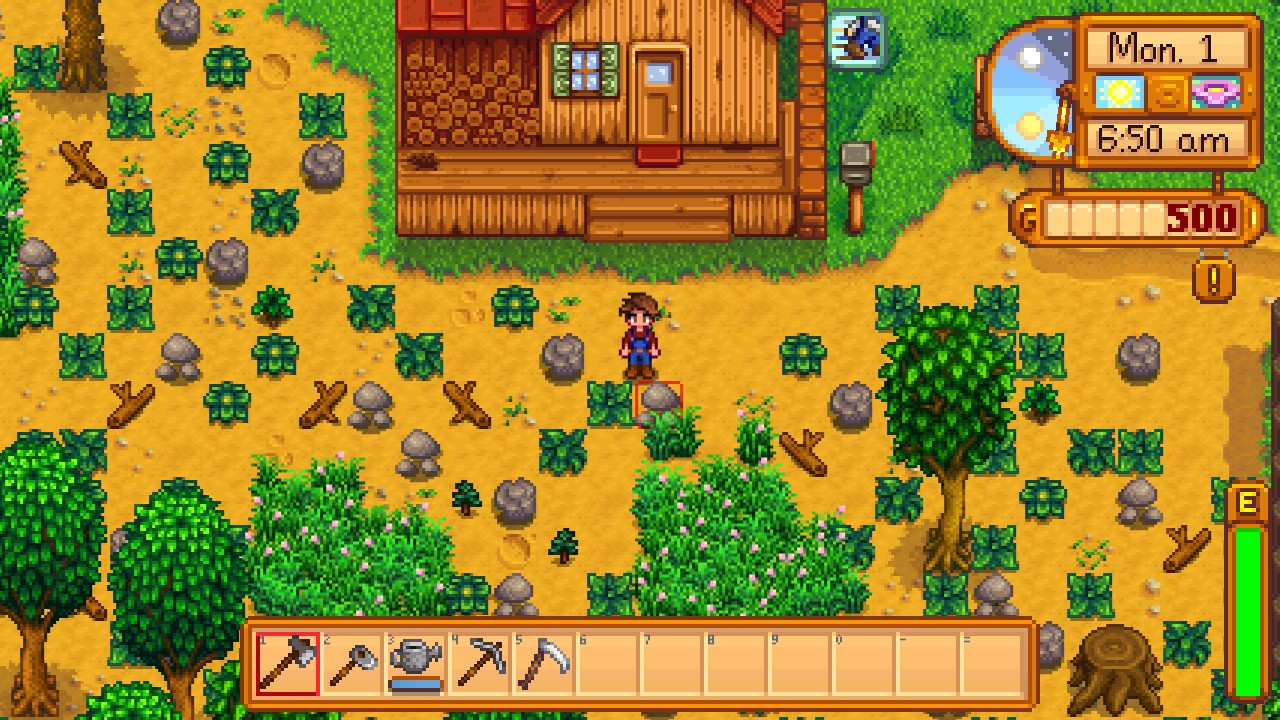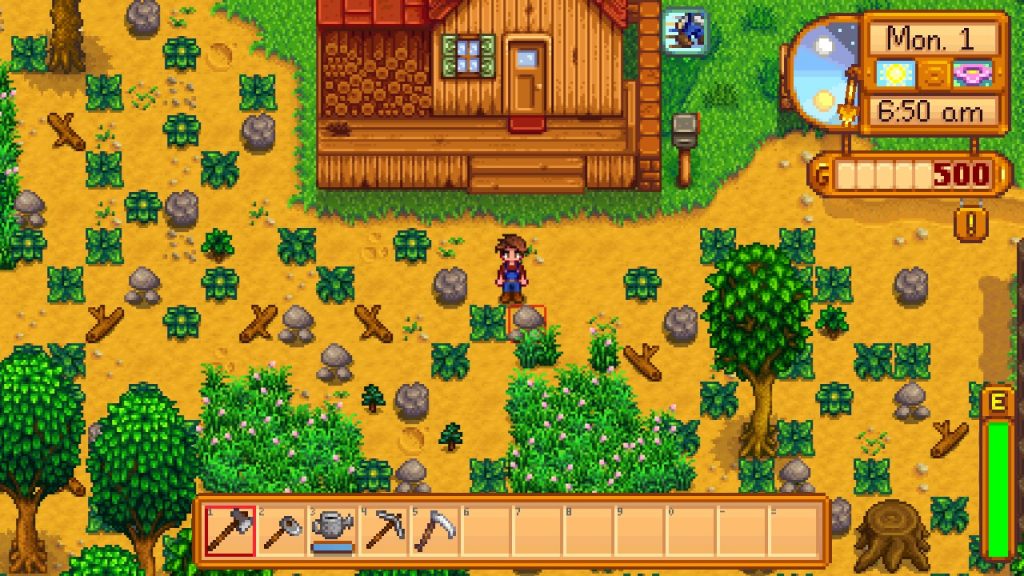 You control someone working at the Joja Corporation for quite a while. After your grandfather peacefully passed away, he gave a last-minute letter about the farm's ownership at Pelican Town. It took a long time before realizing the routine you're at won't fulfill your life – until moving out.
There are different things to know as you're playing on the first day:
Energy
On the right side of the screen is the Energy Bar. Any free tool you use costs -2 at first (except Scythe). However, the depletion rate will decline as you get stronger and better upgrades. Stardrops contribute as well (along with your Health) to doubling the cap.
Health
Before the Energy Bar is a Health Bar that'll become visible after taking damage. It'll remain visible until you're in full health. Monster attacks, debuffs, some food items, and bombs contribute to declining the bar. But you can restore it with any consumable with positive (+) effects.
Gold
You'll start Stardew Valley with a spare 500g. It's your strategy to become more prosperous and buy essential farm upgrades that'll give you more profit. There's also a buying and selling system within Pelican Town.
Season, Day, Weather, and Time
There are four seasons in-game: Spring, Summer, Fall, and Winter. Each has unique festivals, crops, and earning opportunities that you can learn along the way.
A season consists of 28 days, starting from 6 AM to 2 AM (after which you'll pass out and lose some items, mining floor progress, gold, and energy). On the other hand, the weather will depend on each season. For example, Winter offers a blizzard, while Spring, Summer, and Fall could be rainy or stormy.
Inventory
Initially, you'll have 12 slots for the most crucial items in Stardew Valley. Almost half of it is occupied by your hand-me-down tools, but you can buy backpack upgrades from Pierre's General Store. You'll need to pay 2000g for the Large and 10000g for the Deluxe Pack.
Be mindful of what you collect! Less valuable items deserve the Shipping Bin – or you can craft Chests for Wood (50).
Skills and Tools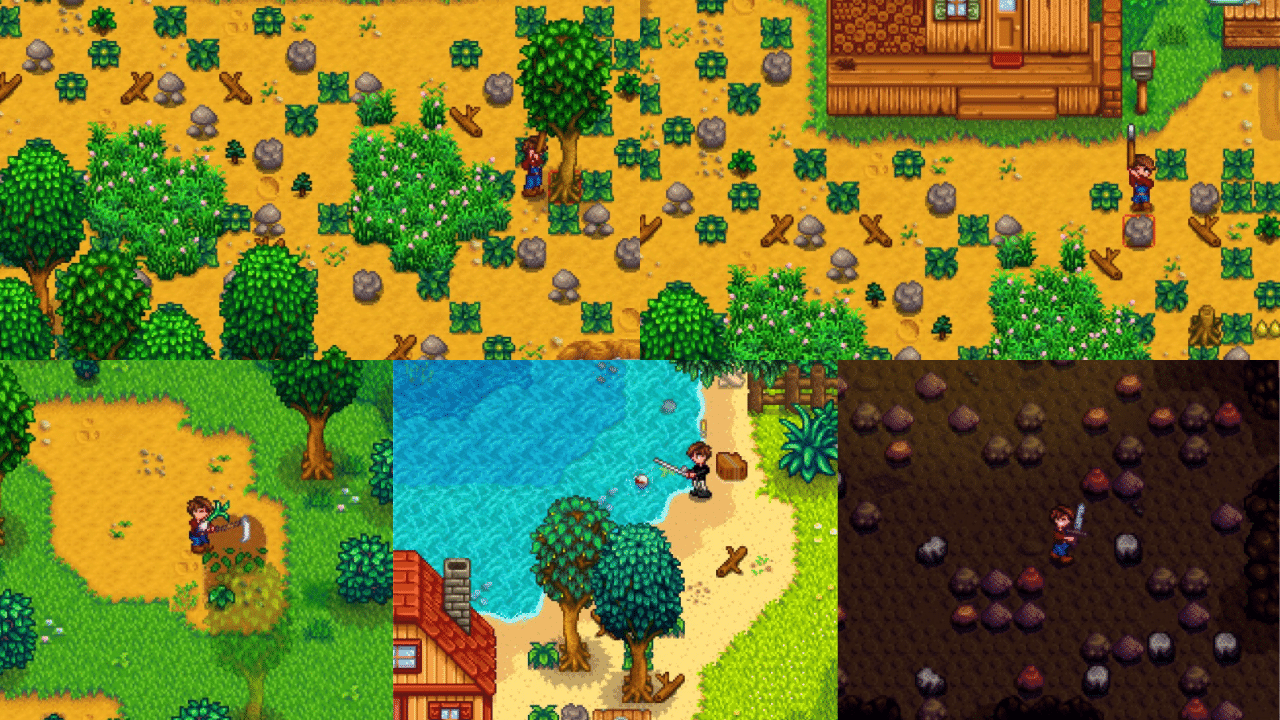 Farm maps have complementary skills you can practice, master, and profit with. But don't let that limit define your gameplay! There are five skills you can learn: Farming, Fishing, Mining, Foraging, and Combat. Regardless of the layout you selected on the Main Menu, you can still enjoy all five on your save file.
However, we'll explain all of them in a nutshell:
Farming
Anything you do with planting crops and caring for farm animals is considered farming. Each field has respective professions you can choose from.
When farming, you usually use the Watering Can to keep the seed alive. However, the Hoe does the first job as you'll need a bed to sow your seeds. Scythe sometimes comes into play, especially when harvesting Amaranth or Wheat.
Fishing
Tackles, baits, and rods make up to consider you're an angler. It's a simple mini-game of keeping the fish icon in the bar, but the difficulty varies for different types.
Count Crab Pots in as this handy equipment could help you complete some Community Center bundles and extra profit!
There are also four professions in this field that you should wisely choose over.
Mining
Mining is one of your stepping stones in helping your farm thrive and fulfill Grandpa's wishes. It'll be impossible to access new areas without upgrades, regardless of whether it's Copper or Iron Bar. However, you should watch out for Iridium Ores as it'll help you progress more stable. Pickaxe and bombs are the highlights of mining.
Don't underestimate coals and stones, as they're essential in crafting delicate money-making equipment!
Foraging
You could go in the wild without (almost) using tools in Stardew Valley (except for chopping Trees). What you see on the ground or bushes is free for picking. However, you sometimes need Axe and Hoe to dig and chop for something valuable for crafting.
Combat
Raw skills or special moves? Swords, hammers, or daggers? Whichever your preference is, you'll need a combination of them to become the Protector of the Valley and get useful loot in crafting valuable items.
Higher-tier weapons make you stronger. But, you'll have to visit the Mines and Skull Cavern or bring Prismatic Shards at the Three Pillars in Calico Desert to kickstart your journey.
Your First Week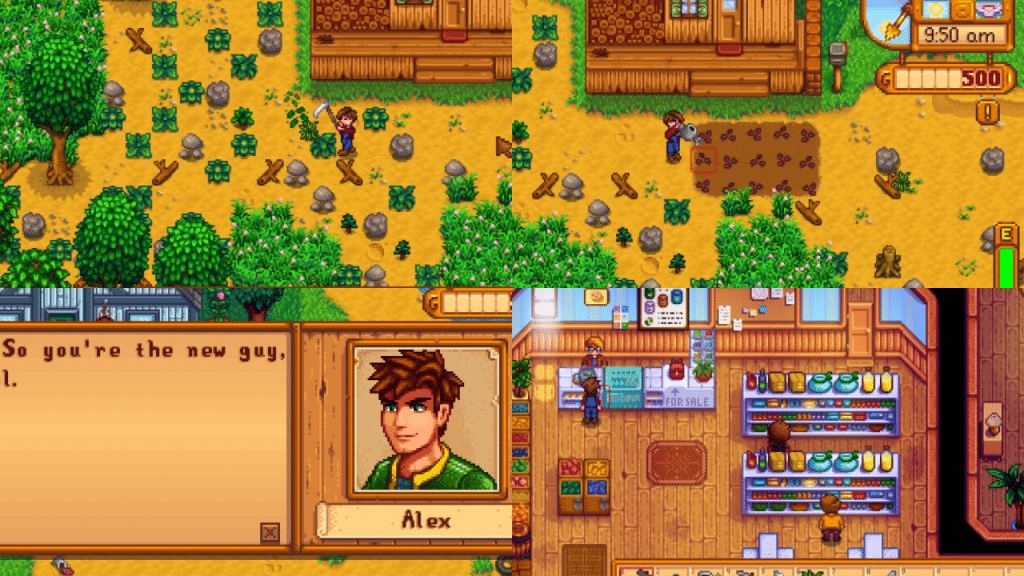 Now that you're familiar with all the basics, you should've minor difficulties and won't be clueless about what to do during your first week. Your primary goals:
Planting the starter Parsnip Seeds.
Making friends while doing side quests.
Reinvesting your profit to earn more.
Start by planting Parsnip with enough space so it won't get destroyed by weeds. Gather pieces of wood, too, as you'll need it for crafting chests, fences, and gates. Avoid cutting grasses since you'll need it once you have a Silo. Remember: Hay costs 50g while your stock on the farm is free!
Don't be lazy befriending villagers even if your focus is profiting. Talk to them if they're on your way while completing several delivery quests. Foraging is also a solid option if you're unoccupied and waiting for your crops to grow! There are Spring Onions south of Leah's Cottage which means extra seeds for you.
Finally, watch the TV every day to get more tips about playing Stardew Valley. Tune in to the Queen of Sauce, Livin' Off the Land, and Fortune Teller to know how your day will go and plan perfectly.
Your First Season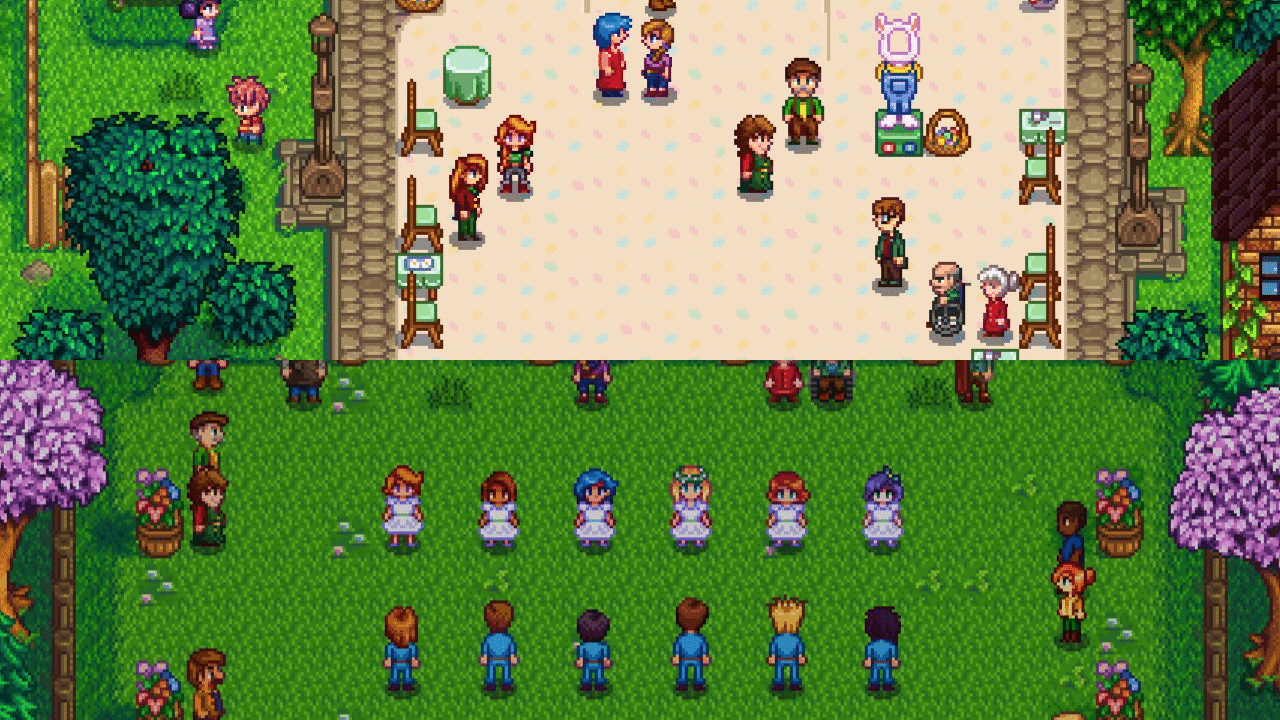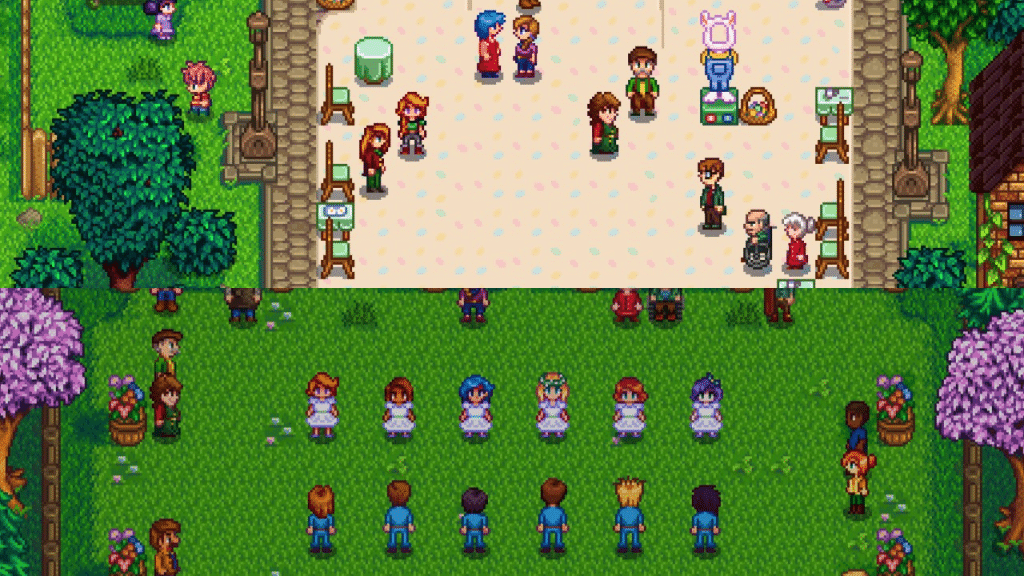 When growing plants, pick the ones that take time to develop. Crops such as Cauliflower, Melon, and Pumpkin for non-winter seasons should be in your storage as they yield generous profit. However, consider expanding your farmland while maintaining automation, even with the most basic sprinklers!
Diversifying your income source is also a win-win. Flavored Honey from Bee Houses, Oak Resin, Pine Tar, Maple Syrup from Tappers, and Crab Pots can help you get that sweet extra.
Indeed, you'll be mining your way below the ground in Winter. But before that happens, make sure to build a Silo and Coop or Barn, so you don't have to worry about gold. And please don't throw away any item in the Shipping Bin. Hoard them because you'll need all of them later in the game.
The Egg Festival will be your first of many upcoming fests. It features some lovely items and competition. Before the month ends, it'll be the Flower Dance. Don't expect a partner here, as your focus must be on the farm. NOT GIRLS OR BOYS (at least you know what's hiding behind the broken wooden plank).
Your First Year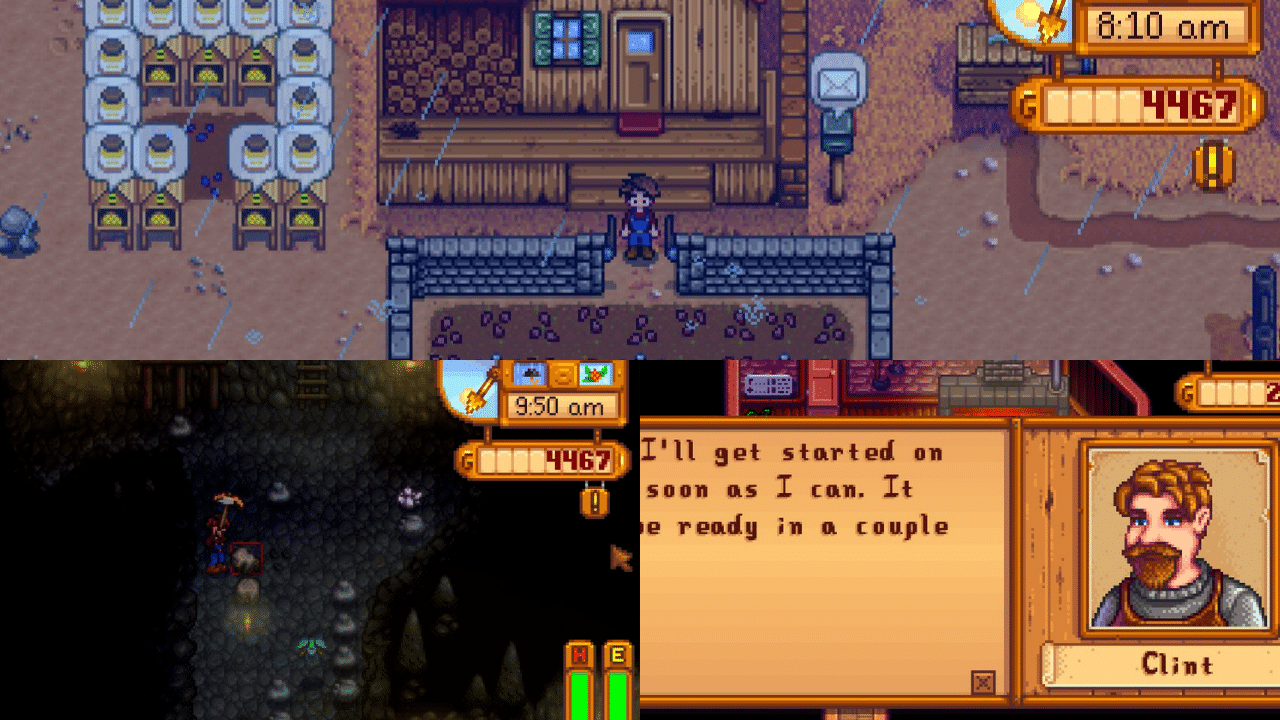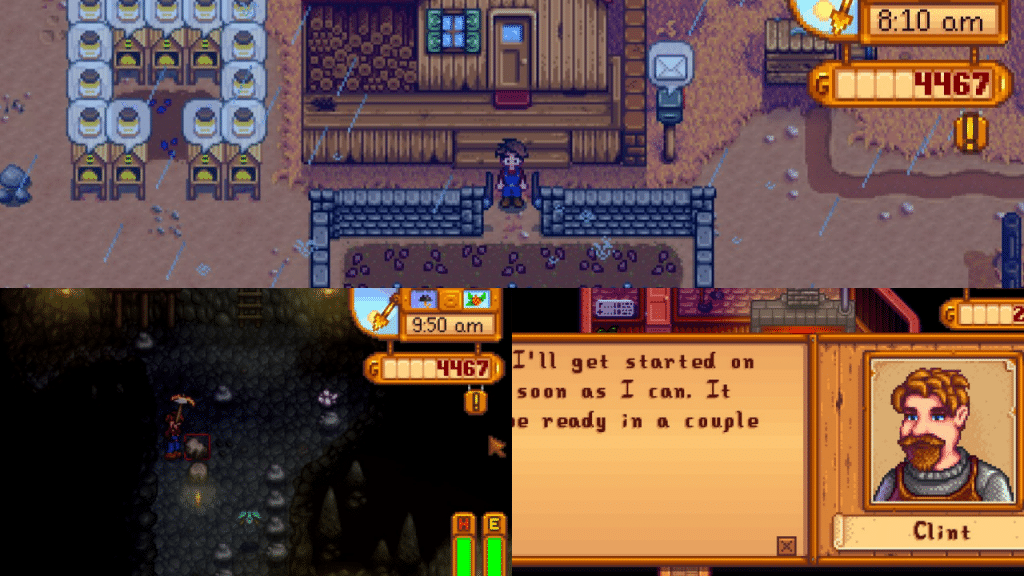 It's always Year 1 starting with nothing and having at least 10000g to 20000g after. However, there are still Summer, Fall, and Winter that you'll need to repeat: expand, rebuild, regrow. Until Winter comes, stick with saving tons as you'll still need money while it's out of season.
Where plants wilt is the best time for upgrading your tools to acquire better ores. Consider prioritizing your Pickaxe first, as it can save time breaking stronger rocks as you descend lower into the Mines. Your next upgrade should be Watering Can, Axe, or Hoe (in prioritized order).
Since it's the mining season, time is essential, and going on foot will take time. Better buy a Stable with a Horse to cut a significant amount of time or fix the Minecarts from one of the Community Center bundles. Once you're inside, only quit if it's the fifth floor so you won't lose progress!
Are 112 days enough for you? It never will be. However, there are more opportunities in years going forward. Plus, how you progress will depend on the Farm Map.
Nonetheless, there are still three common things among Stardew Valley maps: Community Center, Quests, and Achievements.
Community Center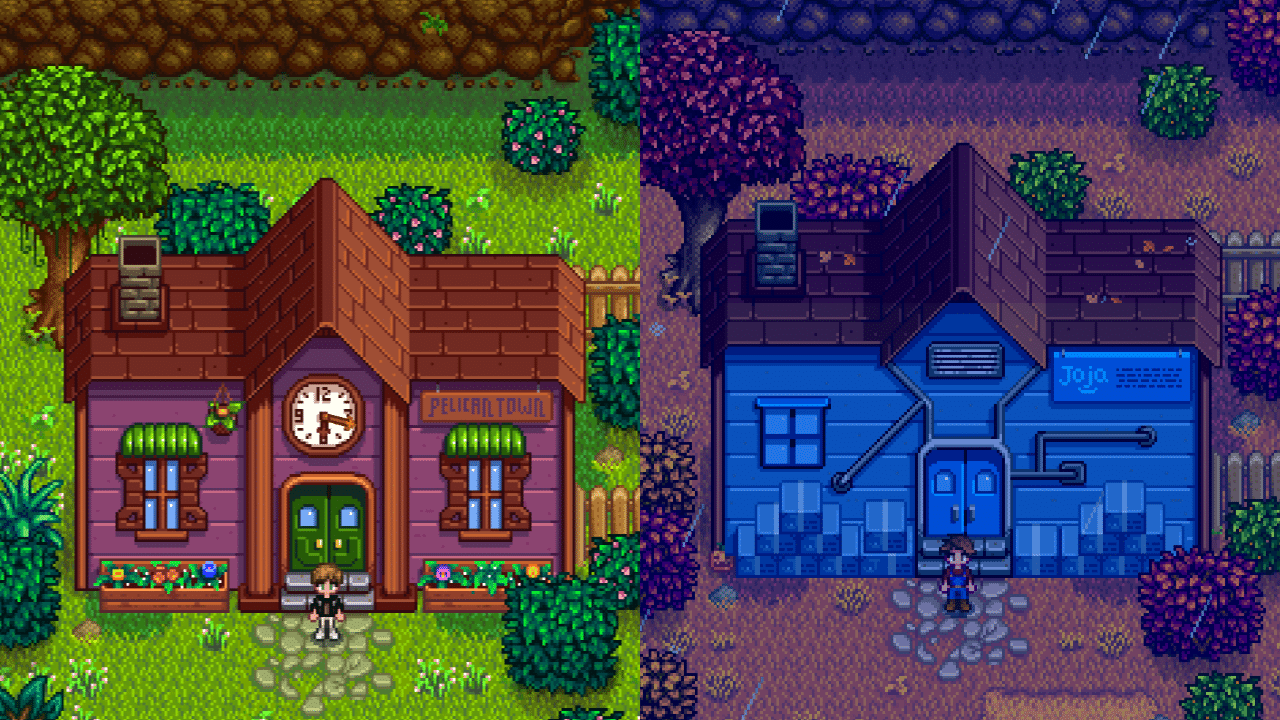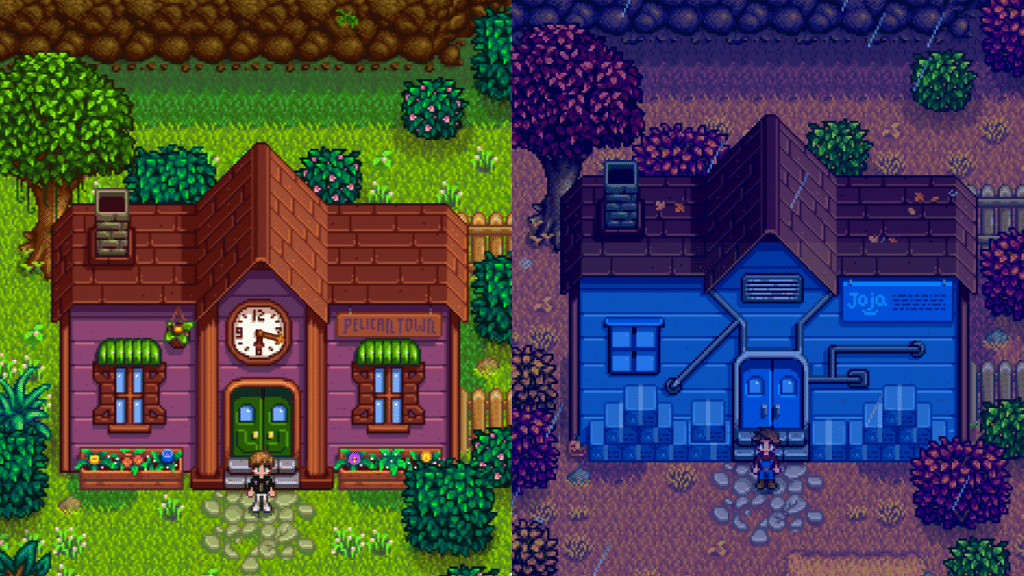 Near the Pelican Town Park is a rusty old building beyond repair. Mayor Lewis keeps it no secret to the player, telling you the eventual outcomes if it'd become a JojaMart asset. It's a relic of the past – a great reminder of how this thriving countryside ages. Are you willing to fix it?
Joja Route
You could side with the Junimos or Forest Spirits and restore the building by completing bundles. These donations come into packages with corresponding requirements and gifts of appreciation. You'll also get Community Repairs such as Quarry Bridge, Bus Stop Access, and Minecarts – which are helpful!
JojaMart and Morris promise the same thing – but with great prices. However, you don't have to scavenge your way to complete bundles or spend effort. Becoming a member for 5000g starts the process, and you'll have to pay the remaining 135000g to beat the game.
You can't argue with most Stardew Valley players in different communities. Most of them would pick the Community Center route, but the choice is all yours! The endpoint would still be the same either way: a Movie Theater.
| | |
| --- | --- |
| Community Development Project | Buying Price |
| Bridge | 25000g |
| Bus | 40000g |
| Greenhouse | 35000g |
| Minecarts | 15000g |
| Panning | 20000g |
Junimo Route
The first time you enter the building won't let you give donations. However, Wizard will contact you the following day through your mail and will help you understand the Forest Spirits' message. That's how you can start donating items. We'll lay it out properly the Normal Bundles in the following tables:
Crafts Room (Quarry Access)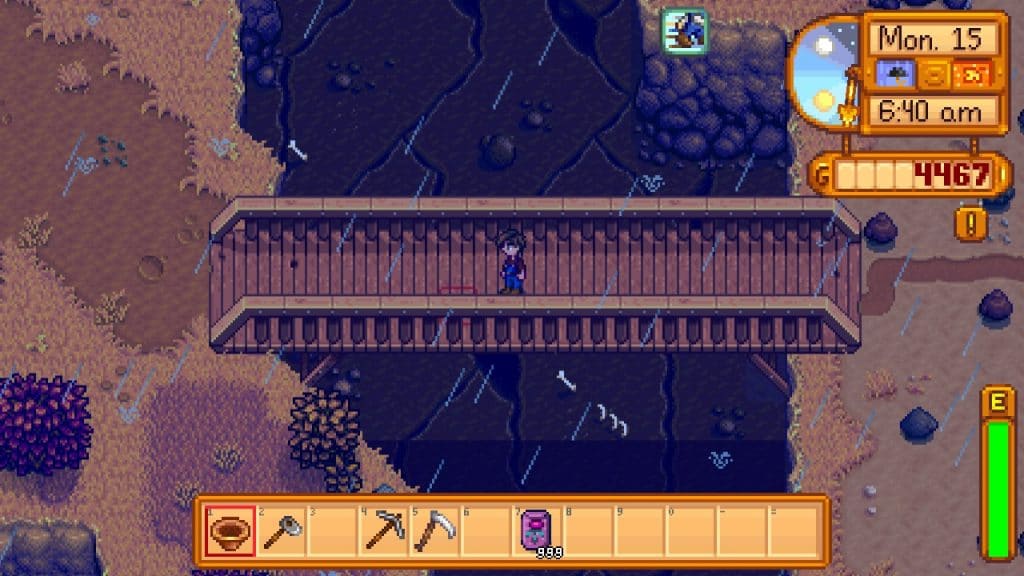 | | |
| --- | --- |
| Spring Foraging Bundle | Source(s) |
| Daffodil | Found in the wild, Flower Dance Shop (50g) |
| Dandelion | Wild loot, Flower Dance Shop (50g) |
| Leek | Foraging. |
| Wild Horseradish | Spring Foraging. |
| Summer Foraging Bundle | |
| Grape | Wild loot, Fall Farming. |
| Spice Berry | Found in the wild, Farm Cave (choosing the fruit bat option). |
| Sweet Pea | Summer Foraging. |
| Fall Foraging Bundle | |
| Blackberry | Found in the wild, Farm Cave (from fruit bats) |
| Common Mushroom | Found in the wild (same season), Secret Woods (Spring and Fall), Farm Cave (from mushrooms), placing a Tapper on a Mushroom Tree. |
| Hazelnut | Found in the wild. |
| Wild Plum | Foraging. |
| Winter Foraging Bundle | |
| Crocus | Found in the wild. |
| Crystal Fruit | Foraging, Dust Sprites monster drop on floors 41-79 (2%) |
| Snow Yam | Digging soil or Artifact Spots in Winter with a Hoe. |
| Winter Root | Digging soil or Artifact Spots in Winter with a Hoe, Blue Slime monster drop on floors 41-79 in the Mines. |
| Construction Bundle | |
| Hardwood (10) | Chopping Large Logs or Stumps with an upgraded Axe, breaking Mine crates |
| Stone (99) | Digging stones with a Pickaxe, Buying from Robin's Shop costing 20g (Year 1) and 100g (Year 2+) each. |
| Wood (198) | Chopping Trees and branches using an Axe, costs 10g (Year 1) and 50g (Year 2+) each from the Carpenter Shop. |
| Exotic Foraging Bundle | |
| Cactus Fruit | Found in the Desert, Oasis for 150g on Tuesdays |
| Cave Carrot | Breaking crates or tilling the soil in the Mines. |
| Coconut | Desert Foraging, Oasis for 400g every Monday. |
| Maple Syrup | Tapping Maple Trees |
| Morel | Secret Woods Foraging, Forest Farm in Spring, Farm Cave (mushrooms) |
| Oak Resin | Tapping Oak Trees |
| Pine Tar | Tapping Pine Trees |
| Purple Mushroom | The Mines, Farm Cave (mushrooms), Forest Farm in Fall |
| Red Mushroom | The Mines, Mushroom Farm Cave, Secret Woods during Summer or Fall, Forest Farm Map during Fall, Tapping a Mushroom Tree |
Pantry (Unlocks Greenhouse)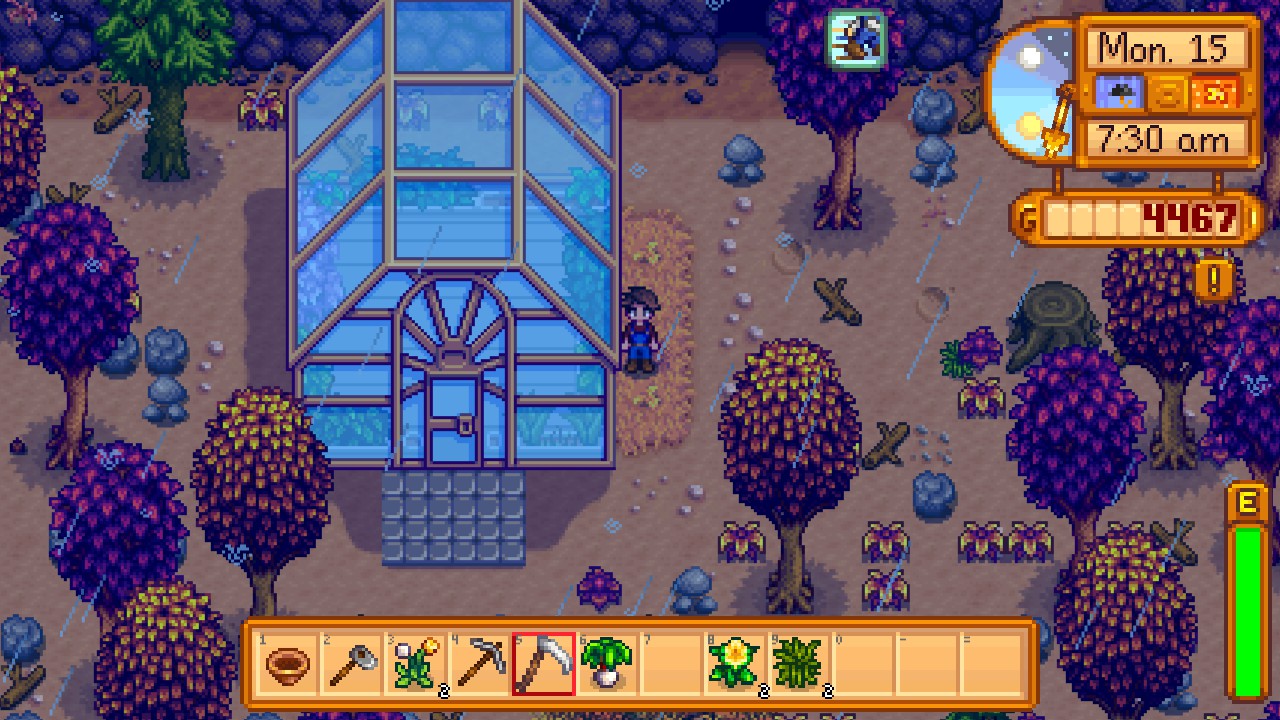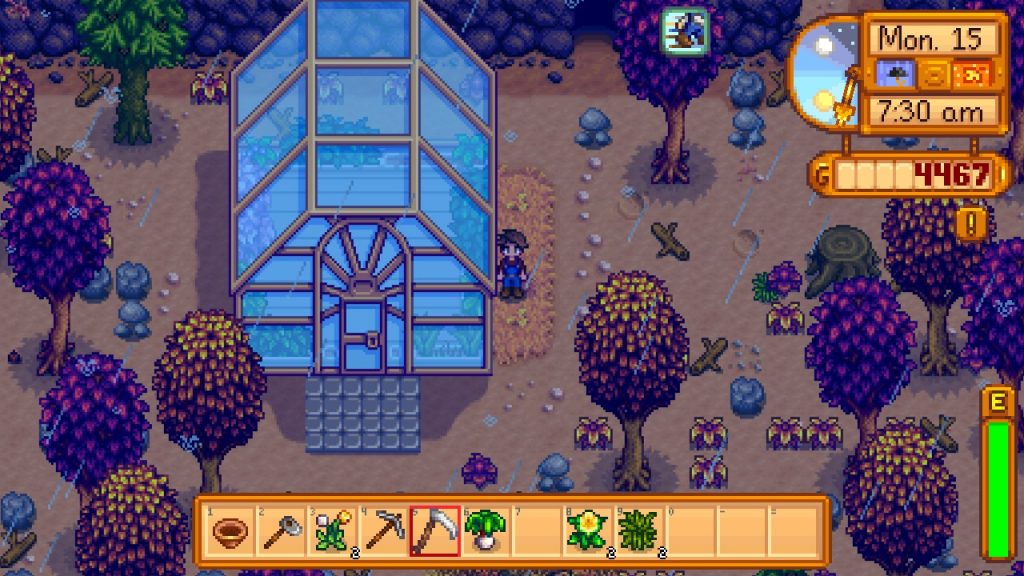 | | |
| --- | --- |
| Spring Crops Bundle | Source(s) |
| Cauliflower | Planting |
| Green Bean | From Bean Starters |
| Parsnip | From Parsnip Seeds |
| Potato | Planting |
| Summer Crops Bundle | |
| Blueberry | From Blueberry Seeds |
| Hot Pepper | Farming |
| Melon | Farming |
| Tomato | Planting |
| Fall Crops Bundle | |
| Corn | From Summer or Fall Crops |
| Eggplant | Farming |
| Pumpkin | Planting |
| Yam | From Yam Seeds |
| Quality Crops Bundle (Gold) | |
| Corn (5) | Using Fertilizer to Corn Seeds |
| Melon (5) | Using Fertilizer to Melon Seeds |
| Parsnip (5) | Using Fertilizer to Parsnip Seeds |
| Pumpkin (5) | Using Fertilizer to Pumpkin Seeds |
| Animal Bundle | |
| Duck Egg | Duck drop |
| Large Brown Egg | Brown Chicken drop |
| Large Egg | White Chicken drop |
| Large Goat Milk | From Goats |
| Large Milk | From Cows |
| Wool | Shearing Sheep, Rabbit Drops |
| Artisan Bundle | |
| Apple | Apple Trees on Fall, Farm Cave (fruit bat) |
| Apricot | Apricot Trees in Spring, fruit bats |
| Cheese | Cheese Press and Any Milk, Desert Trader for Emerald during Fridays |
| Cherry | Cherry Trees in Spring, fruit bats |
| Cloth | Loom and Wool, Desert Trader for Aquamarine (3) every Wednesday, Recycling Soggy Newspaper (10%), monster drop from killing Mummies in Skull Cavern (5% – 20%) |
| Goat Cheese | Cheese Press and Any Goat Milk |
| Honey | Bee House (4 days), Oasis for 200g on Fridays |
| Jelly | Preserves Jar and Any Fruit |
| Orange | Orange Trees on Summer, fruit bats |
| Peach | Peach Trees on Summer, Farm Cave |
| Pomegranate | Pomegranate Trees on Fall, fruit bats |
| Truffle Oil | Oil Maker and Truffles |
Fish Tank (Removes the Glittering Boulder and Unlocks the Copper Pan)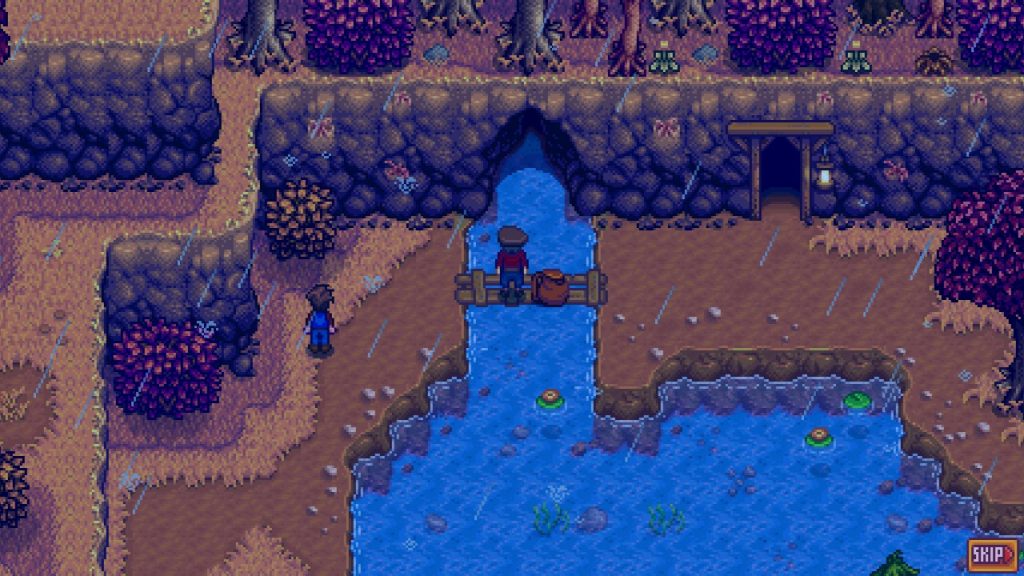 River Fish Bundle
Location(s)
Spring
Summer
Fall
Winter
Time
Specific Weather
Catfish
• Rivers
• Secret Woods
✓
✓
• 6am – 12am
• Rainy
Shad
• Rivers
✓
✓
✓
• 9am – 2am
• Rain
Sunfish
• Rivers
• Riverlands Farm (rainy)
• Wilderness Farm (rainy)
✓
✓
• 6am – 7pm
• Sunny
Tiger Trout
• Rivers
✓
✓
• 6am – 7pm
Lake Fish Bundle
Bullhead
• Mountain Lake
✓
✓
✓
✓
Anytime
Carp
• Mountain Lake
• Secret Woods (all seasons)
• Sewer (all seasons)
✓
✓
✓
Anytime
Largemouth Bass
• Mountain Lake
✓
✓
✓
✓
• 6am – 7pm
Sturgeon
• Mountain Lake
✓
✓
• 6am – 7pm
Ocean Fish Bundle
Red Snapper
• Ocean
✓
✓
• 6am – 7pm
• Rain
Sardine
• Ocean
✓
✓
✓
• 6am – 7pm
Tilapia
• Ocean
✓
✓
• 6am – 2pm
Tuna
• Ocean
✓
✓
• 6am – 7pm
Night Fishing Bundle
Bream
• River
✓
✓
✓
✓
• 6pm – 2am
Eel
• Ocean
✓
✓
• 4pm – 2am
• Rainy
Walleye
• River
• Lakes
• Forest Pond
✓
• 12pm – 2am
• Rainy
Crab Pot Bundle
Clam
• Ocean
• Beach (wild)
✓
✓
✓
✓
Cockle
• Ocean
• Beach (wild)
✓
✓
✓
✓
Crab
• Ocean
• Rock Crabs (15%) and Lava Crabs (25%)in the Mines
✓
✓
✓
✓
Crayfish
• Freshwater
✓
✓
✓
✓
Lobster
• Ocean
✓
✓
✓
✓
Mussel
• Ocean
• Beach (wild)
✓
✓
✓
✓
Oyster
• Ocean
• Beach (wild)
✓
✓
✓
✓
Periwinkle
• Freshwater
✓
✓
✓
✓
Shrimp
• Ocean
✓
✓
✓
✓
Snail
• Freshwater
✓
✓
✓
✓
Specialty Fish Bundle
Ghostfish
• Mines (20-60)
• Monster loot from Ghosts (8%)
✓
✓
✓
✓
Anytime
Pufferfish
• Ocean
✓
• 12pm – 4pm
• Sunny
Sandfish
• Desert Pond
✓
✓
✓
✓
• 6am – 8pm
Woodskip
• Secret Woods
• Forest Farm
✓
✓
✓
✓
Anytime
Boiler Room (Minecarts)
Blacksmith's Bundle
Source(s)
Copper Bar
• Copper Ores (5) and Coal (1) in the Furnace
Gold Bar
• Gold Ores (5) and Coal (1) in the Furnace
• Transmute (Au)
Iron Bar
• Iron Ores (5) and Coal (1) in the Furnace
• Transmute (Fe)
Geologist's Bundle
Quartz
• The Mines (all levels)
Earth Crystal
• Geodes (6.25%)
• Monster drop from Duggies (6-29[10%])
• Omni Geodes (2.0833%)
• The Mines (1-39)
Frozen Tear
• Frozen Geodes (6.25%)
• Monster loot from killing Dust Sprites (41-79 [2%])
• Omni Geodes (2.0833%)
• The Mines (41-79)
Fire Quartz
• Magma Geodes (6.25%)
• Omni Geodes (2.0833%)
• The Mines (81-119)
Adventurer's Bundle
Bat Wing (10)
• Killing Bats
Slime (99)
• Monster loot from killing Slimes
Solar Essence
• Ghosts (95%)
• Iridium Bats (50%)
• Metal Heads (65%)
• Mummies (99%)
• Squid Kids (75%)
Void Essence
• Serpents (99%)
• Shadow Brutes (75%)
• Shadow Shamans (75%)
Bulletin Board (+2 Friendship Hearts)
Chef's Bundle
Source(s)
Maple Syrup
• Tapping Maple Trees
Fiddlehead Fern
• Secret Woods (Summer)
• Prehistoric Floors at the Skull Cavern
Truffle
• Pigs
Poppy
• Planting Poppy Seeds (Summer)
Maki Roll
• Cooking
Fried Egg
• Cooking
Dye Bundle
Red Mushroom
• Mines• Secret Woods (Summer or Fall foraging)
• Mushrooms Farm Cave
• Tapping a Mushroom Tree
Sea Urchin
• Beach Farm foraging
• Beach (near the Ocean) foraging
Sunflower
• Planting Sunflower Seeds (Summer and Fall)
Duck Feather
• Ducks drop
Aquamarine
• Breaking Aquamarine Nodes
• Destroying Mines crates (2.24% – 4%)
• Fishing Treasure Chests (4%)
Red Cabbage
• Planting Red Cabbage Seeds during Summer in Year 2 (unless enabled the guarantee of completing the Community Center by Year 1)
Field Research Bundle
Purple Mushroom
• Mines
• Mushrooms Farm Cave
• Forest Farm foraging (Fall)
Nautilus Shell
• Beach foraging (Winter)
• Beach Farm foraging
• Fall foraging
Chub
• Fishing at the Mountain Lake or River at any time, any season
Frozen Geode
• Mines (41-79)
Fodder Bundle
Wheat (10)
• Planting Wheat Seeds in Summer and Fall
Hay (10)
• Scything grass at the Farm
• Marnie's Ranch for 50g
• Three pieces from the Desert Trader for Omni Geode (1)
Apple (3)
• Apple Trees drop in Fall
• Fruit Bat Farm Cave
Enchanter's Bundle
Oak Resin
• Tapping Oak Trees
Wine
• Kegs and Any Fruits
Rabbit's Foot
• Rabbits drop
• Serpents drop (0.8%)
Pomegranate
• Pomegranate Trees drop in Fall
• Fruit Bat Farm Cave
Vault (Calico Desert access)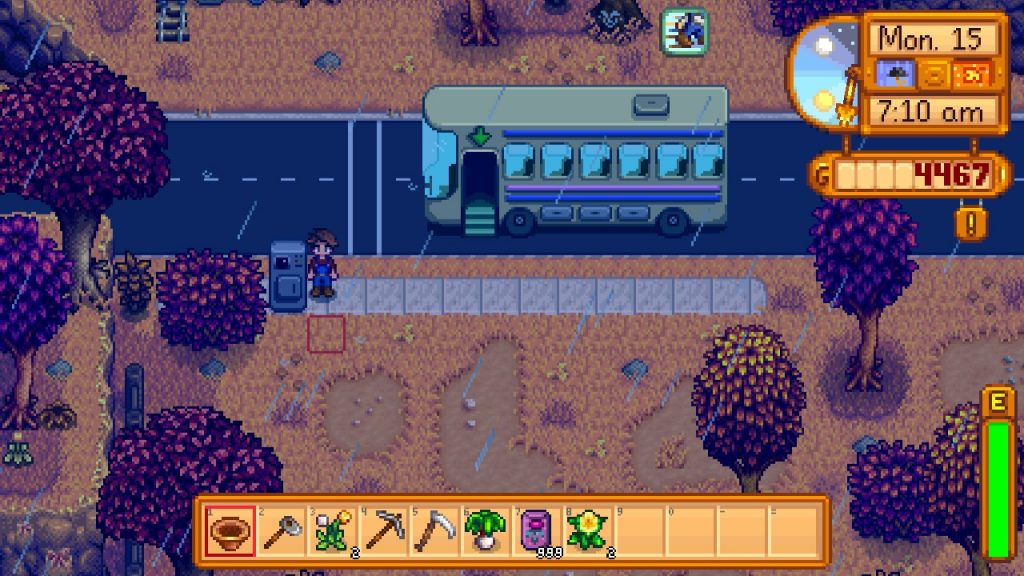 | | |
| --- | --- |
| Price | Reward |
| 2,500 Bundle | Chocolate Cake (3) |
| 5,000 Bundle | Quality Fertilizer (30) |
| 10,000 Bundle | Lightning Rod (1) |
| 25,000 Bundle | Crystalarium (1) |
Relationships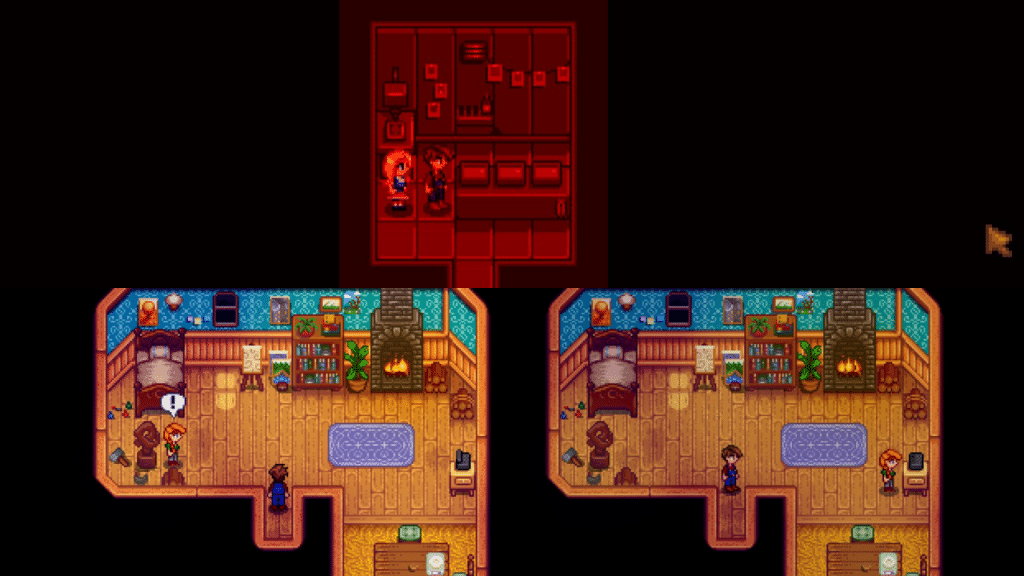 Stardew Valley is also a game of meeting new faces and discovering different character backstories. Cutscenes aside, you can unlock crafting and cooking recipes, special areas and even get mindblown with everyone's relationship with one another. You'll also feel like you're in a family where everyone sends you a gift (this game is your perfect retreat if you have no friends).
In total, you can raise friendships with 34 unique NPCs in-game. Starting with zero, you can progressively improve it by gifting either their liked or loved item or taking them to the Movie Theater. However, you're limited to giving their favorites twice a week with normal gifts and once with the cinemas.
Here's where you can take a look at the gifting guide.
Quests and Achievements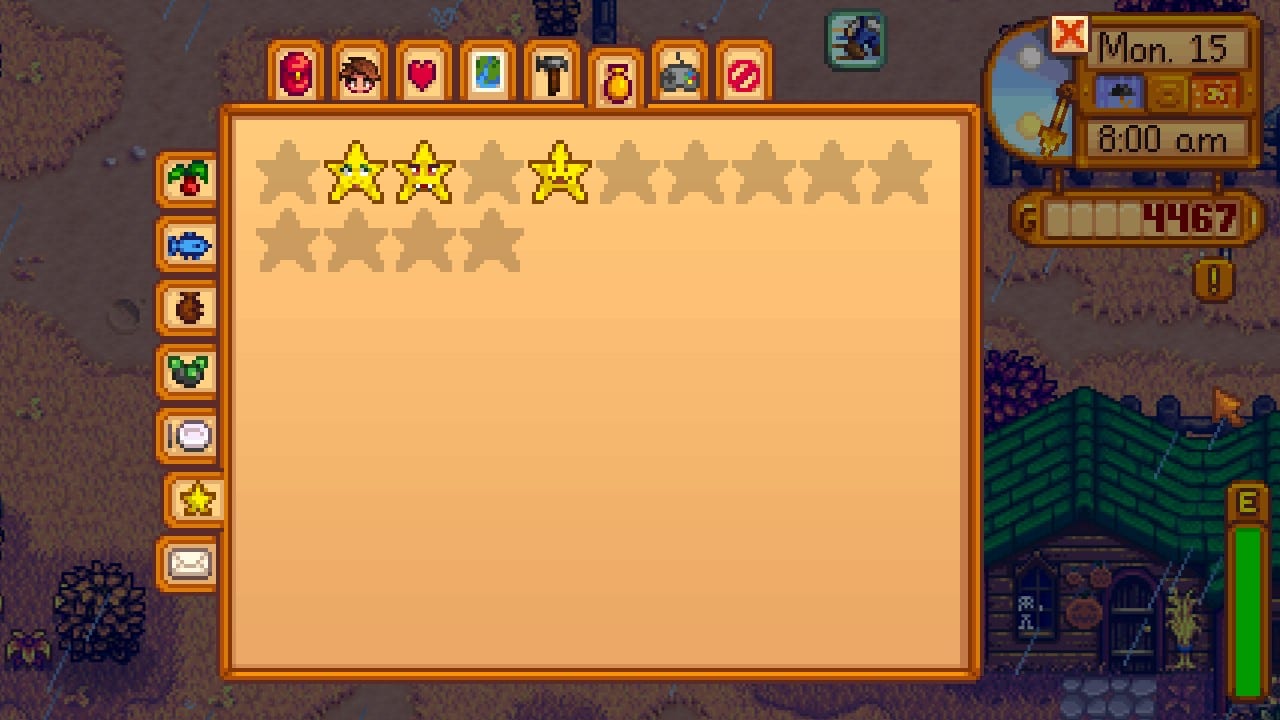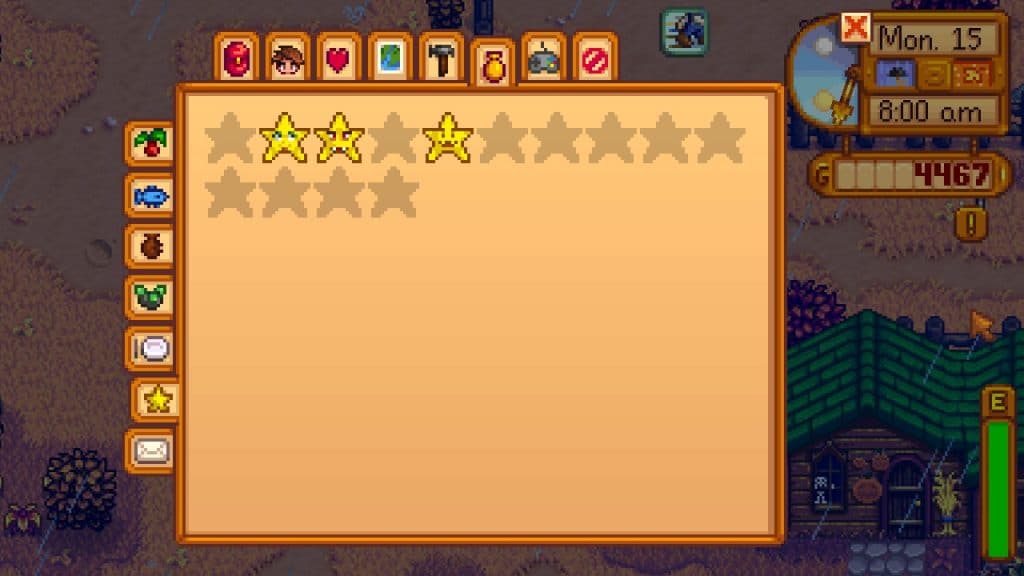 There are two quest types in Stardew Valley: Main and Side. You can progress the storyline by completing the main ones and earning some money. However, you can make more with side types as it can range from completing orders, killing monsters, or item collections. You can also unlock more recipes if you have the Special Orders Board.
Along the way, you may finish some Achievements, although it's easy to track progress. Check this separate complete guide if you want a 100% completion.
14 Useful Tools and Items to Keep Growing Until Late-Game
Different items deserve their respective rankings and tiers in Stardew Valley. While it'll differ depending on the player and Farm Map, there are 14 of them that'll be indispensable regardless of the new updates.
Sprinklers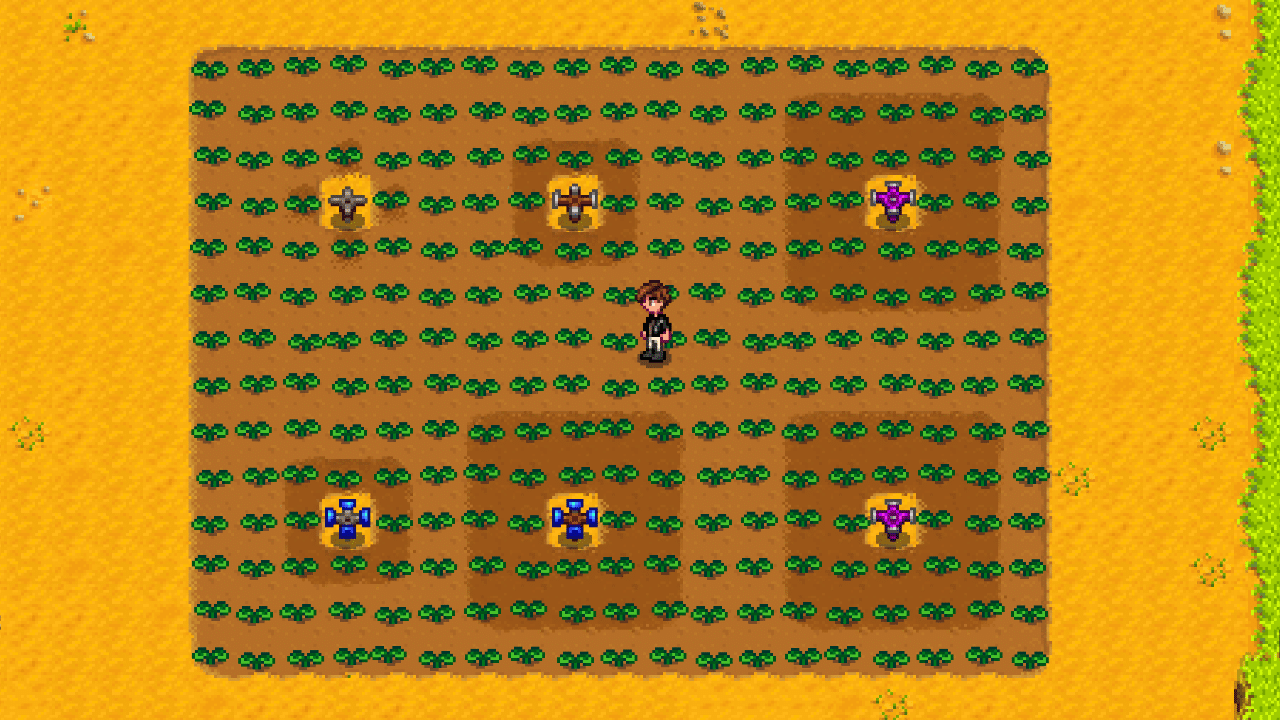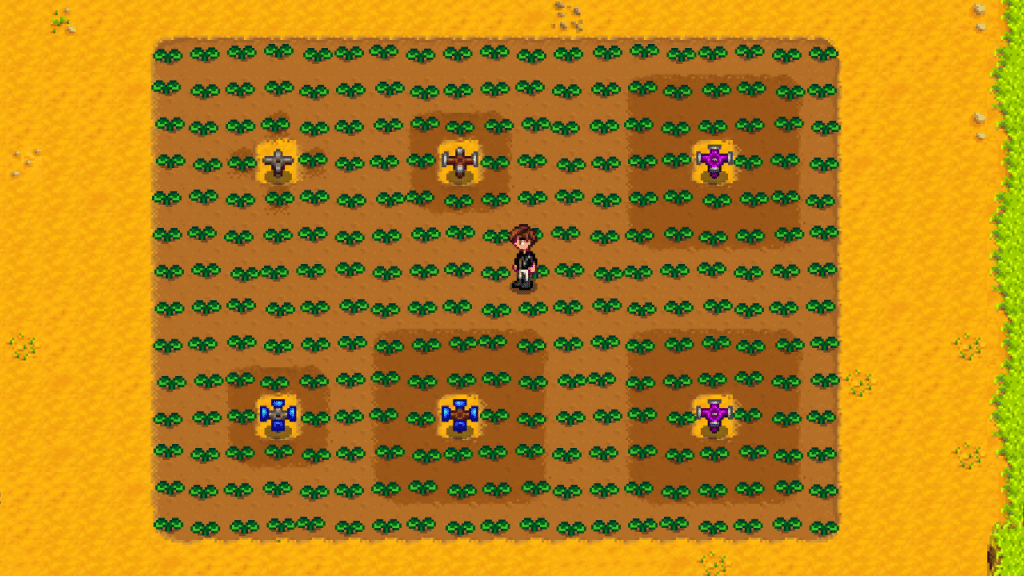 This tool is the key to automating your farmland in Stardew Valley. It's always a hassle to wake up early, refill your Watering Can, and water crops. With Sprinklers, you can save time for other essential chores without putting in a massive effort.
However, better sprinklers have more range. Pressure Nozzles also affect how many plants they can wet every day.
Fertilizers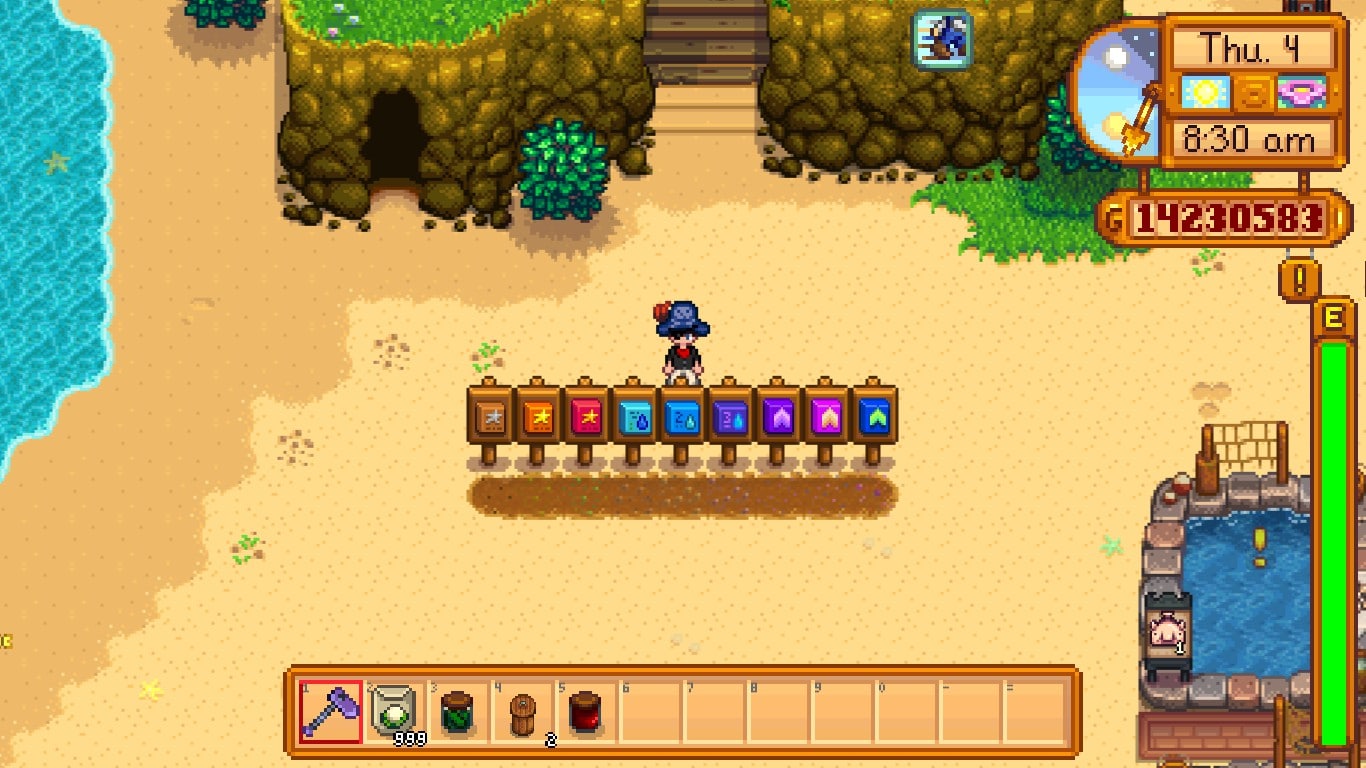 Crops can now sell more because Fertilizers make them more valuable. They're available as a starter but have more upgraded variants as you progress.
The same goes for Retaining Soil which wets the dirt overnight, and Speed-Gro for decreasing waiting time until harvest.
Junimo Huts
The last piece for automating your Stardew Valley farm is placing Junimo Huts. Having them is handy as you don't have to harvest crops that'll take time and effort. However, they're available after retrieving Wizard's Magic Ink from the Witch's Hut.
Iridium Bars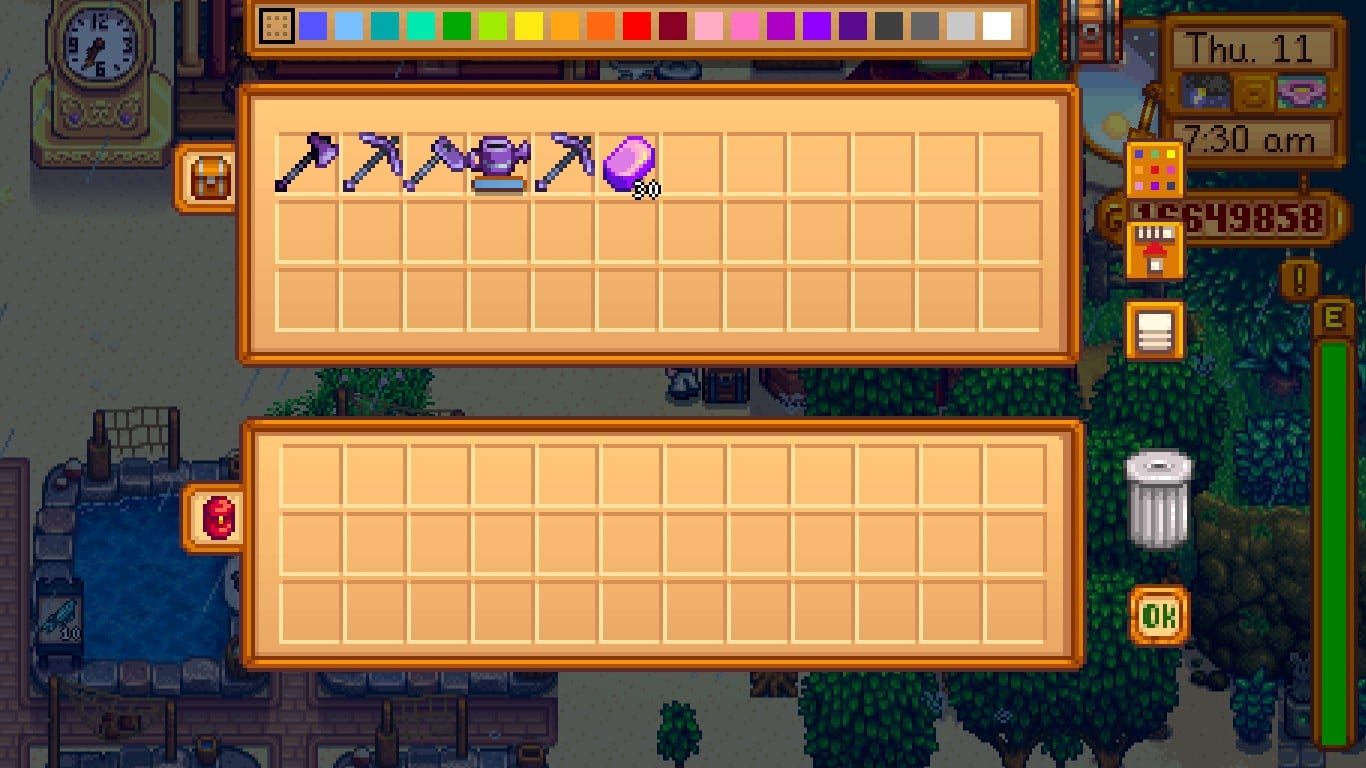 Making a solid bar of this material requires its ore form. You won't see it around if you're a beginner because the earliest and easiest way you can have them is through Year 3. Remember Grandpa's return? That's where he'll grade you on your progress in Stardew Valley alongside a Statue of Perfection that produces Iridium Ores.
It's a long way to go, but you can claim your reward at Grandpa's Shrine after fulfilling enough of his evaluation. Every day, you'll get 2 – 8 ores that you can smelt into Iridium Bars. It's best to upgrade your Pickaxe first since you can also find them in Skull Cavern at Calico Desert.
You'll get better equipment once you're amassing enough ores and smelting them into bars. That's the start of stable farming while capitalizing for more significant returns with little effort.
Kegs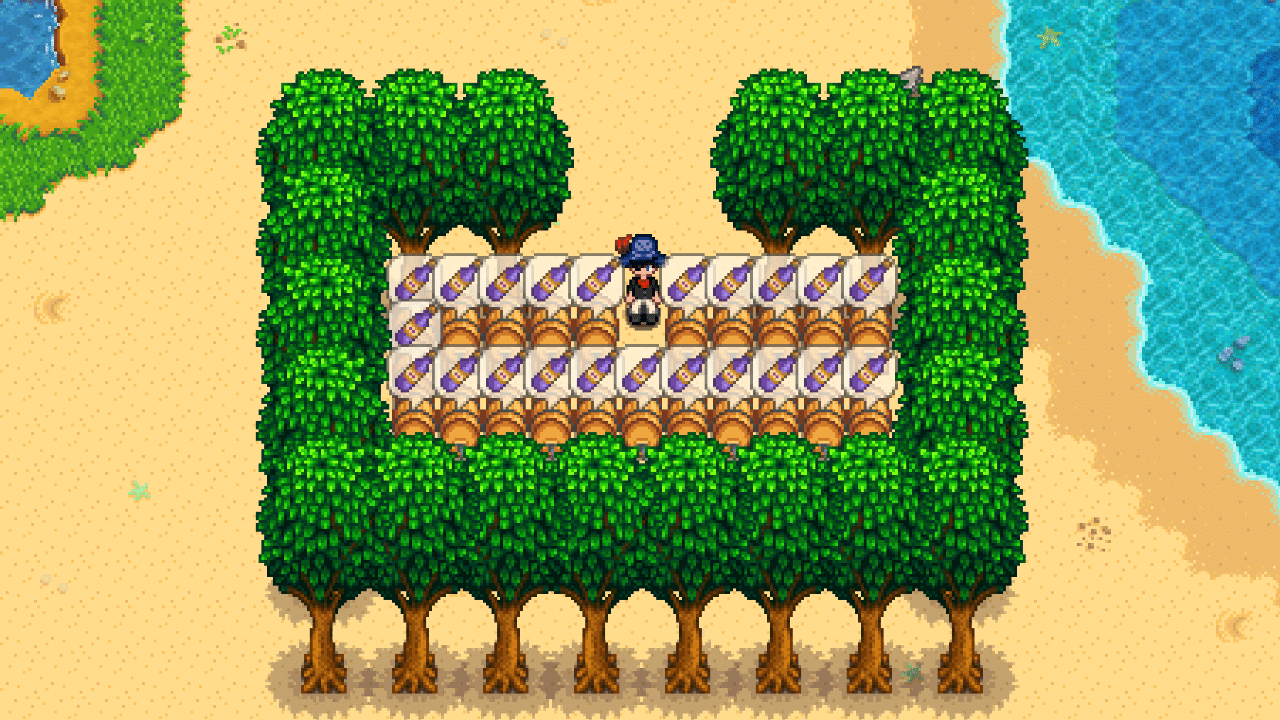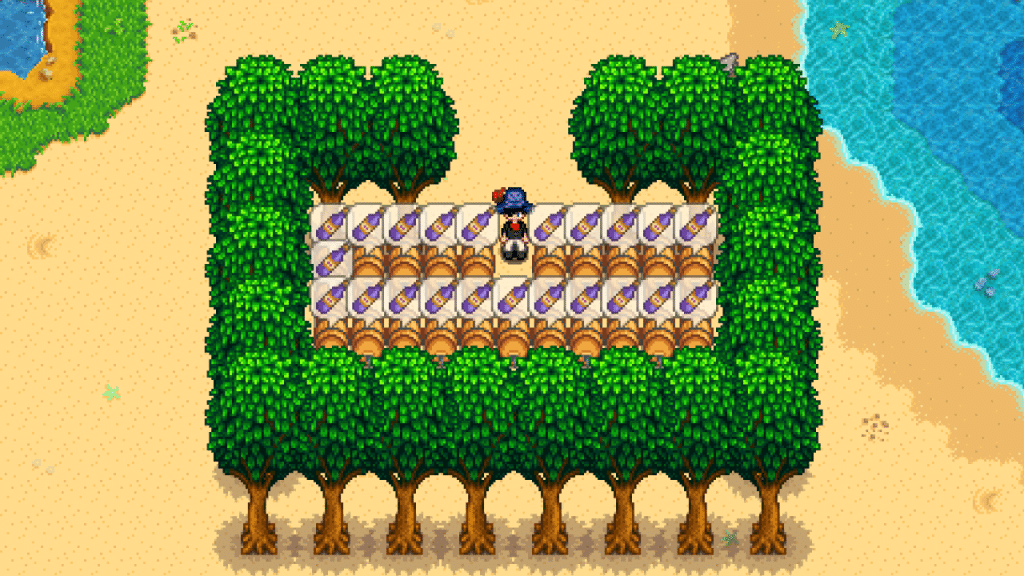 Wine-making is also money-making – keep that in mind, especially in Winter. Starfruit, Ancient Fruit, and Melon are the best picks after the Ginger Island update because of their profitability. However, don't opt for Juices as their health benefit doesn't bring up cash in your pockets.
Casks
Aging wines is the perfect way to earn money without doing something. Just load the Artisan Good fresh from your Keg and wait until the 56th day to get Iridium quality results! This equipment brings new meaning to Winter when your primary income source is at a halt.
Crystalariums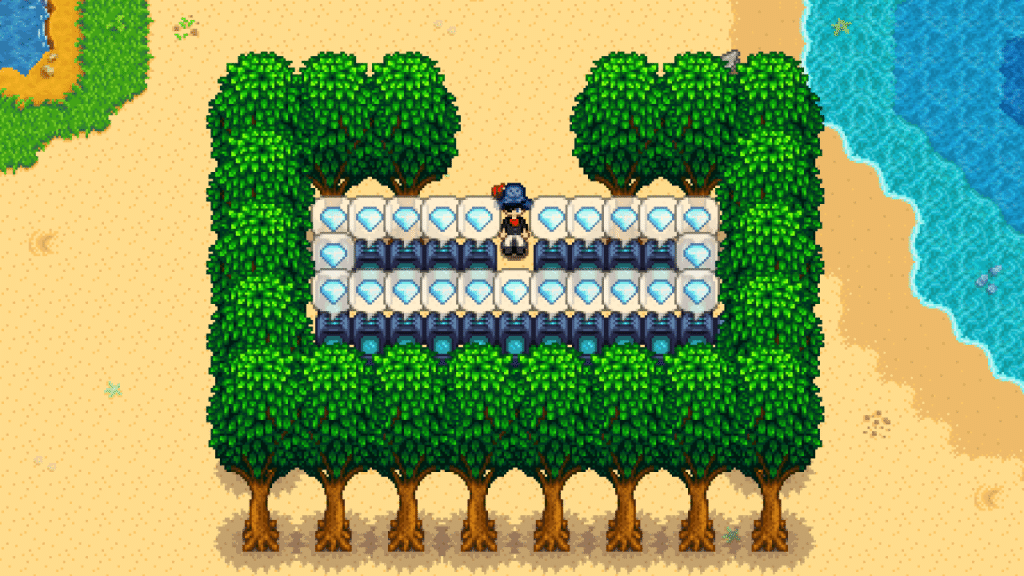 Gems sell decently, but not much, unlike artisan goods – but what if duplicating them is possible? There's no need to go back to any monster-filled cave and risk your head for valuable stuff. If mining becomes less interesting, save yourself a Diamond first as it sells the most on the lineup. For the best part, you'll need a single copy to start!
Along the way, you'll start expanding your Crystalarium farm exponentially, and your growth will be unstoppable!
Preserves Jar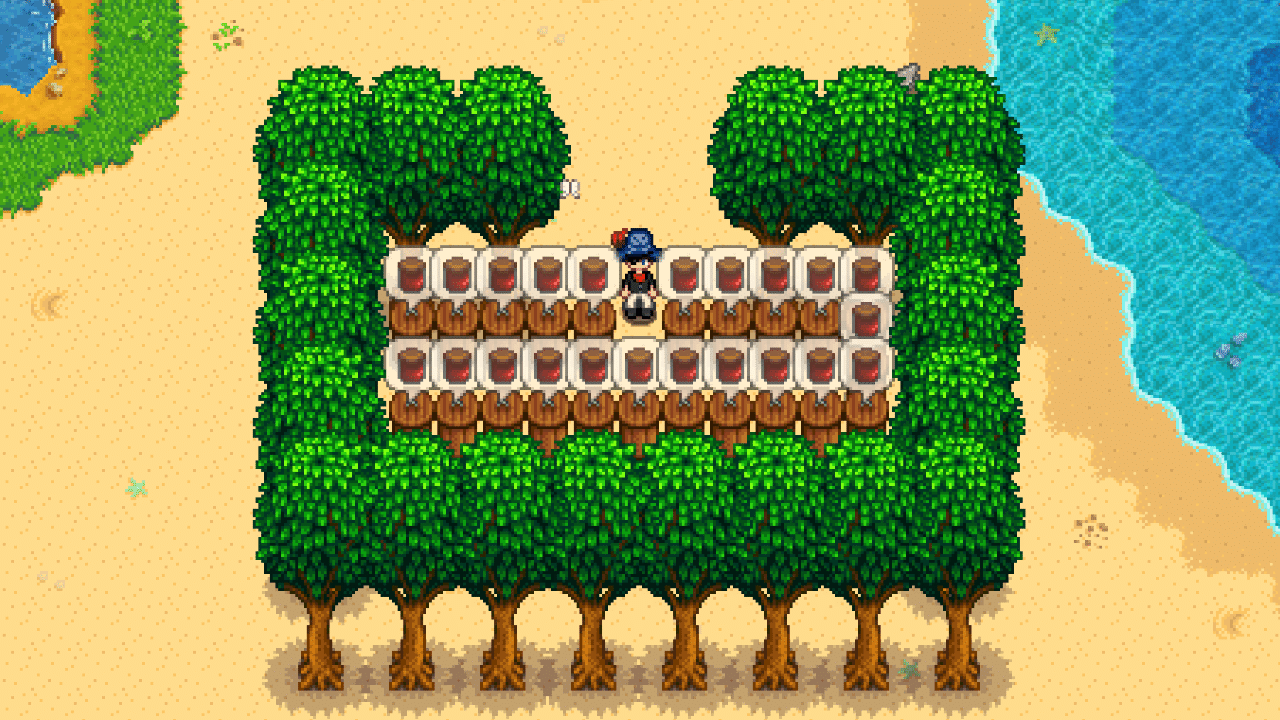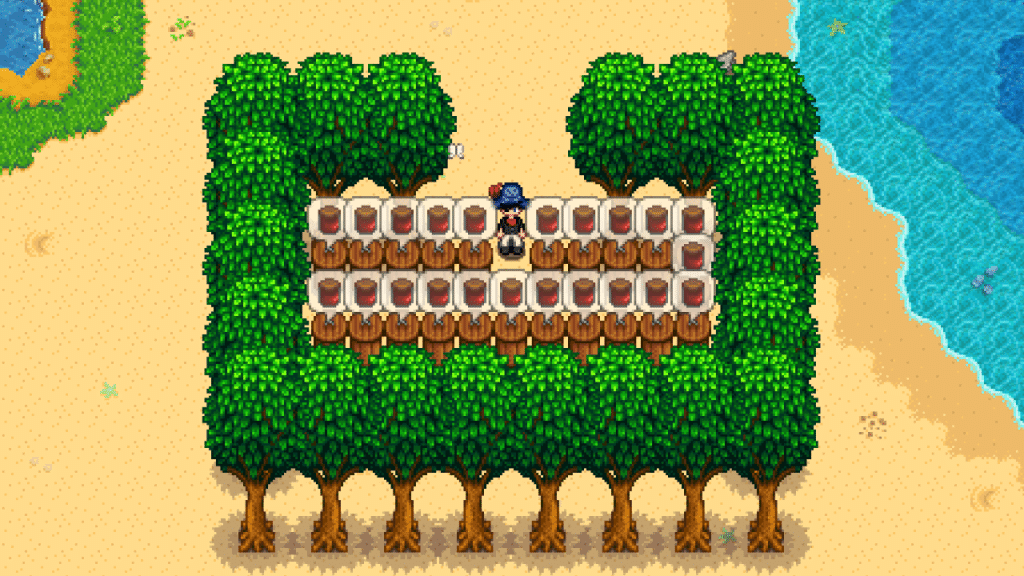 Preserves Jar is one of many beginner-friendly artisan equipment that helps you gain income in your early years. It's convenient and easy to make, and the small gold compensates for a lesser waiting time.
Bee House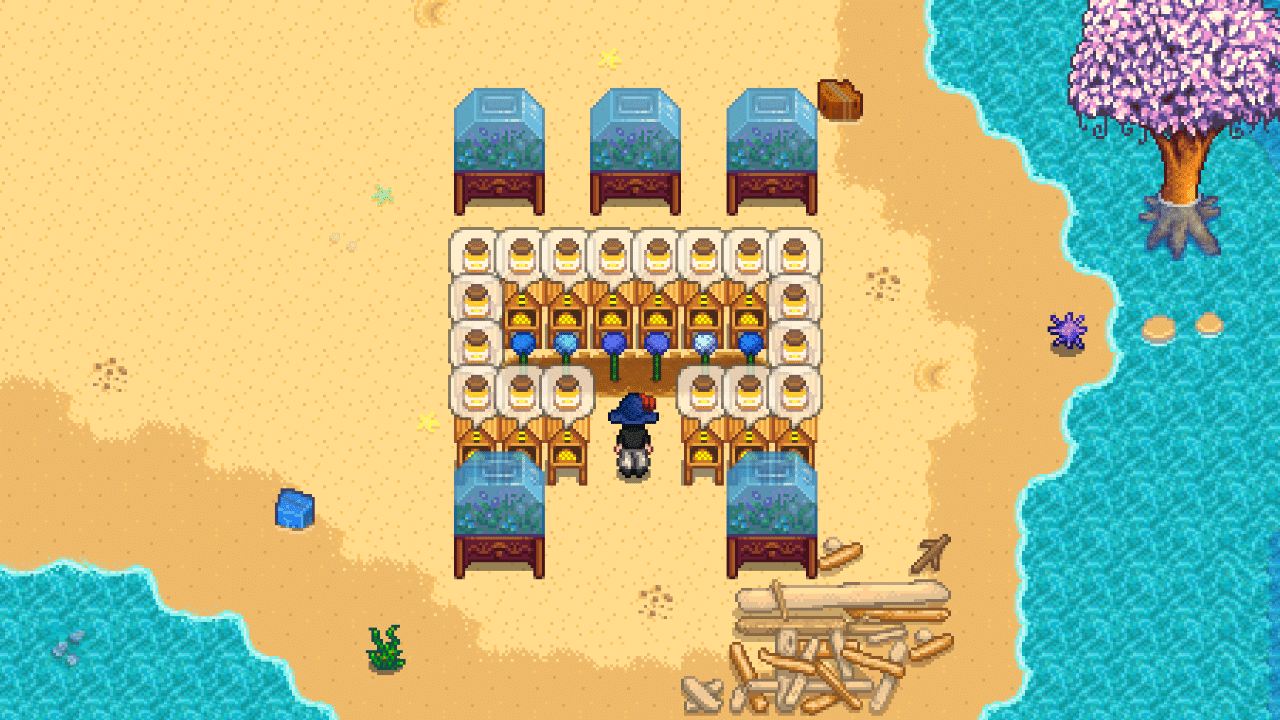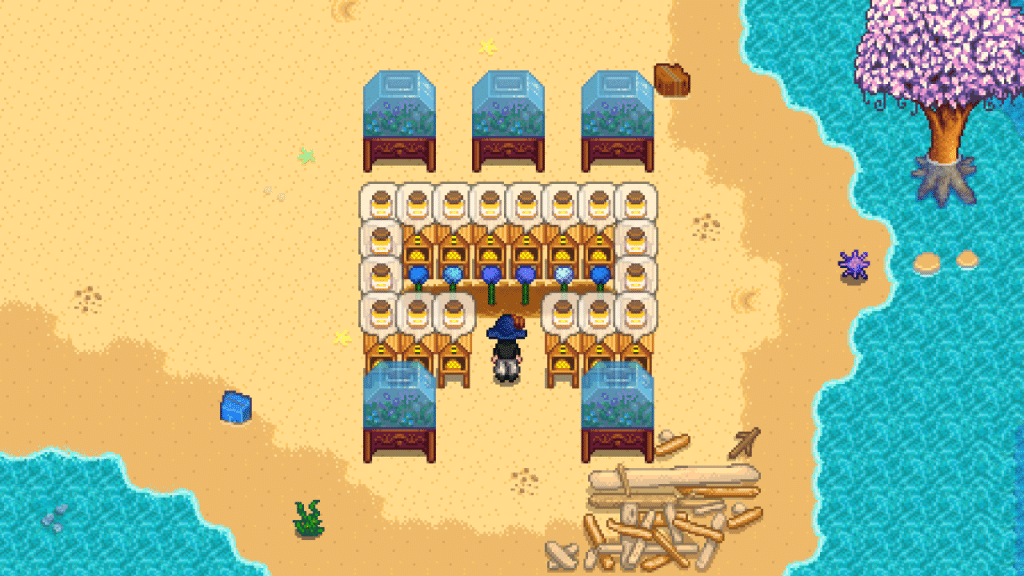 Consider using Spring, Summer, and Fall as leverage while having the most profitable flower on your farm in Stardew Valley. Preferably, the best ones to get a big profit. But if it's Blue Jazz or Tulip available, it's better than a Wild Honey costing 100g – poor selling price.
Oil Maker
Don't just sell Truffles. Convert them into Truffle Oil! This artisan good and equipment are perfect for your barn full of Pigs. But remember: keep your animals happy so they'll enjoy hunting that exotic mushroom hiding beneath the dirt!
Charcoal Kiln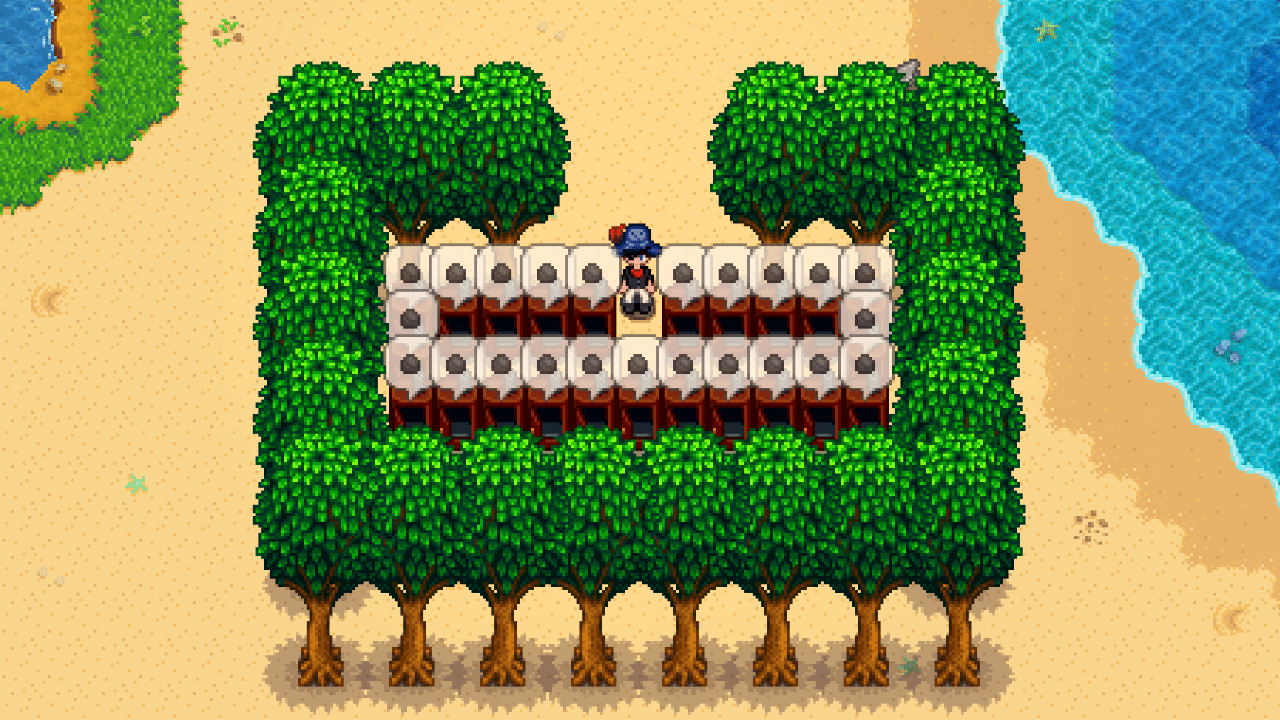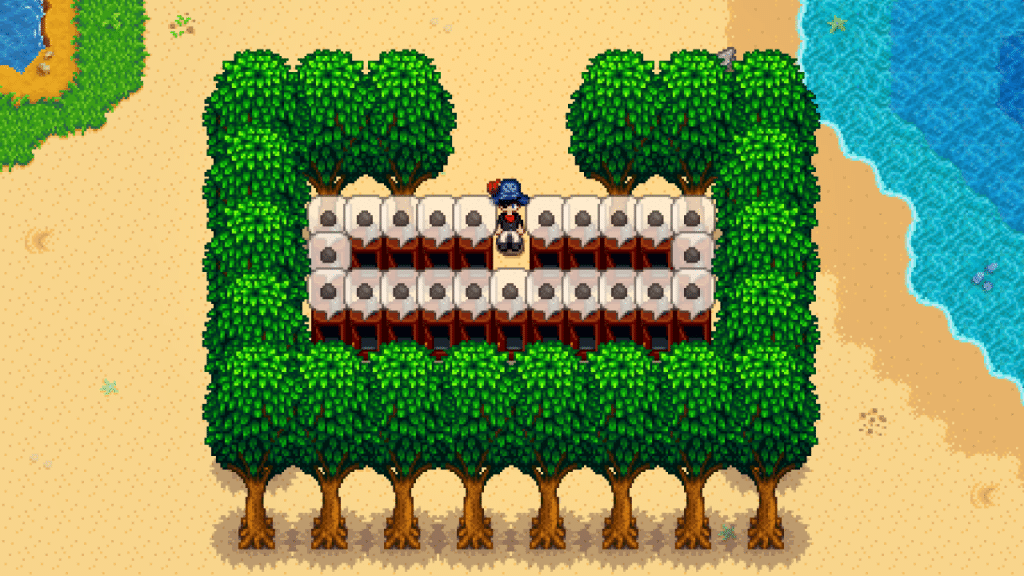 Even in the early game, you'll get a random amount of Coal as you break rocks on your homestead. But what if you run out of the resource, and why should you care? If you don't have this combustible rock on your inventory or chest, smelting ores for making robust tools will be impossible.
A Charcoal Kiln is the answer, and it'll need Wood (10), and the processing time won't take an hour.
Lightning Rods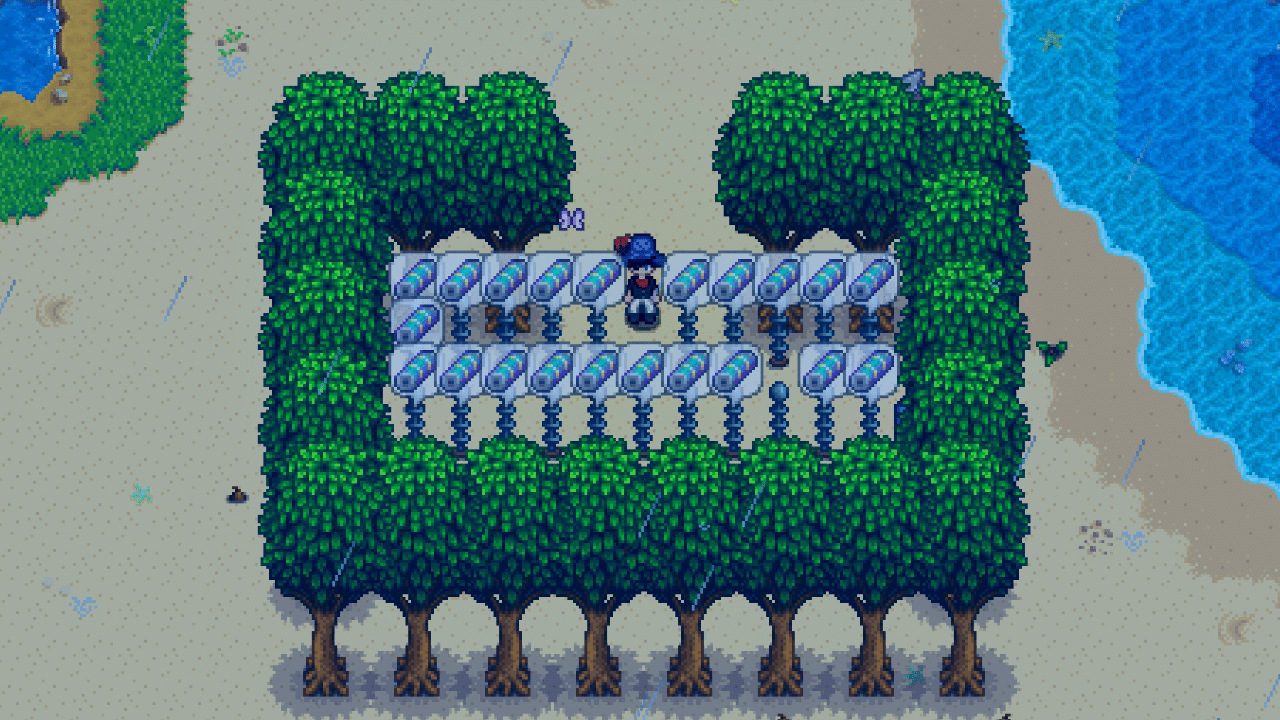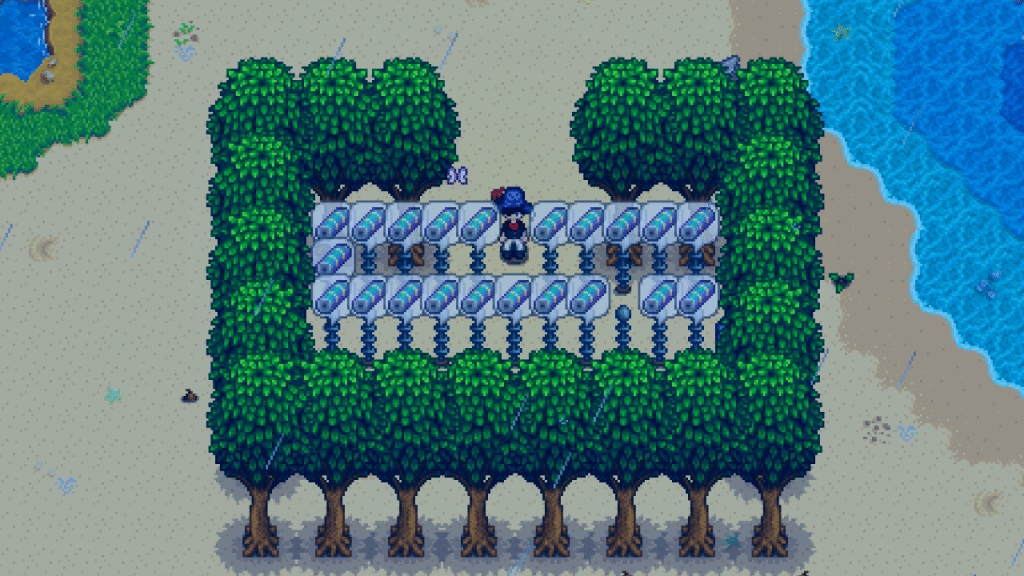 Batteries are a requirement to finish some major quests in Stardew Valley. It also sells higher than other resources (except Metal Bars). However, your first practical choice is crafting a Lightning Rod. Never waste any stormy day anymore and capitalize on it!
Warp Totems, Return Scepter, and Obelisks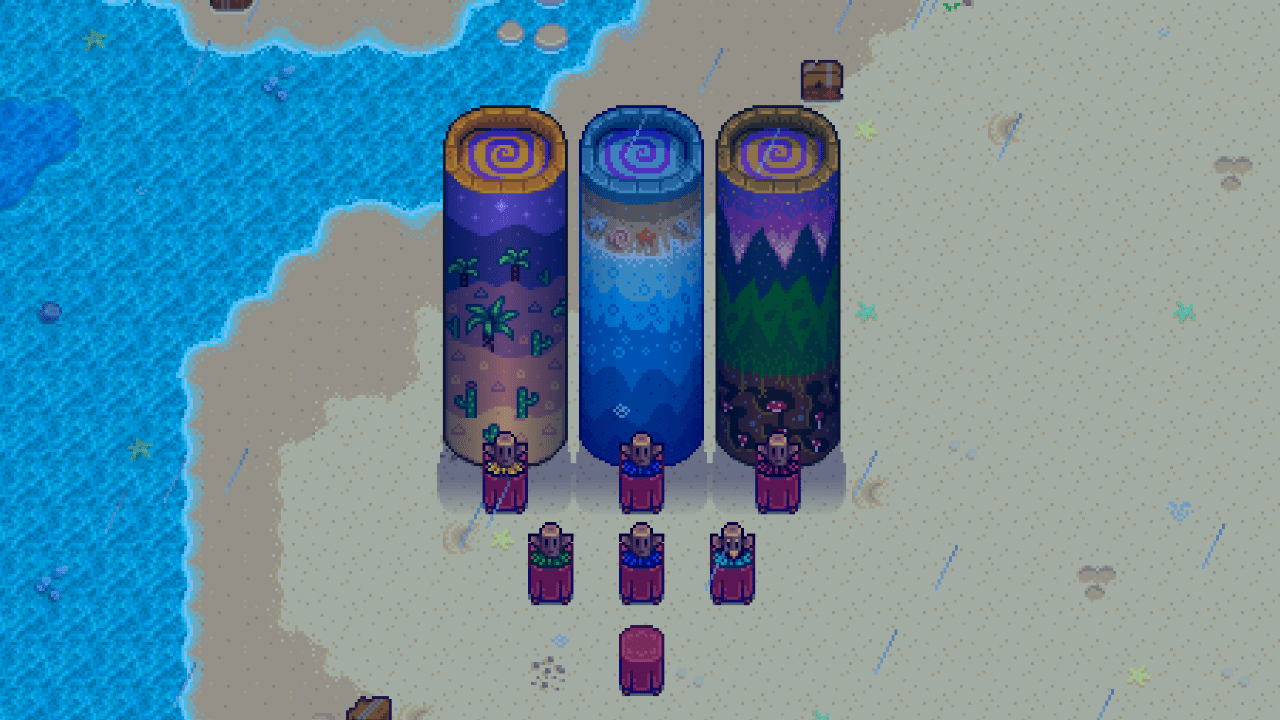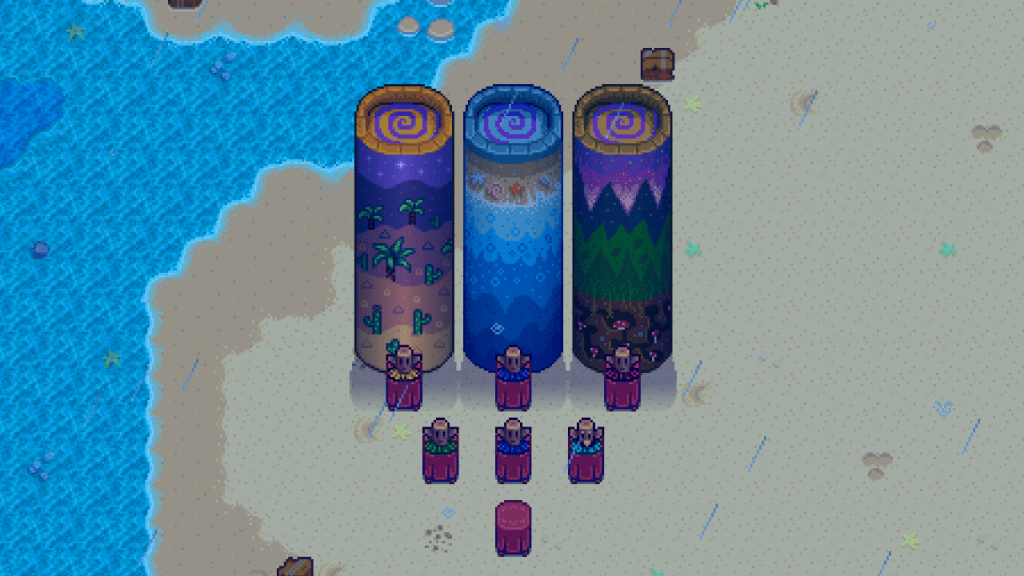 The former is a more affordable investment than the latter. While progressing along the way, you'll get Warp Totem recipes that'll save you time for fishing, mining, and keeping yourself from passing out. Each type takes a spot on your inventory, but it'll free the space after use since it's a one-time consumable.
The Return Scepter takes one slot (and is pricey), but you can use it forever when returning to your homestead in Stardew Valley.
Finally, Obelisks – beautiful structures made with Wizard's help after retrieving the Magic Ink. They're extra expensive and may not be available unless your gold works for you during Winter and Planting Seasons.
Mini-Obelisk
Now you can save more time traveling between farm spaces with a Mini-Obelisk. Are your crops far away? Connect the two mini-structures and interact with them whenever you're ready! Creating a Point A and B will let you travel to places conveniently and efficiently.
However, you can only place two and should be outside the farm. If you think about putting it near your bed, it won't work.
Solar Panel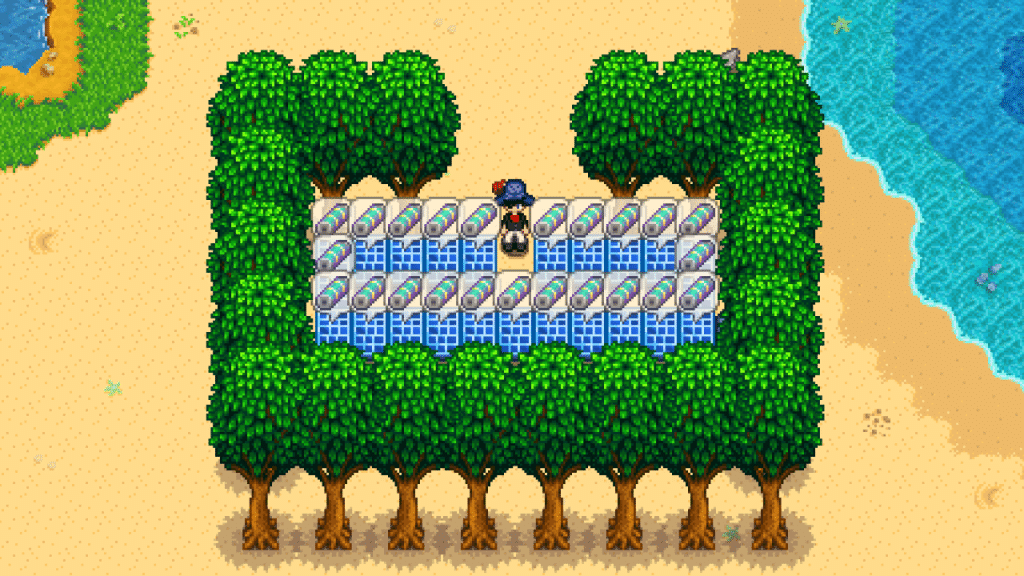 Rainy weather doesn't often happen in Stardew Valley unless you're using a Rain Totem. With that said, Solar Panels would make an excellent alternative for Lightning Rods – and they produce the same resource!
Farm Computer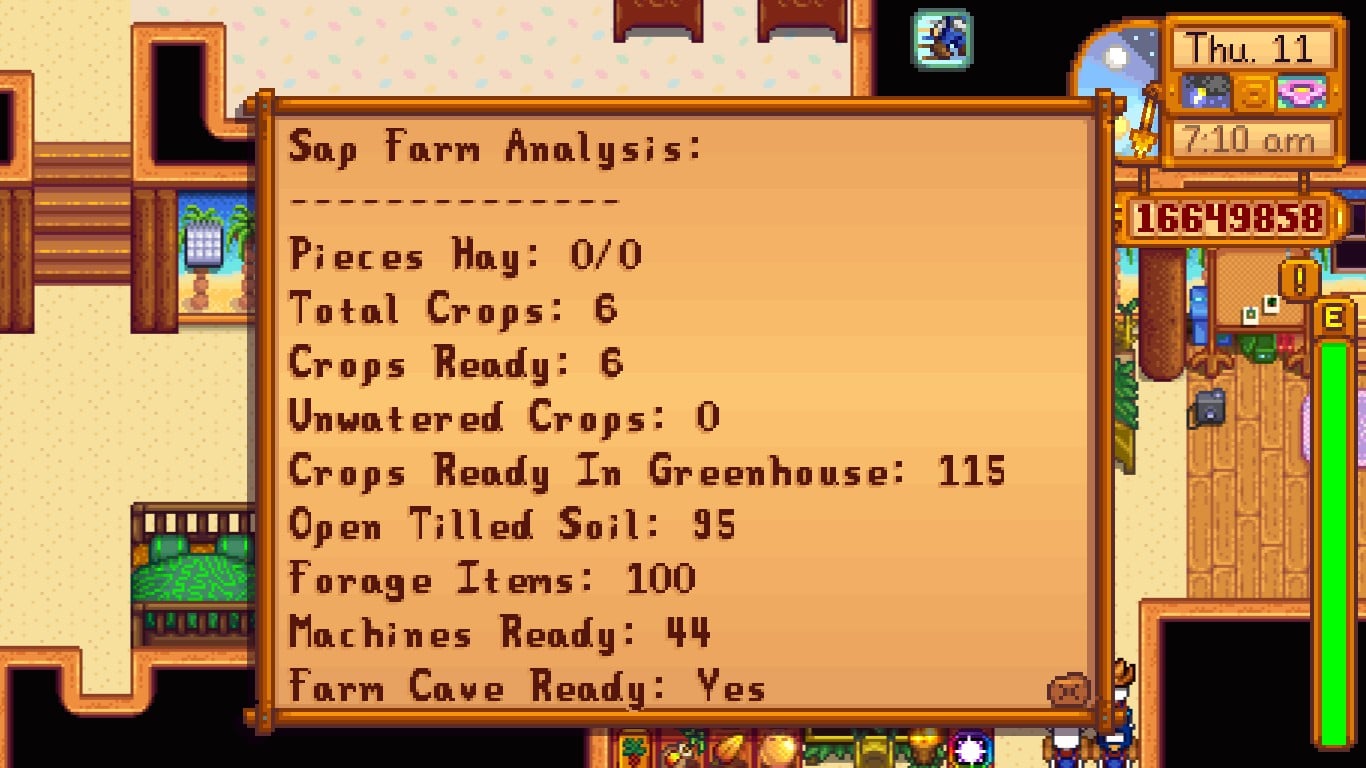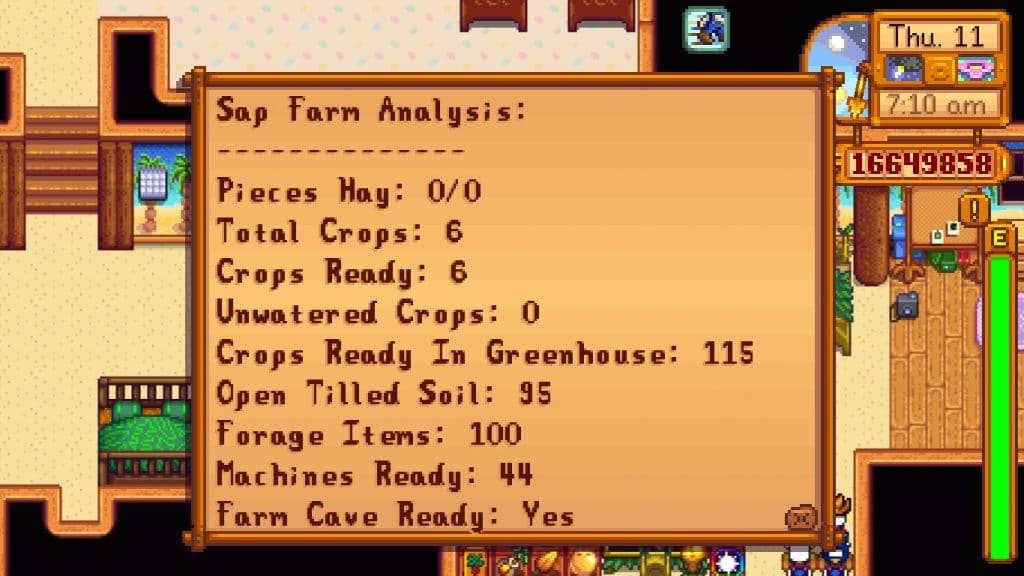 Last on the list is a Farm Computer – a piece of equipment you should check daily. It'll show a list of convenient data from available crops and fruit trees to harvest to equipment ready for making processed goods!
Final Thought: Your Farm Will Be Successful!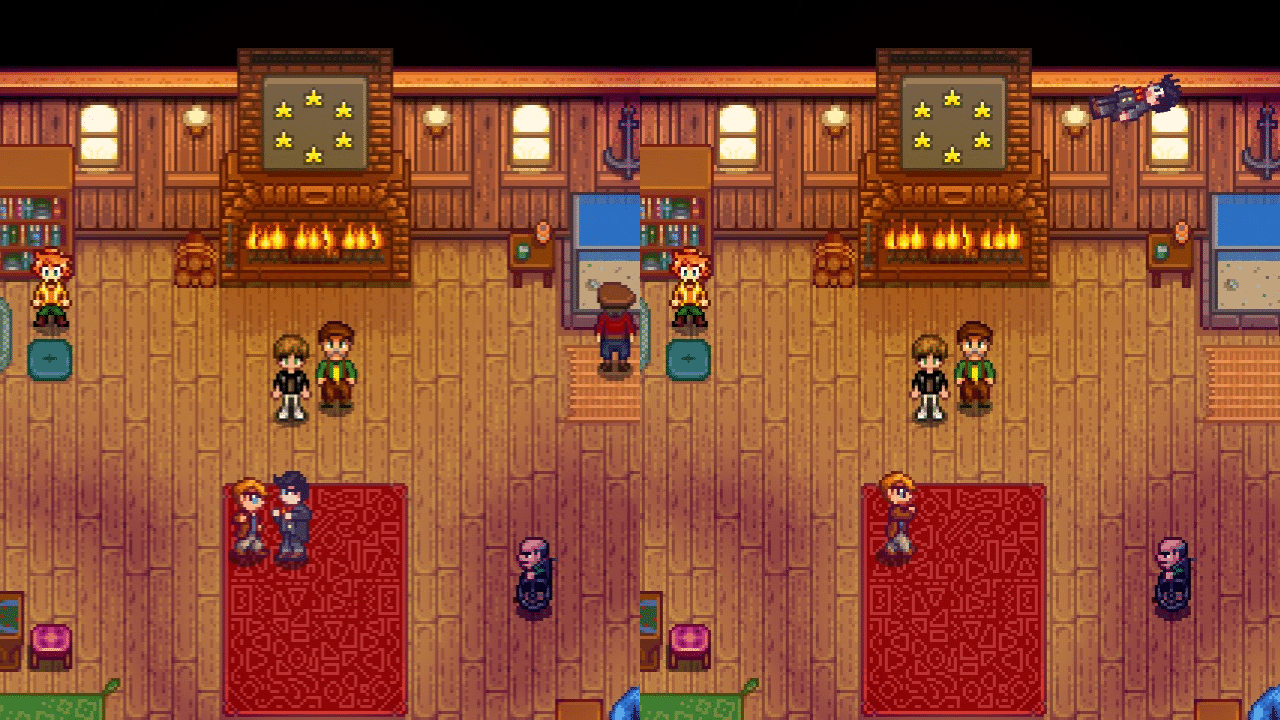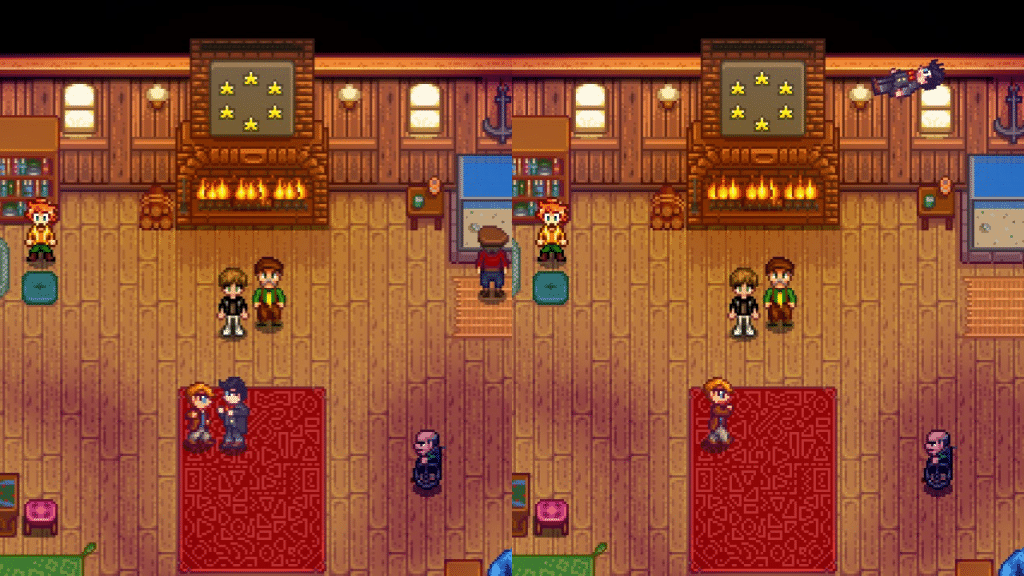 Combining all tips and tricks alongside gameplay hours and experience will help you become the best in Stardew Valley. As always, there are different places and secrets worth exploring and discovering.
Remember: there's a long journey ahead of you in this pixelated masterpiece, and all the best of luck for your Stardew Valley gameplay!