In your first winter in Stardew Valley, you may notice a "Shadow Guy" running away from you near the bus stop. This cutscene unlocks the "A Winter Mystery" quest which can be located in your journal. 
To continue this quest, follow the footsteps left but the Shadow Guy and you will be brought to a bush near the playground and the community center. Click on the bush to interact with him. The Shadow Guy apologizes for stealing and leaves you with a magnifying glass. This is a permanent item that will remain in your wallet. This item does not take up an inventory slot.
Secret Notes
Now that you have the magnifying glass, you are able to uncover the many secrets hidden within Stardew Valley Secret Notes. Many of these secrets are revealed through secret notes which can be uncovered through daily tasks such as pulling weeds, chipping trees, fishing, and fighting monsters. They can also be found in items such as artifact spots, stone, resource clumps such as large stumps and logs, and giant crops. 
Secret notes can be discovered in any order. Much like the library books, you will never uncover the same note twice. Once a secret note has been discovered, you can refer back to it in the secret notes tab in the player menu. This tab will only be unlocked when the first note is discovered.
Secret Note #1
In a page from Abigail's diary, it reads:
"Things I love: the smell of carved pumpkin, keeping an amethyst under my pillow, chocolate cake, the thrill of spicy eel, and the comfort of Mom's blackberry cobbler (I like to eat!)"
This note lists Abigail's list of loved gifts, which is helpful in developing friendship points with her quickly.
Secret Note #2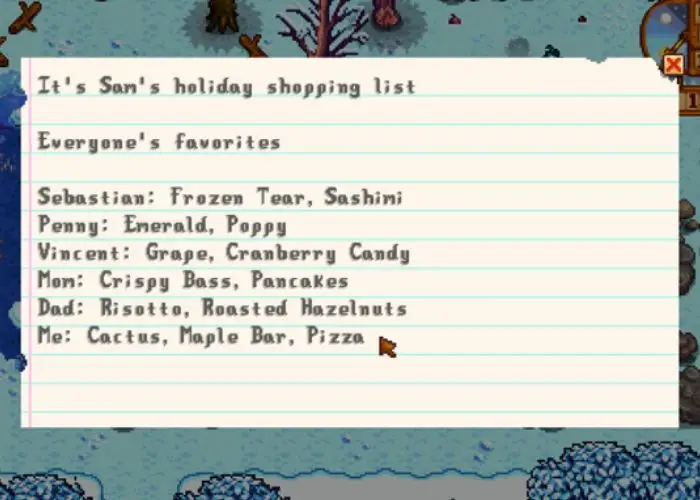 This note is a checklist left by Sam. This is helpful for learning his favorite gifts along with the loved gifts of his family and friends.
"It's Sam's holiday shopping list
Everyone's favorites:
Sebastian: Frozen Tear, Sashimi
Penny: Emerald, Poppy
Vincent: Grape, Cranberry Candy
Mom: Crispy Bass, Pancakes
Dad: Risotto, Roasted Hazelnuts
Me: Cactus, Maple Bar, Pizza"
Secret Note #3
Leah lost a note that looked like it could be a page from her journal. She describes her ideal date and her favorite food items.
"It's written in Leah's handwriting
My idea of a perfect dinner would be salad, goat cheese, truffle, and wine. For dessert, I'd need a poppyseed muffin. Yum! If someone gave me one of those things, I'd melt."
Secret Note #4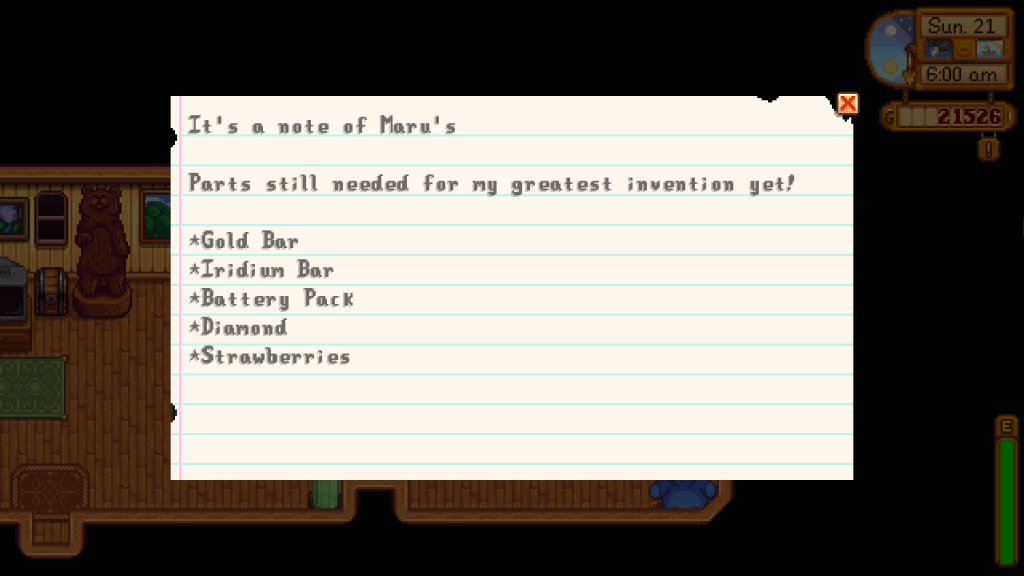 Maru is always working on a new invention. This note shows her checklist for her next project, which includes a unique list of items that would be the perfect gifts for her.
"It's a note of Maru's
Parts still needed for my greatest invention yet!
*Gold Bar
*Iridium Bar
*Battery Pack
*Diamond
*Strawberries"
Secret Note #5
Penny is one of the most generous NPC characters and this note that she has left shows that she has put a lot of thought into the gifts she wants to give everyone. 
While beer is a loved gift of her mother, Pam, it is clear that Penny is not interested in contributing to her mom's love of the beverage.
"It's Penny's handwriting:
I want to get everyone something they love!
Mom: Parsnip, Glazed Yams, NO BEER!
Jas: Fairy Rose, Plum Pudding
Vincent: Pink Cake, Grape
Mr. Mullner: Leek, Fried Mushroom
Granny Mullner: Beet, Tulip"
Secret Note #6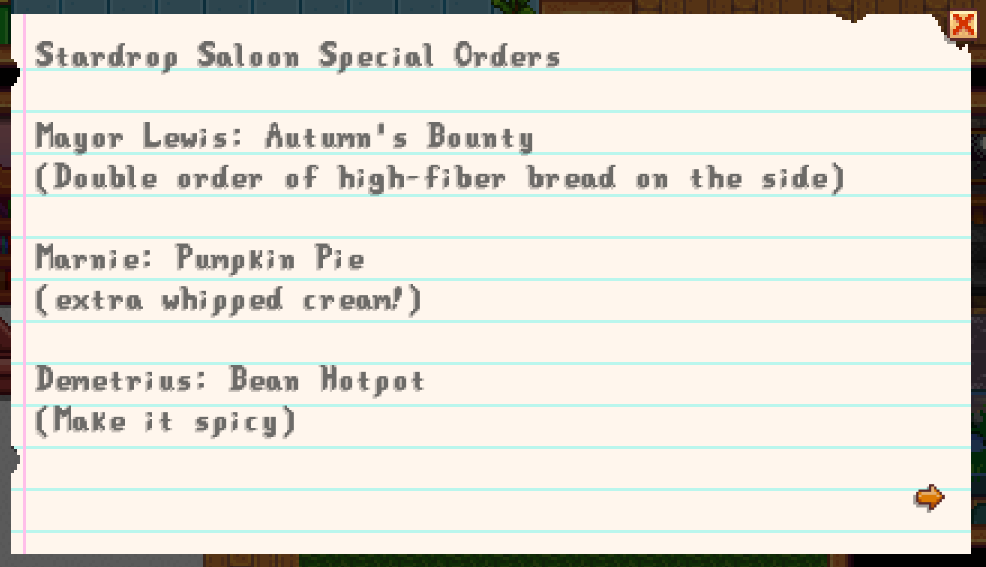 Gus spends his days feeding the town. He even takes the time to make sure he orders his customers' favorite meals to sell in the Stardrop Saloon.
Stardrop Saloon Special Orders
Mayor Lewis: Autumn's Bounty
(Double order of high-fiber bread on the side)
Marnie: Pumpkin Pie
(extra whipped cream!)
Demetrius: Bean Hotpot
(Make it spicy)
Caroline: Fish Taco
(she wants triple the sauce! Better throw in a few extra napkins…)
Secret Note #7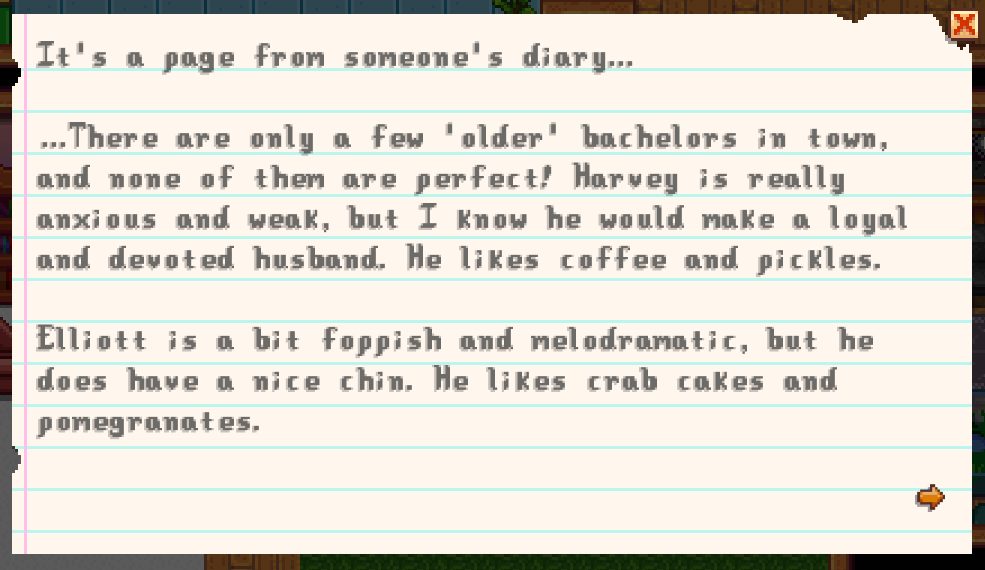 While the author of this next note is unknown, it lets us know a little more about some of the bachelors in town, what gifts they like, and some information about their personalities. 
"It's a page from someone's diary…
…There are only a few 'older' bachelors in town, and none of them are perfect! Harvey is really anxious and weak, but I know he would make a loyal and devoted husband. He likes coffee and pickles.
Elliott is a bit foppish and melodramatic, but he does have a nice chin. He likes crab cakes and pomegranates.
Shane is messy and anti-social. But I think his gruff exterior is a defense mechanism, insulating his softness from the world. He likes Beer, Pizza, and Pepper Poppers."
Secret Note #8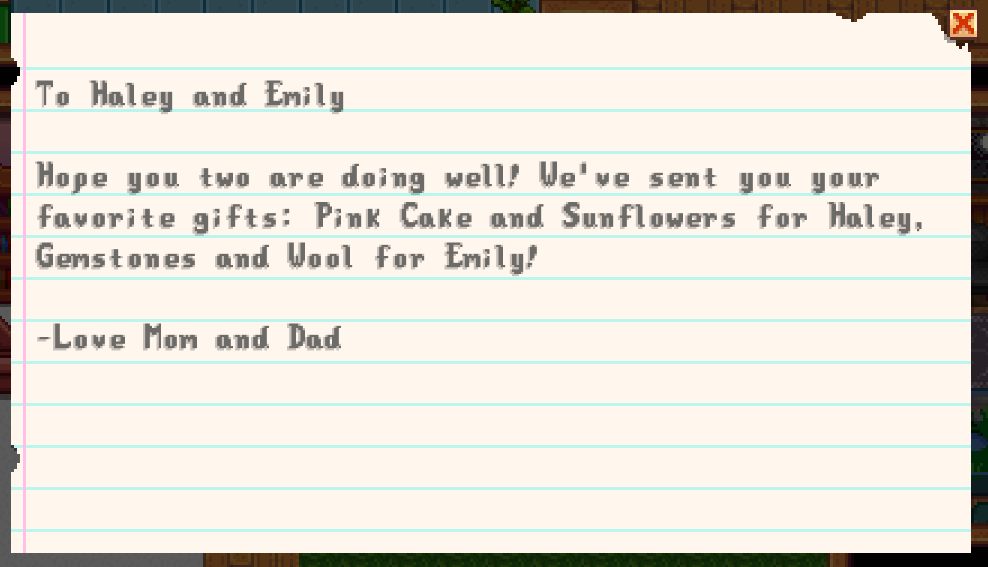 This note comes from people who do not live in Pelican Town. Haley and Emily's parents sent them a care package with the following note attached:
Hope you two are doing well! We've sent you your favorite gifts: Pink Cake and Sunflowers for Haley, Gemstones and Wool for Emily!
-Love Mom and Dad".
Secret Note #9
Alex is always active and focused on his fitness goals. He even made himself a list of the primary meals in his diet. If you are looking to give Alex a gift, one of the following dishes will be your best bet for maximum friendship points.
"Alex's Strength Training Diet:
*Complete Breakfast
*Salmon Dinner
(I've learned to love this food… I can feel the protein!!)"
Secret Note #10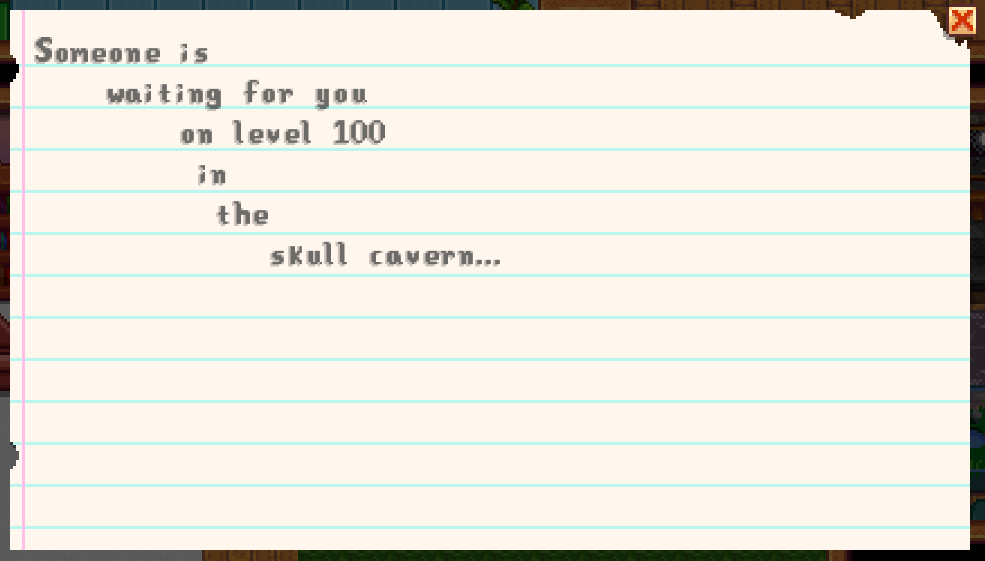 This note is the only note that requires the completion of an additional quest to unlock it. 
"Someone is
waiting for you
on level 100
in
the
To find this note, you will first need to complete the "Qi's Challenge" quest to reach level 25 in the Skull Cavern. Once this quest, in addition to the quest to find the magnifying glass, is complete you can unlock this note. This note will provide you with the "Cryptic Note" quest to reach level 100 in the Skull Cavern in the Calico Desert.
Secret Note #11
Secret note #11 is a photo of Marnie with baby Jas.
Secret Note #12
This note is a guide to checking trash cans in the valley. Trash cans can drop more than useless garbage. They can also drop specific items if you know where to look.
"I've found some good things by looking in the garbage cans, on lucky days.
Sometimes you'll find the 'dish of the day' behind the saloon… usually fresh!
For dessert, I'll check the Mullners' can for cookies.
For treasures, check the cans by the blacksmith and museum."
Secret Note #13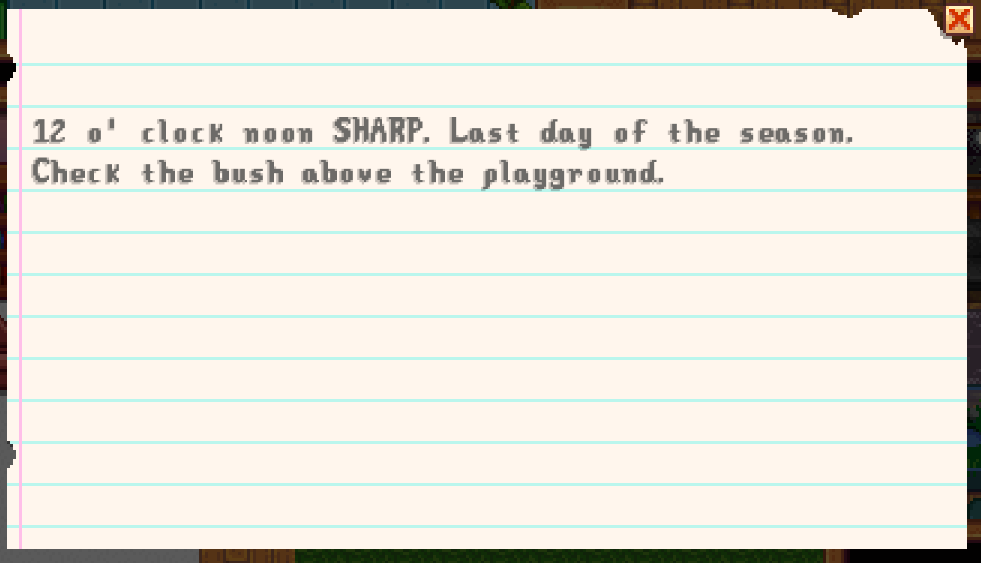 "12 o'clock noon SHARP. Last day of the season. Check the bush above the playground."
When checking the bush at this time, you will find a large Junimo Plush that can be placed as a decoration in your house. The timing for this note is very specific.
Secret Note #14
"I hid something behind the community center."
If you use your pickaxe or hoe behind the community center, which is hidden in part by the roof, you will find the stone Junimo statue. This statue can be placed on your farm.
Secret Note #15
"Mermaid Show: 1-5-4-2-3"
At the winter night market, there is a mermaid show that you can watch if you select the shells in the correct sequence. After the show, you will be rewarded with a pearl. This pearl can only be obtained once per player.
Secret Note #16
This secret note is a photo of what appears to be a treasure map with "x" marking a spot above the railroad tracks. If you dig in this space with your hoe, you will get a treasure chest.
Secret Note #17
This note is another treasure map-style note. This is located in the area north of JojaMart. Dig at the northmost tile on the east side of this area to find a green strange doll artifact for the museum.
Secret Note #18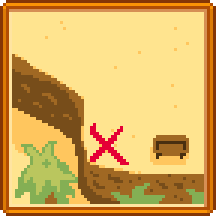 This note is another treasure map-style note. This is located in the area southwest of the southeast bench in the Calico Desert. Dig at the southernmost tile of this area to find a yellow strange doll artifact for the museum.
Secret Note #19
This photo of a blue house and arrows will lead you to an interesting item. The house represents 1 Willow Lane. From there follow the arrow in a given direction until you are no longer able, then continue on with the next arrow.
This will lead you to a Golden Mayor Lewis Statue behind his home.
Secret Note #20
Much like Secret Note 19, this note will have you following a series of arrows until you reach your final destination. This time, you will begin at the town square and end at the truck next to JojaMart. When interacting with this truck, you will be asked to bring the driver a rabbit's foot. Doing so will reward you with a special charm. This is a wallet item that will permanently increase daily luck.
Secret Note #21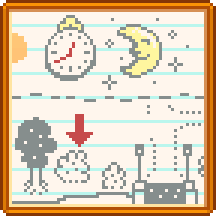 At exactly 12:40 a.m., click on the second bush from the left near the bridge leading to the beach. This will cause Marnie and Lewis to jump out of the bush.
Secret Note #22
This note reads:
"Greetings, <Farmer>…
Have you found my 'secret' in the dark tunnel?
I look forward to meeting you!
-Qi"
To complete this secret note, you will need to place a battery pack in the tunnel next to the bus stop. This will start The Mysterious Qi quest if you have not done so already. 
Secret Note #23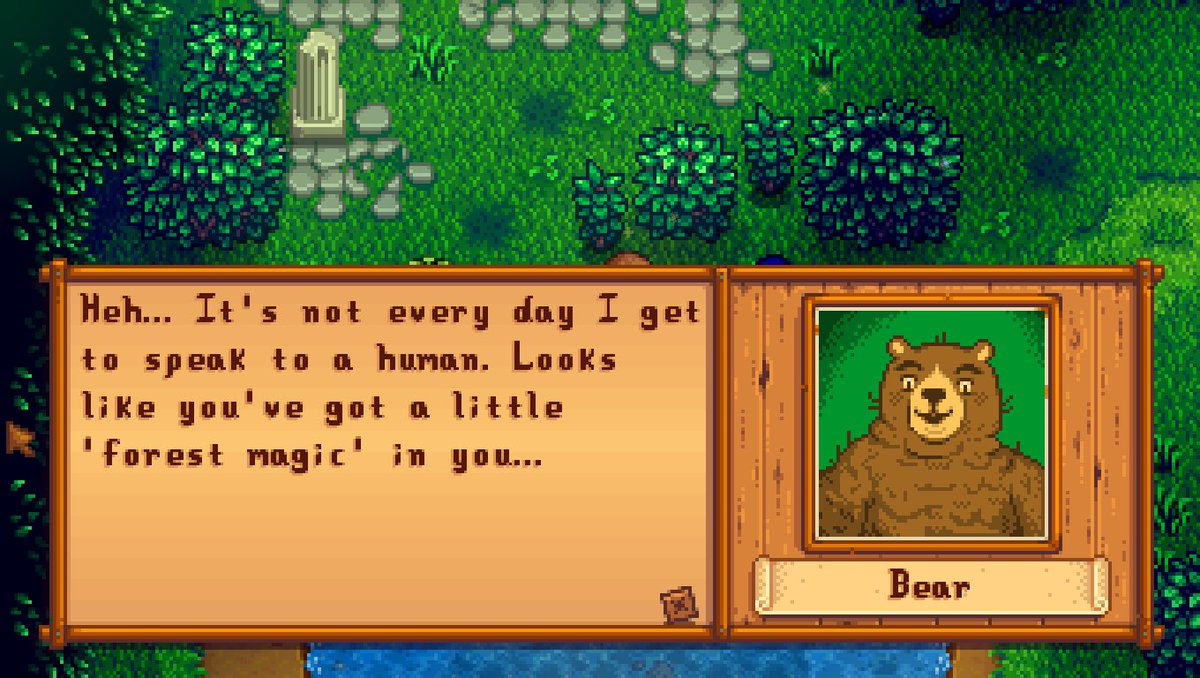 "If yoo can reed dis… come to seecrit wuds. Pleez bring may-pal serrup."
This strange note asks that you bring maple syrup to the secret woods. Doing so will unlock the "Bear's Knowledge" wallet item. After this, all salmonberries and blackberries will be worth 3x the gold.
Secret Note #24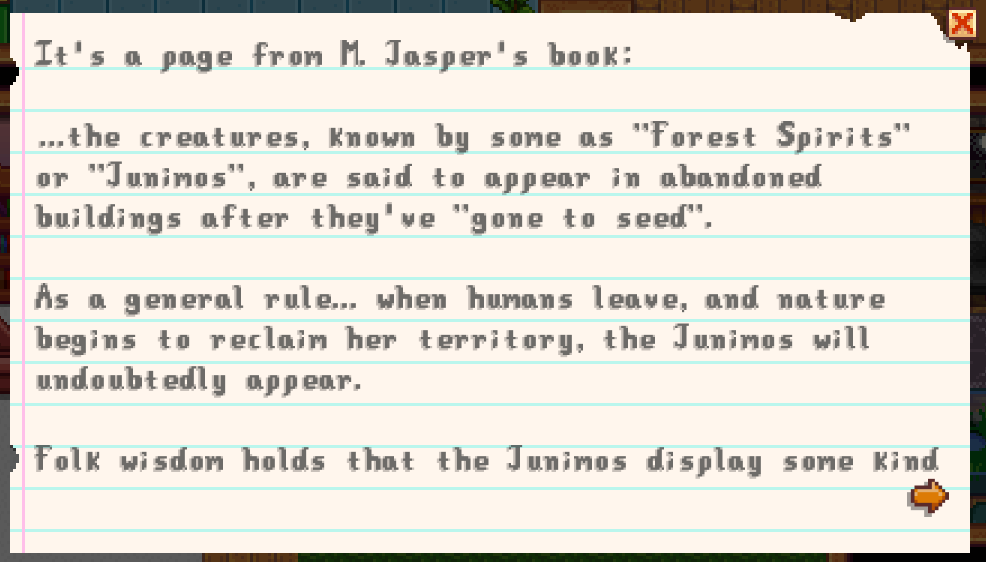 When you unlock Junimo Huts, you can place gems and minerals in order to change the colors of the Junimos. This also works with prismatic shards to create rainbow Junimos. 
"Note
It's a page from M. Jasper's book:
…the creatures, known by some as "Forest Spirits" or "Junimos", are said to appear in abandoned buildings after they've "gone to seed".
As a general rule…when humans leave, and nature begins to reclaim her territory, the Junimos will undoubtedly appear.
Folk wisdom holds that the Junimos display some kind of resonant affinity with gemstones that are placed inside their little huts…
Of course, all these claims come from dubious, unverified sources…As far as I know, even the mere existence of these creatures has never been proven!"
Secret Note #25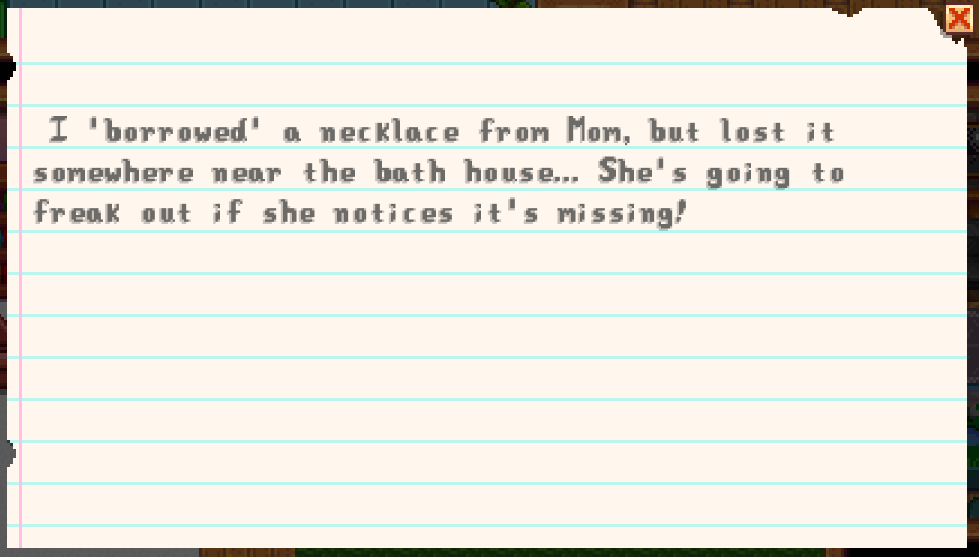 "I 'borrowed' a necklace from Mom, but lost it somewhere near the bath house… She's going to freak out if she notices it's missing!"
Go fishing in the pond outside of the bath house/spa. There, you can fish up an ornate necklace. If you bring this necklace to Caroline, you will gain 50 friendship points. If you bring the necklace back to Abigail, you will gain 100 friendship points.