Stardew Valley is a game built around using your time effectively, and nothing allows you to do more in a day than riding on a speedy horse. Read this complete guide to know everything you need to know about the stable in Stardew Valley and you will be zooming around Pelican Town in no time.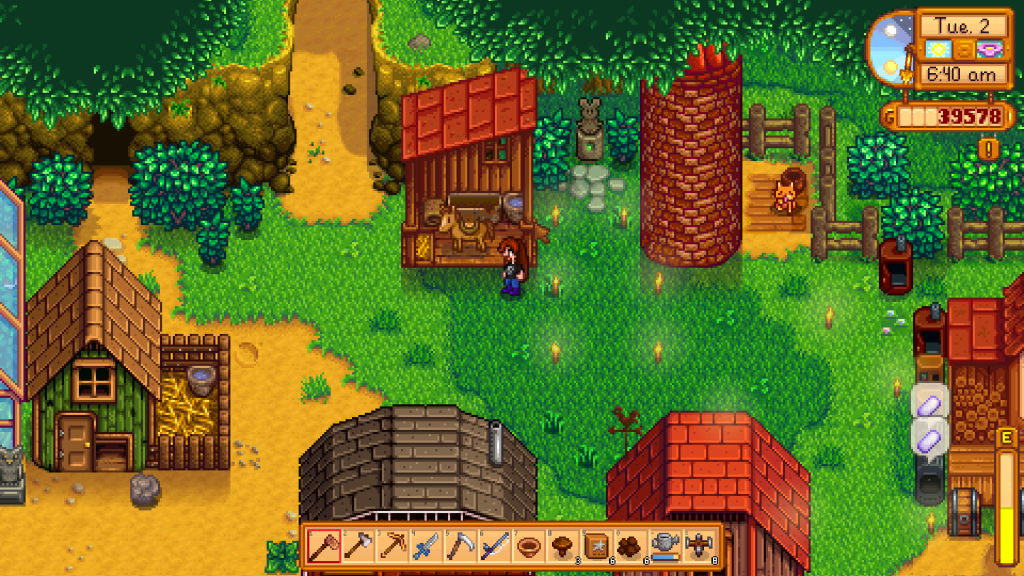 Description
The stable is a purchasable farm building in Stardew Valley that comes with a free horse. This in-game mount increases your movement speed by 30%, a huge boost without having to use any consumables. Inside the stable is a water trough, a feed trough, and a bucket full of hay. Despite all this, you will not need to feed or water your horse nor refill the hay or water.
On top of not having to feed your horse, there are also no doors to close on the stable. Thus, you do not have to lock your horse up at night. Furthermore, every morning your horse will automatically be back in its spot regardless of where you left it the previous day.
If you are to demolish the stable from your farm, it also gets rid of your horse. Unfortunately, since the animal is tied with the building you cannot have one without the other.
How to get a stardew valley stable
The only person who can help you get a stable on your farm in Stardew Valley is Robin. Pelican Town's resident carpenter lives and works in the Carpenter's Shop. She lives there with her husband (Demetrius), daughter (Maru), and son (Sebastian). This building is located in the upper right-hand corner of Pelican Town, right below Linus' camp and the Spa.
The easiest path to take to the Carpenter's Shop is the path northwest of your farmhouse. Taking this small path will lead you north over Pelican town. It takes you directly to Robin's house with the added bonus of foraging along the way.
The Carpenter's Shop is open from 9 AM to 5 PM every day except Tuesday (closed) and Friday (closes early at 4 PM). Once you enter the building, Robin is straight ahead behind a wooden counter. Just walk up to her and start a dialogue, then select Construct Farm Buildings.
Select to construct a stable and it will cost 10,000 gold, 100 pieces of hardwood, and five iron bars. Paying the price will bring you to an overview of your farm. This is where you are able to decide where the stable will be placed on your farm. The 4×2 building can go anywhere on the premises as long as the boxes are green. It is best to place your stable in a space that allows you to enter and exit on your horse. This requires at least a 2 block wide pathway so you can enter and exit on on your horse.
Once you have found the perfect spot for your stable and horse, then it will be built by Robin rather quickly.
How to use a stardew valley stable
As soon as the stable is built on your farm, then the horse will automatically be there in the morning. Interacting with your horse will mount your character onto the steed and you can now ride it around town! It is just that simple!
Even though it is that simple to ride your horse into the sunset there are a few tips and tricks that will improve your gameplay overall. You can boost your speed even further by using consumables on your horse. For example, if you consume coffee then it will add +1 to your speed, stacking on top of the 30% speed boost with your horse.
Secondly, try and unlock the horse flute as soon as possible because using it will automatically summon the horse to you. This flute is purchasable in Qi's Walnut Room shop for 50 Qi Gems. Third, something that is not stated but is adorable: that hats can be placed on horses by holding a hat in your hand and interacting with the horse.
Lastly, even though the horse is a wonderful addition to your farm, there is a way to alter the Stardew Valley horse visually or its gameplay. If you wanted to improve your horse through mods, then check out our guide to the 45 Best Stardew Valley horse mods.