Preserves jars are artisan equipment used to make artisan goods in Stardew Valley. It is similar to the keg, which makes several drinks, and bee house, which makes honey.  You put crops into them and after some processing time you get a delicious good!  The preserves jar makes jelly, pickles, caviar and aged roe depending on what you put in it.  If you're looking for new equipment to store in your basement, farm building or quarry, or if you've grown tired of beer and wine, the preserves jar might just be your next big thing!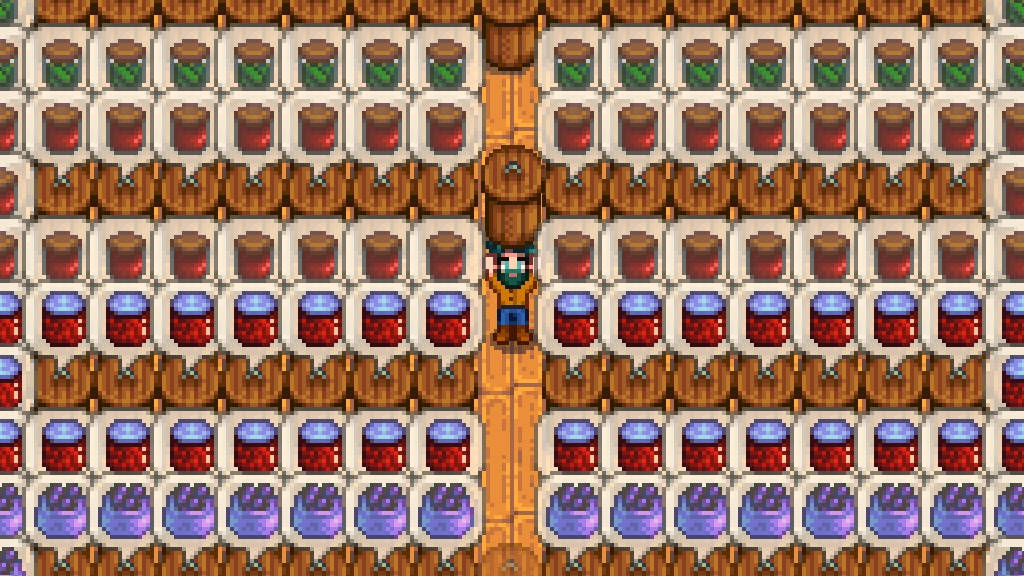 How to get the preserves jar?
The preserves jar is a reward for completing the quality crops bundle, with 5 gold star parsnip, melon, pumpkin and corn, or if you're using remixed bundles the rare crops bundle with an ancient fruit or a sweet gem berry, both located in the pantry of the community center. You can also craft preserves jar after you've achieved farming level 4 with 50 wood, 40 stone and 8 coal.
How to use the preserves jar?
Using the preserves jar is simple, just like most other machines in Stardew Valley just click on it while holding what you want to put in. Based on what you put in, artisan goods come out! Putting in fruit will make jelly, putting in vegetables will make pickles, putting in fish roe (those little fish eggs you get from a fish pond!) will make aged roe, unless it's sturgeon roe, in which case it will make caviar!
What can you make with the preserves jar?
In the description it mentions jam and pickles. But as I said before, you can make four things with it, jelly, pickles, aged roe and caviar, which is based on what you put it. I'll put it here in a table for easy viewing!
| | |
| --- | --- |
| Input | Output |
| Any Fruit | Jelly |
| Any Vegetable or Ginger | Pickles |
| Sturgeon Roe | Caviar |
| Any Other Fish Roe | Aged Roe |
How to make the most money with the preserves jar?
The selling price of the preserves are based on the base value of the item you put in. The base value is the value of a regular quality version of any given item. The equation is (2 times the base price) + 50g. So, if you put in a radish, which has a base price of 90g, you will get jelly that sells for 230g. I know, a lot, right?? The preserve jar takes 2-4 days to process, so it's a long wait but it does pay off!
However, if your goal is to make the most money there are a couple of things you need to keep in mind, such as seed price. With crops like corn, you only need to plant the seeds once for the season and it keeps producing, which lowers the post per crop meaning these types of crops are better turning into artisanal goods. So crops like corn, eggplant, green beans, taro root, tea leaves, tomatoes, blueberries and hot peppers. Cheaply gotten crops also included foraged crops. Although you can't put everything you forage in the preserves jar you can put fiddlehead ferns, blackberries and salmonberries in it to make pickles and jelly respectively.
The next thing to consider is whether or not the preserves jar will make the most money from certain crops. For example, the keg can make different goods with the same crops. So, let's explore that in the next section!
Which is better, preserve jar or keg?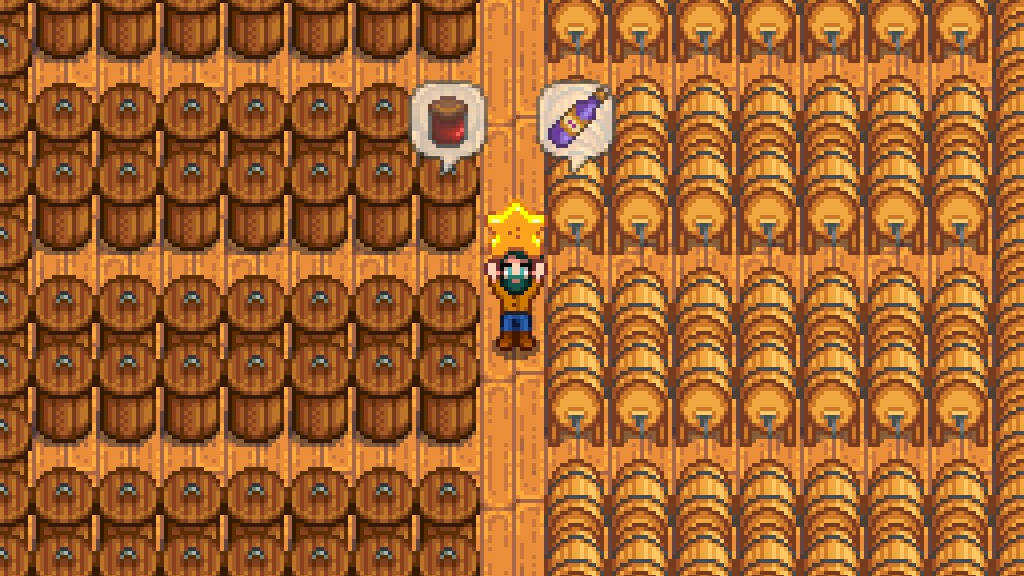 The selling price calculation for the keg is the base price of fruits times 3 and the base price of vegetables by 2.25. This means that if the crop has a higher base price, it will make more money in the keg. Meaning that fruits with a base price of 50g or lower, and vegetables with a base price of 200g or lower should be put in the preserves jar, and all other fruits and vegetables should be put in the keg. With the exception of hops and wheat because beer and pale ale both sell for more than pickles because their price is calculated differently. Kegs don't do anything with fish roe though, so all of that can go in the preserves jar!
Here is a list of crops, with their base selling price, that will make more money in the preserves jar than the keg:
| | | |
| --- | --- | --- |
| Vegetable | Base Sell Price | Base Pickled Price |
| Amaranth | 150g | 350g |
| Artichoke | 160g | 370g |
| Beet | 100g | 250g |
| Bok Choy | 80g | 210g |
| Cauliflower | 175g | 400g |
| Corn | 50g | 150g |
| Eggplant | 60g | 170g |
| Fiddlehead Fern | 90g | 230g |
| Garlic | 60g | 170g |
| Green Bean | 40g | 130g |
| Kale | 110g | 270g |
| Parsnip | 35g | 120g |
| Potatoes | 80g | 210g |
| Radish | 90g | 230g |
| Taro Root | 100g | 250g |
| Tea Leaves | 50g | 150g |
| Tomato | 60g | 170g |
| Unmilled Rice | 30g | 110g |
| Yam | 160g | 370g |
| | | |
| --- | --- | --- |
| Fruit | Base Sell Price | Base Jelly Price |
| Apricot | 50g | 150g |
| Blackberry | 20g | 90g |
| Blueberry | 50g | 150g |
| Hot Pepper | 40g | 130g |
| Qi Fruit | 1g | 52g |
| Salmonberry | 5g | 60g |
Crops with higher sell prices, like ancient fruit and coconuts will make more money in a keg. Here is a list of crops, with their base selling price, that will be better in the keg:
| | | |
| --- | --- | --- |
| Vegetable | Base Selling Price | Base Brewed Price |
| Pumpkin | 230g | 720g |
| Red Cabbage | 280g | 585g |
| Hops | 25g | 300g |
| Wheat | 25g | 200g |
| | | |
| --- | --- | --- |
| Fruit | Base Selling Price | Base Wine Price |
| Ancient Fruit | 550g | 1,650g |
| Apple | 100g | 300g |
| Banana | 150g | 450g |
| Cactus Fruit | 75g | 225g |
| Cherry | 80g | 240g |
| Coconut | 100g | 300g |
| Cranberry | 75g | 225g |
| Crystal Fruit | 150g | 450g |
| Grape | 80g | 240g |
| Mango | 130g | 390g |
| Melon | 250g | 750g |
| Orange | 100g | 300g |
| Peach | 140g | 420g |
| Pineapple | 300g | 900g |
| Pomegranate | 140g | 420g |
| Rhubarb | 220g | 660g |
| Spice Berry | 80g | 240g |
| Star Fruit | 750g | 2,250g |
| Strawberry | 220g | 660g |
| Wild Plum | 180g | 540g |