There are six bachelors in Stardew Valley, and among them, who do you think is the best husband? Here we've ranked these attractive candidates based on their stories!
Do you need help picking a great bachelor in Stardew Valley? You may want to take a look at this listicle to aid you in making a decision. We understand that it can be brain-wrecking since they all have outstanding personalities, but here ranked them based on their stories.
Who do you think would be worthy of the Mermaid's Pendant from the Old Mariner? Remember, you spent 5,000g on that item, so you better pick wisely. If not, you may need to visit the Mayor's Manor, file a divorce worth 50,000g, and pay another 30,000g to wipe your ex-spouses' memories!
To prevent the troublesome visit to the Manor and Witch's Hut, you may want to check this listicle. Here we ranked and discussed why some bachelors are the worst or best husbands in Stardew Valley.
The Best Husband in Stardew Valley
Marriage can be quite a deal in-game. Having a spouse means getting someone to help you repair fences, feed your pet, and many more. You can also build your family in Stardew Valley to make your home a little livelier. They'll also be like your roommate, who occasionally changes the wallpapers and other stuff in your home.
After the wedding, you still need to earn enough Friendship Points and Friendship Hearts with them. You'll also occasionally receive gifts from them. Anyway, enough with the marriage guide. Let's rank each bachelor as a husband from worst to best!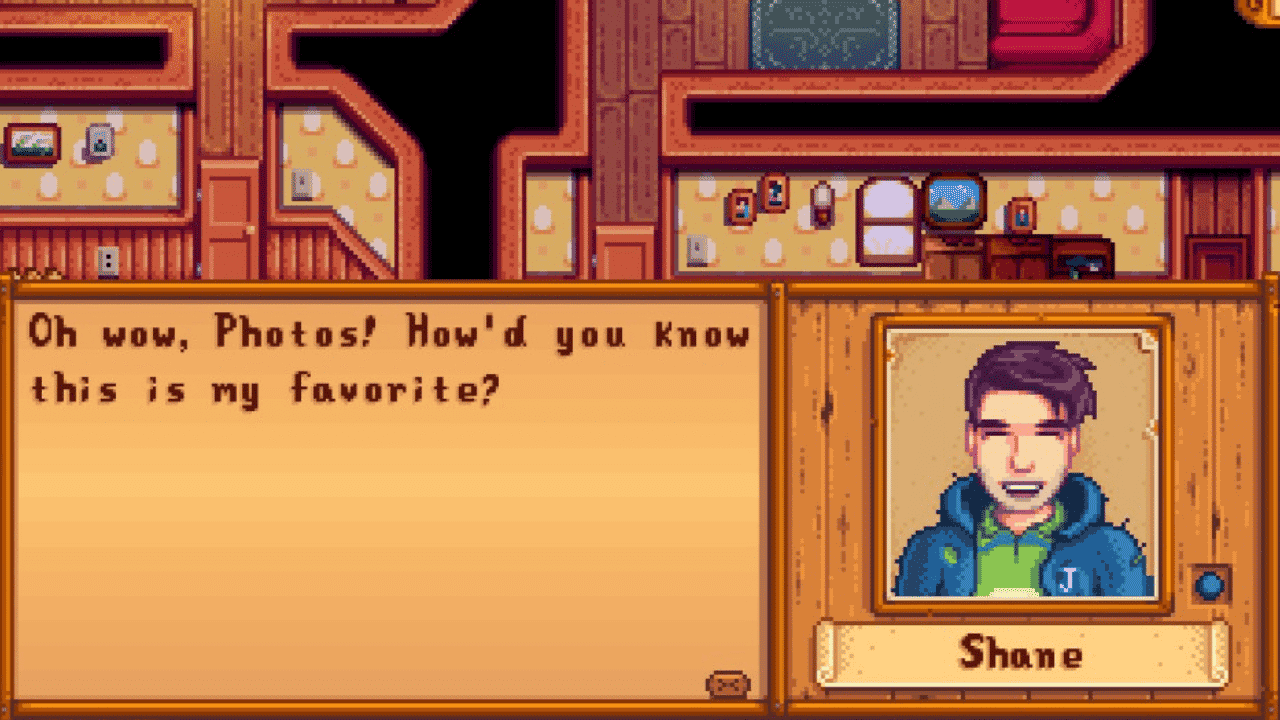 Aside from being related to Jas and Marnie, we all knew Shane as someone suffering from depression and alcohol addiction. He's not a perfect bachelor, but he tried to change; you'll find it in his Heart Events. You'd also find him trying to change himself by redirecting his attention to other things.
However, he's still quite problematic. You'll see in some of his dialogues that he'd even joke about sending your kids to Joja Work-Camp. But overall, you'd find some bits of improvement in his character. Don't expect big changes though, since it's lengthy progress.
Anyhow, he'll give you the following gifts if you marry him in Stardew Valley:
| | |
| --- | --- |
| Rainy Days | Stay In |
| Large Eggs | Pepper Poppers |
| Beer | Omelet |
| Pale Ale | Pizza |
| Void Egg | |
| Pepper Poppers | |
Sam can be the nicest bachelor you'll meet in Stardew Valley. He still lives with his parents, Jodi and Kent. Moreover, he loves to skate and would likely practice his skateboarding tricks in your backyard once you get married. He doesn't have a sob story, but his immaturity takes away his chance of being the best husband.
You'd often find in his dialogues that he has no idea about housework, nor does he always help out on the farm. Despite being married to the player, he also acts like a teenager. The only character development he had was on the 14-Hearts Event.
But if you're interested in marrying this dependent bachelor, you'll get the following gifts from him:
| | | |
| --- | --- | --- |
| On Rainy Days | On Rainy Nights | Stay In |
| Cactus Fruit | Pizza | Pancakes |
| Coconut | | |
| Earth Crystal | | |
| Geodes | | |
He's the jock everyone would hate and like at the same time. You might remember him as the arrogant guy who wanted to be a professional Gridball player. But once you dive deeper into his story, you'd realize he's not that bad after all. He was a soft guy disguised in a tough shell.
As a husband, you'd find his quotes sweet. If you're into sweet romance, you'd like him too. He's caring and very expressive with his feelings. You'd occasionally see him throwing cheesy lines that can shake your hopeless romantic side.
Additionally, let's give him more appreciation for staying with you and giving up on his dream as a professional Gridball Player. You may feel a little guilty for this but wait until you see his 14-Hearts Event.
He ranks fourth in this listicle since he doesn't really establish an appealing personality during his first encounter with the player. But he does make up for it in the latter part of the game. Below are the items he'll give you once you marry him:
| | |
| --- | --- |
| On Rainy Nights | Stay In |
| Survival Burger | Omelet |
| Dish O' Sea | Hashbrowns |
| Fried Eel | Pancakes |
| Crispy Bass | |
| Baked Fish | |
We all know him as the "Emo" guy who's pretty rude and cold. But similarly to Alex, he also has a story to tell. Spoiler, he was a jealous-driven kid who felt like being left out, insinuating that his parents must've not given them equal attention and care.
Anyway, he's also caring but still a bit moody once he becomes your spouse. And unlike the fourth bachelor, Sebastian can be sweet but not too cheesy. But we think he's a lovely character too as he lets go of his plans to live in the big city just to stay with you.
You may ask, what makes him better than Shane and Alex? Well, his gifts hold more value than the first two candidates!
| | | |
| --- | --- | --- |
| On Rainy Days | Stay In | New Year's Eve (Winter 28) |
| Cave Carrot | Coffee | Beer |
| Obsidian | | |
| Void Essence | | |
| Amethyst | | |
| Frozen Tear | | |
| Bat Wing | | |
If you're looking for a friendly and caring guy, then Harvey's your pick. He has a great personality and a total green flag for every player. If you follow his story, you'd realize that there's nothing angsty over it. You won't find trauma (aside from his fear of heights) or any tear-jerking tale– it's plainly just him.
What's great about him is his compassion for his patients. You'll love him even more once he becomes your spouse because he'll offer you all the healthy meals you can get. Check the list below to find out his gifts:
| | |
| --- | --- |
| On Rainy Nights | Stay In |
| Salmon Dinner | Complete Breakfast |
| Crispy Bass | |
| Fried Eel | |
| Vegetable Medley | |
| Carp Surprise | |
Here we have the best husband for every farmer. Why? Elliott is a nice and romantic guy who has it all. He's like the combination of all bachelors because he's fun, sweet, caring, and pretty much a husband material. If you like novels, he would most likely catch your interest!
Similarly to Harvey, he doesn't have a theatrical story. He left his home to prove he could be a successful writer. Spoiler, he'd reach his dream, and you'll see him soar high after establishing a great relationship with him in Stardew Valley.
Additionally, you'll receive the following items from him once you get married.
| | | |
| --- | --- | --- |
| On Rainy Nights | Stay In | New Year's Eve (Winter 28) |
| Coffee | Baked Fish | Wine |
| | Fried Calamari | |
| | Chowder | |
| | Fish Stew | |