Have you ever experienced looking for a specific NPC all over Stardew Valley to complete a quest? You'd thank NPC Map Locations by Bouhm and Pathoschild if you've been through this time-consuming task. Here's the complete guide to its functions and features!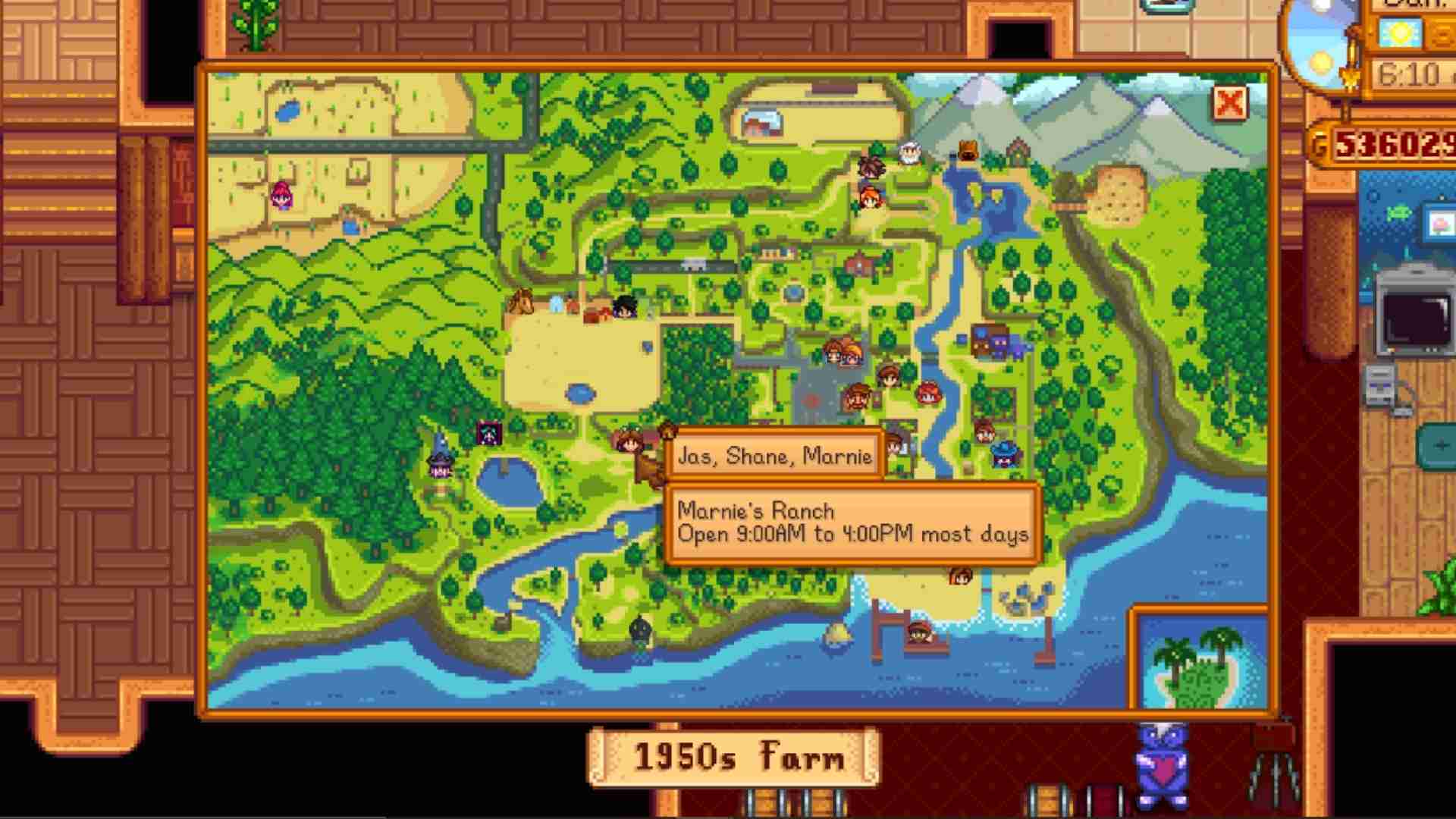 Getting lost and going in circles is a common experience when finding villagers in Pelican Town. If you've played the game for a while, you'll realize they have a very dynamic schedule. Can you memorize every NPC's daily agenda?

Luckily, this mod can help you in locating your friends in town. Here's a full guide on how to install and use it in Stardew Valley!

Highlights:
Easier Way to Find NPCs. With this mod, you won't need to look for them in different areas of Stardew Valley.
Lowlights:
No Compass. It doesn't redirect players with a compass unlike other map mods, but this is an advantage in preventing distracting movements on screen. You can open the mini-map on your device to track them while you're on your way.
Mod Overview
With 28 NPCs in Stardew Valley, it would be impossible to memorize their 24/7 schedules. Luckily, NPC Map Locations Mod is your saving grace as it uses a modified map page that accurately points you to any NPCs location. It saves you time looking for them or checking for their daily routines.
Installation Requirements:
Latest Version of SMAPI.
NPC Map Location ZIP File.
Installation Instructions
If you've modded your game before, you must've switched the game launcher to SMAPI. Make sure to use the updated SMAPI for this cheat to work. 

Most mods are available in Nexus Mods, and you can visit this site to find more exciting cheats. After scrolling through the website, download the NPC Map Locations. Follow this thorough process to run it on your PC successfully:

1. Copy the ZIP File and paste it into the Mods folder. You'll find it on the local files of the game.
2. After pasting it, all you need to do is unzip it, and you're good to go.
Features
Show All Villagers' Location Anytime. It's the main point of this guide, as it gives benefits of saving time and efficiently finding characters to complete daily tasks.
Adjustable Mini-map. Adjusting the map's width and height lets you continue your tasks as you keep an eye on every villager's location. Using it spares you seconds of checking its bigger counterpart every now and then.
Show Villagers' Around Your Location. This is useful if you want to know the closest villager in your area while doing your tasks.
Hide Villagers You have/haven't Talked To. Activating this allows you to track who you have and haven't conversed with for the day.
Only Show Villagers within Heart Level. You may set the minimum and maximum heart level. It's beneficial in tracing Marriageable Candidates.
Show Quests, Birthdays, and Hidden Villager. You'd no longer miss birthdays or quests with this function. You'll even find villagers that are hiding in some areas.
Show Traveling Merchant. Turning on this feature shows the usual location of the Traveling Cart. You'll no longer need to remember its opening time and days since it'll pop up from the map.
Include and Exclude Villagers. You can always pick whoever it is that you'd like to look for. Having too many markings can be overwhelming sometimes, so you could just pick a few of them.
How to Use NPC Map Locations
It has basic controls wherein you can open the mod by pressing "Tab" on your keyboard while your map is on-screen. You may also set up the mini-map in the mod menu. Pressing the Control Button or right click of your mouse lets you drag it across your screen.

Moreover, it's also possible to change its controls by picking any key on your settings. Using it in multiplayer requires the host to have the mod on their device.
Gameplay Experience
So far, it's one of the easiest mods to navigate. Its function is also straightforward, and it won't ruin your gaming experience. It'll make it a little easier for you to see characters like Pierre's real-time location.
Verdict
It's a ten out of ten for us, as it aids new and veteran players in making your Stardew Valley gameplay more manageable. It's also a time-saving mod that'll save you the trouble of looking up every NPCs daily schedule. You may click here if you're interested in using it!
FAQs
Is NPC Map Locations compatible with SVE (Stardew Valley Expanded)?
Based on SVE's 1.12 version, you can now use this mod to track new sprites and custom NPCs in-game. The generosity of both mod creators gives players a better experience when playing this game. Nonetheless, you don't have to worry about malware and other viruses as they're already scanned by the Nexus Mods.
Related Posts: