You may have found the perfect partner as you deepen your relationship with every Bachelor and Bachelorette. But how exactly could you get married in Stardew Valley? This guide will help you learn everything about the marriage process, its perks, and more!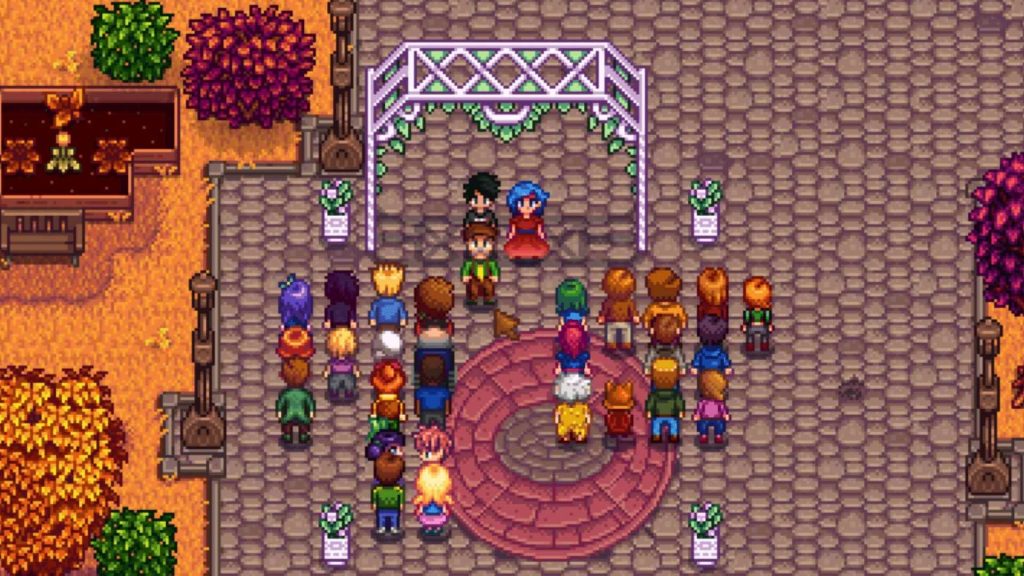 After four shifting seasons, making bonds with marriageable and non-marriageable candidates must've opened you to their backstories. They all have a heart-warming tale, but here's the real question: Who among them did you like the most?
Suppose you've finally settled down in Pelican Town and wanted to marry eligible Bachelors or Bachelorettes. Once you've chosen "the one," all that's left to do is prepare for marriage. Here's the complete process of getting married in Stardew Valley!
Important Questions
Who are the Marriage Candidates?
The village has a total of 12 single NPCs. Earning enough points with them gives you the chance to learn more about their personalities and hobbies. Here's a list of characters who may suit your preference:
| | |
| --- | --- |
| Bachelors | Bachelorettes |
| Alex | Abigail |
| Elliott | Emily |
| Harvey | Haley |
| Sam | Leah |
| Sebastian | Maru |
| Shane | Penny |
How to Marry an NPC?
Step One: Bond Making
Before jumping into marriage, you need to earn enough Friendship Hearts with them first. Each heart equates to 250 points. You need to reach eight hearts before moving on to the next stage.
Remember, strengthening your bond with these characters requires some time and effort. These methods are applicable for both marriageable and non-marriageable candidates. Here are some ways you should consider when making friends:
Introductory Quest. Getting to know all villagers (except for the Wizard) gives you 100 Friendship Points.
Daily greetings. Conversing with them every day gives you +20 points, but you'll only get ten if it's in special animations such as skating or working.
Gift Giving. Reaching the maximum of two gifts increases your points by 10. While it may also increase or decrease depending on the candidates' preference and the gifts' quality. You may also check out this article to learn more about their best-liked gifts.
Here are the points you'll get based on their taste and gift-quality:
| | | | |
| --- | --- | --- | --- |
| Gift Preference | Normal | Winter Star Event (×5) | Birthday (×8) |
| Love | +80 | +400 | +640 |
| Likes | +45 | +225 | +360 |
| Neutral | +20 | +100 | +160 |
| Dislikes | -20 | -100 | -160 |
| Hate | -40 | -200 | -320 |
| | | |
| --- | --- | --- |
| Quality | Points Multiplier | Effect |
| Normal | ×1 | +0% |
| Silver | ×1.1 | +10% |
| Gold | ×1.25 | +25% |
| Iridium | ×1.5 | +50 |
In this list, you'll find their best-loved gifts. They all adore most Universally Loved Gifts, but some have their exemptions. Nevertheless, here are the personal favorites of each candidate:
Bachelors
Loved Gifts
Bachelorettes
Loved Gifts
Alex
Complete Breakfast
Salmon Dinner
Abigail
Amethyst
Banana Pudding
Blackberry Cobbler
Chocolate Cake
Pufferfish
Pumpkin
Spicy Eel
Elliott
Crab Cakes
Duck Feather
Lobster
Pomegranate
Squid Ink
Tom Kha Soup
Emily
Amethyst
Aquamarine
Cloth
Emerald
Jade
Ruby
Survival Burger
Topaz
Wool
Harvey
Coffee
Pickles
Super Meal
Truffle Oil
Wine
Haley
Coconut
Pink Cake
Fruit Salad
Sunflower
Sam
Cactus Fruit
Maple Bar
Pizza
Tigers eye
Leah
Goat
Cheese
Poppyseed Muffin
Salad
Stir Fry
Truffle
Vegetable
Medley
Wine
Sebastian
Frozen Tear
Obsidian
Pumpkin Soup Sashimi
Void Egg
Maru
Battery Pack
Cauliflower Cheese
Cauliflower
Diamond
Gold Bar
Iridium Bar
Miner's Treat
Pepper Poppers
Radioactive Bar
Rhubarb Pie
Strawberry
Shane
Beer
Hot Pepper
Pepper Poppers Pizza
Penny
Diamond
Emerald
Melon
Poppy
Poppyseed
Muffin
Red Plate
Roots Platter
Sandfish
Tom Kha Soup
Watching movies. You may invite them to the theater to watch a great film. If they love it, you'll receive +200 points. And if they only appreciated it, you'll only get +100 points.
Get Concessions. Upon picking a movie to watch, you can also get them something to drink or eat as you both enjoy the moment. Choosing a snack they love gives you +50 and 25 points if they only liked it.
Heart Events. As you enhance your relationship with a villager, you'll encounter cut-scenes that'll require you to choose certain dialogues. The amount of increase or decrease in points varies on the villager and the answer you gave them.
Completing Tasks. Accepting Story, Item Delivery, and Special Orders Quests grants you at least 150 points to one Friendship Heart. You'll also receive a decent amount of gold upon successfully finishing the task.
Flower Dance Festival. Talking to them gives you +20, and if you ask them to be your partner, you'll earn a single heart.
Step Two: Offering Bouquet
Upon gaining eight Friendship Hearts with these candidates, you can now offer them a Bouquet to level up your relationship with them. You'll get it at Pierre's General Store for 200g.  
It also unfreezes your friendship level and updates your status with them on the Social Tab to "Boyfriend/Girlfriend." Stardew Valley is an LGBTQ+ friendly game, meaning you can gift this item to any gender.
However, you can also give them a Wilted Bouquet if you wish to break up with them.
Step Three: The Proposal
Reaching ten hearts with a candidate makes you eligible for marriage. But you need to satisfy these conditions first before proposing to a candidate:
Farmhouse Upgrade. Revamping your house requires Robin's expertise. You have to collect 450 pieces of wood and 10,000g. This enhancement adds a kitchen, fridge, and a bedroom with a double bed in your place.
Mermaid's Pendant. You'll get it from the Old Mariner for 5,000g. But you must access the Tidal Pools on the Beach by repairing the bridge for 300 wood or getting the second community upgrade from Robin.
Remember, the mariner only appears on rainy days between 6 A.M to 7 P.M. You may summon him during winter by using the Rain Totem.
After meeting these requirements, you can finally offer the charm to the bachelor/bachelorette you like. However, it only works with one candidate, so be vigilant in choosing your spouse!
Step Four: Wedding Day
After three days of proposing, your wedding happens at the village's Town Square with Mayor Lewis as your wedding officiant in the morning. However, it'll get postponed if it overlaps with an annual event.
Moreover, the weather favors you during this event because the skies remain clear, despite the previous announcement. You'll also find the weather icon replaced with a heart on your big day.
Subsequently, you'll find yourself with your spouse on the porch of your farmhouse after the wedding ceremony at 6 A.M. Once you get married, you'll find a monologue saying things would be different but it becomes exciting.
What to Expect After Marrying an NPC?
The Friendship Hearts of married couples eventually becomes 14. It decays 20 points daily whenever you don't interact with them. Once you run out of dialogue, it'll result in a hug. Moreover, your first kiss of the day gives you +10 points and relieves weariness from your energy bar.
Getting married makes changes in your farmhouse. You'll find your spouse's particular space located on the right side of the bedroom, resembling their old room. And at the back of your homestead, the stone path gets occupied with their hobbies.
Additionally, the two gifts' weekly limit gets eliminated once you marry, but the one gift per day still applies.
If you manage to make them happy, they'll do you these favors to lessen your chores on the farm:
Watering crops (any season except for winter).
Giving food to animals.
Filling your dog/cat's bowl with water
Fixing fences.
Offering cooked dishes (only if your inventory isn't full).
They may also occasionally add pieces of furniture and change the room's wallpaper or flooring.
Nonetheless, being married to an NPC has a terrible counterpart. Chaotic spaces may irritate them, and you'll be encountering dialogues of them bossing you around. They'd also blame you if they couldn't reach something from the kitchen, claiming that your "things" are blocking the way.
They'll also ask you why there are monsters in your house if a slime happens to intrude the area. You can agitate them by removing the bed resulting in queries like "where and what happened" to the mattress.
Moreover, they'd display an irritated expression if you attempt to kiss them despite these circumstances.
What's the Stardrop?
Earning 12.5 Hearts with your spouse gives you a Stardrop representing your love for each other. You'll also find this token the next day after marrying another player.
Can your spouse get Jealous?
There's a 20 to 40% chance of your partner feeling jealous based on your daily luck, which deducts 30 friendship points. Aside from this penalty, they'd also make their jealousy obvious by bringing it up in your conversation.
But it only happens if you give a marriageable candidate of the same gender as your spouse a gift they don't hate. But this doesn't apply to delivery quests.
Can you have Children in Stardew Valley?
Maintaining ten Friendship Hearts with your spouse and getting the second farmhouse upgrade triggers the 5% chance of asking about having a child. Remember, you should be married for at least seven days.
It may occur in the evening before going to bed. Still, you have an option to refuse or agree to this idea. Approving it comes in two options depending on the gender of your partner. Being in same-sex marriage allows you to adopt a child. While if you're committed to someone of the opposite sex, you'll have biological children.
Upon deciding to have a child, you'll have to wait for 14 days for it to be born. The same period applies to the adoption procedure. Your spouse will also inform you once the adoption paper gets processed.
After waiting for the noted time, you'll find your baby in the crib. While for the adopted ones, you'll receive them in the middle of the night with a note informing you that the agency has delivered your child.
You should remember some things once you have an offspring:
You can only have two kids: one boy and one girl. The gender of your first child comes as a surprise, while the other is predetermined already.
Your child's growth stops at Stage 4 (Toddler Stage).
You'll occasionally find your spouse bringing them to events such as Stardew Valley Fair.
Your child's development has four stages. In the first 14 days, you'll find them sleeping in their crib at the Nursery. After another 14 days, you'll find them standing in their crib. You can playfully toss them to boost your relationship.
The third stage allows them to crawl around the house freely for 28 days. Lastly, you'll find them sleeping on their bed in the fourth phase, making the cradle unoccupied for the second child.
How to Get Divorced?
Wanting to divorce your partner is possible in Stardew Valley. You can visit Mayor Lewis' Manor and click the small book which offers this option. But know that it'll cost you 50,000g to get separated from your spouse.
After which, you have until ten in the evening to cancel it. Proceeding to your breakup removes your partner's room with their possessions stored in a chest. They'd also get labeled as your ex, and your Friendship Hearts with them becomes 0. But you can still stop by their rooms as if you have two hearts with them.
Additionally, you'll receive bitter responses when attempting to interact with your ex-spouse. They'd neither treat you normally nor attend your wedding once you remarry. Here's a response from Maru:
To reverse this spin-off, you can offer 30,000g to the Dark Shrine of Memory from the Witch's Hut to erase your former partner's memories. It'll turn everything back to normal, making it seem like you never married each other. Note that you won't encounter the Heart Events for the second time once you remarry.
If you have children, you can keep them or forever remove them in the game by offering a Prismatic Shard to the Dark Shrine of Selfishness. Doing this turns your kids into doves and unlocks secrets in Stardew Valley. Additionally, getting separated from your partner cancels the process of having a child.
Can you get Married in Multiplayer Mode?
Fortunately, you can get married to your real-life friends in Stardew Valley by offering a Wedding Ring. You may purchase its recipe occasionally from the Traveling Cart for 500g. You'll need five Iridium Bars and one Prismatic Shard to craft it.
Moreover, the marriage process is similar to marrying an NPC, but it only differs in maintaining and earning Friendship Points. You can also have a child if both parties agree.