Have you met the guy with purple hair and a mid-length beard in Stardew Valley? He's a wizard who can help you solve some mysteries in Pelican Town. Here's everything you need to know about him and the best gifts you can offer!
After visiting the Community Center and encountering the odd creatures in the building, you'll receive a letter initialed with M. Rasmodius. He knows many things about the village. He may help you out as well if you become good friends with him. Here's a complete guide on everything you need to know to get closer to him!
Important Questions
Who is the Wizard?
He's a villager in Pelican Town residing on his Wizard's Tower, located on the western side of the Cindersap Forest. You'll officially meet him after inspecting the Community Center's Golden Scroll. He's great friends with Linus and has no other friends besides this NPC.
What is the Wizard's Schedule?
He doesn't leave his tower unless there's a special cutscene or festival. You'll find him at his house from 6 A.M to 11 P.M. However, you can freely access his place beyond the closing time by using the teleport rune in the Witch's Hut. Note that the hut only becomes available after solving the Goblin Problem Quest.
How to Befriend the Wizard?
You can increase your Friendship Hearts with him by gifting him two (plus one on his birthday) items that he loves or likes. However, boosting your relationship with him doesn't make him eligible for marriage.
Make sure to not forget his birthday on Winter 17. It'll help you build a better relationship with him. You should also keep track of the Wizard's likes and loves because giving him anything he dislikes or hates lowers your Friendship Points.
Here are the best and worst gifts that you could offer:
Loves
Likes
Neutral
Dislikes
Hates
All Universal Loves.
All Universal Likes.
All Universal Neutrals.
All Universal Dislikes except for:
• Geode Minerals
• Super Cucumber
• Void Essence
• Solar Essence
Universal Hates except for Slime.
Purple Mushroom
All Geode Minerals,
All Fruits aside from Fruit Tree Fruits and Salmonberry.
All Eggs
Solar Essence
Quartz
All Types of Milk
Void Essence
Common Mushroom
Super Cucumber
Chanterelle
Daffodil
Dandelion
Ginger
Hazelnut
Holly
Leek
Magma Cap
Morel
Salmonberry
Slime
Snow Yam
Wild Horseradish
Winter Root
Facts and Information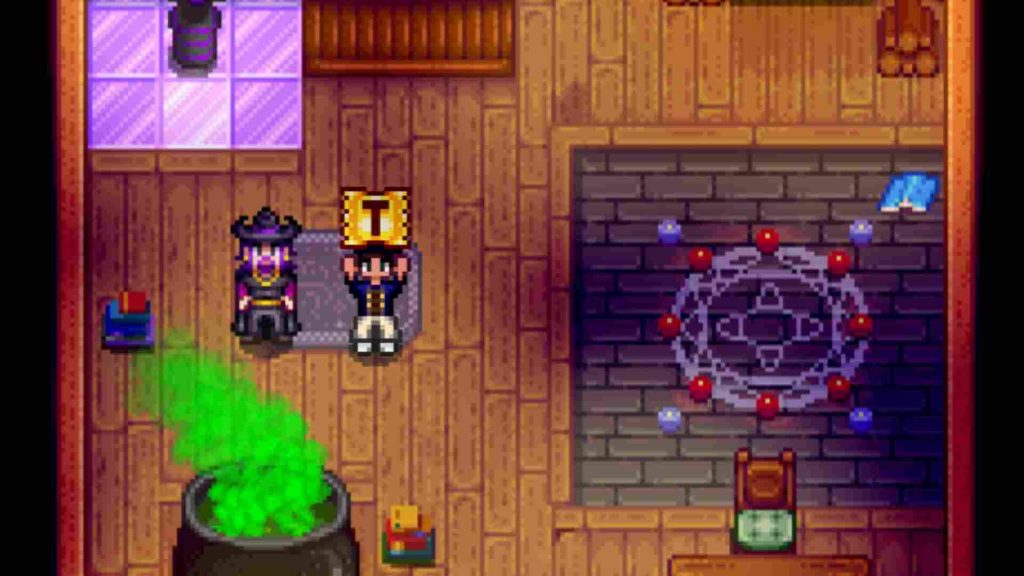 Movies and Concessions
Inviting him to watch a film improves your bond with him, but make sure it's a ticket for the Mysterium. The Wizard doesn't have any liked movies, but he dislikes plenty of them, including:
It Howls In The Rain.
Journey Of The Prairie King: The Motion Picture.
Natural Wonders: Exploring Our Vibrant World.
The Brave Little Sapling.
The Miracle At Coldstar Ranch.
The Zuzu City Express.
Wumbus.
Getting him a snack also gives you additional points. Here are his most loved, liked, and disliked food items from the Movie Theater:
| | | |
| --- | --- | --- |
| Loved | Liked | Disliked |
| Black Licorice | Cotton Candy | Everything else for the Concessions' List. |
| Star Cookie | Ice Cream Sandwich | |
| Stardrop Sorbet | Jasmine Tea | |
| | JawBreaker | |
| | Rock Candy | |
| | Salmon Burger | |
| | Sour Slimes | |
Heart Events
If your friendship level with him exceeds zero, he may randomly send you these loots on your Mail:
Moreover, once you reach a certain number of Friendship Hearts with him, you'll uncover dialogues concerning his relationships in the village. You'll bring out interesting conversations with him upon learning more about his story. Here are some events you may encounter:
No. of Hearts
Description
4+ Hearts
You'll access his basement and get the privilege to use the Shrine of Illusions to alter your appearance. Using it would only cost you 500g.
6+ Hearts
You'll learn about his ex-wife, the witch.
10+ Hearts
He'll tell you about his hunch of having a child in town. These are the NPCs suspected as the Wizard's daughter because of physical resemblance or hobbies:
• Abigail.
• Emily.
• Jas.
Quests
You'll also encounter plenty of tasks involving the Wizard. Here's a sneak peek of each errand:
Quest
Description
Reward
Meet the Wizard
You'll receive a letter from him after checking the Golden Scroll from the Pantry Room.
He'll offer you a potion to help you understand Junimo's language. It'll also unlock the Bundles in the Community Center.
Dark Reagent
On the 12th of Winter, he'll request a Void Essence.
• 1000g
• 1 Friendship Heart
Staff of Power
An Iridium Bar gets requested on the 5th of Winter, Year 2.
• 5000g
• 1 Friendship Heart
Dark Talisman
Upon completing the Community CenterBundles or the JojaMart Development Form, a cutscene gets triggered by the Railroad.

The Wizard will ask you to find the Dark Talisman. You'll need to visit Krobus from the Sewers to eliminate the force-field hindering the Mutant Bug Lair's Entrance.
• It unlocks the Goblin's Problem Quest.
Goblin Problem
Once you reach the Witch's Swamp, a Henchman blocks the entrance to the Witch's Hut.

Offer him a Void Mayonnaise to successfully enter the hut. Don't forget to grab the Magic Ink from the sorceress' table.
• Retrieving the ink gives access to the Wizard Buildings for your Farm.
The Pirate's Wife
You need to give him the Arctic Shard.
–
A Curious Substance
Choosing this task from the Special Orders Board requires you to deliver one Ectoplasm to the sorcerer.
• 2500g
• Recipe for the Mini-Obelisk
Help Wanted Board
He may ask you to kill certain monsters or deliver a random item.
• It depends on the number or type of monster you've slain.

• The compensation is 3x the object's value if it's an item.

• 150 Friendship Points.
Prismatic Jelly
A Prismatic Jelly gets ordered in the Special Orders Board.
• 5000g
•Recipe for the Monster Musk