In this all-inclusive step-by-step guide, we teach you about the eel – exactly where to find it, and how to ensure a perfect catch!
PLUS: Keep reading to learn about which quests, recipes, and artisan goods the eel can be used in!
The Eel
The Eel is a fish that can be caught in the ocean in Stardew Valley. They are known for being moderately difficult to catch – their tricky season and weather requirements can make for an added challenge. It has a base price of 85g, and can only be caught in rainy weather during Spring or Fall. Luckily, there is no required fishing level to catch an eel, so even beginners can get the chance to catch this slippery little fish!
Where to Find It
The eel can be found in a few different locations outside of its strict fishing restrictions. If you are using magic bait, the eel can be caught any time of year regardless of the weather. The eel can also be purchased from the Travelling Cart at random times, but the price will range from 255g-1,000g. On level 100 of the mines, players are also able to catch a lava eel within the lava pool.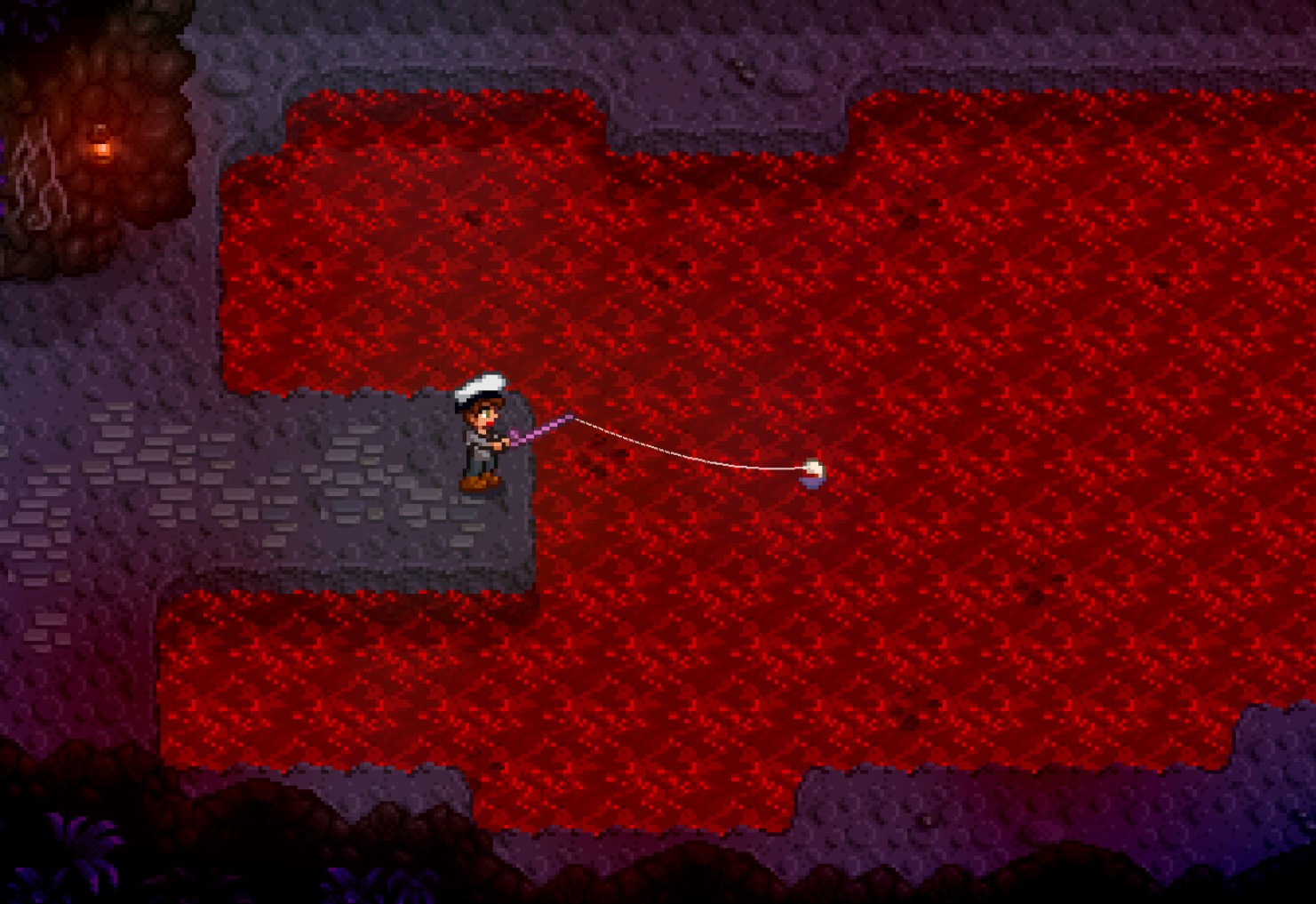 You can even find eels in trash cans around town… but make sure nobody catches you! The townspeople of PelicanTown tend to dislike finding you rummaging through the trash. This can even damage friendship points, so be careful!
Recipes & Uses
One of the more useful fish to catch in Stardew Valley, the eel is a great catch because it can be used in several different areas of the game. Players can use the eel to complete the Night Fishing bundle at the fish tank in the Community Center.
To complete the Night Fishing Bundle, players must gather the following:
| | | |
| --- | --- | --- |
| Image | Fish | Where to Find Them |
| | Eel | Found in the Ocean, Only when Raining, 4pm-2am, Spring or Fall. |
| | Bream | Found in Rivers, 6pm-2am, All Seasons. |
| | Walleye | Found in Rivers, the Mountain Lake, and Cindersap Forest Pond, 12pm-2am, Fall (Winter with Rain Totem), Only when Raining. |
Note: Upon completing the bundle, players will receive a Small Glow Ring
(1).
The eel can also be used in several different recipes, including: spicy eel, fried eel, maki roll, and sashimi. Like other fish in the game, eel can also be used to make Quality Fertilizer.
Image
Recipe
Description
Ingredients
Recipe Source
Sell Price
Spicy Eel
It's really spicy!Be careful.
Eel (1)
Hot Pepper (1)
George (Mail – 7+ )
175g
Fried Eel
Greasy but flavorful.
Eel (1)
Oil (1)
George (Mail – 3+ )
120g
Maki Roll
Fish and rice wrapped in seaweed.
Any Fish (1)
Seaweed (1)
Rice (1)
The Queen of Sauce
21 Summer, Year 1
Stardrop Saloon for 300g
220g
Sashimi
Raw fish sliced into thin pieces.
Any Fish (1)
Linus (Mail – 3+ )
75g
Eel can be useful in producing a few other products as well. If players have access to the Fish Pond, they are able to place an eel into it and produce Eel Roe continuously every three days. Eel roe can be aged in a Preserves Jar, which turns it into Aged Roe – an artisan product that has a base price of 2x the original, unprocessed roe's base price. The aging process takes 3-4 in-game days. Eel can also be used in the spool at the sewing machine, which will allow players to create a Sailor Shirt. It also creates Orange Dye at the dye pots located inside Emily and Haley's house.
Quests
The eel is likely to be randomly requested by Willy at the "Help Wanted" board outside Pierre's General Store sometime in Spring or Fall. Fulfilling this request will grant players 255g and 150 friendship points with the character who placed the request.
Gifting
Like several other fish in Stardew Valley, the eel can make a great gift to help you boost friendship points with other characters around Pelican Town. Most of the game's characters like eel as a gift, but several characters feel neutral about the eel, including Willy, Pam, Demetrius, Sebastian, Elliot, Linus, and Leo. The only characters who hate eel are Evelyn, Haley, and Pierre.