Stuck between choosing the Forest Farm and the Beach Farm? Love some aspects of farms, hate the others? The Four Corners Farm might be just what you're looking for! Learn all there is to know about this highly versatile farm layout below!
How to Select the Four Corners Farm
All seven farm layouts are available on the New Game screen.
If you already have a save file with a different map selected, you won't be able to switch mid-game. However, you can select the Four Corners Farm when you start up a new game by selecting its icon on the right side of the screen, as seen below!
Single player Four Corners Farm?
While the Four Corners Farm was envisioned as the perfect farm for multiplayer, you can definitely play it alone. In fact, it's a great choice of map for single player because it is so spacious and versatile.
An Overview of the Layout
If you're wondering what this farm can look like, here's our detailed overview of the layout: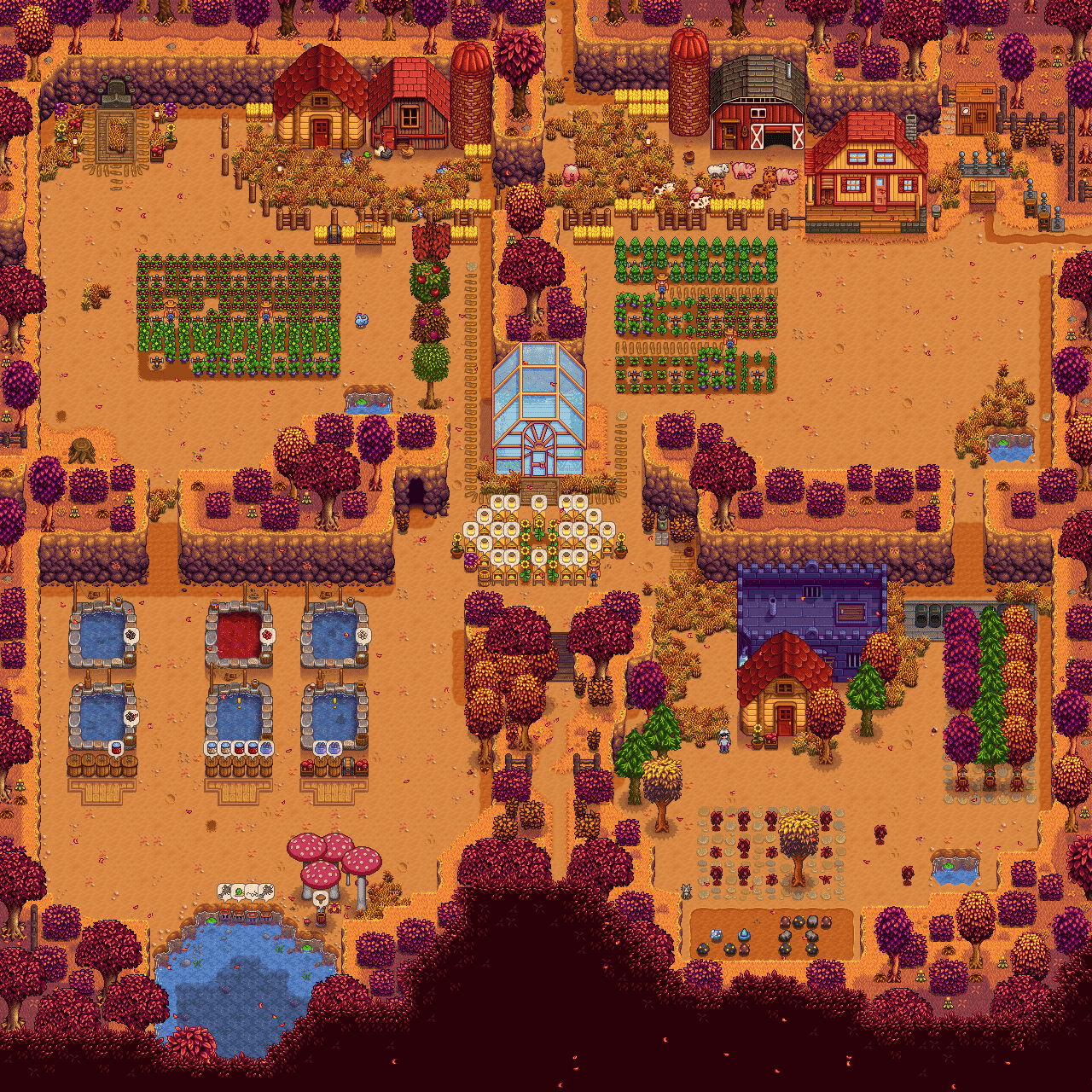 The Four Corners Farm is, as the name suggests, sectioned into four quadrants. Each corner of the farm has something unique about it, so let's dig in!
The top right of the farm is where your farmer's House is. This part of the map has a small pond in the right corner for your watering can. Otherwise, it is totally empty and you're free to do with it what you like! This is great place for crops or an orchard.
The top left side of the map houses Grandpa's shrine. In the bottom right, once again, there is a small pond. The tree stump on the left side is renewable, so you can get free Hardwood here every day. A great empty space for your Coop or Barn, or just more arable land for your crops.
The bottom left section has a large freshwater pond at the bottom. This is the best fishing spot on this farm map. You can also place crab pots here to collect critters like Snails, Crayfish or Periwinkles. You can catch freshwater pond fish here, like in the Cindersap Forest.
Finally, the bottom right corner of the farm has a small quarry at the base of it. You can use this quarry to collect Ore, Geodes, and even Gems, without the hassle of going to the mines.
The Advantages of this farm
1. Easy to Organize
The four sections of the Four Corners Farm correspond to four different skills – farming and raising animals, fishing, and mining. As such, you can easily organize the map so that each quadrant focuses on one thing.
2. Spacious
The number of tillable tiles on this farm is 2952 – a number second only to the Standard Farm. This essentially means you can plant crops anywhere on this map. You may want to, instead, choose a quadrant to focus on farming in particular. Even in that case, you have an enormous amount of space!
3. Playstyle-versatile
This farm supports whatever gameplay you might be in the mood for. The farm is so spacious that you can organize it in any way you like.
If you're a big fan of farming, the Four Corners map offers plenty of tillable tiles. Ponds are located in every quadrant so you can easily refill your watering can.
If you love raising animals, this layout provides ample room for you to place your Coops and Barns anywhere. There's so much room for the pigs to roam and find Truffles!
If you're geared towards mining and combat, you're in luck here as well. There is a small quarry at the bottom of the right quadrant where you can find Geodes and Ore.
If you love fishing, you'll be able to place many Fish Ponds on this farm. There is also a small lake at the bottom left corner of the map where you will catch fish that are found in the Cindersap Forest lake. Crab pots can also be placed in this pond, in which you may be able to trap some freshwater critters.
4. Perfect for Multiplayer
This map was made to encourage multiplayer. If you're playing with a friend, you can decide that one of you is in charge of the top part of the map, and the other of the bottom. If you have three other friends, each person can have one segment.
The Disdvantages of this farm
1. Fish up Trash 50% of the time
While not as bad as the Wilderness Farm, where fishing is only successful 35% of the time, the Four Corners Farm is also not a great choice for budding fishermen. Exactly half the time, you will fish out Trash instead of a fish.
Trash can, however, be recycled into more valuable items such as Refined Quartz, Cloth, Ore, or Coal. If you do end up fishing a lot, make sure you save the trash in a chest somewhere to recycle later!
1. Hills Break up the Layout
Although this map has the second highest farming area, the map is still broken up by hills and ponds. This removes a large amount of space that would otherwise be yours to use. The broken-up layout may put a wrench in some farm layout design ideas.
This layout also makes it a bit more difficult to move around the map. All four areas of the map are walled, so you need to enter each area from two specific entrance points. This is much different than, say, the Standard Farm, which is totally open.
How to Earn money on the Four Corners Farm
1. Farm Crops
The natural answer to this question is, of course, farming! The Four Corners Farm has so much space for crops and farming is quite viable. There is also a lot of room to consider making a big orchard of Fruit Trees in one section of the map.
2. Craft Artisan Goods
If you want to take your profits from crops to the next level, invest in artisan goods. You can turn your fruits into Wine, your vegetables into Pickels, and your Milk into Cheese.
To further increase profits, craft Casks and age your Wine and Cheese into even more valuable items.
3. Make use Of Tappers
You can choose one corner of the map to plant trees in. This way, you'll have a designated area in which you can collect wood, Hardwood, and tapped goods.
To make a good tapper area, first, create a row of any trees you would like. If you're in need of Oak Resin, in particular, plant a large row of Oak trees.
Next, circle each seed with some sort of Path type – Stepping Stone Path, Gravel Path, Wood Path, or anything else! This prevents errant seeds from falling from your trees and growing.
Finally, place Tappers on all your trees once they've grown. Tree Fertilizer can expedite this process greatly, giving you a mature tree in less than a week. Now you've got your tap farm!
The three primary tapped goods are Maple Syrup (from Maple Trees), Oak Resin (from Oaks), and Pine Tar (from Pine Trees). These are valuable crafting resources used to craft machines that improve your profits greatly. Furthermore, a level ten forager may take the "Tapper" profession and sell their Syrups – all three of these goods – for 25% more.
4. Raise Animals
The ample space makes raising animals another great option for this farm. Once you acquire pigs, you will be able to let them roam far and wide to search for Truffles.
Is the Four Corners Farm worth it?
The Four Corners Farm is absolutely worth a try! No matter what you enjoy in Stardew, you'll be happy with the versatility and openness of this farm map.