Have you ever obtained a tear-like mineral in Stardew Valley? As its shape suggests, we call it a "Frozen Tear." What is it, and where's the best location to find it? Read further to answer your questions about this item!
Making your way to the Mines means plenty of things. You're either searching for mobs to slay or minerals to collect. Every hunt in Stardew Valley comes with surprises, so suppose that you visited the area to forage minerals– you may stumble across some Frozen Tear. What is it, and how is it relevant to your gameplay?
To learn more about your newly discovered item, check out this guide!
What is a Frozen Tear in Stardew Valley?
It's a foraged mineral mythologically assumed to be a Yeti's tear. Unfortunately, despite this interesting label, you can't sell it for a good price. It only sells for 75g and may increase by 30% with a Gemologist Profession turning its worth into 97g.
Additionally, you have to be careful when farming for this mineral, as they can easily break when you use a bomb.
Where to Find a Frozen Tear in Stardew Valley?
Searching for this item still takes some effort. It may not be worth the trouble regarding profitability, but it can be handy in other game parts. Below is the list of methods you can do to obtain it:
Mining at the 40 to 79 Floors of the Mines (0% to 4.62%). You may also get it in some containers in this area once you reach the end.
Dropped by Dust Sprites in the Mines (2%).
Acquired through Panning with a Copper Pan (4.9%).
Cracking minerals such as Frozen Geode (6.25%) and Omni Geode (2.0833%).
Fishing for Treasure Chests (4%).
Found in Garbage Cans after reaching the deepest part of the Mines.
Ice Pip Fish Pond may give you five pieces of it when it reaches a population of nine.
Get it as a gift from the Wizard if you have more than zero points with him.
Given by the Statue of Endless Fortune every Winter 10, Sebastian's birthday.
Crafting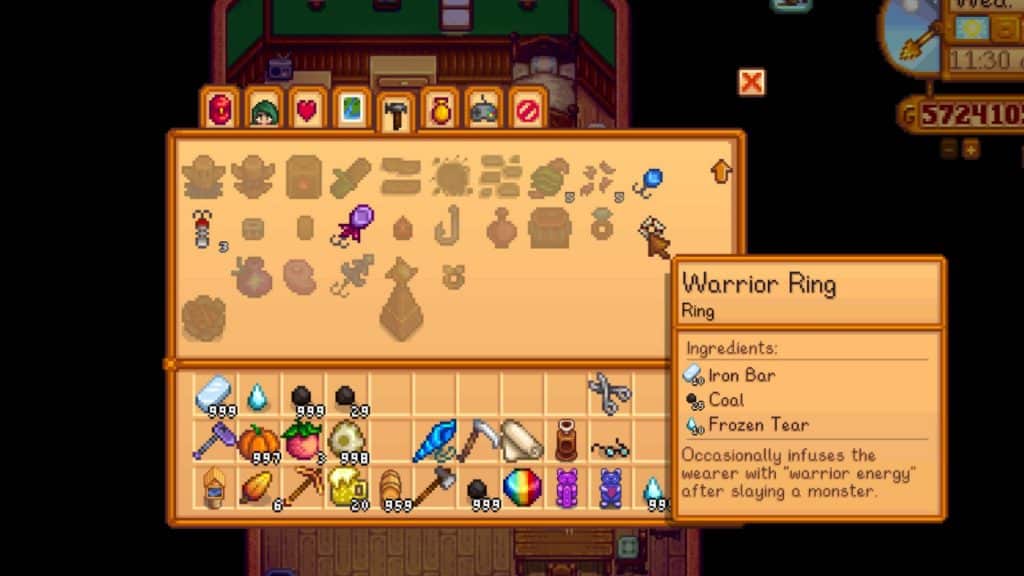 You can use it in making a Warrior Ring. It's an accessory that offers a Warrior Energy buff. Anyway, crafting requires you to collect Iron Bars (10), Coal (25), and Frozen Tears (5). Obtaining this recipe needs you to reach Combat Level 4 first.
Gifting
Offering it to villagers is a great move since they like it, but Sebastian's likely the one who loves it the most. In contrast, you shouldn't give it to Leah, Pierre, and Linus since they dislike it. Nonetheless, no one exactly hates or feels neutral about receiving a Frozen Tear.
Tailoring
Like everything else, placing this loot in a spool of the sewing machine also gives you a new garment like a Dark Jacket. While it also makes a good cyan dye for clothes and blue coloring for the dye pots. It's a useful item if you wish to add new shades to your collection.
Quests
This foraged mineral occasionally gets requested in the following quests:
Help Wanted Board at Pierre's General Store. It gets asked randomly, and you'll receive 225g and 150 Friendship Points as a reward.
Blobfish Fish Pond Quest. They'll request two pieces of this mineral to increase the pond's capacity from one to three.
Ice Pip Fish Pond Quest. They'll ask for five Frozen Tears to elevate the pond's capacity from three to five.
Bundles
You can only use this item in the Geologist's Bundle in the Boiler Room. Alongside a piece of it, you'll also need to gather Quartz, Earth Crystal, and Fire Quartz. You'll get five Omni Geodes in return for completing the bundle.