Have you visited the famous Stardrop Saloon? This place offers wonderful dishes that may help you improve your gameplay in Stardew Valley. Here's a guide to help you learn everything you need to know about this shop!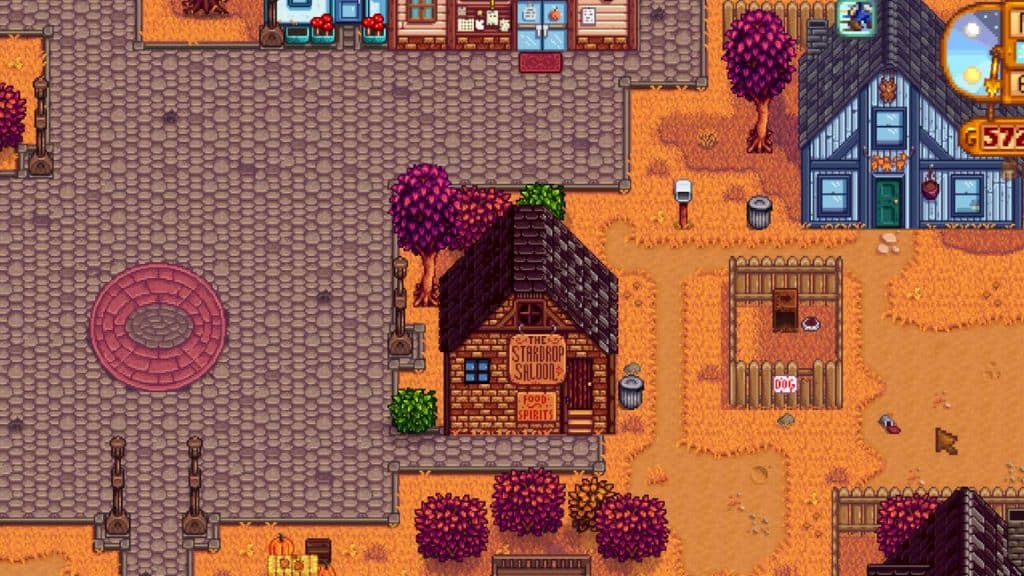 After long hours of foraging, mining, and doing other tasks on your farm, getting drained is an everyday encounter for players. Taking a good nap is usually the solution, but if you still have a long day ahead of you, you might want to use another method.
To replenish your health and energy in Stardew Valley, getting a good meal is a must. You can make some in your kitchen or cookout kit and receive goods from your NPC friends. However, if you're too lazy to make your own or haven't received any meal from villagers, you can purchase some at the Stardrop Saloon!
What is this place, and where can you find it? Here we'll discuss this store's offers, location, and more. So, read further to discover everything you want to know about it!
What is the Stardrop Saloon in Stardew Valley?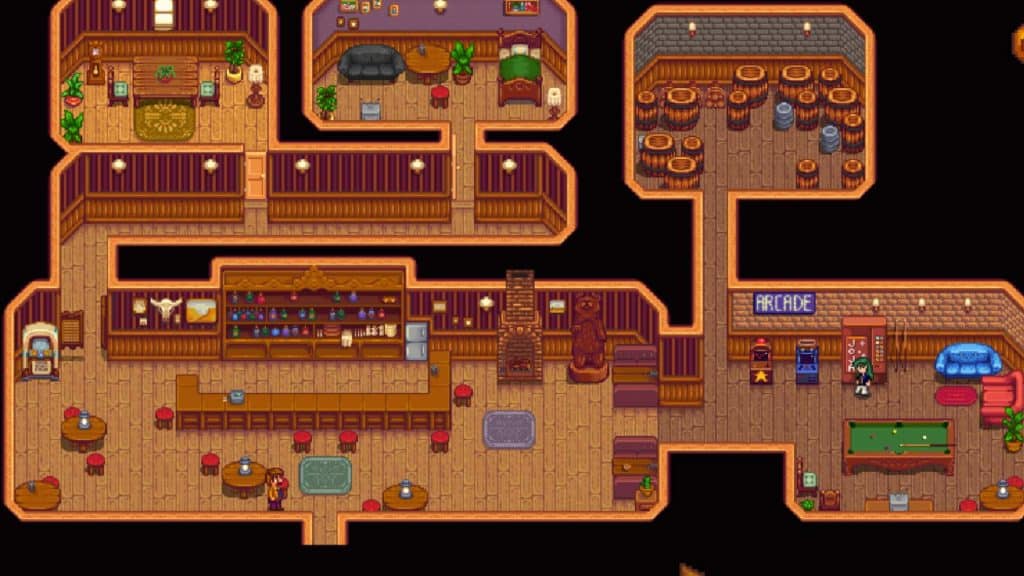 It's a spot that serves as a meeting place for most villagers in Pelican Town. You'll usually find marriage candidates having fun in the arcade or enjoying a game of pool. On the other hand, grown-ups typically go here to have a good drink.
Additionally, it's owned by Gus, the town's local chef, who also sends great recipes to you when you become good friends with him. He's also the guy behind the cash register, and he has Emily as his helper, who works part-time.
Anyhow, this spot is the best place to get a good meal if you're in a rush or don't have enough ingredients for a certain dish. While you can also get cooking recipes here that can add to your knowledge of cooking as well as your experience.
Where is the Stardrop Saloon?
It's easy to find this shop in-game, but to be more specific it's located in the center of Pelican Town. It has a big sign which says "Stardrop Saloon," making it easier for you to identify the place.  You may access it from 12 PM to 12 AM in Pelican Town.
What Can You Get at Stardrop Saloon?
The saloon has various stocks that won't bore you. Every day is a surprise with its rotating stock, while if you need something specific, you might be in luck if it's in their rotating stock. Below are the meals and recipes you can purchase here alongside their prices:
Permanent Stock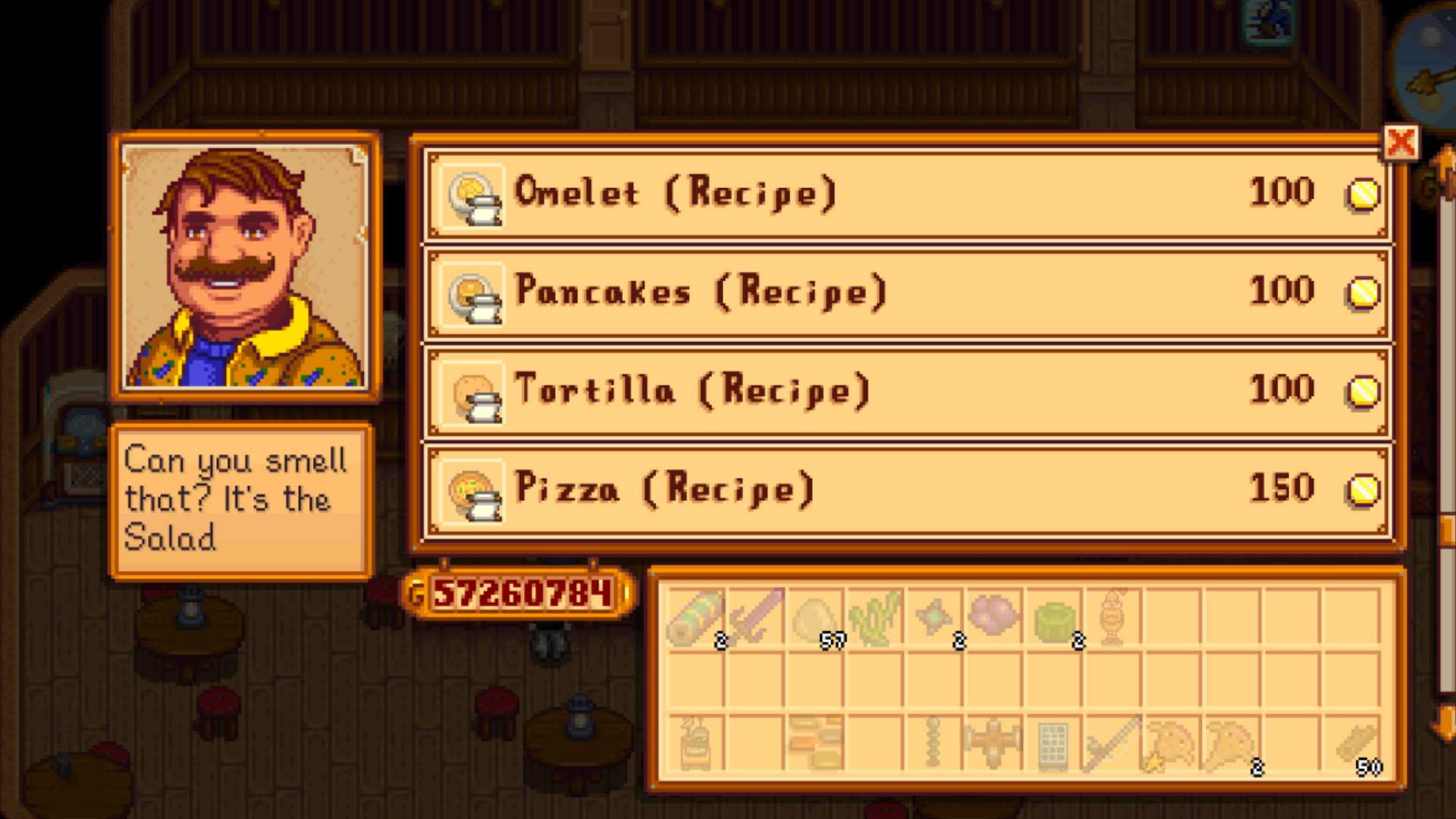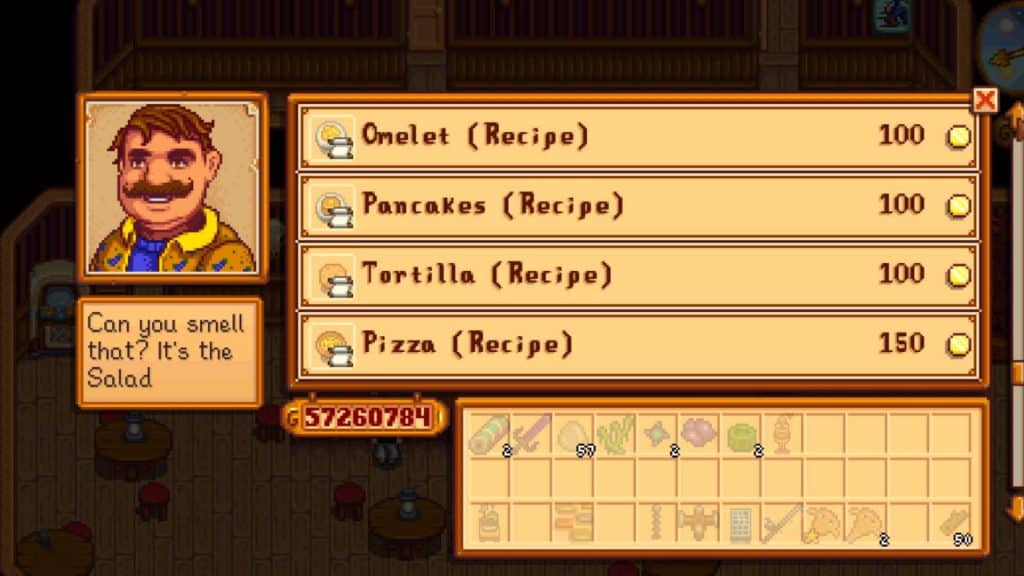 These items are always here any season. But not note that some recipes only become available once you encounter certain heart events. This includes the Cookie Recipe which only appears on the Saloon's offers once you triggered Evelyn's Four-Hearts Event.
| | |
| --- | --- |
| Name | Price |
| Beer | 400g |
| Salad | 220g |
| Bread | 120g |
| Spaghetti | 240g |
| Pizza | 600g |
| Coffee | 300g |
| Hashbrowns Recipe | 50g |
| Omelet Recipe | 100g |
| Pancakes Recipe | 100g |
| Bread Recipe | 100g |
| Tortilla Recipe | 100g |
| Pizza Recipe | 150g |
| Maki Roll Recipe | 300g |
| Triple Shot Espresso Recipe | 5,000g |
| Cookie Recipe | 300g |
Rotating Stock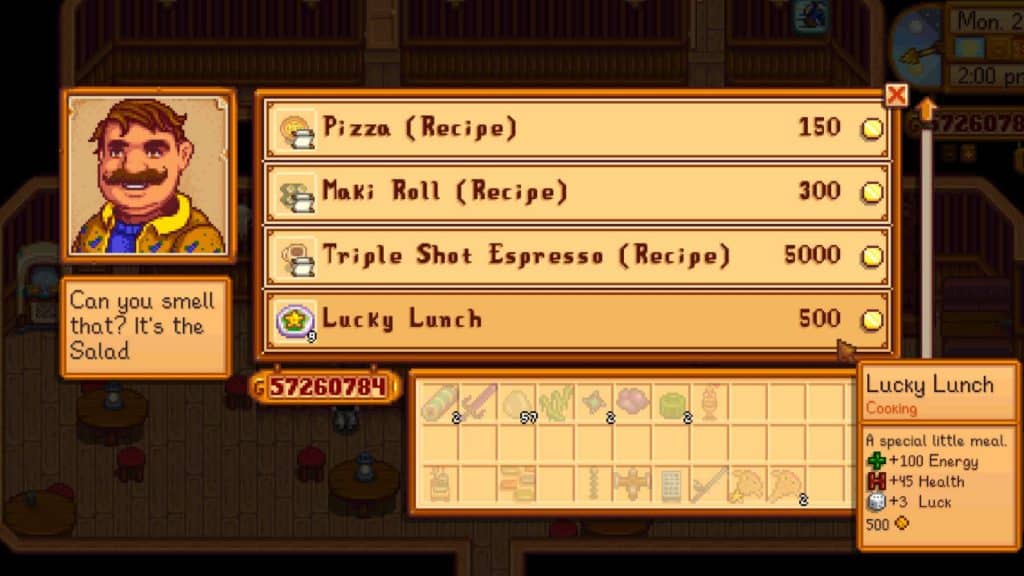 These dishes are considered the Dish of the Day. Since they're random there's no telling which meal comes next on the menu. But a random number between one to 14 gets picked haphazardly by Gus when selling any of these goods.
| | |
| --- | --- |
| Dish | Price |
| Fried Egg | 70g |
| Tortilla | 100g |
| Sashimi | 150g |
| Pancakes | 160g |
| Baked Fish | 200g |
| Bean Hotpot | 200g |
| Trout Soup | 200g |
| Cranberry Sauce | 240g |
| Fried Eel | 240g |
| Hashbrowns | 240g |
| Ice Cream | 240g |
| Parsnip Soup | 240g |
| Vegetable Medley | 240g |
| Omelet | 250g |
| Cookie | 280g |
| Blueberry Tart | 300g |
| Carp Surprise | 300g |
| Crispy Bass | 300g |
| Fried Calamari | 300g |
| Stuffing | 330g |
| Spicy Eel | 350g |
| Chocolate Cake | 400g |
| Eggplant Parmesan | 400g |
| Fried Mushroom | 400g |
| Glazed Yams | 400g |
| Pepper Poppers | 400g |
| Maki Roll | 440g |
| Super Meal | 440g |
| Strange Bun | 450g |
| Lucky Lunch | 500g |
| Tom Kha Soup | 500g |
| Rice Pudding | 520g |
| Cheese Cauliflower | 600g |
| Pumpkin Soup | 600g |
| Salmon Dinner | 600g |
| Autumn's Bounty | 700g |
| Complete Breakfast | 700g |
| Red Plate | 800g |
| Rhubarb Pie | 800g |
| Pink Cake | 960g |
| Fish Taco | 1,000g |
Temporary Stock
If you've encountered Willy's Six-Heart Event, you'll remember that there were plenty of crabs in this scene. Gus takes things to his advantage and makes Crab Cakes out of them, making it one of the dishes he sells for four consecutive days. Note that this delicacy costs 550g each.
Things You Can Do at Stardrop Saloon in Stardew Valley
Aside from getting great meals to replenish your health and energy, you can also have some fun in this place. There are tons of options to choose from if you want to take a break from your farm life and just kill some time for the day. Below are the things you can do in Stardrop Saloon:
1. Enjoy Good Music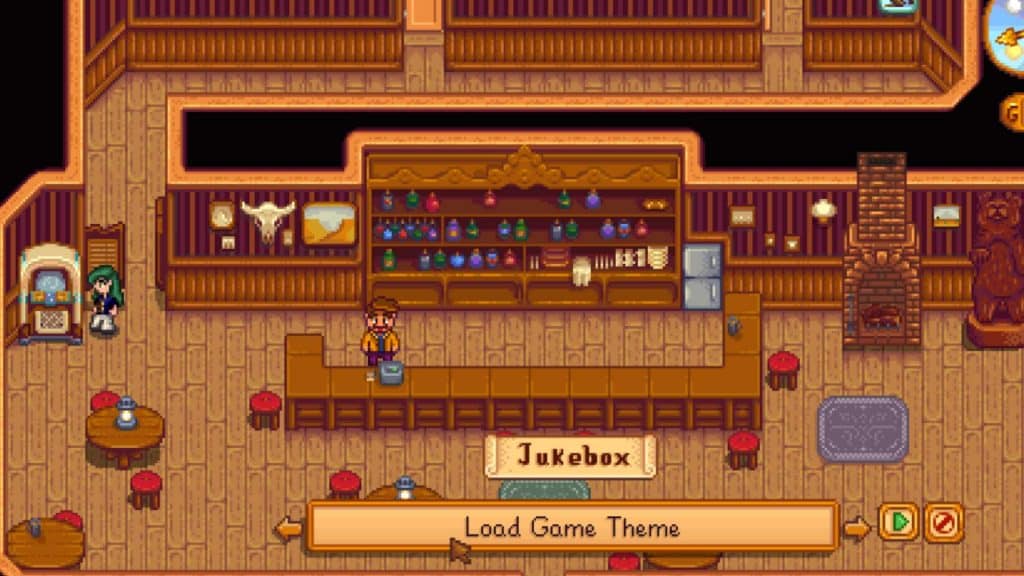 Surprisingly, this hangout spot in Stardew Valley offers a relaxing soundtrack that you can listen to whenever you're bored. These sounds may be from Heart Events, Festivals, or other occasions in-game. Anyhow, you may play these tunes by using the Jukebox.
2. Have Fun in the Arcade
If you're up for a challenging game then try playing Junimo Kart and Journey of the Prairie King. The first game machine needs a Skull Key to be used while the latter allows you to play it anytime you want.
Moreover, completing the Junimo Kart's progress mode gives you a special reward which is your own game machine. The same bonus applies to the other arcade machine once you beat all of your enemies.
3. Get Refreshers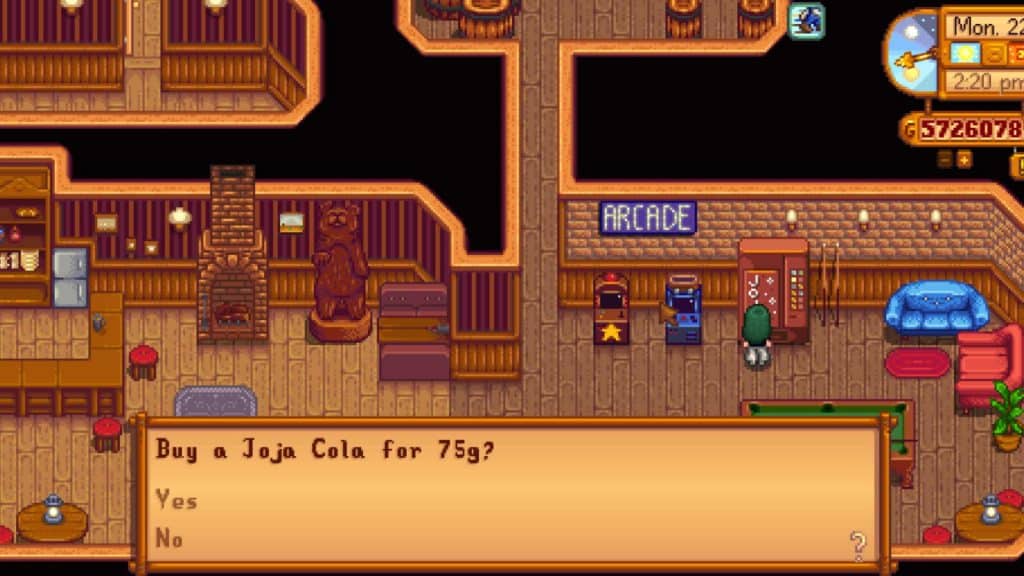 Beverages are always available in the Saloon, but if you're looking for something fizzy– you might be craving a Joja Cola. A single can costs you 75g, which is quite cheap compared to Coffee and Beer. So, you can get this item if you're on a budget.
4. Unlock Secrets
It's no surprise that secrets are all over the valley. Here's another spoiler that may interest you. If you're at the Saloon, carry a jar of Duck Mayonnaise and situate it on a slightly hidden metal box in the store's backroom. Once you do this, you'll receive a piece of furniture known as ??Pink Lemon??
The mentioned item is purely for aesthetic purposes only, and it doesn't have any significant role in the game. But it does make a good addition to collectors.