Are you on the hunt for a bigger house mod in Stardew Valley? Your home in Stardew Valley might be pretty small in the beginning, however, you can take it up a notch by expanding and changing it as the game progresses. But what if you want to take things even further? Well, you could always look up Stardew Valley's bigger house mods on platforms such as Nexus Mods to level up your gaming experience!
There are numerous buildings in Stardew Valley, including mills, coops, and barns. However, the one deemed as the player's permanent residence is the farmhouse.
Initially, your home in Stardew Valley comes with a small room containing a floor mat, some decorations, a TV, a fireplace, and a single bed. However, as the game progresses, you can expand and change your house.
For example, you can upgrade your farmhouse to add extra spouse rooms when you get married in the game or add another room when Krobus moves in as your roommate.
But what if you wanted to expand the vanilla footprint to make your house, the NPCs' homes, and other common buildings in the game even bigger?
Don't worry! There are numerous Stardew Valley mods that can help you achieve this.
Take a look at the 14 most downloaded bigger house mods in Stardew Valley to increase your vanilla farmhouse's dimensions and footprint now!
The Top 14 Bigger House Mods for Stardew Valley
14. Bigger Farmhouse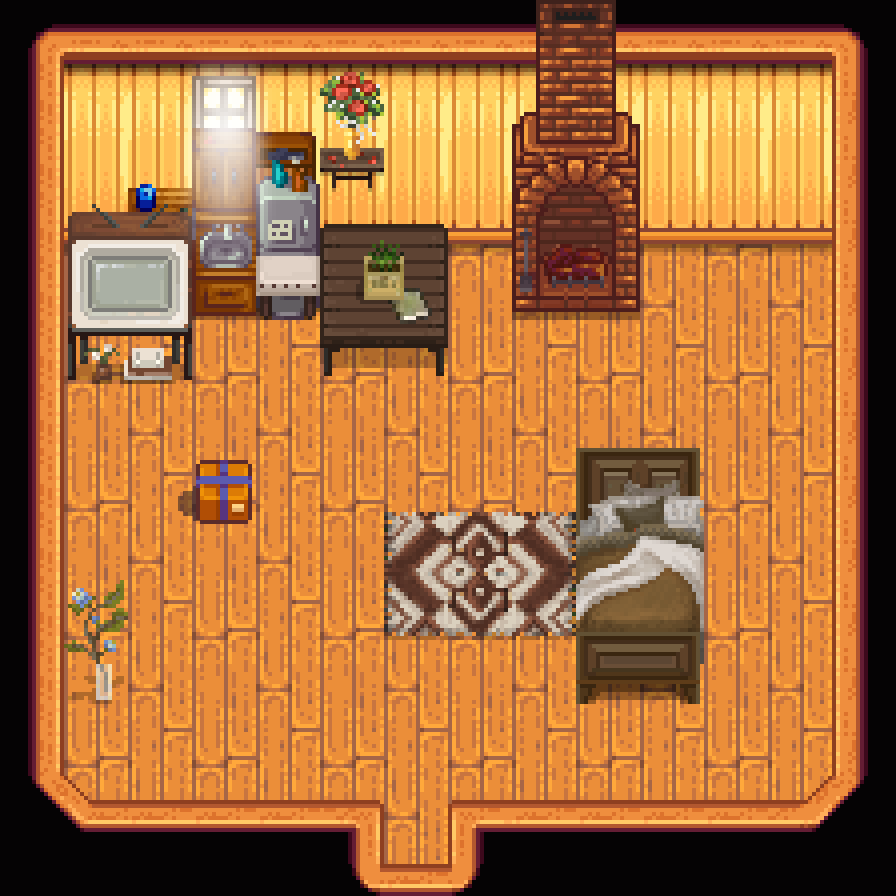 This Bigger Farmhouse mod requires Content Patcher and SMAPI – Stardew Modding API to work and it will present you with a bigger starter farmhouse which also includes a kitchenette.
The vanilla house upgrade will give you sufficient space to add more items, move things around, and make your farmhouse in the game cozy and comfortable.
13. Slightly Bigger Island House
Once you unlock Island West in the game, you can gain access to the Island Farmhouse on Ginger Island. Repairing this house will allow you to spend the night on Ginger Island, cook without the Cookout Kit, and even ship goods.
If you feel like your Island Farmhouse could be better by being slightly bigger then this mod is perfect for you!
The Slightly Bigger Island House will make your Island Farmhouse 1 tile lower and 1 tile wider to help you fit your mahogany table and flat screen evenly in the dining room and living room.
12. Upgrade the Sandy's house
Sandy operates the Oasis and lives out in the Desert. However, the vanilla game only shows her shop and there's no room for Sandy to relax or even sleep.
What this mod does is that it digs a basement for Sandy to live in and create her bedroom in while also adding the Yoba altar for sale.
11. Upgrade the wizard's house
The Wizard lives in the Wizard's Tower located at the western edge of the Cindersap Forrest. While the Wizard's Tower looks quite spacious from the outside, the interior doesn't correspond with the realities of the outside world.
If you agree, this mod will be a perfect fit for you as it upgrades the Wizard's Tower to add a kitchen and a bedroom to it. Moreover, the interior will also look spacious and light with this mod in your game.
10. Bigger Greenhouse For Iridium Sprinklers Content Patcher Unofficial
The Greenhouse, used for growing crops, is a building on the farm which can be moved to the Carpenter's Shop after repair. The vanilla Greenhouse is 7 by 6 in dimensions, which might seem small to some.
The Bigger Greenhouse for Iridium Sprinklers, which made it to #3 on our list, is a mod that remakes the Greenhouse while taking the iridium sprinklers into consideration and this mod is the Content Patcher version of the former.
The mod includes a config.json to give users the option to switch between big and bigger and the mod compatibility has been tested with Generic Mod Config Menu.
Before installing this mod, make sure your current crops in the vanilla Greenhouse are harvested and picked up.
9. Slightly Bigger Greenhouse
For those of you who want to slightly modify your Greenhouse instead of making it too big to be true, the Slightly Bigger Greenhouse is a good pick.
This mod includes a bigger farm area suitable to fit 12 iridium sprinklers and 8 single spots, once for each fruit tree.
8. Slightly Bigger Greenhouse (15 x 10)
The Slightly Bigger Greenhouse (15 x 10) mod does exactly as its name suggests; makes the Greenhouse 15 by 10. This simple mod is for those of you who wish their Greenhouse was slightly bigger but still balanced with the rest of the game.
There's an optional version of this mod that excludes the dedicated tree spots included in the original mod.
According to the installation instructions of this mod, you will be required to clear out the two leftmost rows of your Greenhouse because while this mod doesn't destroy anything in the Greenhouse, the dirt area has been shifted to the right by 2 tiles.
7. Bigger Farmhouse Map
The Bigger Farmhouse Map will make your house in Stardew Valley bigger, give it a square layout, and add an indoor Greenhouse area.
It is pertinent to note that you will be able to plant crops, however, you will need additional mods in case you want to plant fruit trees.
Moreover, this mod can be installed mid-save, works in multiplayer if everyone playing has the mod installed, and doesn't change the cellar. However, this mod is not mobile phone compatible.
6. bigger greenhouse
The Bigger Greenhouse mod, as its name suggests, is a resize of the vanilla Greenhouse. Before replacing this mod you will be required to make a backup of the file and to install, simply add the greenhouse.xnb in the maps folder.
5. A little Bigger Original Greenhouse
A Little Bigger Original Greenhouse mod will make an addition to your vanilla Greenhouse to make it a little bigger than before.
The mod will add 6 spaces for fruit trees, 6 spots for quality sprinklers, and 6 spots for iridium sprinklers. In addition to this, there will also be one more water source in your Greenhouse without changes to any warp point.
There's also a Content Patcher version as well as a cleaned version that excludes decor and plants.
4. Big 2nd house expansion
If you don't like the size of the final farmhouse and think that it's impossible to decorate due to its limited size, you can download the Big 2nd House Expansion mod to make it bigger.
This mod will add an attic, a bathroom, and a whopping 5 new extra rooms to your second upgrade house.
3. Bigger Greenhouse For Iridium Sprinklers
The Bigger Greenhouse for Iridium Sprinklers mod is a remake of the Bigger Greenhouse mod, which is #6 on this list of Stardew Valley bigger house mods.
The mod takes the iridium sprinklers into consideration and allows for customized placement of them while housing 2 water troughs.
However, you must remember that you will be required to replant your crops inside the greenhouse after installing this mod. Therefore, before you install this mod, harvest all the plants that you can and use a seed maker to replace the plants you will lose in the case of ancient fruit.
To avoid warping issues, the modder has introduced a small foyer, which will proceed to the main area.
2. Ace's Expanded Houses (Content Patcher)
While a simple mod, the Ace's Expanded Houses mod makes each version of the house in Stardew Valley have a basement and an attic, which grow larger as your house expands.
So, if you're tired of your home not being big enough and not having space for all the things you want to display in it, such as a fridge, wallpaper, gifts, and portraits, this mod will be a great addition to your collection of mods.
You can also go to the Assets folder of the [CP] Ace's House mod folder and edit the farmhouse_tiles.png if you want to change your crib, kitchen, or bed.
1. Bathroom after 2nd Houseupgrade
You can build a second house in Stardew Valley by choosing up to 3 cabins at the start of a new co-op game in a separate or nearby layout. You can add up to 3 cabins in total to your new or saved game by visiting the Carpenter's Shop and selecting "Construct farm building" from the menu.
Once you upgrade your house to level 2 in the game, this Stardew Valley bigger house mod will add a bathroom to it, which will allow you to bathe in a pool and recover your stamina. The rest of the things in the bathroom, however, are all there for cosmetic purposes only.
If you already have a mod that changes the level 2 Farmhouse, you will need to uninstall it first for this mod to work. Moreover, your interaction with the mirror will have the same dialog as your interaction with the shrine of illusions.
Did you recently start playing Stardew Valley and are now curious to find out why there's a stone path behind your house? Read our guide on this paved path now!
Concluding Thoughts
There are so many interesting and creative mods for Stardew Valley that narrowing it down to 14 was a challenging task. The dedicated and passionate modding community has shared a plethora of the best Stardew Valley mods to help you breathe new life into your gaming obsession.
This list sums up the best bigger house mods for Stardew Valley on Nexus Mods, that are garnering a lot of attention from fans, players, and gamers looking to expand their vanilla homes in the game. We hope you've found one that suits your specific requirements and needs.