Do you like being surprised by monsters in the Mines? We're not talking about parties; this is about how Duggies suddenly charge their attacks. In this guide, you'll learn about these monsters' behavior, strategy, and more!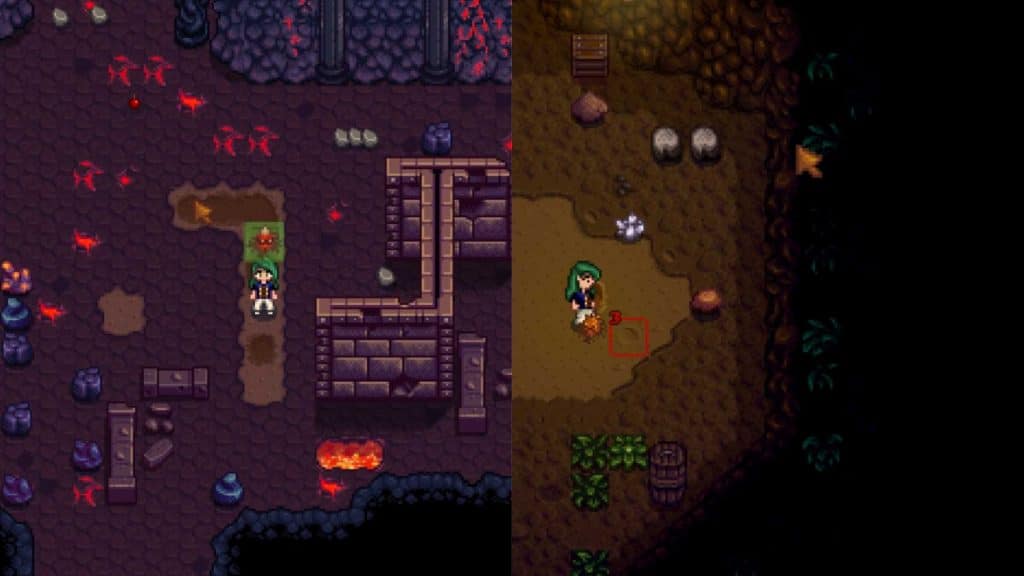 Monsters in Stardew Valley embody various skills; some may fly, jump, or even attack you as they pop from underground. If you're wondering what kind of mob comes from underground, they're Duggies!
It's pretty apparent why they're called that way. Read further to learn more about these mobs who've mastered the element of surprise!
What are Duggies in Stardew Valley?
They're mobs found in different areas depending on the variation you're going after. They come in three types: regular, dangerous, and magma Duggies. They're bug-like creatures that suddenly pop out from the ground. After casting their attacks, they eventually retreat to the hole they made.
Moreover, note that these holes can't be removed using a hoe. While killing 30 of them (any variation) helps complete Adventurer's Guild Monster Eradication Goal and gives you a hard hat as a reward.
Nonetheless, encountering them requires some precaution. Here are the stats of these mobs in Stardew Valley:
| | | | |
| --- | --- | --- | --- |
| Stats | Duggy | Dangerous | Magma |
| Base HP | 40 | 280 | 380 |
| Base Damage | 6 | 8 | 16 |
| Base Defense | 0 | 0 | 0 |
| Speed | 2 | 2 | 2 |
| XP | 10 | 10 | 18 |
Where Can You Farm Duggies in Stardew Valley?
Interestingly, you won't find them simultaneously. You'll encounter a basic Duggy on floors six to 29 of the Mines. While its dangerous counterpart only appears once you activate the Shrine of Challenge or once you're dealing with Danger in the Deep Quest. You'll battle with them in the same area's first to the 29th level.
Magma Duggies, on the other hand, are found in the Volcano Dungeon. There's no specific floor on where you'll encounter them, so better prepare your weapons when going here!

Despite the varying stats and appearances, they all have the same behavior. They can sense you two tiles away and attack you at the same speed. You can use the same strategy in defeating them too. 
When fighting them, you simply need to move continuously before they can charge at you. When they attack you, better move to their hole and wait for them to retreat. You may also block their damage by swinging your sword.
What Can you get from Duggies?
You can't just fight these bullies and get nothing from them. So, here's a list of valuable items they might drop once you defeat them:
| | | | |
| --- | --- | --- | --- |
| Regular/Dangerous Duggy | Percentage | Magma Duggy | Percentage |
| Cherry Bomb | 25% | Cinder Shard | 15% to 40% |
| Chewing Stick | 2% | Mega Bomb | 50% |
| Diamond | 1% | Tuber Taro | 50% |
| Dwarf Scroll I | 0.5% | Once Reached the Bottom of the Mines | |
| Dwarf Scroll IV | 0.1% | Prismatic Shard | 0.05% |
| Earth Crystal | 10% | Diamond | 0.05% |
| Yam | 3% | | |
| Geeod | 25% | | |
| Once Reached the Bottom of the Mines | | | |
| Diamond | 0.05% | | |
| Prismatic Shard | 0.05% | | |