Are you tired of waiting for your crops to mature? You can boost their growth process with fertilizers like Deluxe Speed-Gro. Here's a guide that'll tell you everything you need to know about it!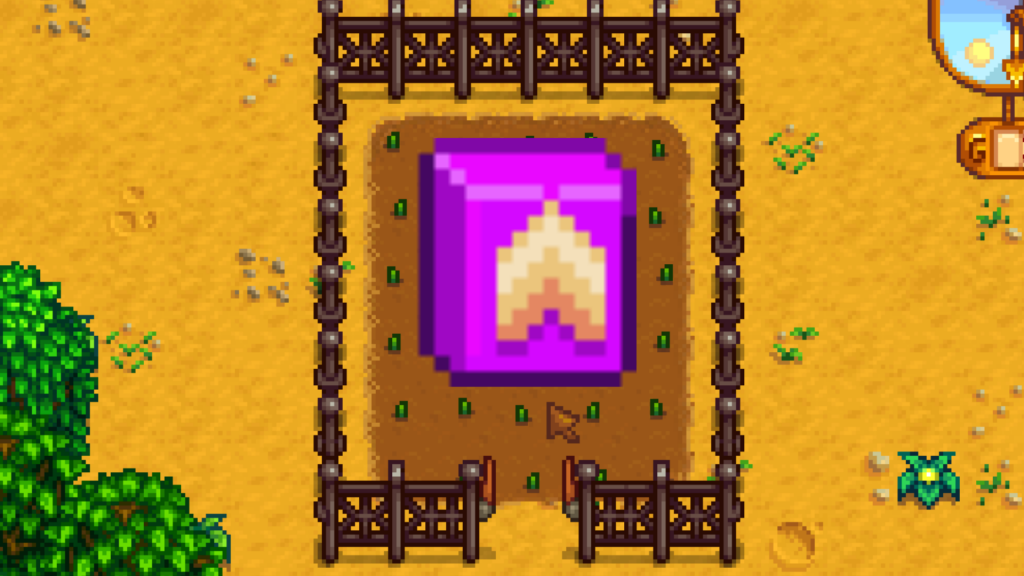 Being a farmer in Stardew Valley is a fun experience, but waiting for your plants to mature will bore you. For instance, growing crops like Blueberry, Corn, and Melon takes ten to 13 days. And if you're impatient, you'll want to hasten the process, won't you?
In this guide, you'll learn everything you need to know about the Deluxe Speed-Gro to boost your crops' growth!
What's A Deluxe Speed-Gro?
A Deluxe Speed-Gro is a fertilizer that allows your crops to grow at least 25% faster. It's also versatile since you choose between adding it before or after planting seeds on tilled soil.
You can also increase your yields' 25% growth speed to 35% by getting the Agriculturist Profession.
Additionally, you can apply it to all types of crops. But it can't accelerate the harvesting time of multi-harvest crops in Stardew Valley.
Where To Get It?
You'll find this item at Pierre's General Store in the second year of his Year-Round Stock for 150g. But if you've opened The Desert, you can purchase it in the Oasis from Sandy for 80g every Thursday.
It's also possible to receive ten of them as a Feast of the Winter Star gift– a festival every 25th of Winter.
However, there's a cheaper way to get them. You can use a Bone Mill and wait for it to randomly spawn three or six of them. Or, why don't you use your crafting skills to make five of them in one go?
How To Craft It?
Crafting it only requires two things: an Oak Resin and a Coral. Note that you'll get this recipe once you reach Farming Level 8.
You'll get an Oak Resin from tapping oak trees. It'll take about seven to eight days to get the ingredient. While you can forage corals in the Tide Pool area of the Beach.
Crafting vS. Buying
If you're saving up your gold for a house upgrade or other things, you'd want to make them using your skills.
However, suppose that you can't get an Oak Resin and Coral by crafting and foraging. But creating this fertilizer helps you save at least 133g to 483g. Since buying five of these from Pierre's and Oasis' will cost you 750g and 400g.
If you purchase them based on their sell price; here's a breakdown of their fees:
| | | |
| --- | --- | --- |
| Corals Quality | Prices | Oak Resin without Tapper Profession |
| Normal | 80g | 150g |
| Silver | 100g | Oak Resin with Tapper Profession (adds 25% to sell price) |
| Gold | 120g | 187g |
| Iridium | 160g | |
If you use a Coral Quality and Oak Resin with a Tapper Profession in making a Deluxe Speed-Gro, here are the estimated prices for each grade:
| | | | |
| --- | --- | --- | --- |
| Without Profession but with Coral Quality | Price | With a Tapper Profession and Coral Quality | Price |
| Normal | 230g | Normal | 267g |
| Silver Star | 250g | Silver Star | 287g |
| Gold Star | 270g | Gold Star | 307g |
| Iridium Star | 310g | Iridium Star | 347g |
Gifting
A Deluxe Speed-Gro isn't an excellent gifting idea since everyone dislikes it.
Tailoring
Making orange dyes for your pots is possible with it. But you can also make clothes like a High-Waisted Dyeable Shirt.
Bundles and Quests
It doesn't help complete any quest or bundle in Stardew Valley.