Did you know that you can make a Chocolate Cake in Stardew Valley with just a few ingredients? It's effortless to cook, giving a generous amount of healing effect! Here's a guide that'll help you prepare this dessert.
Gaining access to coops and mills brings you new ingredients useful in making different dishes. With just a few products from them, you'll get to create a Chocolate Cake. This dessert won't just regenerate your health and energy but also lets you earn gold in Stardew Valley.
You'll learn everything you need to cook this simple yet profitable dish in this guide!
What is A Chocolate Cake?
It's a cooked dish made in your upgraded farmhouse's kitchen or cookout kit. There are different methods to obtain it, including:
2,500 Bundle in the Vault. You'll receive it as a reward for completing the bundle.
Stardrop Saloon. They sell it for 400g on their rotating stock.
Krobus' Shop. You'll randomly find this treat every Saturday with a price ranging from 50 to 500g.
The Mail. Evelyn may send it to you once you make friends with her.
Moreover, consuming it gives you a decent healing effect. While adding Qi Seasoning increases them by 80%. Here's a quick comparison of this cake with and without the seasoning:
| | | |
| --- | --- | --- |
| Healing Effect | Without Seasoning | With Seasoning |
| Energy | +150 | +270 |
| Health | +67 | +121 |
Cooking
Making this dish only requires a Wheat Flour, Sugar, and Egg. However, you'll only get its recipe by watching the Queen of Sauce on your television during Winter 14, Year 1.
Selling
Having too many of them won't be a waste since you can sell them for 200. And if it contains the seasoning, its price increases by 50%, turning its cost to 300g.
Tailoring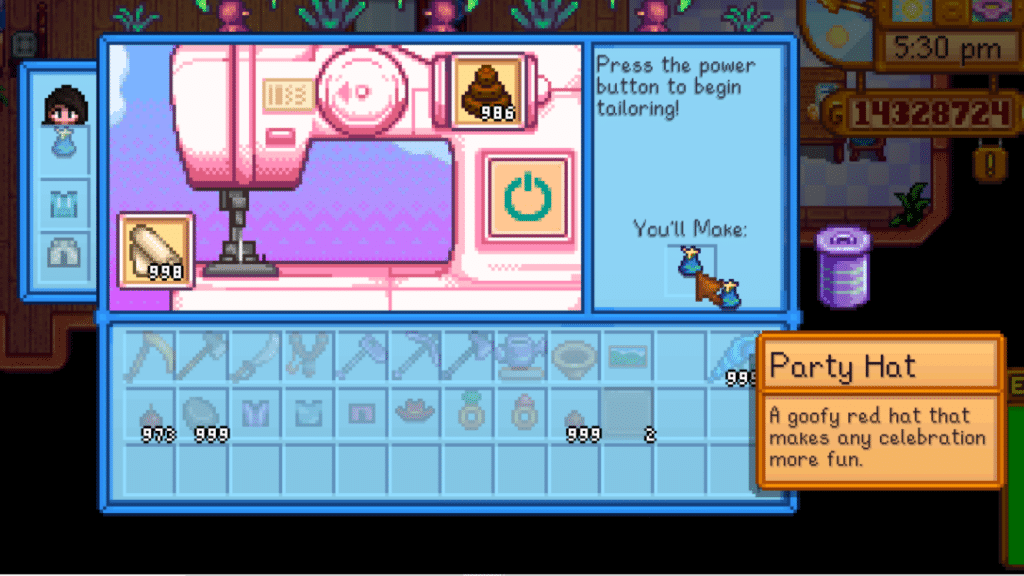 You can make a blue party hat with it and some orange dyes for your pots.
Gifting
It makes the best gift for Abigail, Evelyn, and Jodi. Other NPCs also appreciate receiving it, except for Leo, Krobus, Willy, and Harvey.
Quests
This dessert helps complete Haley's Cake-Walk on her 14th Heart Event.
Bundles
Not used in any bundles.