Have you already encountered the Stardew Valley poppy seeds? Do you know how to get this seed and what to do with it in the game? If you would like to learn more about this useful item, then continue reading the guide below to learn more about the Stardew Valley game!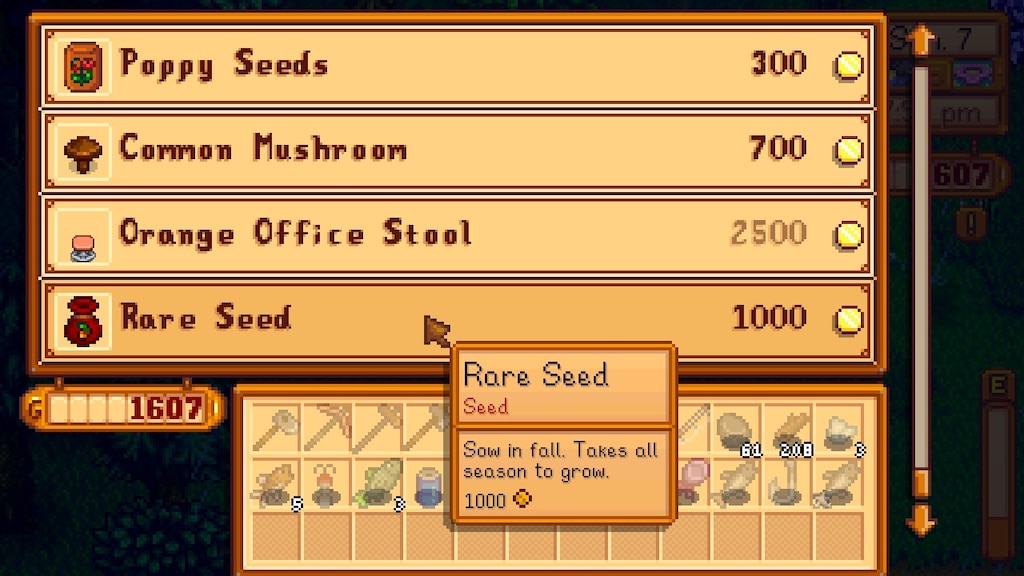 What are the stardew Valley Poppy seeds?
Let's take a look at the basics that every player needs to know!
First of all, this is a special type of seed in Stardew Valley that will allow you to grow beautiful poppy flowers! The description of this particular item is "Plant in summer. Produces a bright red flower in 7 days.", which does give a lot of useful information:
The poppy seeds have the growth time of 7 days
This item's season is Summer in Stardew Valley
And you will get beautiful flowers that look like this:
Nice, right? It can add a lot of charm to your farm, so definitely keep this particular flower in mind the next time you are looking for something cute to plant in the front yard.
How to buy poppy seeds in stardew?
Now that we have covered the basics, let's focus on where and how you can actually get your hands on this item.
As with most plants, seeds, crops, and other items, you can get it from the Pierre's General Store. It will cost you 100 gold coins, but. it will be beneficial in the long run, so don't doubt yourself too much on this purchase!
If you would like to get some more options, then you can go to JojaMart and get the seeds for 125 gold coins or you can also find it sometimes from the Traveling Cart. Just keep in mind that the last place might put the price anywhere between 150 and 1000 gold coins! In all fairness, the general store has the best deal.
You can also get the Stardew poppy seeds from the shop boat when visiting the Night Market! Just in case you forgot, it's on the Winter 16, and all players should definitely visit it at least once!
How to use the stardew poppy seeds
So, once you get the seeds and grow it successfully, what can you do with it in the game?
Actually, there are quite a lot of things to choose from. However, it also depends on whether you are planning to use the seeds or the poppy plants itself. Let's take a look at your options.
poppy seeds
If you stick with the Stardew Valley poppy seeds, keep in mind that you should not gift it to anyone! All NPCs will dislike this gift.
However, you will need the seeds for the Tub o' Flowers recipe in the game. Other than the poppies, grab some wood, a tulip bulb, jazz seeds, and spangle seeds and you should be ready to get yourself a beautiful arrangement of flowers! You can get the recipe for this from Pierre during the Flower Dance.
Poppy
Once you turn the seeds into a beautiful flower, you will get new options!
First of all, Penny will love this as a gift! Keep this in your collection until her birthday and impress this NPC.
Poppies are also needed for the Chef's Bundle and can be used to create the pleated skirt if you use the sewing machine. Fun fact, it can also be used as orange dye at the dye pots.
If you are in the mood for a good recipe, then it is time to bake some poppyseed muffins! You will need some poppies, flour, and sugar to make it, and you will receive 150 energy points and 67 health points if you eat it. Of course, you can also just sell it for 250 gold coins.
As you can see, there are more things to do with the flower, so it might be more useful to plant the seeds in the game.
Do you have any more questions about finding Stardew Valley poppy seeds and making the best out of them? If you ever forget anything about this particular seed, then just come back to this guide for information!