Did you know that befriending NPCs comes with several perks? Although, simple conversations already help you earn a few points. But if you want a more effective and faster way to obtain Stardew Valley Friendship Hearts with these villagers, here are the ranked methods you can do!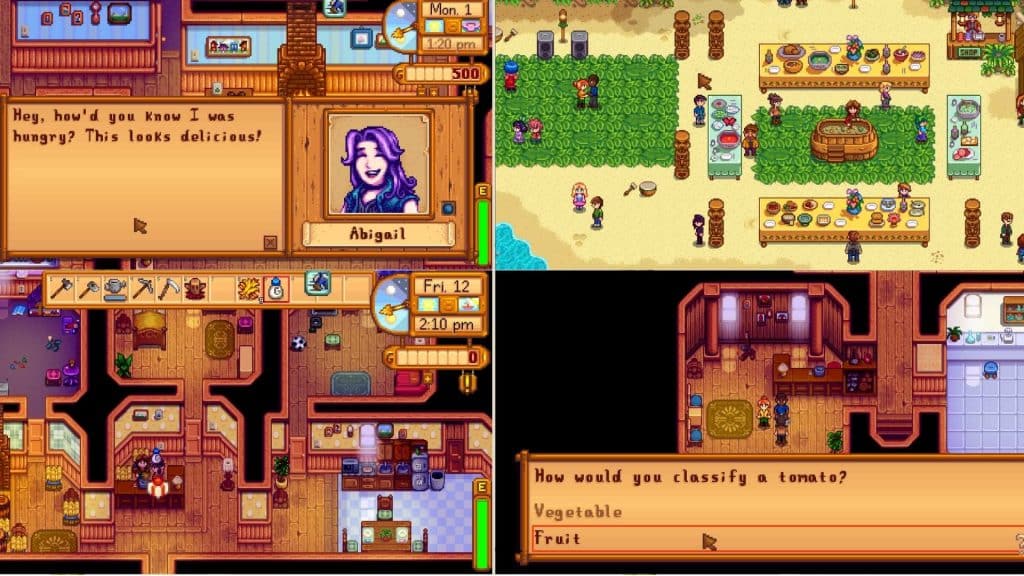 The most challenging part for most players would be boosting their relationship with villagers in Stardew Valley. Remarkably, each character has a unique preference; some of them can come as "high-maintenance." But you may like them for their personalities and the gifts they offer.
How can you get to know them better? Deepening your relationship with them simply requires earning Friendship Hearts with them. To learn more about it, here's a guide to walk you through the importance of these hearts and the best ways to obtain them.
What are Stardew Valley Friendship Hearts?
These Stardew Valley Friendship Hearts show how deep your relationship is with a villager. Earning them also unlocks Heart Events, helping you learn more about them. You'll find it by clicking the letter E on your keyboard and hovering over the heart symbol on the newly opened tab.
Moreover, you commonly have ten Friendship Hearts with each villager. But if you choose to marry a marriageable candidate or get a roommate, this ten heart meter turns 14. Each of them equates to 250 Friendship Points; you may determine how deep your bond with them is with the indicators below:
| | |
| --- | --- |
| Color and Shape | No. of Hearts |
| Blue Circle | 0 to 1 |
| Green Circle | 2 to 3 |
| Yellow Circle | 4 to 5 |
| Red Circle | 6 to 7 |
| Purple Circle | 8 to 9 |
| Purple Star | 10 to 14 |
Best Ways to Get Stardew Valley Friendship Hearts
1. Giving Gifts.
You may offer them gifts and receive a decent amount of points if they like or love them. However, ensure you know the items they adore since offering something they hate deducts points from your current status.

Moreover, there are universally liked, hated, loved, and disliked items by villagers. Some items are considered neutral gifts but offering them still gives you a few points. Nonetheless, NPCs' commonly appreciated and hated things may have some exemptions based on the character's interest.
You may learn about their preferences through the Secret Notes and some dialogues from their friends and family. We consider it the best and easiest way to establish a good bond with villagers in Stardew Valley since it offers higher points. You may also click here to check out the best gifts for them.
Gifting Points
The points you get may vary on the villager's preference. Some events also affect these scores. Hence, it's best to gather your target NPCs' loved gifts and offer them during the events below.
| | | | |
| --- | --- | --- | --- |
| Gift Taste | Normal | Winter Star (×5) | Birthday (×8) |
| Love | +80 | +400 | +640 |
| Like | +45 | +225 | +360 |
| Neutral | +20 | +100 | +160 |
| Dislike | -20 | -100 | -160 |
| Hate | -40 | -200 | -320 |
If a gift is liked or loved, the points gained will be further affected by the quality of the item: These are the scores you'll get by offering good quality items:
| | | |
| --- | --- | --- |
| Quality | Multiplier | Effect |
| Normal | ×1 | +0% |
| Silver | ×1.1 | +10% |
| Gold | ×1.25 | +25% |
| Iridium | ×1.5 | +50% |
2. Talking to Villagers.
Conversing with them daily also gives you a few points wherein you'd typically get 20 when you make a conversation with them. However, you'll only receive 10 points if they're in the middle of unique animations like exercising and spending time on their camera.
Nonetheless, it's also a preferred way to boost your friendship with NPCs since it only takes a few seconds. You can use it as well to learn more about their personalities and perspectives.
3. Participating in Heart Events.
Each villager in Stardew Valley has a unique event wherein there's a special interaction between you two. You can answer their questions and offer them suggestions. However, this is not a free-will type of conversation. You'll find some options to respond to their queries.
It's a good way to establish your relationship with them since you get to know each better. However, be wary of your responses because if they get offended, points automatically get deducted. This kind of every doesn't have a specific scoring system, and it varies on the event and villager you're interacting with.
4. Interacting with them in Festivals
Making conversations with non-marriageable villagers during festivals doesn't really differ much from our second suggestion. However, this doesn't apply to bachelors and bachelorettes. If you ask any of them to dance with you at the Flower Dance Festival, you'll automatically get 250 points.
While in the event of the Feast of the Winter Star, you'll get x5 Friendship Points once you offer your gift to your secret friend. Occasions like Luau may negatively or positively affect your relationship with villagers since the ingredients you add to your soup should be good quality and well-liked or loved.
Nonetheless, here are some reactions you may get and the points they correspond to:
| | |
| --- | --- |
| Response | Friendship Points |
| Missing Something | No Effect |
| Neutral | No Effect |
| Best | 120 |
| Good | 60 |
| Bad | -50 |
| Worst | -100 |
5. Completing Quests
This fifth recommended method can come across as a tedious task. You're required to grind for goods and spend ample time finding some items. Moreover, quests that offer friendship points fall into two categories: (1) Help Wanted Board and (2) Story Quests in Stardew Valley.
Help Wanted Board
It's a bulletin board found outside Pierre's General Store, and clicking it shows some requests by random characters in-game. It's an entertaining method to gain more friendship points and discover more about the game's environment alongside some loots.
Moreover, you have two days to complete the assignment. It can be pressuring since some items are sometimes difficult to find, but if you ever fail to complete them, you won't get penalized You also have an option of whether you want to accept it or not. Here are some types of tasks you may encounter:
Quest Type
Description
Reward
Item Delivery Quests
Any adult villager (both marriageable and non-marriageable candidates) may request a random item on this board.

They'll only ask for items you have access to. For instance, they won't ask for a crop, foraged items, and fish that are out of season. But they may request a weather-dependent sea creature.

Nonetheless, here are the categories of items they may ask for and their prerequisites:

Gems. Only asked once you reached the end of the Mines.

Metal Bar. Gets requested upon getting the furnace.

Animal Products. Only asked if the livestock is available on your farm.
In return for your service, you'll receive gold that's 3x the base price of the requested item and 150 Friendship Points.
Gathering
Robin may occasionally ask you to gather some Stones or Wood. While Clint may request resources like copper, gold, and iron ores. It may come in quantities of 20 to 40 pieces.

Note: After collecting these items, you can simply place them in a chest and talk to the client to obtain your reward.
Robin's may pay you gold worth 8x the base selling price of the requested item's value and 150 Friendship Points.

While you'll also find some story quests that are directly given to you via mail. Here are some tasks that offer Friendship Hearts (F.H) as a reward when completed:
| | | |
| --- | --- | --- |
| Quest | Client | Reward |
| Robin's Lost Axe | Robin | 250g and 1 Friendship Heart |
| Jodi's Request | Jodi | 350g and 1 Friendship Heart |
| Mayor's "Shorts" | Mayor Lewis | 750g and 1 Friendship Heart |
| Blackberry Basket | Linus | 1 Friendship Heart |
| Marnie's Request | Marnie | 100 Friendship Points |
| Pam is Thirsty | Pam | 350g and 1 F.H |
| A Dark Reagent | Wizard | 1000g and 1 F.H |
| Cow's Delight | Marnie | 500g and 1 F.H |
| Crop Research | Demetrius | 550g and 1 F.H |
| Knee Therapy | George | 200g and 1 F.H |
| Robin's Request | Robin | 500g and 1 F.H |
| Carving Pumpkin | Caroline | 500g and 1 F.H |
| Fresh Fruit | Emily | 600g and 1 F.H |
| Aquatic Research | Demetrius | 1000g and 1 F.H |
| A Soldier's Star | Kent | 500g and 1 F.H |
| Mayor's Need | Mayor Lewis | 750g and 1 F.H |
| Wanted: Lobster | Gus | 500g and 1 F.H |
| Pam Needs Juice | Pam | 400g and 1 F.H |
| Catch a Squid | Willy | 800g and 1 F.H |
| Fish Stew | Gus | 400g and 1 F.H |
| Pierre's Notice | Pierre | 1000g and 1 F.H |
| Clint's Attempt | Clint | Earn a single Friendship Heart with Emily. |
| A Favor for Clint | Clint | 500g and 1 F.H |
| Staff of Power | Wizard | 5000g and 1 F.H |
| Granny's Gift | Evelyn | 500g and 1 F.H |
| Exotic Spirits | Gus | 600g and 1 F.H |
| Catch a Lingcod | Willy | 550g and 1 F.H |
5. Watching a Movie with Them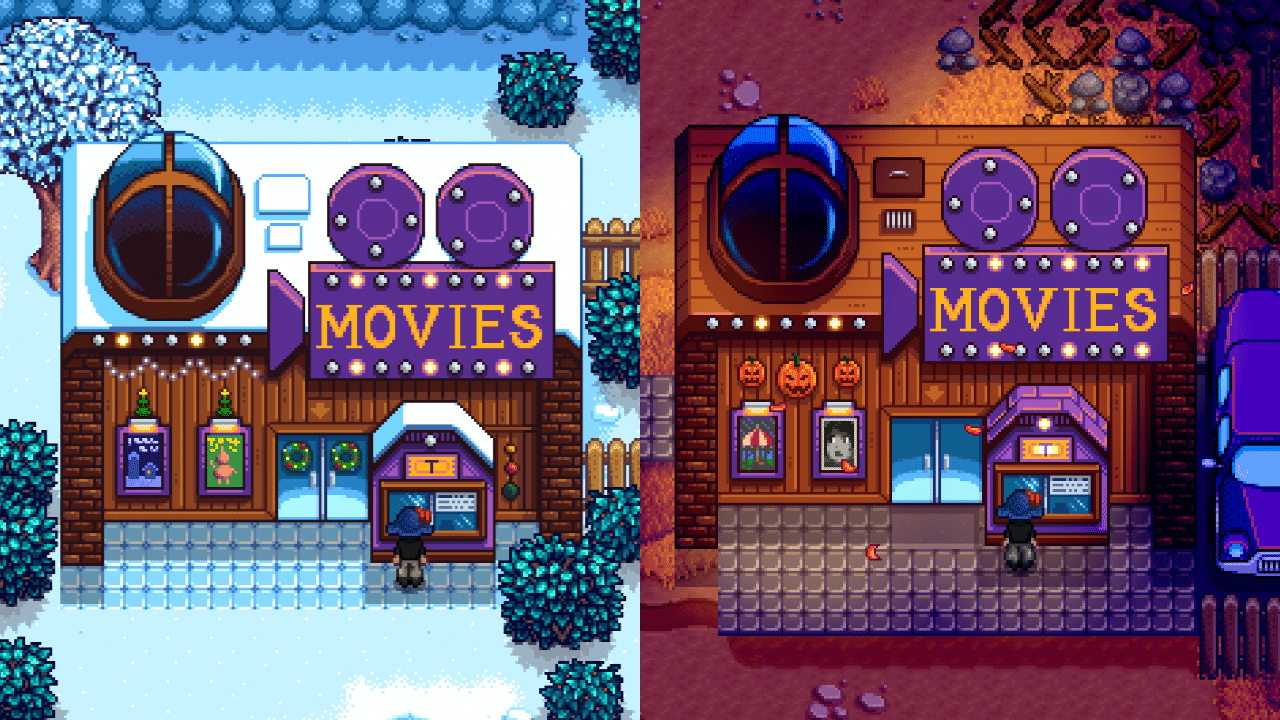 We ranked this method as second to the last since you'd need to restore the Community Center, which also requires completing the Missing Bundle. You can also do this the more accessible yet expensive way, wherein you'd pay Morris 500,000g after accomplishing community upgrades in Stardew Valley.
Whichever method you prefer has its drawbacks. If you choose the first one, you'll encounter tons of tasks, while the latter requires a considerable sum of gold. Note that you'd only receive 200 points if the character you invited loved the movie and 100 points if they only liked it.
Worse, if they didn't appreciate the movie, your 1,000g would go to waste as it didn't improve your relationship. Moreover, this method requires you to pay attention to which show is currently on in every season to invite your desired NPC and boost your bond successfully.
6. Getting Snacks in the Movie Theater.
This one receives the last place since it's only a bonus once you open the theater. These concessions are cheap, yet they only offer a few points to help you. For instance, you'll get 50 points if they loved what you bought, but if they only liked it, it becomes 25.