Are you planning to use flooring for the entire game? You may be worrying about what designs to choose, but we'll help you speed up the process. This list will be subjective but if you want to press forward with my recommendations, there's no problem!
With many attractive designs in Stardew Valley, it's challenging to pick a flooring that stands out. However, this isn't a problem once you find yourself testing all of it in your farmhouse. Unfortunately, it's an ambitious and time-consuming activity – so we'll do the hard work for you.
Designing a building's interior may not be your priority at the start, but it's worth the shot. Out of 56 designs, we'll rate them based on the color and pattern from the least appealing to the best-looking! Note that this is a matter of preference, so feel free to disagree with the list.
What is a Flooring
For beginners, flooring is a piece of single-use furniture for the farmhouse, cabins, and sheds. They cost 100g each from Pierre's, and the design rotates daily. Alternatively, you can buy the Catalogue to browse an entire collection of every flooring with zero charges.
Although JojaMart sells the same types every day, the corporate pockets a 150g difference. If you're a house person who loves interior designing, you now have the fuel to push away the company.
Now With the Rankings
Now with the Rankings
We can't rank a list of items without criteria, so we'll consider the color and pattern of every flooring.
56
The default wooden flooring for Stardew Valley – the least appealing of all designs. But hey, if you're someone who appreciates the farm life or tavern, it's a decent option.
55
This isn't the best one you should use if it's a bedroom. Why does the design give me Spa vibes? Right, but we don't have one on our farm, unfortunately.
54
Brown-colored wood isn't half as bad, but there's a problem: it's not a cowboy game. But good news, you can make a shed for a Wild West theme, and this design is a good bet.
53
Another poorly-made design. Good thing the pattern is neat, but I'd prefer to place it in my backyard.
52
The diagonal lines on this one don't make a difference. It's still the same wood color, but with weird broken lines.
51
Not much to say except they'd be suitable for a Hill-top farm map in your kitchen. It looks minimalist, though, which is my type.
50
It's the same as the previous flooring, but with a lighter color. It might work great for a Beach Farm if someone needs it.
49
If this wooden floor had a better design, Gus would happily use it in his Saloon.
48
I can smell what's inside a barn with this flooring. Still, it works great for some experimenting you might pull off with wallpapers.
47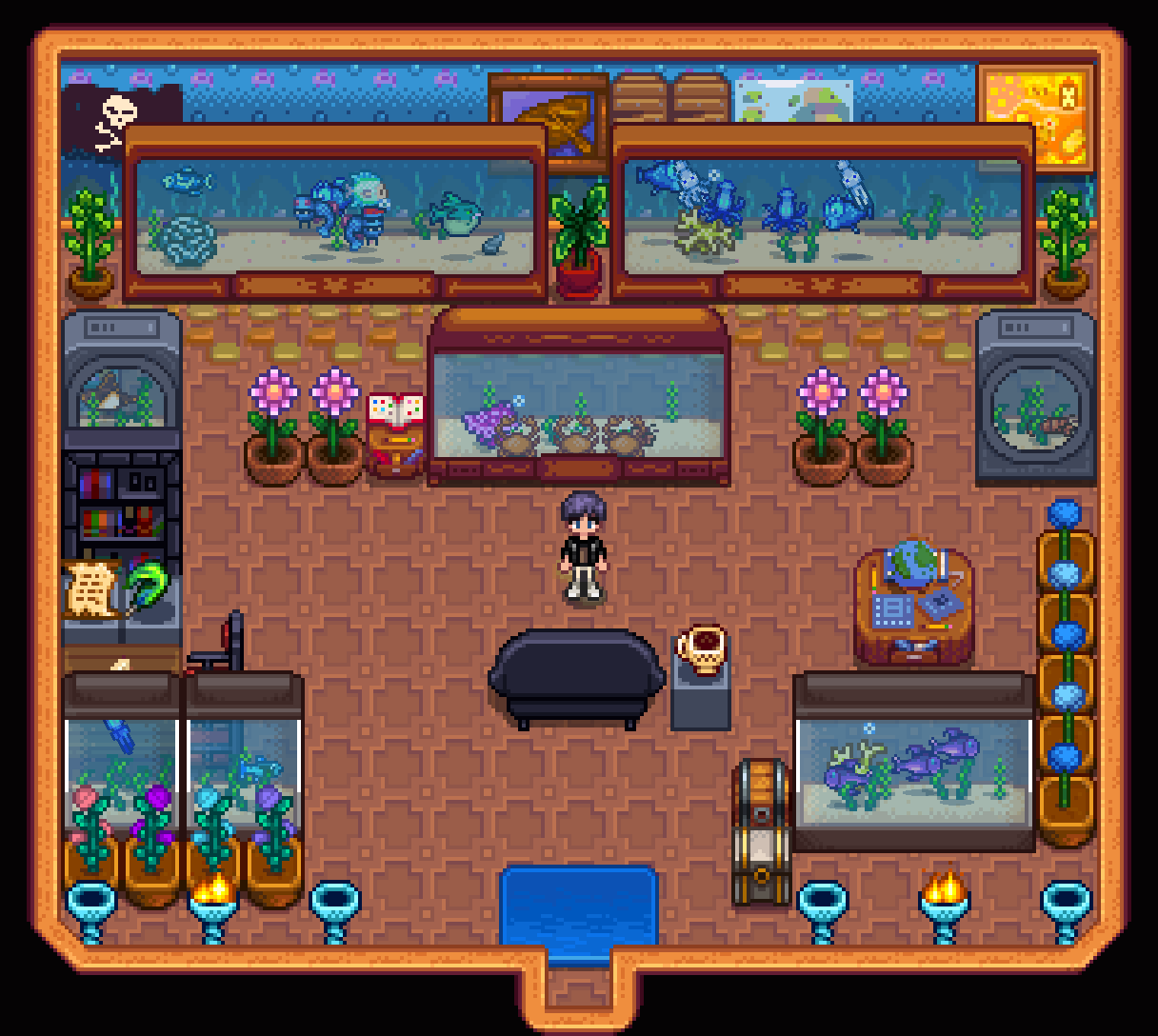 Copper is a dull color to my eyes. Add that blandness with the cross-shaped patterns to get you this mediocre floor.
46
Everyone loves the fields: warm breeze, earthy aroma, animal sounds. But this nature-inspired design has to be 46th on the list because of the color. It's painful to look at it.
45
I'm a fan of bricks and medieval-style blocks. If this theme exists in Stardew Valley one day, this will be in the top five.
44
Although we already have a couple of stone floors, this one's exotic! The unusual pattern reminds me of a reptile's scales. Nature's an exemplary artist.
43
Again, this brick is nice, although it isn't complete without medieval buildings.
42
Same as the previous flooring, but with better color.
41
This flooring might weird you out because it's on the 41st list, but design-wise, it absolutely fits! I hope you can invite our barn friends to live in their new home.
40
Same design but different color? It's a matter of experimenting with the colors, huh, ConcernedApe? I like it.
39
It's one of my favorites because of how exquisite it looks. The pattern is a rare view. However, it's not on the upper tier right unless they add another variety with striping colors.
38
If there's one flooring to boost your endorphin production, this one's perfect! Not to mention the darker color it offers than the previous nature-themed design above.
37
You might be confused why a clone from the 42nd item is here, but that's because the design is appropriate with the color.
36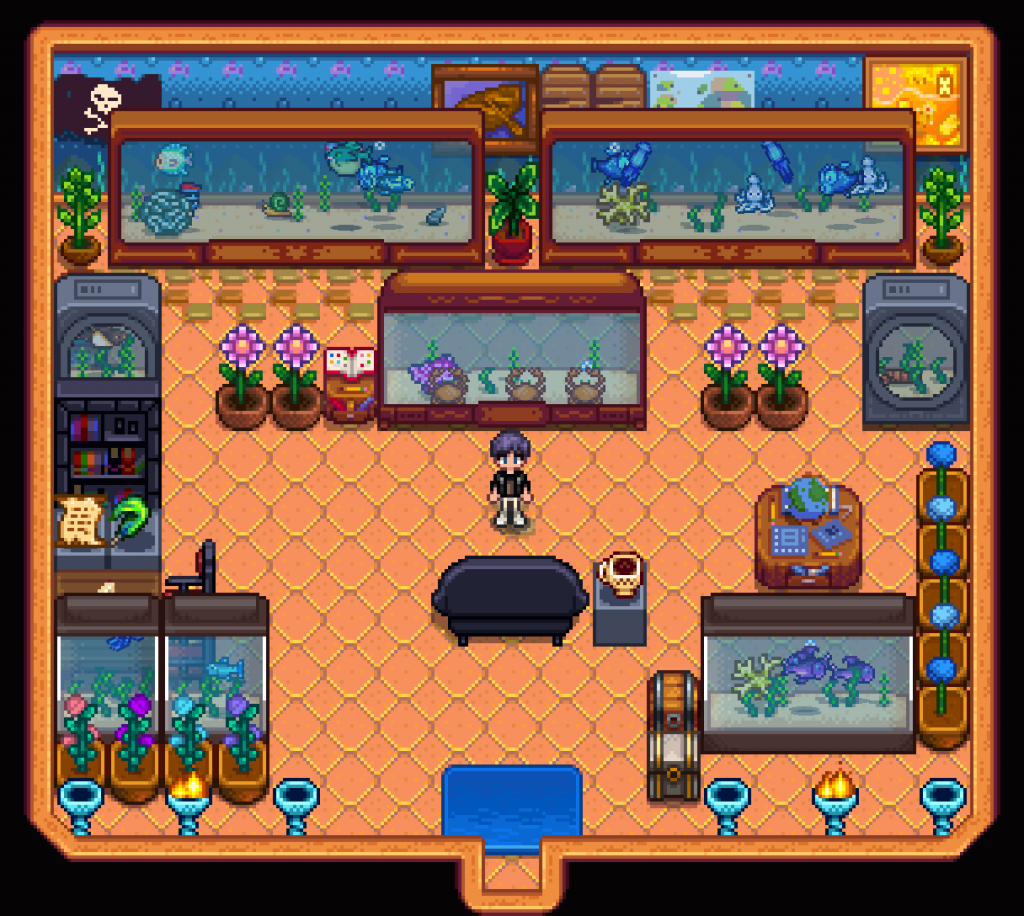 Another scale-like style for a dull floor. It's similar to the one up top, but it's way better with the color.
35
Plus points for the light color – not that painful to look at.
34
Again, with the visuals, it's the same pattern as before, but the color does make a difference.
33
It looks plain at first, but it's more favorable to me than its counterpart.
32
Great for an indoor artificial garden. I would say 8/10 for the overall vibes.
31
The darker green color makes it better than the 32nd on the list. Blends well with the flowers. What a perfect contrast in colors!
30
Not an authentic design, but it's the best color for wooden flooring.
29
Nice orange colors with random dots. Not the best minimalist design, but it's not the worst either.
28
The pattern on this flooring is remarkable because it reminds me of a basket made of dried leaves.
27
This cobblestone flooring would be a great candidate for a hilltop farm layout. It's a better design if not for the odd color.
26
Way better than its previous counterpart props to the darker tone. It's the kind of design I'd use in a backyard if that's possible.
25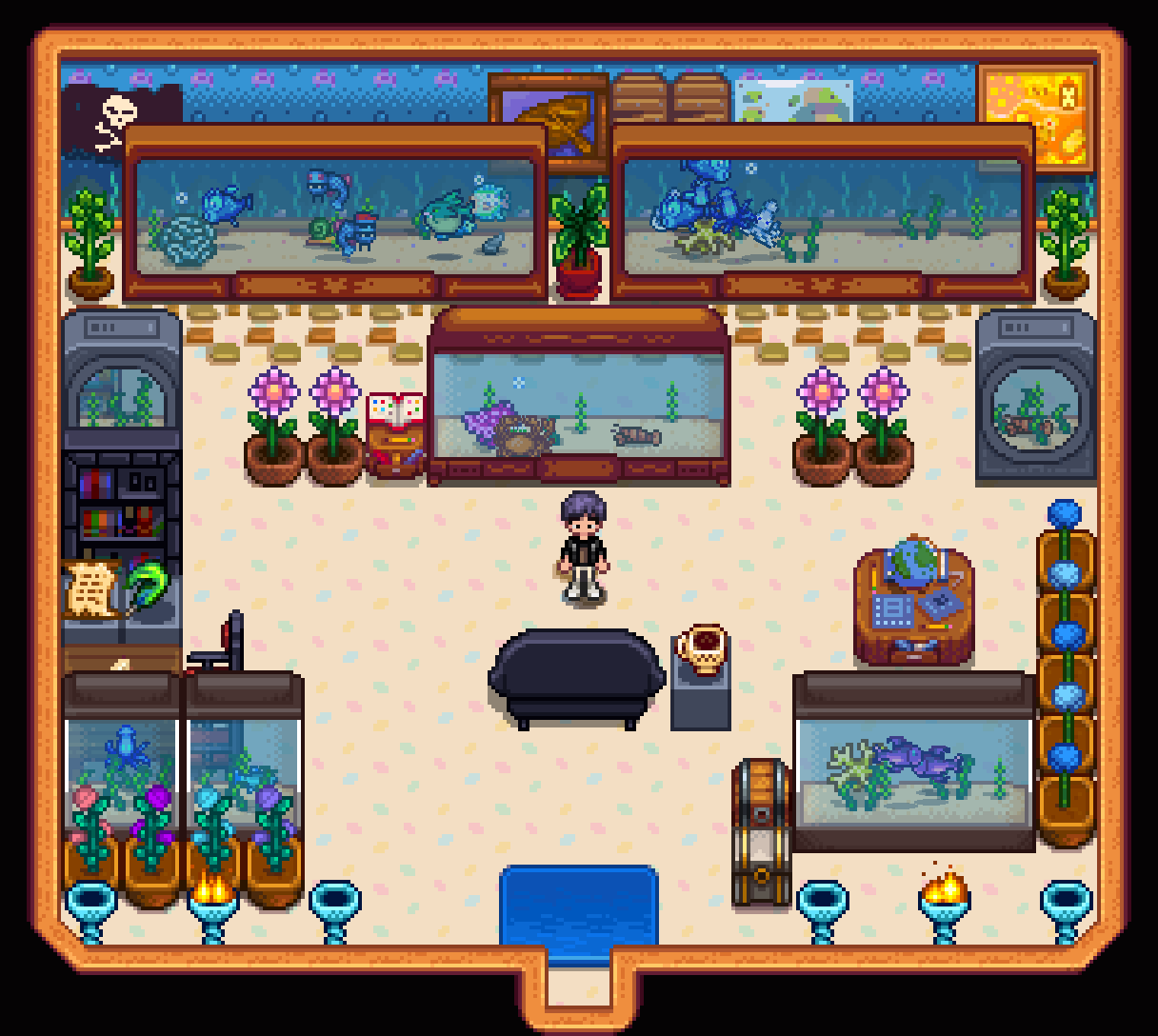 Childish design, bright colors. It's not something Seb, Abigail, and I would agree with, but the kids will like this for sure, so we'll keep it on the 25th!
24
Considering the accuracy of what a brick floor looks like, this is one of my favorites!
23
The flooring reminds me of my country, where we varnish wooden furniture. This one deserves the 23rd spot.
22
I'm not a fan of bright colors with odd designs, but this one's an exception.
21
It's actually a better flooring than the 29th on this list. This perhaps will match my mini aquarium hideout with the right furniture.
20
Pretty odd design, but it's enticing. If you want to get my attention, be like this flooring (just kidding).
19
It would not be the best flooring in a bedroom, but the pattern is fantastic for the kitchen!
18
Is this a hotel simulator game? Nope, it's Stardew Valley but look at the pattern! What a fabulous design idea from ConcernedApe.
17
The gray wood flooring is exotic and feels lifeless. This is a strange preference so take it with a pinch of salt.
16
Although the color is hard to look at, it matches really well with the aquarium setup.
15
You'll know it's a banger if innovation strikes Stardew Valley. The design may give you a bathroom vibe, but the color changes that perception of mine.
14
Pattern: 10/10. Color: I prefer alternating red and green because it's a fit for Christmas-themed flooring.
13
Black will always be at the top list, no matter how odd those dots are.
12
This design is something Maru and I would agree on (even my boy Dem). Look at the shape blending with the dark color. It feels like you're falling down a deadly void.
11
Design-wise, I'm speechless with the random patterns lazily spread through the plain blue color. Don't get me wrong. It's a brilliant idea from ConcernedApe.
10
I think I'm no longer a light-colored theme flooring hater. The simplicity captivates my eyes, and it's the type of design I'll use for my future sheds.
9
The pattern is not original, but the color is just perfect.
8
A similar flooring to the 14th on the list, but the darker tone is what I prefer.
7
The curves (wavy lines) and dark blue color is as relaxing as the entirety of my aquarium set.
6
Impeccable design. You'll run out of words staring at its beauty.
5
Who says a man can't like pink colors? Plus, the hearts remind me of my favorite League of Legends champion.
4
Like the dead and decay theme – the number 4 spot is well-deserved!
3
If Stardew Valley doesn't become a science-fiction game, this design will be at the 56th spot.
2
I have no clue what the pattern says, and I like it. It mildly reflects my personality in the game (overall S-tier rating).
1
Everyone loves dark colors, and it should come as no surprise that this flooring is at my top one – the champion.
Conclusion
Let me remind you again that the list results from pure bias and preference. If this list doesn't sound like you, there are no worries. You can always try each flooring in Stardew Valley once you have the Catalogue.