Looking for the best Stardew Valley Custom NPCs mod? If you are already bored of the vanilla NPCs and are looking for some custom NPCs with the most interesting back stories, immersive dialogues, and entertaining events, read on to find top 15 best custom NPCs mods in Stardew Valley.
Stardew Valley Vanilla NPCs
NPCs in Stardew Valley are quite interesting. They live in the village with you and have separate schedules, which means you can find them in different areas across the default map depending on their schedules.
In total, there are 45 NPCs in the game, some of which are marriageable and others are non-marriageable. Each of them have specific emotions, roles, dialogues, back stories, personalities, gift tastes, and events. However, after a while, you may realize that they aren't as interesting as one would wish them to be.
Thankfully, there are dozens of Stardew Valley NPCs mods that adds all new characters and NPCs to the game. Today, we will share an overview of our top 15 best custom NPCs mods so you can find more companions and friends to share your experience with.
Read on to find your favorite Stardew Valley custom NPCs mod.

Best Stardew Valley Custom NPCs Mod — Top 15 Options to Choose from
15. Custom NPC Mod Seven Deadly Sins
This Custom NPC mod is based on the world-famous anime, Seven Deadly Sins (SDV). The mod adds 9 new NPCs to the game, who are all inspired from the same anime. These include:
Maria
Xiong
Lucas
Pelette
PeiPei
Uriel
Regulia Turner
Young Pelette & Lucas
Each of these NPCs come with their own events. There are more than 40 heart events in this mod for you. What's more, the mod also adds more than 50 new items, including fish, Gourmet Food, and Baking Machines. There are also some really cool new locations, including Hell, Shop, a Mansion, a Church, and a Secret Forest.
So if you are a Seven Deadly Sins fan, you ought to have this mod right now!
14. Delores – Custom NPC
This mod adds Delores, a custom NPC to Stardew Valley. She comes from the ZuZu City daily on her bike. Delores is a fitness enthusiast, a hipster, and a vegan who loves ordering a salad to go at Gus's bar. While she seems very outgoing, she has some really deep secrets inside, just waiting to be explored.
Delores loves working out all year. However, she shuts down during the Autumn. Talk to her to find out why she slows down during that season. You should also ask her why she doesn't like her roommates, in order to develop a bond with her.
She has her own custom dialogue, a spouse room, marriage dialogue, 6 heart events, and a year-round schedule for working out. So go ahead and take that first step with this interesting new character!
13. Custom NPC – OpenFire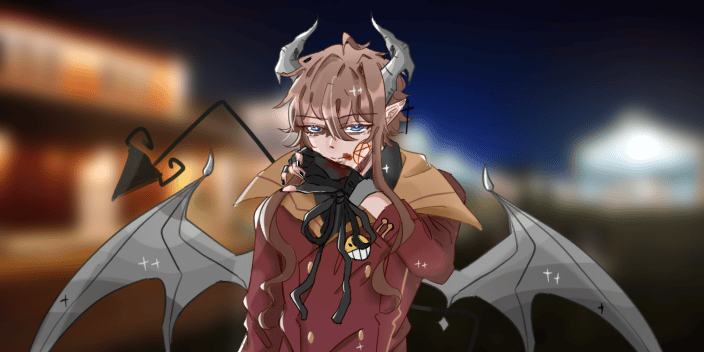 OpenFire is a new custom NPC in Stardew Valley who is actually a demon. He is forced in a contract with you and is bound to save you from danger, in order to break the contract. You can find OpenFire in the Mine. And although you can't interact with him for the first 4 days, you will be able to see him on the 5th day.
He has his own unique events, likes, dialogue, preferences, and much more content. So if you are looking for a dark character to hang out with in the game, OpenFire is the perfect candidate!
12. Abandoned Bride – Custom NPC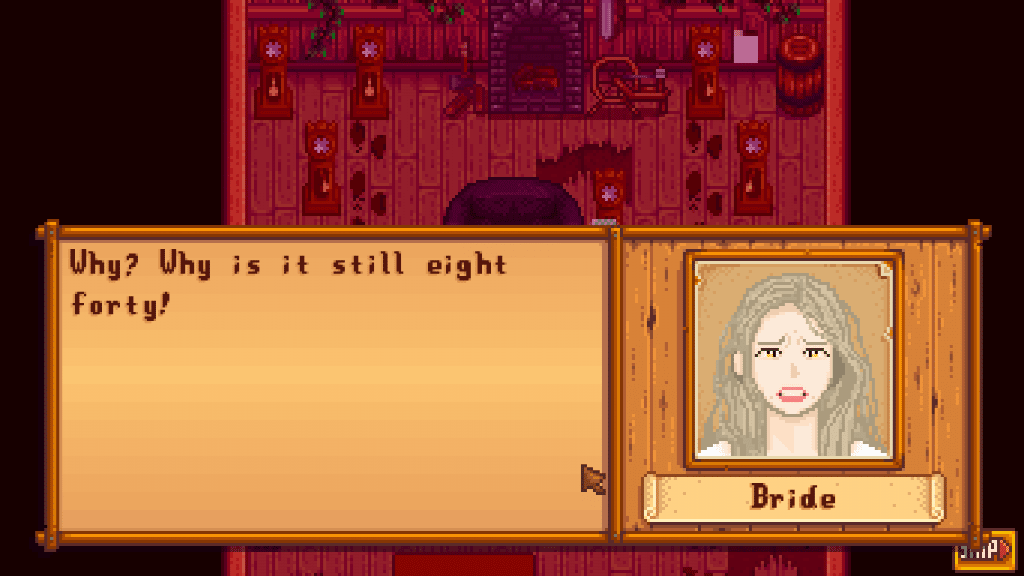 As you can tell from its name, this mod adds an Abandoned Bride to Stardew Valley while bringing some spooky feels to the game. When you download this slightly horror mod, you will hear a woman's scream one day coming from the deep forest. Worried, scared, and mystified, you will be drawn to this woman to discover what's wrong and what this woman's secret is.
Sounds pretty cool, right? The story unfolds when you get to hear her dialogues, which I won't spoil here because you will then guess what the mystery is. So go ahead and talk to the Abandoned Bride to learn her secrets!
11. College Boy Mike – Custom NPC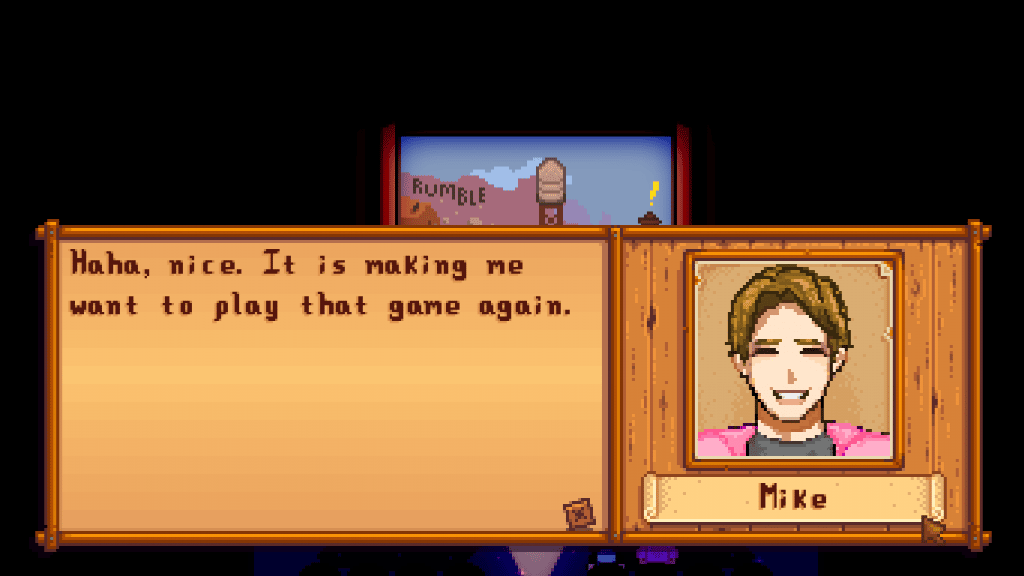 This mod adds a marrigeable custom NPC to Stardew Valley. College boy Mike is a student in ZuZu University who is looking for a good friend that he can talk to. He often thinks about his future and would like a good friend to discuss his future with. Mike is doing his majors in engineering and is actually Gus's nephew.
With Mike, this mod also adds 144 lines of NPC dialogue, 8 events, specific gift preferences, 144 lines, a spouse room, and multiple festivals to the game. It is also compatible with some of the most popular Stardew Valley mods. The mod requires SMAPI and Content Patcher to work. And you will need to talk to Mike for Saved Game Files in order for him to become active the following day.
10. Aspen – New Custom Dateable NPC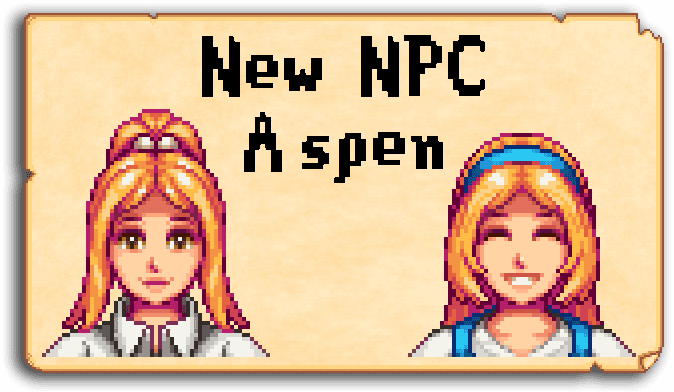 Aspen is a really cute dateable NPC who comes with dynamic dialogues, multiple heart events, a new location, and much more. She lives on her own farm which is located in the west of the railroads. She is kind, talkative, and very outgoing.
Aspen was affected by Joja's accident, which resulted in her staying at the Saloon with Gus as she was unable to get home. So now, her dialogue and schedule will change after the first month.
Aspen has a lot of friends in the town and hangs out with Leah, Marnie, and Linus. She also participates actively in the festivals. You can maintain your friendship with her by answering some questions she may ask you, a day before a festival.
So are you ready to take on the challenge and explore her interesting personality? If so, get your hands on this mod now! It requires SMAPI and Content Patcher to work.

9. June – Custom NPC for Ridgeside Village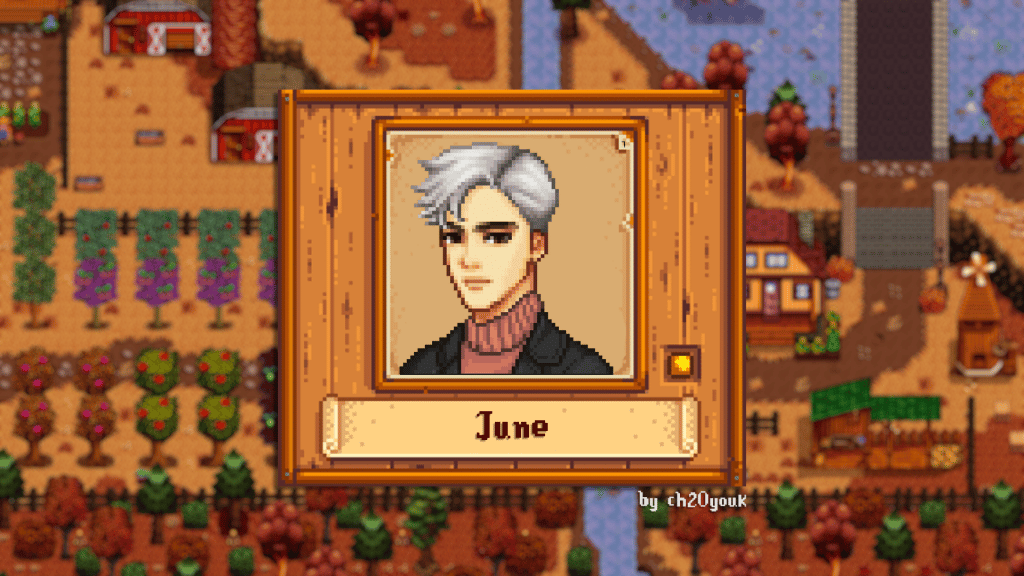 June is yet another custom NPC added by this mod who resides in the Ridgeside Village (a new town added by a mod mentioned below). He is a polite pianist who has started working at the Log Cabin Hotel.
However, he also keeps to himself and is only in the town for fall and winter, which seems a little shady. Will you be able to find out who he really is and why he's visiting for a limited time?
For this mod to work, you will need the Ridgeside Village mod installed. Check out the mod page below for more info about June the Violinist.
8. Lucikiel – New Custom NPC (King's Raid)
Lucikiel is a custom NPC for Stardew Valley who has been summoned to the town by the evil scheme of JojaMart. He is a narcissistic megalomaniac who offers his services to Clint in exchange for a temporary home.
This demon had been sealed away for years by the Guardians of the Valley. Now that he is out, he gets ore for the Blacksmith and takes out all the monsters from the Mines in exchange for a place to live.
He has long been planning his revenge. Will you be able to soften his heart or will he be taken by his own darkness and desire for revenge? Find out!
7. Always Raining in the Valley – Custom NPCs for East Scarp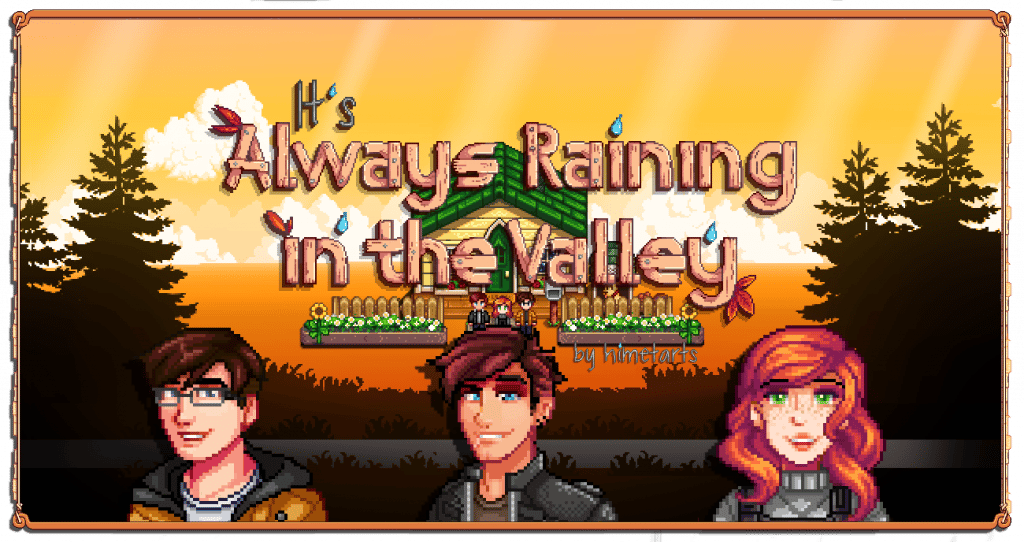 This is a custom NPC expansion mod that adds three new NPCs, 13 new recipes, and more than a thousand lines of custom dialogue to the game. Despite what its name suggests, it does not add any rain to the game.
The three NPCs added by this mod are really interesting and unique. Here's a little more about them:
Sterling: Sterling is a 27-year old man who has come from Zuzu City after a terrible streak. HE is residing with his cousin Henry and is in search of a new start.
Mia: This 26-year old woman comes from Gallus City and is currently working on contract in Grampleton. She is an agronomist with an interest in gardening. She is a beauty with brains.
Henry: He is Sterling's younger cousin who you can find working on a farm in Grampleton. He has moved to Pelican City to live with Mia and Sterling and is a workaholic.
So if you are looking for an NPC asset in Stardew Valley, this one adds not one, two, but THREE brand new NPCs to the game!
6. Yagisan's Custom NPCs for NPC Map Locations
This custom NPC mod shows custom NPCs on the map by using NPC map locations. After downloading this mod, you will be able to see all the custom NPCs on the world map.
The mod requires SMAPI, Content Patcher, and NPC Map Locations to work. After downloading the mod, place the downloaded folder in the Mods folder of the game. This mod supports any and all custom NPCs you may add in the game.
5. Shiko – New Custom NPC
This custom NPC mod adds a new NPC to the town. Named Shiko Takahashi, this NPC is a retired model who has moved to Pelican Town from Zuzu City in search of a simple life. Shiko's is a mysterious woman who can be very unpredictable.
You can find her crashing at Gus's saloon right now. However, since she has come to live a simple life, she is marriageable and wishes to have her own house one day that she can call home. She also has a custom schedule, romance features, and heart events.
This mod requires SMAPI and Content Patcher to work. Once you have installed the mod, place the files in the Mods folder of the game.
4. Ridgeside Village
The Ridgeside Village mod is a huge expansion mod for Stardew Valley that adds 50 new NPCs, new items, shops, festivals, a location, custom quests, custom music, and so much more to the game.
The Ridgeside village is located in the Northeast of the bus stop. To access the village, just get into the cable car and it will take you there. This mod spices things up while staying lore-friendly. All the new NPCs that you befriend will be incredibly interest. You can even start romances with some of them.
Here are some key features of the NPCs added by this mod:
50 new NPCs
Unlockable NPCs
Marriageable Candidates
Character Animations
Around 100 dialogues for each NPC
Beach Sprites and Portraits
Festival Visits and Participation
With these NPCs come over 400 new events, including Festivals, Friendship Events, Secret Events, and Romance Events.
Get all of this and so much more with the Ridgeside Village mod!
3. Custom NPC Fixes

Custom NPC Fixes mod takes care of NPCs spawning in custom locations, schedules for new nPCs, and pathing to custom locations. It works for all the custom NPCs in the game.
This bug fix mod requires SMAPI to work. Download the mod and extract the file into Stardew Valley/Mods folder to work.
2. Custom NPC Exclusions
Custom NPC Exclusions is one of the most popular Nexus mods for NPCs that lets other mods exclude NPCs from some events and quests. It especially excludes them from the events that randomly pick NPCs.
This can come in handy for compatibility or story reasons. For instance, you can keep the NPCs from outside the town from posting delivery quests.
Multiplayer note: This mod is also available for multiplayer sessions and will work when all the players install the mod.
It requires SMAPI to work. Download Custom NPC Exclusions mod and extract the file into Stardew Valley/Mods folder to work. There are no known issues in the mod currently.
1. Stardew Valley Expanded
Stardew Valley Expanded is the biggest Stardew Valley expansion mod that adds a whole lot of new content to the game. The mod adds 27 new NPCs, 260 character events, 50 locations, 27 fish, overhauled vanilla areas, a reimagined world map, two new farm maps, new questlines, crops, music, objects, festivals, and much, much more.
All the new non-marriageable and marriageable NPCs and other characters come with incredible schedules, dialogues, back-stories, animations, personalities, events, and more. They are all very unique and interesting with highly attractive personalities.
These NPCs include:
Victor
Olivia
Andy
Susan
Sophia
Morris
Marlon
Claire
Morgan
Martin
Apples
Gunther
Lance
Scarlett
These NPCs also come with unique events that expand on their stories and lore. So go ahead and explore these new NPCs and increase your friendship points with them to have a healthy social life in the game.
Get your hands on these 18 awesome Stardew Valley recolor mods to get a fresh new paint job for all the in-game elements in the game!
Conclusion
So that's all, folks! This list sums up the best Stardew Valley custom NPCs mods. Whether you are looking for additional NPCs to make them your family members, or you just want to make more good friends in the game, this list of mods will suffice. Find your favorite Stardew Valley NPCs mods now and improve your social life in the game.