CJB Item Spawner is an easy-to-use mod that allows you to spawn any in-game item right into your farmer's inventory. New to mods, and not quite sure how to make it work? We've got your back!
What is CJB Item Spawner for?
This mod lets you spawn any item from Stardew Valley into your inventory. The in-game mod menu is separated into 17 separate categories of items. It also has a search box, which makes it easy to find exactly what you want.
Where can I get this Mod?
In order to install the CJB Item Spawner, you must first download the most recent version of SMAPI and install the program first. Once you've got SMAPI, you can find CJB Item Spawner on NexusMods. SMAPI is used to install all other Stardew Valley mods, so if you plan on getting many mods, this is an important first step.
Are these Websites safe?
Both the SMAPI website and NexusMods are totally safe! NexusMods is the most popular website for downloading mods for any game, and every download is safe and virus-free.
How to Install SMAPI on Windows
Download the latest version of SMAPI on their website or on Nexus Mods.
2. Extract the .zip file in an easy-to-find location, such as your Desktop or the Downloads folder.
3. Double-click on the "install on Windows.bat file". The installer will pop up on your screen.
4. Follow the instructions of the installer. To install SMAPI, write in "1" when prompted, and then press enter.
What's Next?
SMAPI will automatically create a "Mods" folder in your Stardew Valley folder (usually in Program Files, on in your steamapps folder if you're on Steam). You only need to download mods now and place their files in this folder, then run the game through SMAPI and play!
To play with Mods, go to your Stardew Valley folder and you'll now find a file named StardewModdingAPI.exe. Run that file to play with mods, and run the normal Stardew Valley file to play without them!
You may also want to to configure SMAPI through Steam or GoG instead of using the StardewModdingAPI.exe. This will allow you to earn achievements even while playing a modded version of the game.
If you're using GoG, you can follow these instructions from the Stardew wiki. If you're using Steam, check out the instructions below:
Configuring SMAPI to Steam
Navigate back to the SMAPI installation folder, and select "install on Windows.bat file" once again. Follow the above instructions as before, until you get to the final screen that confirms SMAPI has been installed or updated.
ㅤ
Copy the command that starts with "t:\" and ends with %command% for later use.
2. On steam, go to your Game Library and find Stardew Valley. Right-click on the game and select "Properties".
3. Under Properties, find the "Launch Options" setting at the bottom.
4. Back in the SMAPI installer, copy the command we underlined in red for you in the first screenshot. If you've already done that, paste that command now in the Launch Options box.
5. The next time you run the game, you'll be running it through SMAPI.
How do I install SMAPI on Linux/Android/Xbox/Mac?
For information on how to install SMAPI on another device, check out the Player Guide on the Stardew Valley official wiki.
How to Install the CJB Item Spawner
Once you've got SMAPI installed and updated, head on over to NexusMods and download the item spawner. You can download the mod via NexusMods' mod manager or do it manually by selecting manual download. Manually downloading is actually a lot simpler, and here's how to do it:
Download the mod. You'll now find a zipped folder in your downloads folder.
ㅤ
Extract the contents of the zip into a separate folder.
ㅤ
Copy and paste that folder into your Mods folder.
ㅤ
Run the game through SMAPI and enjoy!
How to Use Item Spawner In-Game
Once SMAPI and CJB are both installed, open up your game and load up any save file. To open the spawner, press the "i" button on your keyboard.
The CJB Item Spawner menu has four categories:
☆: This affects the quality of the items you spawn. Pressing it changes the colour of the star, representing the different item qualities – Basic, Silver, Gold, and Iridium.
ㅤ
↑↓ Name: This affects how items in the spawner are sorted. You can sort the items by Name, ID, or Type.
ㅤ
All: Clicking on All reveals a dropdown menu with 17 different categories of items. Use this if you're looking for a particular type of item. For example, there are categories called Equipment: Boots and Farm: Crops.
ㅤ
????: This is the search bar. You can search for any particular item you need by typing its name into the bar.
ㅤ
Five Things to Use the CJB Items For:
1. For Emergency Health and Energy
The CJB Item Spawner can save you from passing out in the mines. If you find yourself getting really low on Health or Energy, simply enter the CJB menu and click on the Artisan & Cooking Category, or search for any food item. Iridium Quality cooked items tend to grant a lot of Health and Energy, which will help you stay in the mines for many hours longer.
2. To Try On Different Outfits
You can just the CJB Item Spawner to both spawn readymade articles of clothing or just Bolts of Cloth and various items needed to craft different outfits.
Furthermore, you can spawn items necessary for the dyeing of clothes. The easiest way to do this is to spawn a Rainbow Shell and use it with the Sewing Machine.
3. To Decorate Your Home
Decorating your farmhouse can be quite a grind.
The most convenient way to decorate your house requires you to first purchase the Furniture Catalogue from Robin. This costs 200.000g and also requires that you upgrade your house first once. Pierre sells a similar item, the Catalogue, that gives you access to all wallpapers and floors, at the cost of 30.000g. You need to buy both of these things for unlimited access to various pieces of decor. This will only be feasible after Year 2, if not longer, due to the high cost.
If you can't spare such a large sum, you can manually purchase individual wallpapers, floors, and pieces of furniture. However, Pierre and Robin only offer a randomly selected stock each day. Pierre only sells one random wallpaper and one random flooring each day. Robin, for example, sells Oak furniture on Mondays, Walnut furniture on Tuesdays, and Birch on Wednesdays. It may take months to find the exact pieces you like, and that would require you to check these two shops every single day!
To cut through all this tediousness, you can use the CJB Item Spawner and decorate to your heart's content!
4. To Finish off the Museum Collection
Missing just a few pieces before you're done with the Museum collection? The CJB Item Spawner can help you find the final few pieces. Head on over to the "Collections" tab and check to see which items are missing. You can then find the missing item by perusing the CJB menu and finding a similar silhouette.
Alternatively, you can start by selecting the "Minerals and Artifacts" category, and hovering over every individual item. If the item description says "Gunter can tell you more about this if you donate it to the museum," that means you haven't donated that item yet:
5. To Finish off a Community Center Bundle
If you're missing a couple of elusive items in the Community Center, you can search them up the spawner and make it easier for yourself. You can technically finish the whole Community Center in just one day by doing this – we won't judge!
How to Deinstall the CJB Item Spawner
All you have to do to deinstall the mod is delete it from your Mods Folder.
If you want to temporarily disable it, you can remove the folder from the mods folder and then put it back inside when you want to use it once again.
Frequently Asked Questions
1. Does CJB work in Multiplayer?
CJB does still work in Multiplayer, but only the player who has the mod installed can use the spawner menu.
2. Can I spawn Iridium Quality Items?
You can spawn items of any quality level if they are items that have qualities. For example, you can spawn a Silver or Iridium Sunflower. You do this by pressing the star icon in the top left of the mod menu, as shown below:
3. Can I spawn Money With This mod?
You can't outright spawn money through the CJB menu, but you can spawn highly valuable items and sell them. Iridium Quality Wine or Iridium bottles of Truffle Oil are good choices!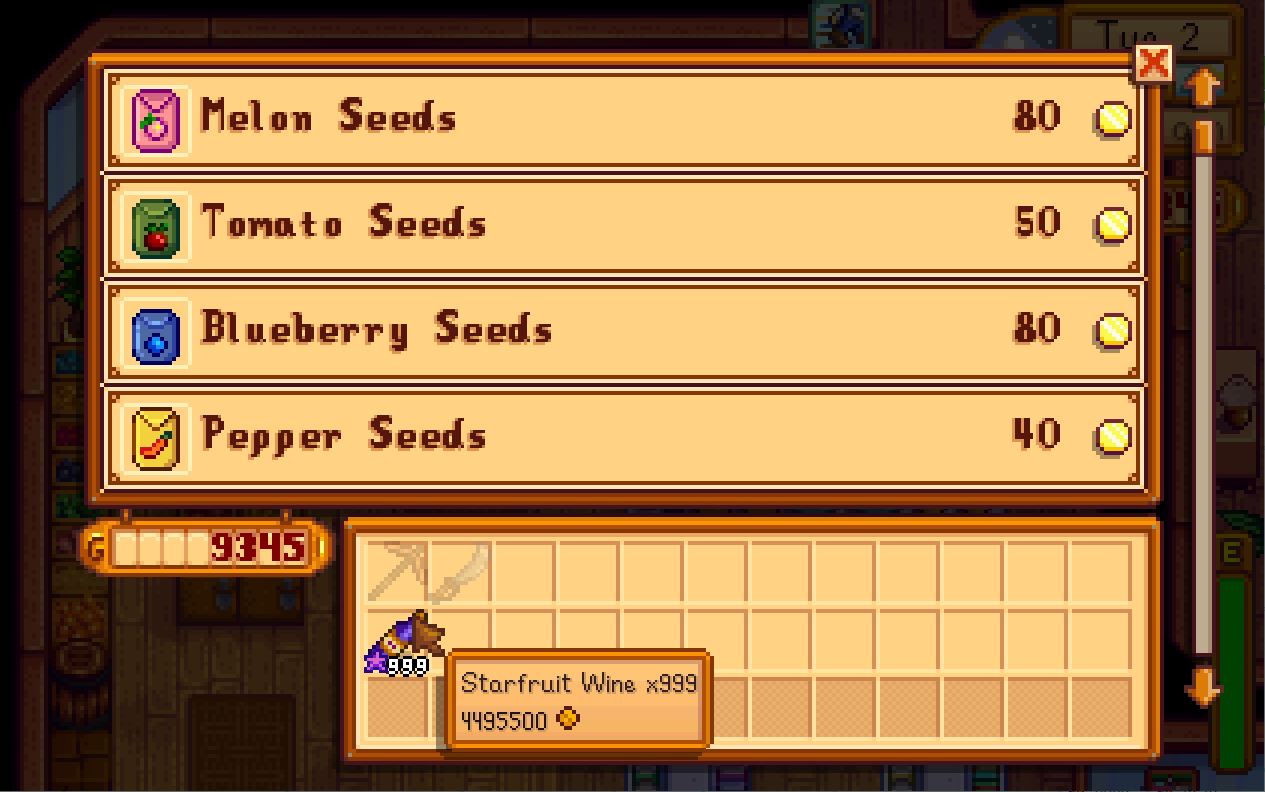 4. Can I still Earn Achievements with Stardew Mods?
You can still earn achievements if you've configured SMAPI through Steam or GoG. You can learn how to configure SMAPI through Steam in this article under the "How to install SMAPI on Windows" subsection.
5. Are there compatibility issues with other mods?
The CJB Item Spawner mod is compatible with many other mods, but not all. Here is a list of all known compatibility concerns.