Are you looking for a way to get a tractor in Stardew Valley? Would you like to have an easier way to travel around your farm? Well, you are in luck! This Stardew Valley guide will give you more information about the best Stardew Valley mods that can give you more information about how to get a tractor in Stardew.
Is there a tractor in Stardew Valley?
Some players have been asking around and wondering if there is a way to get a tractor from the game itself.
Sadly, as of right now, you can't just buy or build a tractor! Some players don't expect that to ever be changed, so it seems like a great idea to look for alternatives.
Of course, there is always a mod that can help us. That's why in this guide we will focus on tractor Stardew Valley mods that can be useful for you in the game.
Stardew Valley tractor mods
Everyone deserves to have a tractor that looks and works great in Stardew Valley! Take a look at some suggestions for suitable mods and choose your favourite:
A john deere tractor for stardew
Would you like to have a professional tractor in Stardew Valley? Then what you need is the mod known as the Lily's John Deere Tractor mod!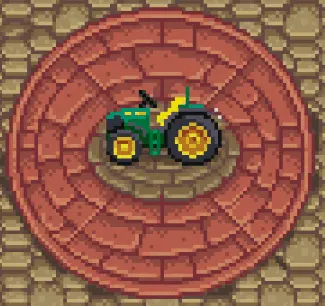 While this might just be a remodel of a tractor skin, it's such a great choice! A lot of us are familiar with the John Deere colours, so having something like this in the game just makes sense!
And hey, just look at that steam coming out of the tractor!
Stardew Valley Tractor Mod
So, this mod might sound and look simple, but it is truly a great choice if you are looking for a simple tractor for your Stardew Valley farm.
If you choose to install this Stardew tractor mod, it will give you a chance to buy a tractor and it will make your work with your Stardew crops more efficient! It's not just decorative! You can also clear twigs and rocks with this tractor. Moreover, you will also get a garage, and these additional features are just the cherry on the top of a great mod.
Once you install this mod, you might get some questions. First of all, how do you even get the tractor in the mod? The main thing you need to do is go buy the garage from Robin. Once that is done, just be patient wait until the garage is ready. The tractor will be inside, so that's when you can start working on your farm.
You will need to be patient, but later you can fertilise crops faster, plant grass with grass starters, and more!
If you are looking for a way to make things easier to manage, then this might be the perfect mod for you.
Tractor Remodel – Customized Tractor Mod
This mod is slightly different, but it's a good one to have if you are trying to get the best version of the Stardew tractor. In all fairness, the Stardew Valley texture mods are some of the most useful mods out there!
This time, we are talking about the Tractor Remodel mod. If you install it, you will get an additional exhaust pipe, a cargo bed, and 8 custom colours that you can choose from to change the way your tractor looks!
Here are some of the options in this mod:
It's one of the most downloaded tractor mods, so it can definitely be a great option for many.
Old School Bouncy Tractor
Are you looking for something different? Maybe a retro tractor? Well, the Old School Bouncy Tractor mod for Stardew Valley might be the right thing for you!
The bouncy animation gives an adorable atmosphere to this mod, so there is no way we wouldn't include it in this list. And hey, the tractor looks great, so this mod is definitely high-quality and a great way for you to get a tractor in Stardew Valley.
So, which tractor mod are you choosing? They can be a great and easy way to get a tractor for your game because this is the only way for now!